Welcome to Sports Memorabilia Insider – FREE version.
We use Moneyball tactics to discover undervalued, mispriced, and hidden gems in Fractional Investing.
Today is a deep dive into a pair of 1987 Magic Johnson Game Worn and Signed Sneakers. They IPO on Otis March 24th at noon EST.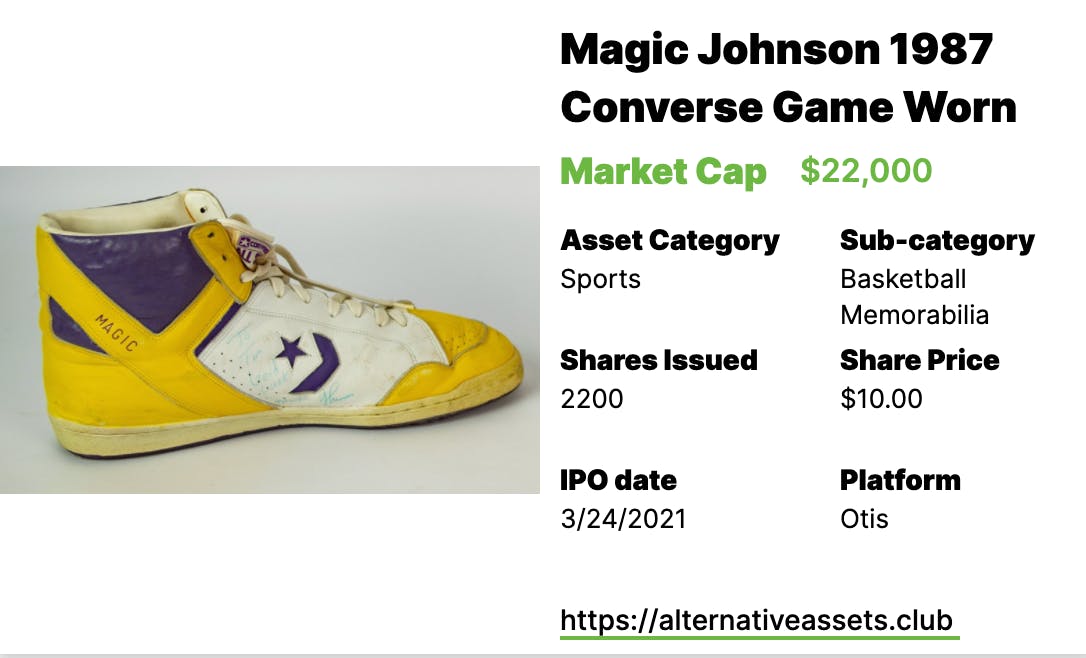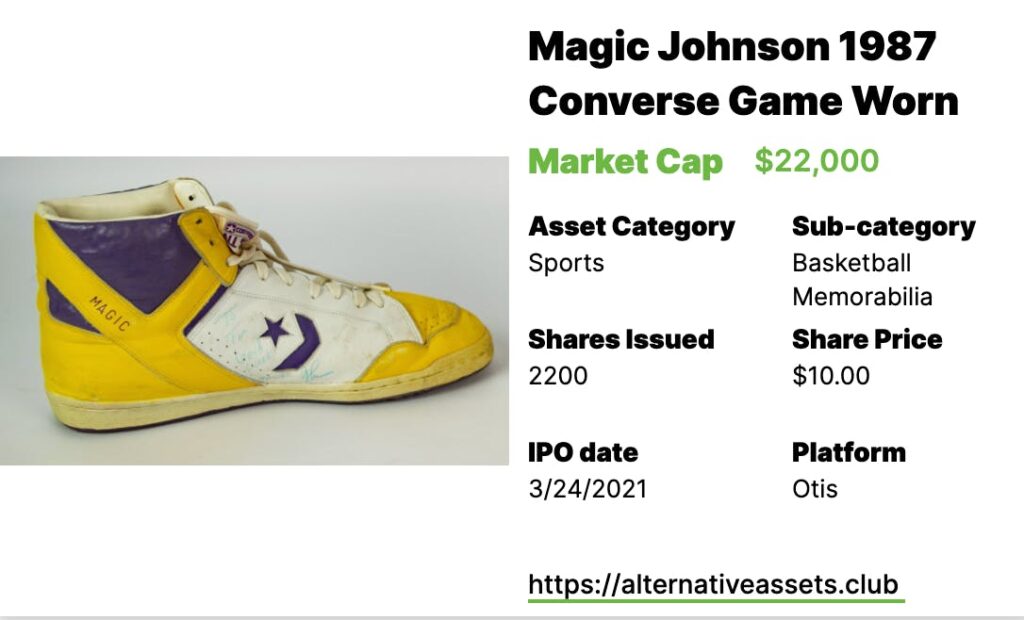 What are the 1987 Magic Johnson Game Worn and Signed Sneakers?
A game worn pair of sneakers from Magic Johnson's 1987 MVP and championship season, they are both signed and inscribed by Johnson. Take it for what it's worth, but Otis claims that there are only around 25-30 total pairs of Johnson's game worn sneakers out there and only 5 or 6 from a championship season.
It IPOs on Otis at 12 PM EST on March 24th for $22,000.
Cultural Relevance
Magic Johnson is generally considered to be the greatest point guard to ever play basketball and was the centerpiece of the iconic "Showtime" Lakers of the 1980s. In twelve seasons, he was an 11-time All-Star and helped lead the Lakers to five championships, won 3 MVP awards and 3 Finals MVP awards. His career was unfortunately cut short in 1991, at the age of 31, due to an HIV-positive diagnosis, which was a watershed moment for public consciousness of the disease. He did win an Olympic gold medal the next year as a member of the iconic Dream Team alongside Michael Jordan, longtime rival Larry Bird and many other future Hall of Famers.
The season these shoes come from, 1986-1987, was Magic's first MVP season as he led the Lakers to another title, defeating the Boston Celtics in the finals.
Since his retirement, he has been a longtime television commentator and wildly successful businessman, running Magic Johnson enterprises, a corporation with a net worth of $700+ million that includes several media companies. He has also seen success as a part-owner of the Lakers and member of their front office (he was instrumental in bringing Lebron to L.A.) and is now one of the owners of the reigning World Champion Los Angeles Dodgers, the WNBA's L.A. Sparks and the MLS' L.A.F.C.
Basically, Magic Johnson owns Los Angeles.
Inferred Value – $10k – $25k
​[Detailed Analysis Available to Insiders only]
Category Strength
The sports memorabilia category has returned 17% ROI so far across the entire portfolio.
Subcategory Strength
Risk Profile
Recent Growth Trend
Growth Outlook and Future Catalysts
Unlike modern sneakers which are worn for only a game or two (creating a large stock of "game-used" memorabilia) players in the 1980s wore their sneakers for large parts of the season. The relative scarcity could continue to steadily boost demand for these items. Another Lakers championship would likely create a pop in value, as well.
Asset Liquidity
This will have a roughly 30 day lockup period then will trade daily.
Platform Risk
Intangibles
They are pretty cool looking shoes and Magic Johnson is a much beloved icon still prominent in culture and basketball and is widely revered in Southern California.
---
Due Diligence Service
If you're looking to make a big asset investment, we can help you perform due diligence. Stefan created and run Flippa's Due Diligence program, and can offer the same service to you.
---
Subscription Options​​
Start your free trial of Insider.

Deep research and investment insights, now on thirteen alternative asset classes.
---