Welcome to Game Trading Cards Insider – the FREE version. We use Moneyball tactics to discover undervalued, mispriced, and hidden gems in Fractional Investing.
This week Adam's done a deep dive into the 1st Edition Neo Genesis Lugia Holo (PSA 10) that will IPO on Rally Road 16 March 2021.
---
What is the 2000 Pokemon 1st Edition Neo Genesis Lugia Holo (PSA 10)??
Released in December of 2000, the Neo Genesis set was the 8th expansion of the Pokemon trading card game. The set was the first to feature the second generation of Pokemon and was released on the heels of the original Pokemon Movie. There are 111 cards in the set, 19 of which are the rarer, more valuable Holos, of which Lugia is by far the most coveted and valuable. The only Pokemon cards that have sold for more are earlier edition Charizards.
There have been 42 total Lugia Holos graded PSA 10.
It IPOs on Rally Road 16th March.
Cultural Relevance
Since its introduction in 1995, Pokemon has become the highest grossing media franchise IN THE HISTORY OF THE WORLD, beating out Hello Kitty, Winnie the Pooh, Mickey Mouse and Friends and Star Wars.
Known in the Pokemon universe as the "Beast of the Sea", Lugia is a large flying creature, resembling a dragon-bird hybrid. When Lugia was introduced in 2000 it was the most prominent of the second generation Pokemon, appearing on the cover of the Pokemon Silver video game and featuring heavily in the Pokemon Movie. Lugia was also featured in the 2020 release Pokemon the Movie: The Power of Us.
Lugia is one of the more popular later generation characters but has not achieved the widespread popularity or name recognition of some first generation characters.
Lugia lags well behind Pikachu and Charizard, on par with Blastoise (which I included due to its own upcoming IPO) and behind Lucario, arguably the most popular later generation character. The spike you see for Lugia is likely due to the auction sale discussed below.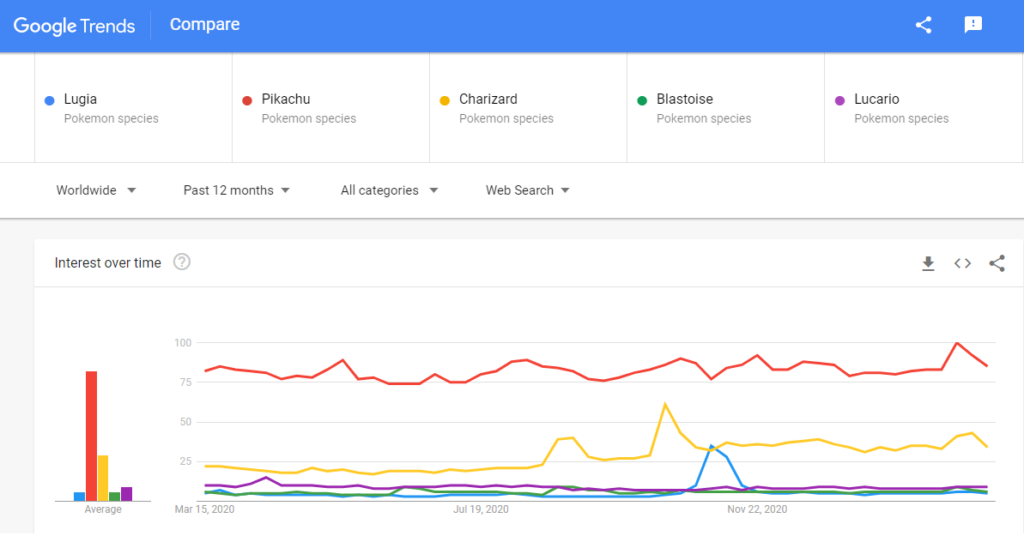 In last year's Pokemon of the Year vote, Lucia placed 15th. This year, it went unranked.
Inferred Value
[Detailed valuation available to Insiders Only]​
Asset Growth TTM
Category Strength
The game trading cards category has returned 5.4% ROI so far across the entire portfolio.
Subcategory Strength
Risk Profile
Growth Outlook and Future Catalysts
Most Pokemon cards have seen their value flatline after the initial boost last summer and fall. There is a Ebay listing at an inflated $150K Buy-it-now price, so if a sale like that is actually made, it will certainly boost the card's value.
There are always new Pokemon movies coming out, though none of the planned ones seem to feature Lugia. A prominent movie or video game appearance could boost value.
Asset Liquidity
This will have a roughly 90 day lockup period then will trade quarterly.
Platform Risk
Intangibles
A dragon-bird hybrid sounds pretty cool but Lugia doesn't look too intimidating.
---
Due Diligence Service
If you're looking to make a big asset investment, we can help you perform due diligence. Stefan created and run Flippa's Due Diligence program, and can offer the same service to you.
---
Facebook Group
Our Facebook Group is also now live. Request to join and we'll let you right in.
---
Subscription Options​
Start your free trial of Insider

Deep research and investment insights, now on thirteen alternative asset classes.
---