Welcome to Game Trading Cards Insider – FREE Version.
This week Adam's done a deep dive into the 2000 Pokemon Gym Heroes 1st Edition Booster Box that will IPO on Rally 30th March 2021 at noon EST.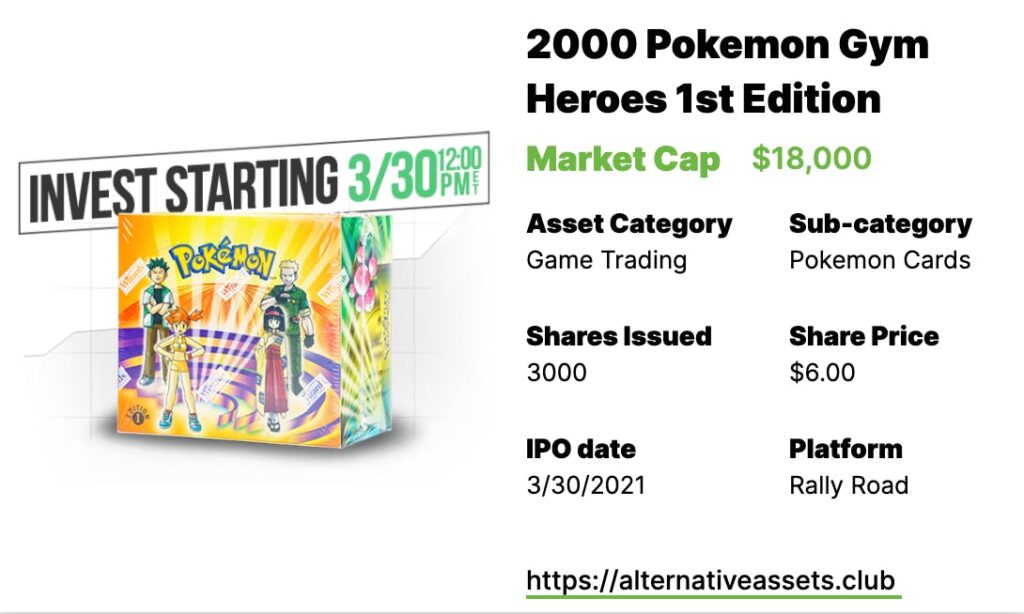 What is the 2000 Pokemon Gym Heroes 1st Edition Booster Box?
This is a sealed, first edition Pokemon Gym Heroes 1st Edition Booster Box, originally released in August of 2000. It was the sixth expansion for the original Pokemon trading card game (TCG) and includes 36 packs of 11 cards each. Be aware, as with all Pokemon sets, there is a 1st edition set and an unlimited set with the former being considerably more valuable.
The complete set is 132 cards with 19 rarer holo variations. The most valuable cards in the set are the Blaine's Moltres Holo (#1), which just sold for $7,000 at a PSA 10 grade and the Sabrina's Gengar Holo (#14) which just sold for $8,500 at a PSA 10 grade.
Rally purchased this specific box for $14,999 on January 28th.
The Pokemon Gym Heroes 1st Edition Booster Box will IPO at Rally Road on Tuesday, March 30th at 12 PM EST for $18,000.
Add the IPO to your calendar
Cultural Relevance
We've covered the popularity of Pokemon and the TCG but suffice to say, they both remain incredibly popular worldwide. The Gym Heroes set is not one of the more popular expansions, not making it onto any of the best-of lists I found online. Think of it more as a deep cut than a #1 hit.
The Gym Heroes set introduced the concept of an Owner's Pokemon, a Pokemon aligned with a specific trainer. This set offered theme decks with trainer-specific packs for Brock Misty, Lt. Surge and Erika. The cards also feature Pokemon from other trainers as well.
Inferred Value – $10k to $20k
​[Detailed analysis available to Insiders only]
Asset Growth TTM
Category Strength
The game trading cards category has returned 80% ROI so far across the entire portfolio.
Subcategory Strength
Risk Profile
Growth Outlook and Future Catalysts
There is a current auction at Heritage and there will likely be a lot more changing hands on EBay in the coming weeks and months. A complete set of varying PSAs (something you could theoretically pull from a box) just sold at Heritage for $7,800 so if that, or the two cards highlighted above see a pop in value, the sealed box will follow suit.
I suspect that the later the expansion the more sealed boxes there will be in circulation and if it rises in value, we will see more boxes resurface. It's not a coincidence that after this expansion doubled in value, more boxes have flooded the market. This interplay of supply and demand will limit the potential growth of this and other later expansion packs going forward.
Asset Liquidity
This will have a roughly 90 day lockup period then will trade quarterly.
Platform Risk
Intangibles
This is not a particularly popular or well-regarded expansion without a name-brand card to make the set stand out.
---
Due Diligence Service
If you're looking to make a big asset investment, we can help you perform due diligence. Stefan created and runs Flippa's Due Diligence program, and can offer the same service to you.
---
Subscription Options​​
Start your free trial of Insider.
Deep research and investment insights, now on thirteen alternative asset classes.
---