Welcome to Sports Cards Insider for February 22nd, 2022 – FREE Version.
Each week we give you the scoop on undervalued, mispriced and hidden gems in Alternative Investing.
First, a correction from last week. I was comparing prices of hockey legend Mario Lemieux to NFL greats Joe Montana and Jerry Rice. I accidentally highlighted a Lemieux O-Pee-Chee hard compared to his Topps rookie, which may have caused some confusion. Apologies.
As a reminder, here's my view on sports cards sectors for 2022:
-All soccer, especially vintage
-Vintage basketball
-Vintage football
-Hockey, except for ultra blue-chip
-Golf
-Tennis
-Modern basketball
Last Week in Sports Cards
Auctions
We've been watching the Memory Lane auction for a few weeks to get a feel for where the market is relative to our investment thesis. Let's dig in.
So one card finished below estimates, one finished well above, and one met expectations.
It looks like the jury is out on vintage hoops for now.
Other notable results:
We were also keeping a close eye on a few lots from PWCC's Premier auction.
We thought the 2000 Playoff Contenders Championship Ticket Tom Brady would need to hit around $2.1m to register in line with recent comps. We also thought there might be a bit of fatigue setting in around this card. It went for $2,040,000 in the end, just about in line with recent sales.
A 1999 Pokemon Base Set Shadowless 1st Edition Holo Charizard #4 PSA 10 finished at $240k, slightly below expectations. The Pokemon market isn't back yet.
Speaking of not back yet, MJ's 1986 Fleer rookie hammered at $240k, continuing its slide, which is odd compared to the price of the unopened box above.
If you're new here, the primary value driver of the 1986 Fleer box is the chance of getting pristine Michael Jordan rookies. So it's very odd they're going in different directions.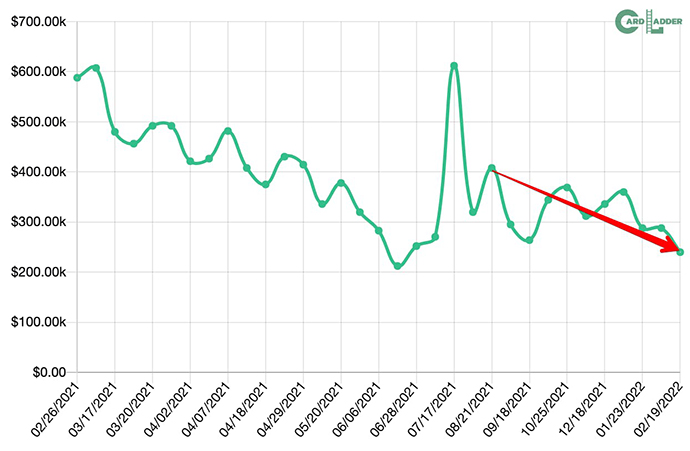 BUT! This is yet another example of how easy it is to manipulate a narrative with charts and how you can use them to tell any story you want. Comparing both assets across two years and plotting them alongside each other paints a much clearer picture.
Elsewhere
Nearly universal positive results over the last month from CardLadder. As ever, high-end cards outperform everything else, but every sport tracked was positive. Good times!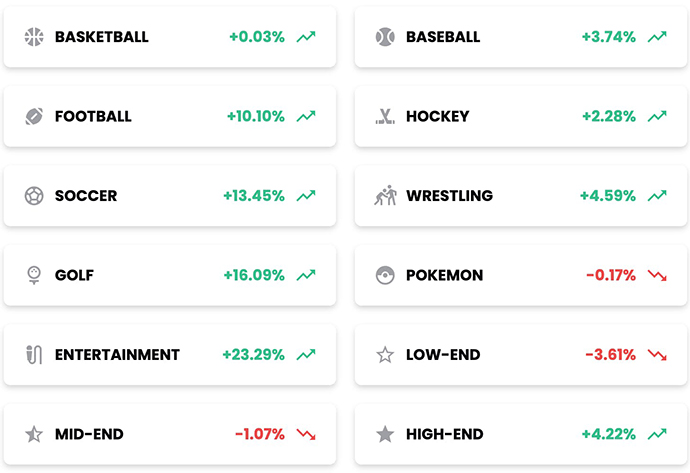 This Week in Sports Cards
Assets dropping on marketplaces
Two baseball cards are dropping on Collectable and Rally this week – a rare/novelty Nolan Ryan rookie and a vintage Ty Cobb.
Auctions
We're keeping an eye on Heritage's Winter Platinum Night Sports Auction as well. I highlighted some noteworthy lots last week, and not much has changed yet.
This week, Leland's continues its auction the headliner is another 2000 Playoff Contenders Tom Brady Championship Ticket Auto. This one is graded PSA 8 and will give us a good idea of how the market views PSA 8 vs. BGS 8.5 (just sold for $2m). Currently at $815k. They've also got Tom Brady's last touchdown ball, which is at around $100k.
Mike Evans is selling the glove used to catch that ball with rather less success. Current bid is $660.
And lastly, we've got a 1986 Fleer Basketball Michael Jordan PSA 10. As you know, every auction these days is required to have one and only one of these cards. I'm not great at eyeballing what grade a card should be, but this looks like a decent PSA 10.