Hi everyone,
I hope you enjoyed last week's issue on Wander, the world's first vacation rental REIT.
We're keeping it real today, exploring a company called Mortar Group.
Mortar is a master of multi-fam development (read: condos & apartments). They design, architect, and construct unique apartment buildings in niche NYC neighborhoods — think Brooklyn and Queens.
These guys have a long history and consistently see 16+% on their investments. Mortar isn't available to everyone. You must be accredited, located in the US, and there's a $25k minimum.
But if you qualify, you'd be wise to consider them. They've been in the game for decades, and know New York real estate inside & out.
No fractional investing here. This is real "brick and mortar" stuff.
Let's go
Summary
Type: Multi-family residential properties
Accreditation: Accredited investors only
Minimum investment: $25k
Investment horizon: Varies, typically 24 months+
Advertised returns: 16-21%
New York real estate
The Big Apple had some mixed results in 2022.
It started off hot, with record numbers of buyers streaming onto the market.
But by June, the real estate market started cooling, and was frozen by the end of the year. Q4 saw sales grind to a halt, prices stabilize, and the worst performance in a decade.
Not all markets are created equal. What's dragging New York real estate down isn't residential, but commercial.
There is a massive downturn in commercial real estate in New York right now. It's officially the 2nd worst commercial real estate market in the country. Thanks to WFH culture, half of all NY office buildings are sitting empty. A recent NYU study predicted 2023 to be a commercial real estate apocalypse.
However, multi-family real estate is another story.
JP Morgan's 2022 reports showed multi-family properties to be America's strongest performing class of real estate.
In New York, the figures are even more enticing:
Nationwide multi-family vacancy rates are at 4.4% (lowest since 2018). New York's vacancy rate is about half this, at 2.3%
New York rents keep rising. Bad for renters, good for multi-fam investors.
NYC landlords and developers are now converting empty offices into multi-family apartment complexes. To make this easier, mayor Eric Adams wants to rezone Midtown Manhattan.
But developing multi-fam property in New York City is notoriously difficult. You've gotta deal with zoning restrictions, NIMBYs, airspace rights, and other absurd regulations.
Luckily, there's a solution — Mortar Group.
What is Mortar Group?
Mortar Group is a boutique investment firm that develops multi-family properties in prime New York City locations (mostly Queens and Brooklyn, with a sprinkle of Manhattan).
This isn't just your everyday real estate fund. Mortar Group takes charge of everything. They're like architects, interior designers, constructors and asset managers all rolled into one. Their unique approach helps them save cash and consistency deliver 16% – 22% annual returns.
Mortar Group has been around for a long time. In over 2 decades of business they've racked up $306m in sales from 30 offerings (1,200+ apartment units).
The team
Mortar Group was launched in 2001 by Anthony Morena, a licensed architect who studied real estate.
Throughout his career, Anthony's architectural background has come in handy. He worked alongside renowned firm Joseph Pell Lombardi & Associates, where he was in charge of transforming old-school buildings into luxury apartments.
Fellow New Yorker Horacio Ruiz had a chance to catch up with Anthony for a podcast. It was a pleasure to pick his brain on NY real estate.
Discussion topics:
Renovations and ground-up investments
Carving out a niche as a boutique shop
The best NYC neighborhoods to invest in
Buying at a good entry point
Investment cycles in major cities
NYC isn't a market you can just elbow your way into. This high-powered team has the experience, connections, and pathways to get the best investment opportunities.
Mortar Group's lean team of eight includes two other architects – Ali Sandhu and Paulina Diep.
Aaron Hockett sits as Director of Development, leveraging his experience developing $50m worth of Brooklyn real estate. Their project manager is Mohamed Saudi, who spent nearly a decade with Elad Group and Soho Properties.
How does Mortar Group work?
Mortar Group manages the entire project themselves.
They pick up empty lots, redevelop existing properties or finagle New York's weird zoning laws to start projects. Sometimes they'll even buy surrounding air rights to build 8+ story buildings.
Mortar doesn't need to pay expensive consulting firms to do anything. Their end-to-end vertical structure means they take on every element of the process:
Architecture
Design
Construction
Development
Marketing
Leasing
Asset Management
Property Management
Investor Relations
Once construction has begun, Mortar turns each property into an LLC, and offers an equity stake to investors. The LLC is what actually holds the equity, preferred equity, or debt interest in the property. For each investment you make, you'll receive a separate K1 at tax time to report your share of the income received by the LLC.
When the building is done, the property is leased to renters, and investors are paid quarterly distributions based on the rental income.
They also sell properties when the time is right. When this happens, investors still receive a distribution (often based on pre-sale valuations) and a pro-rata cut of the returns.
What's in Mortar Group's portfolio?
Mortar Group has five current offerings. Three are from Brooklyn, one is from Queens and another from the Bay Shore.
First up we have this monster $31m project in Queens. This is an 8-story development in Hallett's Cove, right by the East River.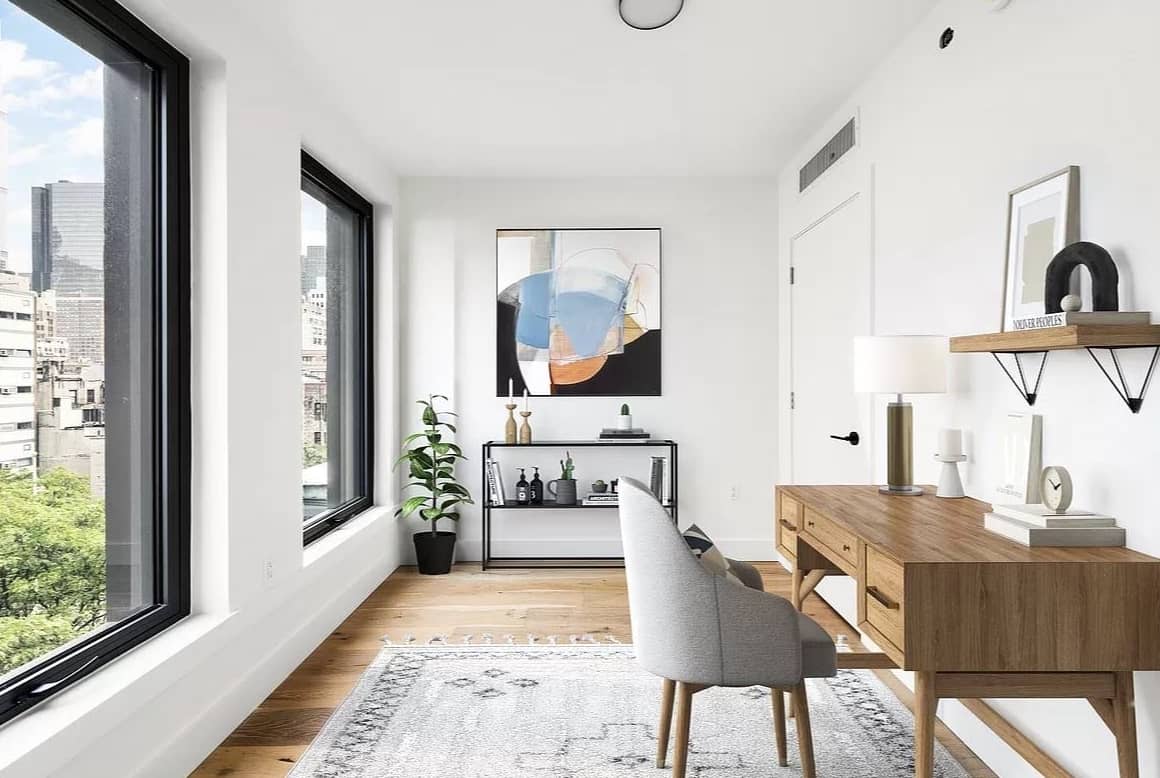 The original lot they bought was oddly-shaped, which let them capitalize on something called zoning deductions.
See, NYC Zoning regulates how many square feet you can develop on a property through a formula called Floor Area Ratio. The floor area that you can build is limited, so you need to optimize space as best you can. This means making an efficient building and taking any possible deduction.
If you know what you're doing, you can create larger properties (and house more people) by building elevated ground floors, low-density corridors, etc.
Buying air rights is a strategy they try to implement often as it lowers the cost basis on a property, and boosts returns (similar to how buying a stock at different prices can get you a lower blended cost basis.) The strategy can lower the blended acquisition price by 10-20%.
For this property, they spent $500k buying air rights from the building next door. This lowered their overall cost-basis, because it ensured they could build upwards and maximize ground space.
All-in-all, development costs totaled $180/sq ft — far under Brooklyn's median price of $708/sq ft.
Construction for the property began in late 2021, and is expected to be completed by the end of 2023. So this offering won't be open for much longer.
Exit plan
Once developed, the 29 condos in the building will be fully leased.
After leasing all units, Mortar will try and sell the entire building as an "income-producing asset."
Mortar will consider switching to individual unit sales if market conditions don't suit large sales.
Newton Flats
Newton Flats is an example of a value-add project.
This is where the acquisitions team picks up a property, re-develops it into an income-producing asset and sells it.
We got access to the investor presentation for this one — and let me just say it's impressive. The 30-page doc goes into excruciating detail.
Here's a taste:
Offering size: $2.96m
Exit strategy: 60 months (5 years leased out, then look to secure a sale)
Year one return: 7.91%
Estimated IRR: 25.32%
Equity multiple: 2.31%
Distributions: Quarterly
The presentation includes a floor plan, neighborhood map (with amenities highlighted) and pages of projections, budgets and cash flows.
This attention to detail will be a big plus for new investors.
Investor benefits
Mortar puts up big numbers, but the team is small and helpful.
And they're hands-on. After you sign up, an Investment Relations Manager (IRM) will walk you through the process.
That's a key difference with these guys. If you're an investor, the entire Mortar Group team is on-call, ready to help. Your IRM is available via phone or email 24/7. That's not something retail investors usually get.
And finally, you get to invest in your property of choice. Mortar Group gives you all sorts of detailed info to help you decide:
Projected returns
Construction time
Investment horizon
Location
A presentation on the offering
Legal documents
That's really all there is to it. Once the investment is made, you can track its progress via the Investor Portal (or just wait for the quarterly updates.)
Who can invest in Mortar Group's properties?
Unfortunately, there are barriers to investing in Mortar Group.
This isn't a Reg A or Reg CF deal; you must be accredited to get involved. If you don't qualify, you can't invest.
There's also an investment minimum of US $25,000. This isn't bad considering Mortar Group's exclusive "do-it-all" structure, but will certainly be out of reach for some investors.
To soften the blow, Mortar Group lets investors sign up for 30 days risk-free. New customers can cancel their commitments for any reason within the first month.
There's even better news for tax savings, too: Mortar Group welcomes SDIRAs and other retirement vehicles. They can help you implement tax-saving strategies through deductions, tax deferrals, depreciation and capital gains.
Fees
There are no fees to sign up.
Investors are charged an ongoing management fee, which is typically 3% for value-add acquisitions. For construction projects, they charge 3-5%, but this is only for the project itself, and is not passed onto investors.
Any time the team sells a property, investors accrue a disposition fee, which hovers around the 2% mark.
How does Mortar Group stack up?
Liquidity
What you'd expect
It's real estate, mostly being developed from the ground up.
Mortar Group's offerings take at least 24 months before investors see a dime. Most investments are 5+ year plays. Normal for real estate, just something to consider.
Accessibility
Not great
Unfortunately, there are a few restrictions. Mortar Group accepts US investors with accreditation under SEC Reg D, and the minimum deposit is $25k.
Returns potential
Very good
Global real estate is in a stalemate now, but multi-family properties in NYC are moving along just fine.
The company has a long 20-year track record of success. Mortar Group claims to have returned an average of 18% since they started two decades ago, and they target 16-21% annually on most offerings.
Team
Fantastic
All the reviews we read of these guys raved about their customer support. It's easy to see why.
Mortar Group gives customers a personal touch. The dedicated investment relations manager replies within 24 hours. The team includes architects, real estate leads, and investment managers (and if you're in NYC, you can meet them all!)
Competition
Plenty of competition in some areas, but very unique in others
There are thousands of private real estate funds in the US.
But remember, Mortar is much more than a fund. They fulfill every role of the real-estate process: from architect, to developer, to asset manager.
This unique structure immediately sets them apart from the rest. It maximizes efficiency, increases value and minimizes risk across complex deal structures.
User experience
Excellent
While there's no mobile app, the site and investor portal are easy to navigate.
But of course, user experience is about more than just graphic design. Their 30-day 'risk-free' period on new investments is reassuring. And I love the fact that they actually take the time to get to know their customers. It's all part of the user experience.
Closing thoughts
Mortar Group merges leasing, asset management, development, construction, property management, investor relations and marketing into a single practice.
Because they do everything themselves, they maximize space and value while minimizing costs and waste. And they get access to unique opportunities larger firms ignore.
Their track record is excellent: Over the past 20 years, they've exited 30+ high-end properties and delivered average annual returns of 18%.
New York commercial real estate isn't doing fantastic at the moment. But it's still the world's most popular place for the super-rich to own property. And multi-family homes are holding up just fine.
If you're an accredited investor who wants direct access to NYC multi-fam real estate, Mortar Group could be your way in. They definitely know their stuff.
Check them out
Disclosures
Mortar Group is an Alts sponsor; this was a paid deep dive.
We have not invested in Mortar Group through  ALTS 1 , nor do we have any personal vested interest in the company.
This issue is a sponsored deep dive, meaning Alts has been paid to write an independent analysis of Mortar Group. Mortar Group has agreed to offer an unconstrained look at its business & operations. Mortar Group is also a sponsor of Alts, but our research is neutral and unbiased. This should not be considered financial, legal, tax, or investment advice, but rather an independent analysis to help readers make their own investment decisions. All opinions expressed here are ours, and ours alone. We hope you find it informative and fair.