Hi everyone,
For the past few weeks, we've been focusing on exciting and unique offerings in the real estate space. We continue this trend today by checking out an early investment opportunity with reAlpha.
Quick Summary
Type: Reg A+ Capital Raise
Requirements: Accredited and non-accredited investors
Minimum investment: $1,000
The problem with real estate
We've covered the real estate market a lot over the past month. But that's because it's currently in a super interesting place. We plan to continue following it closely as we approach 2023.
To quickly recap our stance: We think the real estate market is looking bearish for property owners, and prices have plenty more room to fall. However, in the last housing dip, we saw institutional capital like Blackstone take advantage of the low prices and build up major portfolios. Additionally, rental yields are likely to continue improving. That's good news for investors.
Some relevant news:
What the latest news shows is that rising mortgage rates are putting a damper on home buyers. But real estate investors have so much opportunity, especially in the vacation rental market. There's just one problem: Getting into this market is stressful, expensive, and inaccessible to many. Who wants to deal with a cranky guest call at 3:00a.m.?
But one startup is tearing down these barriers, opening up the opportunity for investors of all stripes to enjoy the benefits of owning a rental property without the headaches.
Enter the solution – reAlpha
reAlpha is a first-of-its-kind tech platform that lets investors around the world invest in professionally and AI-vetted real estate just like they're buying a stock on their favorite investing app. They focus on the short-term rental industry because of the lucrative returns (think +70%) compared to long-term rentals.
The company was founded in 2020 and has been developing its flagship product since then. Here's how it works. reAlpha uses AI to pinpoint the properties with the highest short-term rental potential and acquire them. Then reAlpha lets its members buy fractional shares in these properties with as little as $2,500.
reAlpha (and their shareholders) maintain up to 51% equity (and therefore profit) in each property and earn a 20% management fee charged to the minority holders. When the minority members fund the other 49% of the property, it frees up capital for reAlpha to add more properties to the company portfolio.
It's a win-win. Members get the benefits of short-term rental yields without all the hassle of owning the property outright. reAlpha collects a fee, most of the profits, and keeps growing.
But they're taking the opportunity a step further by allowing anyone to own shares in the entire company, not just a single property. They already have 20,000+ investors in progress.
And that's where the biggest opportunity is. As early investors in a disruptive startup, shareholders are getting a ground-floor opportunity to join in reAlpha's growth. Startup investors benefit from the growth of reAlpha's entire portfolio of properties and key technologies, not just a fraction of one.
By joining now, shareholders are helping reAlpha build up its portfolio of properties and bring in its first batch of customers. The reAlpha team has a five-stage plan:
Raise capital (more on this later)
Continue to build their portfolio of the properties
Open fractional ownership in individual properties
Reinvest capital to continue growing portfolio
Repeat steps three and four
Early shareholders are helping accomplish stage 1. reAlpha's leadership team takes it from there.
Leadership team
reAlpha is headed by CEO Giri Devanur, a prominent entrepreneur with a storied career. He has founded multiple successful companies since 1997 and was awarded the E&Y Entrepreneur of the Year in 2017. This recognition came on the back of his work with a technology services company, which he took from nothing to $50 million in revenue and an IPO on the Nasdaq.
And they've just brought on a new President, Jorge Aldecoa. Jorge's real estate resume makes him the perfect fit for getting reAlpha off the ground, he's worked at some of the biggest real estate companies in the industry, managing multi-billion-dollar portfolios.
As an early hire and Regional VP at Invitation Homes, Jorge played a key role in scaling and managing a $1 billion portfolio. Plus, he helped create a property management platform for 2,000+ single-family rentals while a VP at Transcendent Electra Management. As President at reAlpha, Jorge will be rolling up his sleeves to help build their own portfolio and platform.
reAlpha's advantage is the tech
reAlpha is opening up a new age of real estate investment through fractional ownership of properties. There are a lot of people who'd like to own vacation rentals on Airbnb but are locked out of the process. Fractional ownership gives them a way in. This is a new market, and reAlpha is at the cutting edge.
But it's not just fractional ownership that separates them from the crowd. It's the tech.
reAlpha uses AI and machine learning to identify the best investment opportunities in the real estate market. While computers might not be "smarter" than humans (yet), they are 100% better at sorting through large volumes of data based on a set of criteria.
This is exactly what the reAlphaBRAIN does — it analyzes a property according to 25 different metrics and gives a score out of 100.
Some of these factors include:
Location
Crime rate
Proximity to amenities
Sale price
Accessibility (roads, etc.)
Legal (how quickly can a deal be closed)
Of course, objective metrics can help decide what makes a good property investment. However, different real estate submarkets (e.g., different states or cities) may prioritize these metrics contrastingly.
That's when human intervention comes into play. reAlpha developed an app known as HUMINT (human intelligence) that can help analyze things the AI can't quite.
reAlpha feeds HUMINT data back into the reAlphaBRAIN, so over time, the technology will become even more reliable in its property assessments.
Short-term rental market analysis
reAlpha isn't just making investing in real estate easier, they're strategically targeting one of the most lucrative, fast-growing sectors in real estate.
The global short-term rental market is valued at $1.2 trillion, and demand is quickly outpacing supply. Between Airbnb and VRBO, over 10 million short-term rental properties are available globally.
According to Technavio, the vacation rental market is expected to increase by $80bn over the next four years, with a growth rate of 14% in 2022.
The Airbnb CEO has gone on record, saying the platform will need millions more hosts to meet demand in the coming years. Wall Street is trying to capitalize on this gap, but so is reAlpha.
Four million Airbnb hosts earned $34 billion in revenue through 2021. This figure was up 76.6% from 2020. That's a clear sign the pandemic malaise is over and then some. Even compared to pre-COVID levels, Airbnb bookings are up 37%.
A valid concern with short-term rentals is finding constant guests in the off-season (e.g., beach properties in winter). But I was surprised to find out that approximately 24% of Airbnb stays are actually for a month or longer. So this might be less of an issue than most seem to think.
reAlpha has shown that the right Airbnb properties can beat long-term rental property yields by over 70%. This figure is based on analyzing long-term rentals on Zillow (an American real estate marketplace) and comparing it to data from AirDNA.
Investment opportunity: Reg A+ Capital Raise
Okay, now let's get to the big stuff — the reAlpha raise.
For as little as $1,000, you can invest directly in the company itself and get in on the ground floor.
This raise is for reAlpha Homes, an offshoot of the parent company, reAlpha Tech Corp. The parent company will be the majority shareholders, and therefore — control operation management and business direction.
As a shareholder in reAlpha Homes, you'd be investing in reAlpha's stake of all homes it will acquire, the fractionalized investment platform, and their gig-economy property analysis app.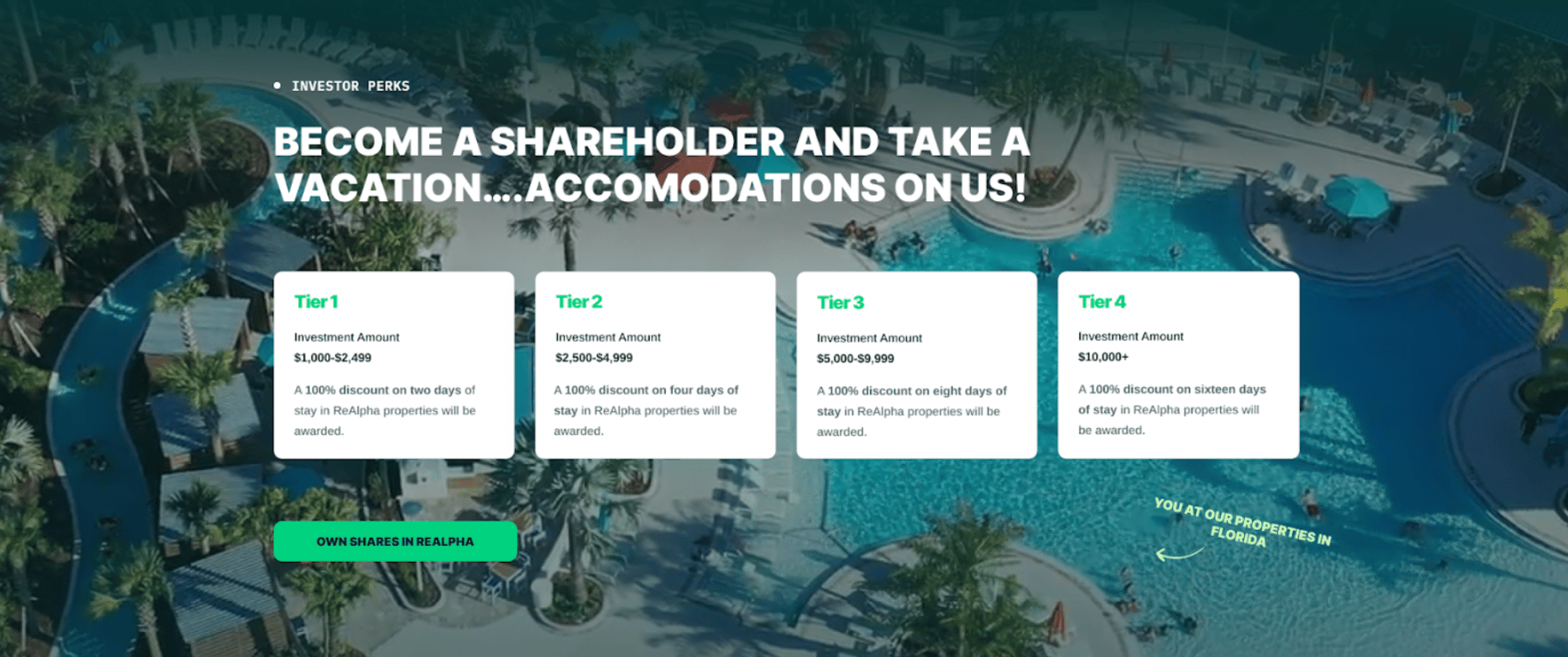 Traction and goals
Think of this offering as investing in a startup with pretty solid traction. reAlpha already has 20k interested investors onboard, including a multi-billion dollar real estate developer, Crawford Hoying, in the ParentCo's previous seed round. The team has partnered with Entoro, ICR, and has seen press on Business Insider and The Wall Street Journal.
The purpose of the raise is simple: use the capital to build up reAlpha's property portfolio and assets under management (AUM). Meaning capital raised will go much further with the pending housing dip. Once complete, the company will unlock 49%+ equity in each individual property, letting them grow the portfolio and AUM.
Investment type
The capital raise is a Reg A+ offering. Investors can buy a minimum of 100 shares (valued at $10 per share) of common stock. Common stock is a form of equity that represents partial ownership of a company.
reAlpha is offering securities through the use of an Offering Statement that the Securities and Exchange Commission has qualified under Tier II of Regulation A. Here's a very entertaining video about the Reg A:
Fundraising amount
reAlpha has set a cap for their offering at $75 million, or 7,500,000 shares. Accounting for fees and other expenses, the max proceeds will be approximately $71,867,749.
Holding period
Per the offering circular, reAlpha is not "currently listed on any national exchange." Therefore, liquidity will be limited. However, after completion of the Regulation A, the company anticipates engaging a market maker to facilitate secondary sales of common stock. For more information, you can contact the helpful team at reAlpha.
Who can invest
The investment requirements for this offering are quite low. The minimum entry is only $1,000 (or 100 reAlpha shares). Massachusetts, Maryland, and Hawaii residents will not be able to participate.
Both accredited and non-accredited investors can get involved. However, non-accredited investors must prove their investment is less than 10% of their annual salary or net worth.
The Reimagine Fund
reAlpha 's parent company, reAlpha Tech Co., has pledged to match up to 2% of all money raised via this offering. The matched funds will create up to $30 million in real estate for those lacking real estate opportunities. This might include property development, trades education, and local/community sponsorship.
What we like
Innovative tech. Using data-driven AI to perform analysis faster and more objectively than humans can help ensure that reAlpha's portfolio is filled with only the best properties on the market. Humans also review the AI results to ensure nothing is missed guaranteeing the best of machine and man's combined analysis.
Growing market. Airbnb revenue is exceeding pre-COVID levels, and we expect this trend to continue. More and more people will want to go on vacation after the global lockdowns of 2020-21. Compared to traditional long-term rentals, short-term rentals can generate 70%+ more revenue.
Long-term demographic trends. Vacation rentals are in the midst of a decades-long uptick in demand as travelers increasingly look for unique accommodations. Another powerful trend is the digital nomad, with ex-pat workers staying for long durations in rentals.
Optionality. Due to the short-term nature of their leases, vacation rentals have more options for returns – conversion to a long-term rental, amenity improvements, and sales.
Aligned Incentives. reAlpha maintains up to a 51% equity stake in each property, ensuring their interests and the shareholders' interests are aligned.
Diversified exposure. An investment in reAlpha provides diversified exposure to multiple vacation rentals.
Low investment requirements. The investment minimum is only $1,000 (or 100 shares). It's also open to both accredited and non-accredited U.S. investors, making it a very accessible offering.
Fractionalization of real estate. We're quite bullish on real estate fractionalization and think it will have a big role to play in the industry's future. Combining a niche but profitable product (short-term rentals) with a potentially revolutionary concept (fractionalization) could lead to rapid growth.
Solid traction/experienced management team. There are already 20,000 investors involved, including some high-profile institutional and industry investors. reAlpha's CEO has prior experience taking a startup public.
Potential risks
Startups are risky. Investing in reAlpha (or any startup for that matter) is inherently risky – 9 out of 10 fail. The offering circular discloses that "our common stock involves a high degree of risk." reAlpha is at an early stage in their growth trajectory and may be unable to source rentals and launch the public fractional platform successfully.
Competition. There are other platforms in the fractional vacation rental space – the market is young enough for multiple players to prosper. Still, competition in the form of lower fees and increased home purchase prices could hamper future growth and profitability.
Dilution. Upon purchasing reAlpha shares, you will experience immediate dilution. The offering price of $10 is "substantially higher" than the net tangible book value.
Rising interest rates. As interest rates continue to rise worldwide, reAlpha's ability to secure financing may be impacted. Market volatility and cash rate hikes could result in a substantial hit to reAlpha's revenue.
Closing thoughts
There's not much that's better than a hard-earned vacation. Sitting back in the sun, drinking an iced tea, and exploring the world's treasures are some of life's best moments.
Airbnb capitalized on this idea and quickly became one of the most successful businesses in the industry. Now, reAlpha is turning these lucrative properties into an asset class for all.
However, Airbnbs and other short-term rentals aren't exclusive to holidays – we are entering an era of "digital nomads" who hop between houses every couple of months while working remotely.
We think this lifestyle is only going to grow in popularity. COVID completely changed the relationship society shares with work, and the working-from-home revolution has ushered in a new era of work-life balance.
reAlpha might be onto something here. Vacation rentals are a little underutilized by investors compared to other property investment types, but that just means there's a huge market opportunity.
Admittedly, there's a bit of risk attached – as there would be with any startup. But the potential for profits is very high, and reAlpha has the backing of an experienced, credible, and successful team.
Disclosures
reAlphaBRAIN is licensed from reAlpha Tech Corp.
None of the authors of this issue currently own any shares or assets of reAlpha.
We have no reAlpha shares or assets in the ALTS 1 Fund
This issue has been a sponsored deep-dive, meaning Alts has been paid to write an independent analysis of reAlpha. reAlpha has agreed to offer an unconstrained look at their business & operations. reAlpha is a sponsor of Alts, but our research is neutral and unbiased. This should not be considered investment advice, but rather an independent analysis to help readers make their own investment decisions. All opinions expressed here are ours, and ours alone. We hope you find it informative and fair.