Website investing is underrated
---
Updated Mar 6, 2023
If there's one thing you need to know about me, it's that website investing has played a huge role in my life.
I've been an industry bull since selling my first website in 2012. I sold the site on Flippa, a company I would later join as Head of Product, and have been actively involved in the space ever since.
A few reasons why I love this industry:
Underrated asset class. Value investing is alive and well in this space. There are funds galore, if you know how to find them.
Non-correlated. Many asset classes are increasingly correlated, but websites are completely detached from what's happening in other markets.
Direct control. Unlike other investments, websites give you a huge degree of freedom and control. There are risks, but you can also give yourself an outsized edge.
Even though website investing has been around for many years, the drumbeat has started to get loud in the past few years. This is thanks to a swath of new buyers hungry for yield, and some very innovative companies in the space.
One of these companies is WebStreet (formerly Empire Flippers Capital).
Website investing is a fascinating world. But there are some key problems with it; stuff that turns the average would-be investor away. One of the reasons I like WebStreet is that they have gone above and beyond to solve these problems.
Allow me to explain..
Podcast with Kyle Kuderewski
Before we get into the weeds, Horacio recently sat down with Kyle Kuderewski of WebStreet. The podcast goes into what WebStreet is all about, why it was created, and what makes it special. Check it out:
The problems with website investing
There are two well-known problems with website investing: trust and time.
Trust
For any marketplace to function, you need trust. If the buyer & seller cannot trust each other, and if they cannot trade through a trustworthy medium, the whole thing falls apart.
A big problem with website investing is that trust can be hard to come by. Yes, there are a lot of good sellers out there. (In fact, sellers are mostly good!) But there are loads of shysters as well.
Time
While you have direct control over a website, this control works both ways. It's on you to improve the value of your investment, and that takes time.
A common misconception (and hope!) is that a website earning good money will continue to rise on its own. That's not the case at all. You need to actively invest your time, money, and energy into a site, or it will start to wither.
There are many ways to view investments. Risk and scarcity, time and inherent value. But one of my favorite ways is through the dimensions of Passive vs Active, and Appreciation Plays vs Income Plays.
Here's how website investing compares to some of my other favorite alternatives: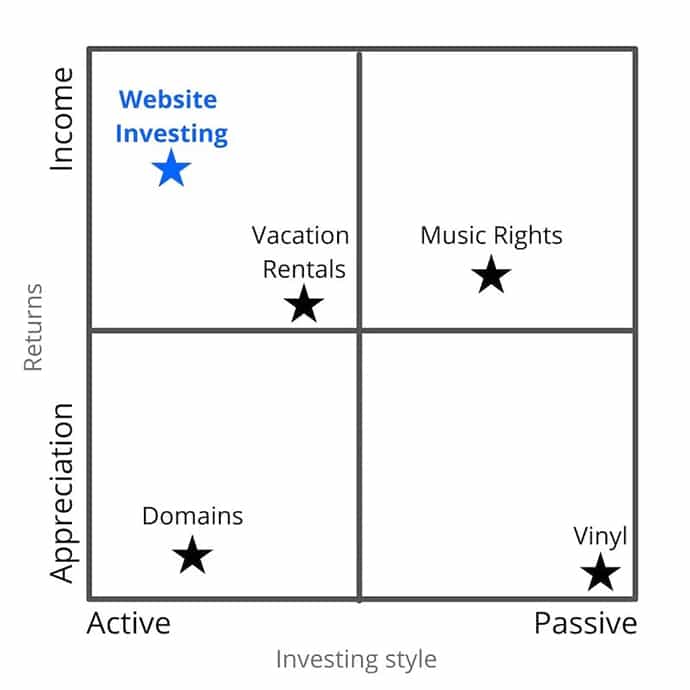 As you can see, website investing is mainly an income-generating investment that requires active management. Everyone loves the former, but not everyone loves the latter.
But what if you could change that? What if you could get the benefits of both income generation and passive investing?Enter WebStreet
What is WebStreet?
WebStreet is an investment platform that matches investors with highly experienced online business portfolio managers with successful track records. They are one of the very first companies to offer fractionalized, truly passive ownership of cash flowing websites.
The company has acknowledged the two big issues with website investing—trust and time—and addressed them both in one elegant solution.
In doing so, they've moved website investing from active income into passive income: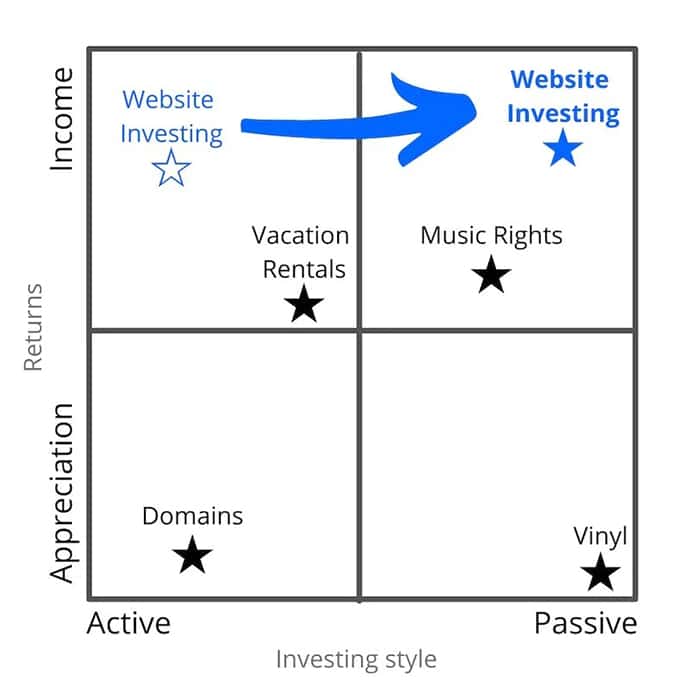 This is huge. This upper-right quadrant is, in my book, the holy grail of alternative investments.
WebStreet has been doing this for 2 years now, and they're about to kick things into high gear with the start of their Round 5 Funds.
How does WebStreet work?
For portfolio managers
Naturally, lots of website portfolio managers want to be on the platform. As a result, they heavily vet all portfolio managers who want to work with them.
First, each portfolio manager applies through this a comprehensive questionnaire
Next, WebStreet analyzes the submissions, and shortlists a few standouts
If approved, portfolio managers must then submit an even more detailed form (bureaucratic, but worth it)
The portfolio manager has two face-to-face interviews, and must submit a full due diligence plan and growth strategy for a site of their choosing
Finally, portfolio managers must outline financial projections. Only those with substantial market knowledge will be considered.
For investors
The beauty of WebStreet is how easy they make everything for investors.
Investors no longer have to spend hours on management, optimization and maintenance. Investing through WebStreet is, once again, completely passive.
To manage & run the websites, WebStreet has teamed up with a series of professional website portfolio managers who do all the work for you. In fact, I was initially surprised to learn that as an investor, you don't actually pick the site you're investing in, but rather you pick the portfolio manager!
Investors essentially supply this trusted portfolio manager with capital. The portfolio manager then buys a high-performing website, and splits the return with investors:
Investors keep 66.7% of profits from regular cash flow
Investors keep 66.7% of any increase in value when the site is sold (2-4 year range)
If the site is sold for less than the purchase price, investors recoup their money first
As an investor you lose direct control, but you're in good hands. The pros far outweigh the cons.
WebStreet expects 3-4% cash on cash returns per quarter, before exits. Including profits from exits, WebStreet projects annualized returns of 20% per Fund.
After completing 1 year of operations, Round 1 Funds have yielded an average of 15% cash on cash distributions, being well on track for 20%+ annualized returns over the lifetime of these funds.
Distributions occur 9-12 months after the initial investment and are returned quarterly. The typical hold period for fractional website ownership is 2-4 years.
Download The Latest Performance Data For Round 1, 2 and 3 Funds
Opportunity: WebStreet Round 5
Okay, now let's get to the news.
Over the past two years, WebStreet has performed four investment rounds. These have brought in $22M+ in capital, 14 funds, 10 unique portfolio managers, and 30+ online businesses.
Now you have the opportunity to invest in Round 5.
Round 5
For this round, WebStreet has 4 Funds across Amazon FBA and Affiliate & Display monetizations. Although investing in one fund is possible, WebStreet highly recommends investing in all 4 Funds in order to diversify your portfolio and mitigate the risk of any single point of failure.
Let's take a look at each fund in a bit more detail:
Fund 8022:
This Fund is managed by Jonathan and RJ, business partners with a combined experience of over 30 years and a strong track record in the Amazon FBA space. They will be looking to acquire businesses with key processes recorded in robust SOPs, with products that have extensive reviews and are rated no lower than 4.5 stars.
Fund 8023:
This Fund is managed by veterans in the Amazon FBA space, Moti and Tomer, business partners who currently operate 11 FBA brands. They are looking to acquire brands with no more than 10 high-quality, non-seasonal SKUs, with preferences in the Home & Kitchen and Sports & Outdoors categories. They will also be looking for opportunities to expand to other Amazon marketplaces, such as those in Canada and Mexico.
Fund 8024:
This Fund is managed by the TreasureHunter team, and their track record speaks for itself. The management team previously founded Ever-Growing, a company with over 16 affiliate sites, and will be focusing on acquiring unique, high-quality content sites that are passion-driven—think sports and hobbies.
Fund 8025:
This Fund is managed by Scott Davis, a repeat portfolio manager with WebStreet. His previous Fund has returned 3-5% cash on cash returns per quarter, and Scott will be looking once again to acquire high-quality niche sites that are primarily driven by organic traffic. He will be leveraging his extensive experience and knowledge to introduce affiliate and display advertising as well as other monetization opportunities.
With Round 1 Funds delivering a 15% annual cash yield after 1 year of operation, it's easy to understand why everyone's excited for Round 5.
What are the requirements for investing?
So this is the good news. There are only a few requirements you need to meet in order to invest with WebStreet.
Investors must be accredited, meaning they must have an annual income of $200,000 or have a joint household net worth of $1M+. Currently, the minimum investment amount per Fund is set at $30,000, and this may increase as the round goes on. The minimum investment across all four Funds, however, is $60,000, which breaks down to only $15,000 per Fund.
This option is only available if you invest across all 4 Funds, and WebStreet highly recommends doing so in order to diversify your portfolio and mitigate risks.
Click here to view the current Round 5 Funds
WebStreet Direct Raise
Last year, we talked about WebStreet's direct raise and what they intend on doing with the capital raised. Let's deep dive a little more into it and give you an update on how it went below:
Amount Raised
WebStreet was able to raise just shy of $3M in direct capital in order to grow their team, improve their tech, and more. This was a very successful raise and enabled them to put into motion a few things that will help propel them into the next gear.
One of their main uses of capital was to grow the team, and they surely have. At the end of Q3 2022, five new team members joined WebStreet: 2 Marketing Specialists, 1 Project Manager, 1 Investment Advisor, and 1 Investment Analyst.
This strategic hiring in multiple departments has enabled WebStreet to not only add highly-needed manpower resources to their team but also expand their marketing efforts.
Ownership
Now that the raise is complete, about 10.5% of WebStreet will be owned by investors. The remainder will be controlled mostly by co-founders Justin Cooke and Joe Magnotti, as well as WebStreet's Managing Partner Mike Vranjkovic.
The holding period for the WebStreet raise is somewhat longer-term, set at 5–10 years. Investors should note that the minority stake is completely illiquid; you cannot get your money back until the hold period is complete.
Holding period
Throughout the minimum 5-year hold period, there are no expected distributions for investors at least until 2025. Between 2025 and 2027 (as the company becomes cash flow positive), investors may see small distributions. However, about 90% of the expected return will be realized upon investor exit.
Investment type
The investment type is preferred equity. This basically means if the business is sold, or majority ownership changes hands, investors are first to get their money back. It also entails that asset ownership is completely passive, which means no voting rights.
Capital Deployment
The raised capital will be distributed in four parts.
Most of the capital ($1.5m) will be used for company operations to assist in scaling up. This money will go to the management team, sales employees, and project managers.
The remaining operating capital ($500k) will be used for legal expenses, marketing, software development, HR, training etc.
$1m will go to debt repayment – primarily paying off the loan from Empire Flippers. By paying this off, WebStreet will be able to fuel itself and expand their operations.
The final $1m will exist as working capital. It will generally operate as a cash reserve until the company is cash flow positive. It may also be dipped into in case a fantastic investment opportunity arises.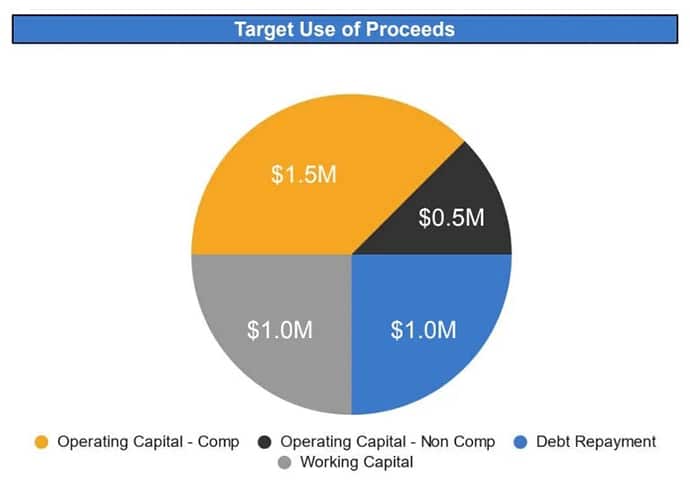 Projections
WebStreet has set its projected asset internal rate of return at an impressive 32.2% per annum. This target is based on financial projections YoY until 2027 and an equity value at exit of about $137M.
The company anticipates a positive EBITDA by the 2024 financial year, reaching its goal of $100M in deployed capital by 2025.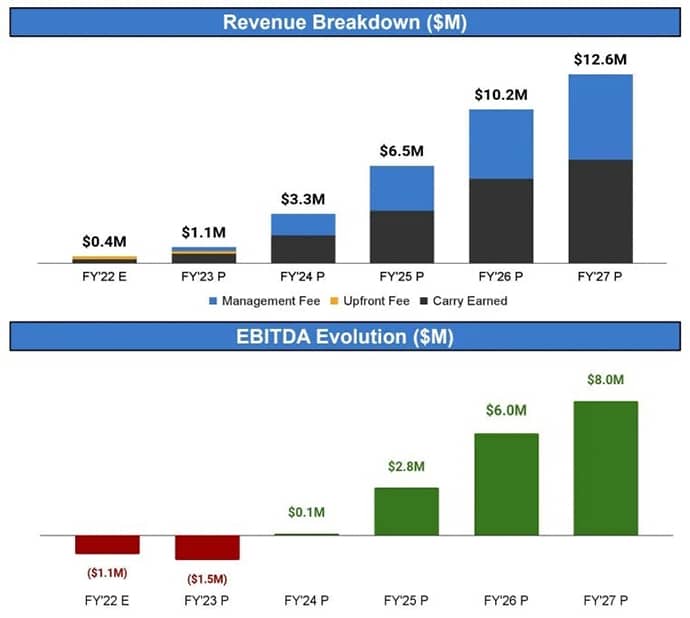 Like any startup, much of the potential growth and investor return are based on projections. But so much can happen in half a decade, and WebStreet has a proven track record and a sustainable business model.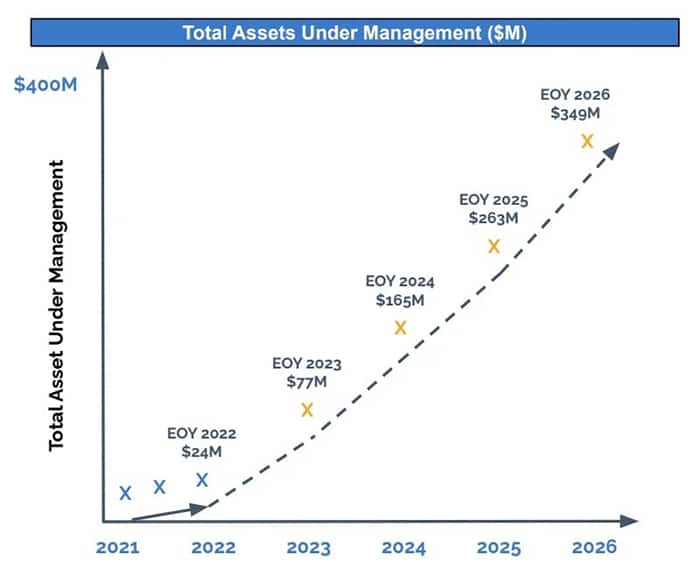 For more info, check out this Q&A they did (they were still called EFC then).
Closing thoughts
If website investing used to be a well-kept secret, those days are over. Smart investors are finally looking in the right places for cash flow and above-average returns. Website investing is a terrific source of both. The secret is getting out.
But it's risky if you don't know what you're doing. There's a big difference between taking all the risk yourself and funding a seasoned portfolio manager to take the reins for you.
WebStreet was born out of Empire Flippers. Their emphasis on trust and unique model has pushed the industry forward. They turned website investing from an actively-managed, risky time-suck into a hands-off, passive investment with cash flow and appreciation. The holy grail combo.
WebStreet is off to a terrific start and has proven the model works. Now it's time for them to grow up and kick their own operation into something truly spectacular.
I highly recommend checking out WebStreet, especially their current Round 5 Funds. 👍 This is a great team — one that I know very well — and a very unique investment opportunity.
Additional Resources