Two EU Regulators Comment on Crypto and ICOs | Update EU crowdfunding regulation
---
This week we focus on the Status of Alternative Finance in Latvia with Martins Sulte and present the successful crowdfunding case of Linda Liukas who raised $380,747 on Kickstarter for a programming book for children.
Further news this week:
Two EU Regulators Comment on Crypto and ICOs, Potential for EU-Wide Rules
Latest insights on European Crowdfunding Legislation
Seedrs launches first 'passive' fund
Altfinator Hubs presented as best practice at European Commission's Alternative Finance and Fintech expert workshop
ECWT review with : Linda Liukas – Hello Ruby!
European Expert : Martins Sulte (Latvia)
Two EU Regulators Comment on Crypto and ICOs, Potential for EU-Wide Rules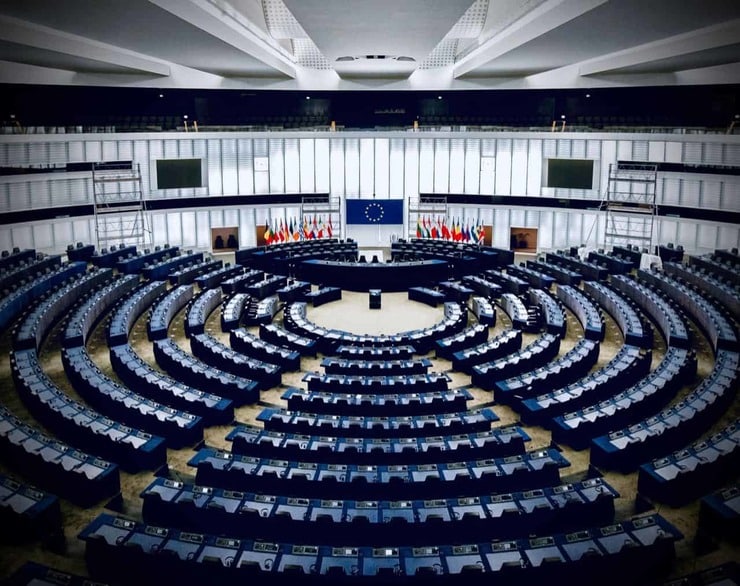 Last week both the European Banking Authority (EBA) and the European Securities and Markets Authority (ESMA) came out with comments on the cryptocurrency and ICO space.
ESMA: EU level action needed
ESMA says it has been communicating with the national competent authorities of EU member states, which are facing challenges on how crypto assets fit in with existing requirements. The agency released a statement recommending EU-level action for tackling concerns related to crypto assets.
ESMA chair Steven Maijoor stated:
"In order to have a level playing field and to ensure adequate investor protection across the EU, we consider that the gaps and issues identified would best be addressed at the European level."
ESMA: Adjust MiFID framework
When it comes to crypto assets that qualify as MiFID financial instruments, ESMA says existing regulations could require additional work to account for the unique properties of crypto assets.
For crypto assets that cannot be classified as financial instruments, ESMA says that "the absence of applicable financial rules leaves investors exposed to substantial risks." At a minimum, ESMA recommends that anti-money laundering laws should be applied to all crypto assets and related activities.
EBA: Different types of assets
The European Banking Authority released a report on crypto assets in which it provides an outline of different types of crypto assets and the role of EU agencies in the space. The EBA recommends a cost/benefit analysis to determine if EU-level regulation of crypto assets is an appropriate measure.
EBA's executive director, Adam Farkas, commented:
"The EBA's warnings to consumers and institutions on virtual currencies remain valid. The EBA calls on the European Commission to assess whether regulatory action is needed to achieve a common EU approach to crypto-assets. The EBA continues to monitor market developments from a prudential and consumer perspective."
The full documents can be found here:
Latest insight on European Crowdfunding Legislation
In a previous draft of the crowdfunding proposal of the European Parliament, ICOs were still part of the new pan-European crowdfunding legislation. It is now removed from the negotiations (latest version). What else is on the table now and how would the new regulation most likely look like? The European Commission in the past was very clear that a EU wide framework would be important:
"A lack of a common EU [crowdfunding] framework also hinders the ability of crowdfunding providers to scale-up within the Single Market mainly due to conflicting approaches to national supervision and regulation."
Raises possible up to €8 million
As part of the legislative push, the European Parliament Economic and Monetary Affairs Committee have agreed to extend the scope of the regulation by increasing the maximum threshold for each crowdfunding offer to €8,000,000, calculated over a period of 12 months. For the rest there are still a lot of choices to be made.
Last October, the European association of crowdfunding providers ECN (European Crowdfunding Network) already published a position paper on looming changes to European crowdfunding rules. The ECN stated that based on their extensive experience operating in this space, they believe there are 16 key issues which, if not addressed appropriately, "would defeat or undermine the stated purposes" of any attempt to create pan-European rules.
Open letter to member states
At the end of December they again wrote a letter to all member states to make sure the European Crowdfunding Services Providers Regulation (ECSPR) would be implemented in the best possible way. The write that it is crucial that European crowdfunding players are not faced with the burdens and related costs of identifying and complying with 28 different regimes across the EU and therefore a "29th regime" with regulation that are valid in all European countries is preferred for the industry.
Next steps
At this time the "trialogue" (the negotiation with the European Council) is started. Because of the European Parliament elections at the end of March they need to hurry to finalize the agreement in time. If they come to an agreement it will most likely take 12 months before it is implemented and can be used. In the most positive case this new regulation will be available by the summer of 2020.
The latest draft of the European Parliament version of the regulation can be found here.
Seedrs launches first 'passive' fund
Seedrs will set up a fund (EIS100) containing 100 start-ups from their platform chosen by an algorithm for investors. This way the investment of the investors will automatically be diversified, fixing one of the big problem for small investors who like to invest in equity of small companies. This fund allows investors to build a portfolio of young firms over a 12-month period requiring a minimum investment of £1,000.
Over £1 billion raised by 2 largest UK platforms
Seedrs is globally one of the largest equity crowdfunding platforms. It has completed 732 deals, putting £503m of cash into start-ups since it was launched in 2012. £195 million was raised in 2018, a growth of 60% from 2017, including 28 deals that raised over £1 million.
The other large UK equity crowdfunding platform Crowdcube also announced record-breaking growth. With 198 projects they raised £224 million last year (+72%),. They now have raised £625m in equity funding.
These two platforms alone raised over £1 billion in funding already, with more then £400 million in 2018. The new passive fund of Seedrs will boost the number also in 2019.
Altfinator Hubs presented as best practice at European Commission's Alternative Finance and Fintech expert workshop
During the "Alternative Finance and FinTech: Best Practices and Trends in the EU" workshop of the European Commission on October 17 in Vienna, I was asked to present the European Altfinator project and as best-practise introduce the concept of the Altfinator Hubs in this workshop with European experts.
More details here http://www.innovation.at/blog/2018/10/30/eu18/  and in the video below
ECWT review with : Linda Liukas – Hello Ruby !
Hello Ruby is a children's book that teaches programming fundamentals through stories and kid-friendly activities.
After having founded Rails Girls, in 2014 Linda decided to write and illustrate a book for young children about the magical world of technology – Hello Ruby.
Linda decided to raise funding for the publishing through the crowdfunding platform Kickstarter and smashed its $10,000 funding goal after just 3.5 hours and gathering $380,747 in total funding during the funding period of 30 days (Jan 23 2014 – Feb 22 2014), becoming the platform's most highly funded children's book.
Hello Ruby is the world's most whimsical way to learn about technology, computing and coding. It´s all about curiosity, playfulness and logic. The book provides tools for kids, parents and educators to learn to understand programming in a fun and creative way.
Hello Ruby started off with a book that is now published in over 22 languages, including Catalan, Chinese, Dutch, English, Finnish, French, Hungarian, Korean, Polish, Spanish, Swedish.
European Expert : Martins Sulte (Latvia)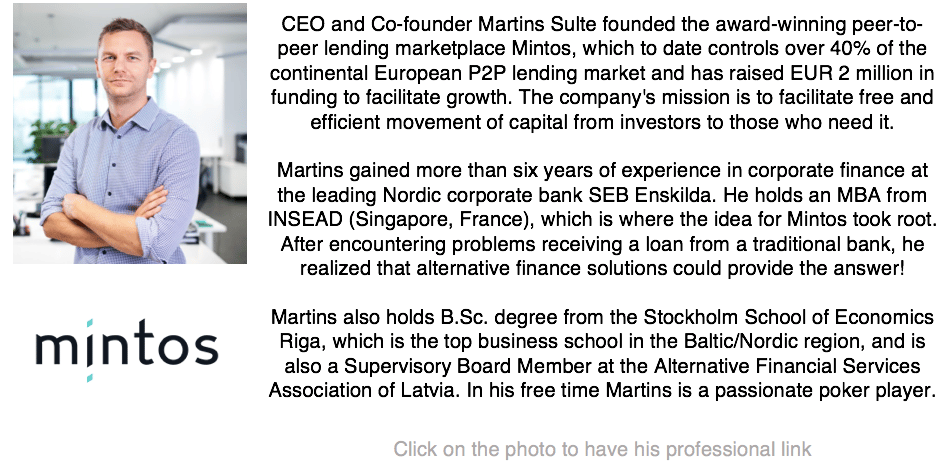 What is the current status of Alternative Finance?
The alternative finance market kicked-off in 2008 in Latvia, but it has definitely made up for lost time. In 2016 the Latvian alternative finance market grew by 16% according to the overview of the activities of the non-bank consumer credit market published in 2017. As a result, banks no longer have a monopoly over the lending industry and investments are no longer confined to stocks and bonds. For non-bank lenders, as of June 30, 2017, the total net loan portfolio was more than EUR 612 million.
On the other hand, the peer-to-peer lending industry, which is a subset of the alternative lending market, has brought endless opportunities and ample variety for international borrowers and investors alike.
According to The 3rd European Alternative Finance Industry Benchmarking Report, the Baltic countries have shown one of the fastest growth rates, expanding by 287% from 2015 to 2016. In 2016, the alternative finance market volume has grown by close to EUR 101 million, with a total volume of EUR 136 million. As a result, the Baltic region is the fifth largest in continental Europe for alternative finance.
The peer-to-peer lending market is one of the latest trends in the Latvian market: industry data from the Alternative Financial Services Association of Latvia shows that in 2017, EUR 486 million was invested through Latvian peer-to-peer lending platforms, an increase of EUR 288 million from the previous year. Since 2015, more than EUR 909 million has been invested in peer-to-peer platforms and in the first quarter of 2018, EUR 201 million was invested. One factor to highlight is that through all these investments a lot of cross-border payments were made as most of the investments come from international investors and loans.
Can you give us an inspiring case from your country?
The first two platforms established in Latvia were Mintos and TWINO in 2015. According to data from AltFi, Mintos is the leading player in the peer-to-peer lending market in Continental Europe with 46% of market share. Other companies in the industry include Dofinance, Swaper, Viainvest, Viventor, and others.
About Mintos:
Mintos is a global online marketplace for loans. On one hand, we give retail investors the opportunity to invest in loans originated by a variety of alternative lending companies in an easy and transparent way, and earn great returns. On the other hand, our marketplace provides loan originators with flexible funding and access to thousands of investors throughout the world instantly.
There is no service fee when investing through Mintos. The marketplace is recognized as very user-friendly due to its well-designed layout which is transferable across desktop and mobile services. Our investor's satisfaction is evident in our 9.0 rating on Trustpilot.
What are the biggest obstacles for growth?
One of the obstacles to the growth of the alternative finance industry in Latvia is lack of harmonised regulations within the European Union (EU) which struggle to keep the pace. What we have noticed at Mintos is that innovation precedes regulation in many industries. Some of the challenges are also due to the fact that the EU is a combination of different countries, cultures and laws, which has its positive sides, but at the same time it is difficult to find blanket laws to apply to each country and different currencies, thus every country has to adapt to its needs and develop its own regulations. The European Commission has adopted a proposal for a regulation on crowdfunding which will allow crowdlending platforms to only comply with one set of rules when operating in their home market and in the EU.
Currently, the Ministry of Finance of Latvia is working on creating effective regulation for the peer-to-peer lending industry in the country. In 2017, it initiated the development of new regulation for the P2P lending industry and some of the main players, such as Mintos and TWINO have been active in developing supportive and fair regulation for the country. The regulation is expected to come into effect in 2018