New here? Read up on our past NFT issues to get the most from this post.
June 7 | ± 6 minutes
CONTENTS:
Our analysis of the NFT market for the year & for the week
All you need to know about current drops
A heads up on cool projects we think are worth checking out
Industry news update
Let's go!
NFTs in 2022
Our index shows that NFTs in the fractional markets have given back all their returns since secondary trading opened in September 2021. Fractional assets stayed even in the past week, yielding a 1% return for all IPOs across Otis and Rally.
If there are any positives, it's that last week showed a minor increase in trade volume from the previous week, but it was still the second-lowest week of trade volume since May 2021.
NFTs Last Week
NFTs on Fractional Marketplaces
The fractional markets have remained stable. Some assets are experiencing slight bumps, while others are experiencing drops. This week, our focus is on the price action around the CryptoPunks.
In early May, Rally's CryptoPunk #9670 had a market cap of $259k. One month later, its market cap stands at $149k. CryptoPunk #2142 on Otis IPO'd with a market cap of $385k, its current market cap is $162k – a near 58% decrease in investment value.
There could be more pain in store. Floor prices for the Punks have reached as low as $82k, and there are quite a few available for about $90k. At this price point, it appears that some investors are willing to buy in.
ReidarDAO recently published its reason for buying CryptoPunk #9675 for $98k.
NFTs on OpenSea
For a second week in a row, Goblintown is the best-selling project on OpenSea.
At this point, you either love it or hate it.
Keep in mind, Goblintown might appear as if it's riding a grassroots movement, but it's probably more likely that its founding team has executed a well-planned marketing campaign.
At #8 is i'll poop it nft, and at #9 is the Solana-based Great Goats, which look a whole lot like the Solana Okay Bears, which look a whole lot like the Bored Ape Yacht Club…
As for the Great Goats, they look just like the Okay Bears, but make it goats. And that's all I have to say about that.
In terms of new projects, it feels like there's been a shift as creators move into the "free mint" phase.
This could lead to innovations and forms of engagement, but right now, it's as if the entire space is competing to make the biggest parody of itself as we head toward mutually assured destruction. And I'm kind of OK with that.
NFTs This Week
Fractional Marketplaces
When: June 7th @ 12 PM ET
Platform: Rally
Market Cap: $68k
Retained Equity: $0
Inferred Value: $30k
Our View: [INSIDERS ONLY]
Project to Follow
Auction: Every day, every 15 minutes Price: Auctions typically go for 0.4 – 0.45 ETH
Derived from the Nouns DAO project to provide members greater access to a DAO with a well-sized treasury. The Nouns DAO treasury currently holds 24,875 ETH, or about $46.3 million.
A Lil Noun is minted every day, every 15min, forever. As of this writing, there have been more than 1,600 Lil Nouns minted.
All proceeds from the mints and secondary sales go to the Lil Nouns DAO Treasury. The treasury currently holds 987 ETH.
One Lil Noun equals one vote in the DAO. Lil Nouns are currently going for between 0.4 and 0.45 ETH at auction.
Industry News
Some tidbits from around the NFT world:
Jim Carey bought his first NFT, a piece entitled 'Devotion' from The Wild Within's genesis project by artist Koopmans Wexell. The work is a digitally enhanced version of nature taking over an abandoned building in the former Soviet Union.
NFT and Solidity developer foobar pointed out a private key can mint thousands of Bored Ape clones if it's hacked. Yuga Labs has known about this potential exploit for more than a year but has not revoked ownership of the key. The key was last active in February 2022, and it's unknown who controls it. The potential exploit has led many to demand that Yuga Labs take immediate action.
Three brothers are recreating Staten Island in the metaverse, with "The Godfather" house already receiving a bid of $3,500. The metaverse version of the "Forgotten Borough," as the Island is often referred to, is filled with gray blocks with empty facades. It's up to the buyers to renovate the building they buy. For those who ever dreamed of living in Staten Island, here's your chance to do so – virtually.
Last but not least, our Podcast
In this episode, Horacio spoke with Kristian Kielhofner, founder of Tovera. Tovera is a platform built around a verification program for fraud detection in digital assets. Kristian talks about disinformation and deep fakes, the implications of letting fraud go unchecked, how Tovera determines if an NFT is authentic, and more.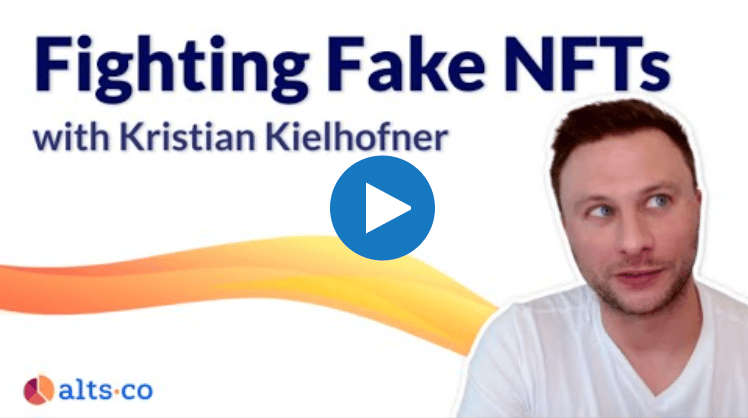 I hope you enjoyed this week's issue. We take all feedback into consideration, so please feel free to reach out with tips, comments, or suggestions on what you'd like to hear about next.
Until next week!
Horacio