Welcome to Sports Cards Insider – FREE Version. Because this buyout analysis is a new feature, you are receiving the INSIDER Version for free.
Click here to start a free trial of Insider so you don't miss any of our exclusive content in the future.
1985 Nike Michael Jordan Rookie Promo (Basket of 50)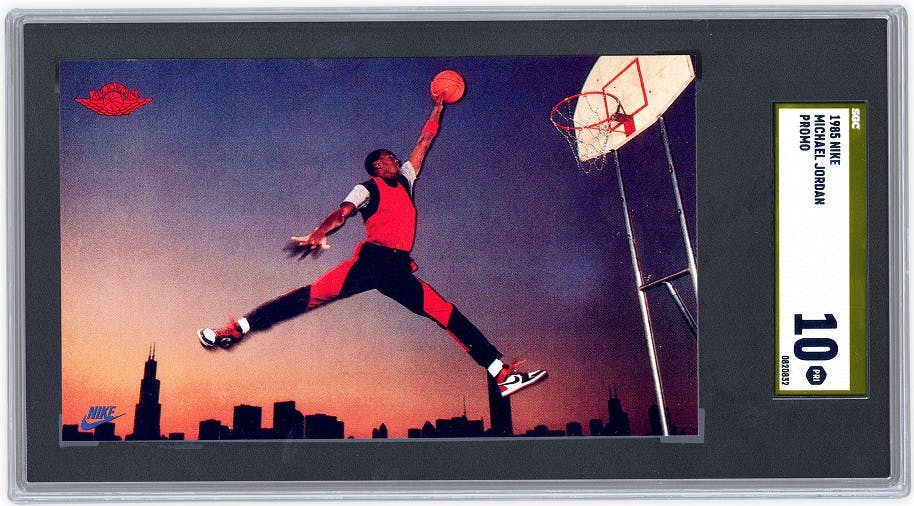 About the Asset
This is a collection of (50) 1985 Nike Michael Jordan rookie cards that Collectable IPO'd last December for $139,000. It began trading on April 1st and reached a high of $14.50/share before slowly declining all the way to a low of $9.90/share earlier this week. Before the buyout offer it had returned to the IPO price of $10/share.

The 50 cards are all SGC graded and break down as follows:
(3) SGC 100 Pristine Gold Label
(16) SGC 10 Gem Mint
(31) SGC 9.5
There are 9 total SGC 100 Pristines, 83 SGC 10s and 55 SGC 9.5s so this represents a substantial portion of the total population. There are also 168 PSA 10s out there. So it's not a particularly rare card.
About the Offer
This morning, Collectable received a gross buyout offer for $180,000, and after fees it represents a net of $12.68/share. It's worth noting that Collectable, unlike Otis and Rally Road, are not deducting corporate taxes from the offer so there is no double taxation here. Their fees represent a much more palatable $0.27/share, or a little over 2%.
Recent Sales History and Valuation
Let's take this one at a time, starting with the SGC 100 Pristines. The most recent sale came at Heritage in March for $48,000. Jordan cards have taken a hit since they reached their peak in late January/early February, and this Nike Promo card is no exception. At the time of the SGC 100 sale, PSA 10s were going in the $30K range, but most recently sold for $21,000 at PWCC and $18,450 at Goldin last week, representing a 30-40% drop. While the SGC Pristines have the cachet of a gold label and are much scarcer, let's be conservative and discount their value by the same and put their current value at $30,000 each.
The most recent sale of a SGC 10 was at Heritage earlier this month for $7,200, after the decline had started to flatten out. I think it's fair to keep that as the current value.
Finally, the most recent sale of a SGC 9.5 was at Goldin in April for $3,900 though that was "silver diamond" certified by MBA which, whatever you might think of it, does seem to create an auction premium. Another SGC 9.5 went in March at PWCC for $4,850 and given that PSA 9s have dipped by around 50% since then, that would put the current value at $2,400. That also falls in line with the Goldin sale after the premium.
Put that together and we have:
3 SGC Pristine x $30,000 = $90,000
16 SGC 10s x $7,200 = $115,200
31 SGC 9.5s x $2,400 = $74,400
Total = $279,600

Now, we should keep in mind that someone buying a basket of 50 is going to expect a discount on the sum total of the individual cards for the effort of then selling them individually, and they are also likely taking into consideration the future auction fees. Even by being extra generous and assigning a 20% discount for those factors, the absolute floor of the value here (or the bare minimum I'd consider a fair offer) is around $224,000 or $16.11/share. That is still considerably higher than this buyout offer.
Verdict
I voted no. It's just not close enough to the fair value. What it seems to me is that the potential buyer spotted the dip on the secondary market and decided it was a good time to pounce by offering a premium on the current price that still represented a discount to the actual value. It's a smart offer on their part, but the smart thing for shareholders to do here would be to vote no, despite its lackluster performance on the secondary market thus far.
Disclosure: I own shares of this asset.