Today's issue is about the sky-high world of airspace rights.
Here at Alts, we like to explore some pretty wild markets. Islands and Hot Wheels have been some of my favorite topics to explore.
But air rights is a really interesting topic — one I've been wanting to do for some time.
Note: This is Part 1 in our series on air rights. If you enjoyed this, here's Part 2.
Let's go 🛫
Urban airspace is getting crowded
Back in the 1950s, there were just 160 skyscrapers — half of which were in New York City. The average height was 570 feet, or a measly 45 stories tall.
Fast forward 70 years, and boy, have times changed. 106 new skyscrapers were built in 2020 alone, and the average height of a new tower has now doubled to 1,300 feet.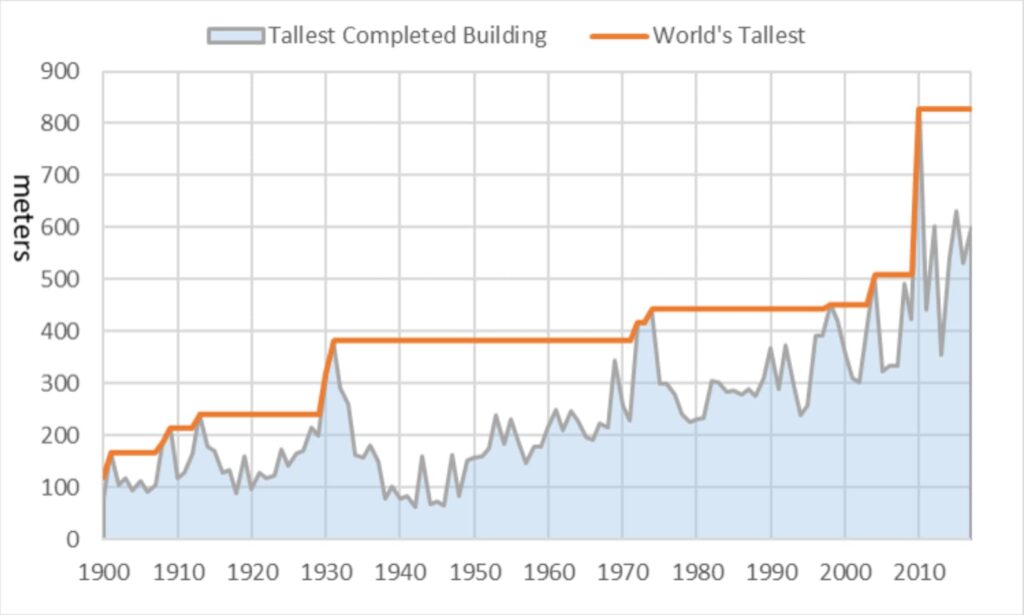 But there was a problem.
The spaces directly above, below and adjacent to skyscrapers were getting extremely crowded. Citizens and governments became concerned. Even developers realized that building on top of this massive infrastructure had become a tall order (sorry).
With that, the concept of air rights was born.
What are air rights?
Air rights are the legal right to construct (or prevent construction on) the vertical air space directly above a plot of real estate.
This is a new concept. 100 years ago, it didn't exist. In fact, ancient law from the Romans dictated:Cuius est solum, eius est usque ad coelum et ad inferos.
This translates to, "Whoever owns the soil, it is theirs up to Heaven and down to Hell."
Basically, if you owned property, you could build as high above it (or as low beneath it) as you pleased.
The history of air rights
Like skyscrapers themselves, the history of air rights stems from New York City.
In the early 1900s, skyscrapers were popping up just as commercial air travel was taking off. As NYC's skyline became taller, the aviation industry knew society needed a way to prevent crashes and flight delays.
In 1919, a Paris convention introduced laws to ensure private real estate became publicly owned after it reached a certain height. While this served the public interest, it wasn't really an investment opportunity until the 1950s.
Railroads were the first to grasp the potential of commercializing air rights. One of the earliest instances was the Grand Central Terminal, one of New York City's busiest transit hubs and most iconic buildings.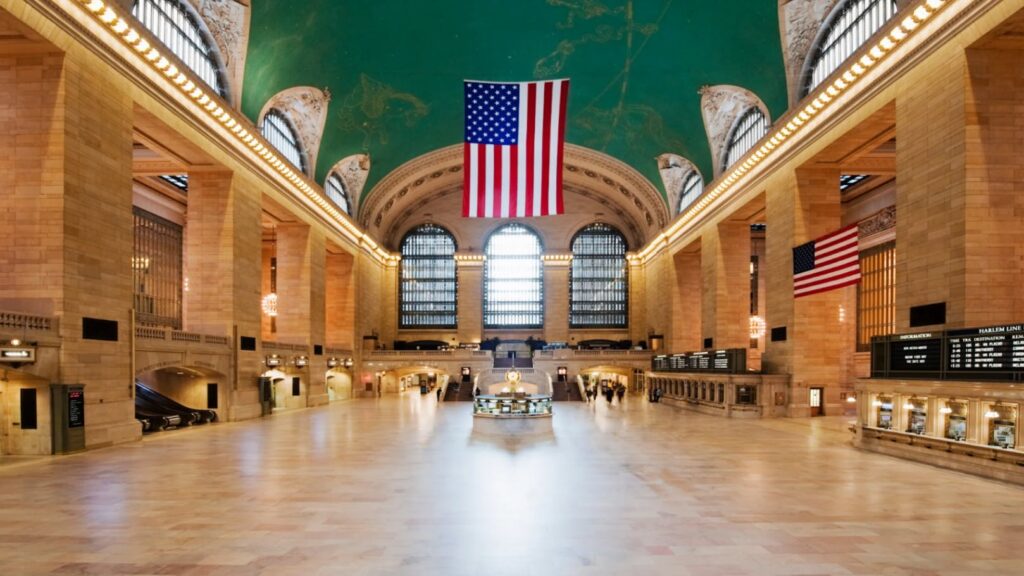 Grand Central's lead engineer William Wilgus designed and built a platform above the rail tracks, which allowed developers to construct properties above the railway.
This gave a much-needed income boost for railway operators, who were struggling with building costs and new air rights taxes. Wilgus referred to their strategy as 'taking wealth from the air.'
The strategy continued to evolve until 1954 when an 800-foot high skyscraper was proposed to replace the Grand Central Terminal. This would've been a huge coup for Wilgus and his team, but the public wasn't loving it.
Protests prevented Grand Central Terminal's demolition, and eventually, the towering structure was built behind the station. Originally called the Pan Am building, it is now known as the MetLife building.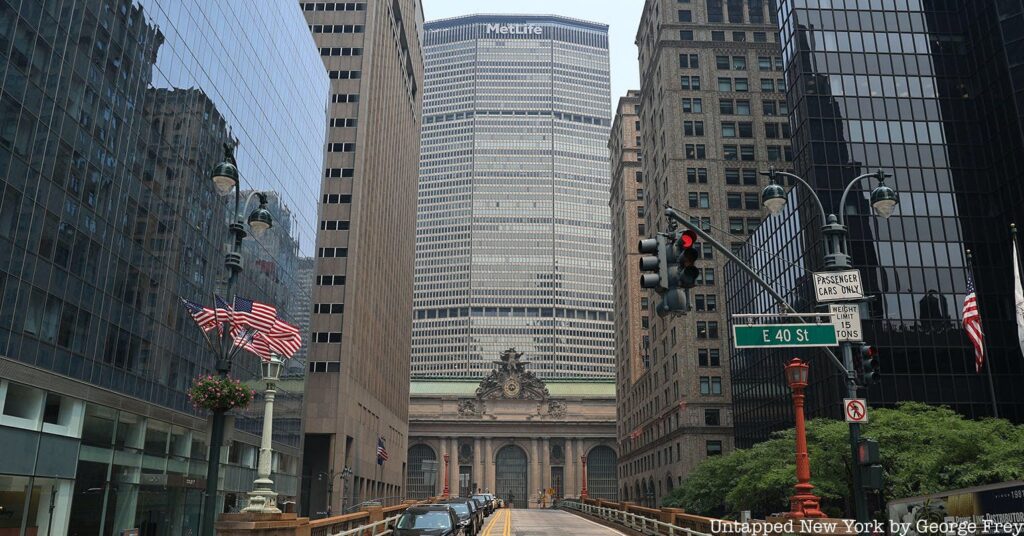 Air rights markets
In many cities, the total buildable airspace is capped by the government through a complex set of zoning laws. Since each building owns the vertical space directly above them, owners have the right to build up to the authorized limit set by the city.
But not all building owners want to exercise this right! Owners can decide not to build on the extra space they're entitled to, and instead sell those rights to other building owners and developers.
Because of this, entirely new air rights markets have been created out of thin air. Unbuilt airspace can now be bought, sold, and traded like anything else.
Furthermore, rights can be combined to reach a desired height. For example, say a developer wants to build a Supertall skyscraper. They may need 1,000 feet of vertical space, but only hold the rights to 500 feet. A nearby church probably has no desire to build a tower, so they can acquire 500 feet of space from the church, and another 200 from other buildings to reach their goal.
This short video explains the concept:
These markets have spread globally over the past few decades, becoming more and more prevalent as skyscrapers continue to reach new heights.
New York
There is probably no air rights market more competitive than NYC.
It makes sense – historically, New York has been the world leader in skyscrapers. While it has fallen behind Hong Kong and Shenzen, it still sits third on the list.
In New York, air rights are also known as 'excess development rights'. So if a developer purchases real estate that allows up to 3,000 feet of floor area and only uses 2,000 feet, they will have 1,000 feet of air rights they can sell off to investors.
It's important to note that air rights don't just apply vertically — they can be combined with an adjacent lot. You can see an example of this in the image below.
A benefit of this is avoiding over-development. Companies, councils and developers can build apartments and offices above existing buildings, instead of taking up room in the already-crowded floor space.
Trump plays this game
One of the highest-profile air rights cases involved none other than Donald Trump.
At the time, he was obsessed with building the tallest skyscraper in the world. (Apparently, when looking at the design plans for his new Trump Tower in the 80s, he took issue with a nearby General Motors building that loomed larger.) When he found out his building couldn't be built taller, he decided to instead cut a third off of his competitor's height.
Of course, this wasn't actually possible, but Trump tried his best by competitively purchasing the air rights to Tiffany's flagship store located right next door. The deal was valued at around $5 million. This allowed him to add 20 extra stories to his colossus, while ensuring developers couldn't build atop Tiffany's and contend his throne for the tallest kid in the playground.
20 years later, Trump was at it again, this time for his 861 foot Trump World Tower. During construction, Trump actually bought the air rights to seven adjacent properties.
The Church of the Holy Family sold their underdeveloped airspace to Trump for double the Tiffany's deal – $10MM. All of this was to ensure that the views from Trump World Tower weren't impeded by other skyscrapers.
Grand Central Station
To this day, the air above Grand Central is worth millions, and has been the center of air rights controversy.
In 2015, the owners sued New York City (along with land developer SL Green) for $1.1 billion. They argued that SL Green's 65-story skyscraper (called One Vanderbilt) was built without the required permits, and its construction devalued the terminal's air rights. The suit was settled out of court, with the initial sum of $1.13 billion being withdrawn.
A few years later, Grand Central Terminal sold the same air rights to banking institute JP Morgan Chase. The deal was reportedly struck a price of $240 million (or $352 per sq ft). Quite possibly the biggest air rights sale in history.
Construction of the 1,388 ft building is ongoing. The proposed tower is set to be all-electric to achieve net zero operational emissions.
Australia
Let's travel down under!
Air rights in Australia don't have the historical significance as New York. However, sales are becoming more prevalent as its cities keep expanding.
What's really interesting is that air rights purchases in Australia can be used to develop elsewhere. An example of this came in 2019 when the City of Sydney council sold $20 million worth of air rights to private developers.
The air rights were to one of Sydney's most historic locations, the heritage-listed Hyde Park.
As properties like Hyde Park are 'heritage sites', developers can't actually build upon them. Instead, a 2015 award scheme introduced by the government allows these developers to use their 'banked' air rights to bolster real estate elsewhere.
The idea is to use the extra funding to preserve sites of national and historical importance.
United Kingdom
Air rights sales in the United Kingdom are pretty few and far between (much like every city not named New York). But it is legal, and developers and investors alike are beginning to see the potential.
An assessment from British property developer and acquisitions group, Apex, suggested that up to 140,000 new houses could be built in the airspace above London's present infrastructure. Based on the city's average house price, this could eventually be worth 74 billion pounds.
The first case of air rights being utilized in England was the construction of office space in 1 Embankment Place. It was developed atop Charing Cross Station in the 1990s, when developers identified 450,000 sq feet of potential airspace to build upon.
The air rights sale was a success, with 1 Embankment Place going on to be rated the most sustainable building in the world.
Other nations
Air rights are still illegal, underutilized, or not possible in several countries. Nations with massive cities, such as Hong Kong, China and the UAE don't appear to have many historical instances of air rights sales.
However, the trend is growing elsewhere.
Japan
Tokyo is the largest city in the world, with an astounding 37 million residents. Recently, it has also become an active player in this space. In 2013, government officials proposed selling off the air rights above various major highways to close-by properties and businesses.
The main target for this move was the Shutoko Expressway, a 15km stretch of road that circles inner Tokyo and is built above a river. Profits raised would then be used to speed up the redevelopment of the city's older buildings that aren't designed to withhold natural disasters like earthquakes.
A similar proposal was launched in 2018 by owners of the Meji Jingu Stadium, a major sporting hub for Tokyo residents. Air rights were sold to surrounding landlords to cover redevelopment costs.
This increased need for funding was due to the city's plan to rebuild the stadium once the 2020 Summer Olympics had taken place. Covid put a damper on these plans, as the games were postponed until 2021.
Brazil
São Paulo, the most highly-populated city in Brazil, re-worked their property legislation in 2014 by reducing land rights. Developers were made to purchase 'construction bonds' before altering large urban areas. These bonds are sold at auction via the stock market.
In that sense, the Brazilian government has turned air rights into a commodity that can be traded for additional development space.
Most expensive air rights sold
Like with fine art, many air rights sales are conducted privately, with minimal public transaction records.
But from publicly available info, it seems Grand Central Terminal takes the cake for the most expensive transaction when they sold 680,000 square feet to JP Morgan for $240 million, or about $352 per square foot.
While this was the largest in terms of value, it was not the most paid per square foot. In fact, it's not really close.
In 2013, millionaire developers William and Arthur Zeckendorf paid $40 million to Christ Church. This price is nearly double what JP Morgan paid, and equated to $600 per square foot. (To put this in perspective, the average American home is worth about $64 per square foot)
But the numbers worked out. As we know, New York City apartments are expensive, and the 30 residencies built as a result were expected to land $8,000 per square foot. Development costs aside, that is some terrific margin to work with.
Conclusion
According to PropertyShark, there are still 1.6 billion square feet of untouched air rights in Manhattan, and another 585,000 square feet available in Queens.
Considering the average price of air rights in Manhattan is about $300 per square foot, that's $480 billion worth of revenue waiting to be snapped up.
In the past, getting your hands on these rights was no easy task. There is a veritable maze of laws, boards, and government bodies regularly vetoing such transactions.
However, cities around the world are beginning to relax tight regulations surrounding the sale of air rights. In fact, the New York City Housing Authority outlined a 10-year plan where they would relinquish control over about 35% of their 80-million square feet of 'excess development' to private equity and developers. I smell opportunity 👃
This might just be the beginning of air rights as an investment. What happens next is anyone's guess, but it would be really cool to see these markets open up to the public, or to buy fractionalized investment opportunities someday.
And with eVTOLs just around the corner, who knows just how far the air rights markets will go?
Note: This was Part 1 in our series on air rights. If you enjoyed this, here's Part 2.