Inside the world of watch collecting. PLUS a podcast with watch dealer Dovi Spigelman.
---
Today we dive into the world of luxury watches. I had a lot of fun with this issue. It features a special podcast episode with Dovi Spigelman: an Alternative Assets reader and luxury watch dealer here in Melbourne.
We had a really interesting 45-minute chat. Listen to it on Spotify or iTunes.
---
The history of watch collecting
Historically, watches weren't so much an investment as they were a collector's item, fashion accessory and status symbol.
Fine watches certainly appreciated over time, especially at the high end. But more importantly they were appreciated by collectors. They represented not only good taste, but complexity and craftsmanship.
Wristwatches were preceded by pocket watches, and some of the most famous and valuable pocket watches arose out of fights between millionaires back in the 30s and 40s. This famous Patek Philippe Henry Graves Supercomplication is one of them.
This "Supercomplication" watch (A "complication" is any function on a watch that tracks something other than the time of day, such as a calendar, chronograph, minute repeater, etc.) was the result of a competition between two phenomenally wealthy men: Henry Graves, a New York banker, and James Ward Packard, a car manufacturer from Warren, Ohio. Both loved watches and engaged in a gentlemanly contest to determine who could commission the most complicated watch.
In 2014 this watch was sold at auction for $24 million. It is the most expensive pocket watch ever sold, and also considered one of the most complicated watches ever created, after the beautifully complex Vacherin Constantin 5720.
While watches have traditionally held their value, appreciation was rare. Fine watches used to be bought at retail, and sold at 50% loss just a few years later. Sure, eventually the value would creep up and match what you paid, but it took a long time.
You didn't lose money, but you didn't really make money either. It was a buy & hold strategy with strong tangible utility; you knew watches held their value, and in the meantime you could enjoy wearing them for many years..
The Paul Newman Daytona auction
About 4 or 5 years ago, everything started to change. Watches that were sold 10 years prior for $20k started going for over a million dollars. Collectors are now becoming investors, and alternative investors (and even some traditional investors) are becoming collectors.
There has been a Cambrian explosion in the world of watch collecting. And it started around 2016 with the auction of a now famous Paul Newman Daytona.
All watches are given names — either officially or unofficially. This is part branding, part culture, and part simply making things easier to remember. Back in the 60s, Rolex had a unpopular watch with an exotic-looking dial. It cost $250 at retail (about $4k today). But it did not sell. Retailers could not move them.
In the 90s, the Italians realized these things were sitting around, and tried to find a way to sell them. In a magazine, they found a picture of Paul Newman (the actor, race car driver, and salad dressing connoisseur) wearing one with its funky dial and all. They used this image to promote the watch more heavily.
That's right — Newman had nothing to do with the official watch marketing at all. The nickname came after.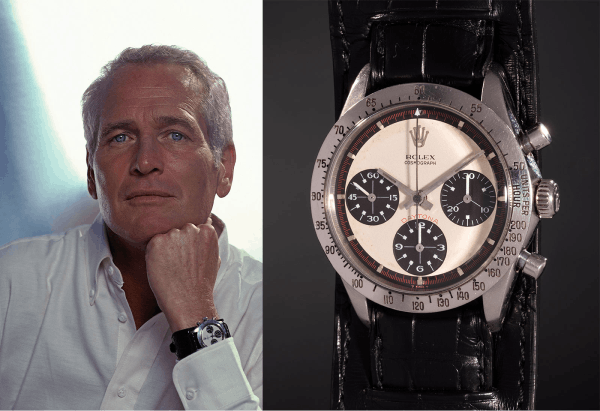 In 2017, after decades of increasing in value, the original Daytona that Newman once wore (which was a gift from his wife) was finally auctioned off. The hype around the auction was big, and as hype grew, the chatter increased. Would the watch hit $10 million? Would it hit $15 million? Would it break the all-time record?
The original Paul Newman Daytona sold for $17.8 million, making it the most expensive wristwatch ever sold, and breaking the previous record by $11 million.
(And frankly, that was a steal. Given the way prices have jumped since 2017, it would probably go for even more today.) Keep in mind this was a watch you could buy in the 90s for $8,500. The cheapest you can find it today is roughly $400k.
This became a calling card for Rolex. A rallying cry that dragged up the entire industry of vintage watch collecting.
Buying watches at retail today
In the old days, you'd walk into Rolex, pick out a watch you liked, put down the money, and walk away happy. If something wasn't in stock, you'd put down a deposit, and they'd get it for you.
Nowadays, you walk in, smile politely, and quickly realize things have changed. Nothing is available! There are essentially no watches in the cases. And you find out that all the new watches have 3 to 7-year waitlists.
Sure, there are some small 28-30mm watches, or garish diamond-encrusted monstrosities. If you buy one of those, maybe they'll think about giving you something better next year. But with demand as high as it is these days, it doesn't actually matter how much money you have. Retailers don't just sell watches to anyone who walks through the door. They hang on to their stock and only release it to special clients who have been loyal over the years. You need to build relationships over time.
And if you're looking to buy a new watch outside of a retailer, then pretty much ignore the retail price. You can't get it for retail anyways.
It's madness.
How did watches get so expensive?
There are a few reasons. The first is pop culture. Watches have been a staple of style & success ever since Sean Connery put the Rolex Submariner on the map as James Bond. Connery wore the Submariner in his next few films, and the watch has been in near-constant production for nearly 60 years since.
Similar to the Porsche 911, the Rolex Submariner gets slightly updated every year. Even after dozens of iterations, it doesn't actually look all that different today.
Second, the big Swiss brands started playing hard to get. Watches are like diamonds: The supply is carefully controlled and monitored by the big brands. Over the past few decades, these brands have (almost certainly) manufactured proportionally fewer watches than they should have. They have purposefully not kept up with increased demand & population. (We don't actually know for sure, because they don't actually release their numbers publicly. But it's the going consensus.)
Third, the watch ecosystem has grown up and developed nicely. Founded in 2003, Chrono24 is the world's leading marketplace for luxury watches, with over 485,000 listings, and half a million watch enthusiasts who visit the site every day.
Another huge site nowadays is Hodinkee.com, which is a watch blog started about 10 years ago by watch enthusiast Ben Clymer. Hodinkee is the leader in watch news, and the impact it has had on the helping the industry go mainstream is tremendous.
​The rise of watch blogs and marketplaces has fueled strong interest from normies, and an overlap between collectors and data-driven investors has emerged. When buying today, almost every collector today takes future resale value into account. Essentially, every collector is now an investor, and vice-versa.
But this vicious cycle has created speculation. As more and more get drawn in, industry thought-leaders have been warning of a bubble for 4 years and counting.
But in the meantime, records keep getting broken, and the industry continues to power forward with no signs of slowing. In fact, just last week, Jacob & Co announced they are auctioning off the world's first NFT watch.
What are the top watch brands?
If you're considering getting into watches, here are the brands you need to know.
Rolex
As the most recognizable luxury watch brand in the world, Rolex is like Porsche.
They make a lot of watches, however they are primarily high-end sports watches, or "tool watches." They are not considered haute horology. (This is an odd term — horology is the study and science of watchmaking. So haute horology refers to the absolute finest art of high watchmaking.)
Rolex is your "safest bet," and while it's blasé to say that a $8,000 timepiece is accessible, it's probably the most accessible luxury watch brand you can buy.
Their most famous model is the Submariner, but all of their stainless steel sports models are hard to get. The aforementioned Daytona model is the most difficult to get, but fetches double, if not triple the price paid on the retail market.
Interesting note: Rolex SA is a private company owned by the Hans Wilsdorf Foundation, which is actually registered as a charity and does not pay corporate income taxes.
Patek Philippe
This is the Rolls-Royce of watches. Another Swiss luxury watch brand, these fine pieces start at $18k, with complicated pieces fetching $100k and up. Patek Philippe is considered part of the "Holy Trinity of Watchmakers", along with Audemars Piguet (AP) and Vacheron Constantin.
What makes Patek Philippe the undisputed king of the watch industry is not just their goal to set the bar higher with each watch, but also the fact that it's independently owned and doesn't have to adhere to any quarterly financial goals. Founded in 1839, it is now owned by the Stern family of Switzerland, who acquired the company almost exactly one hundred years later — smack in the middle of the Great Depression.
Patek Philippe's most famous model is the Nautilus series. The production of the 5711 (arguably the single hardest watch to get in retail stores) was recently stopped. But they did announce a limited series run of the 5711 with a green dial.
Audermars Piquet (AP)
Audemars Piguet is best known for their Royal Oak series, which they released in 1972. What originally started as a flop, turned into one of the best selling watches of the last century. To this day AP is still banking on the Royal Oak series, inventing around it while keeping the same case shape.
They are best known for their skeletonized watches and choice of different materials — including tantalum, an element previously used to make electrical components. Due to its hypo-allergeneic and anti-corrosive nature, it is now used to make watches and comfort rings.
According to Feyyaz Alingan:​
Right now may actually be a great time to get an AP Royal Oak. Their anniversary is coming up, and rumor has it they will let the production run out this year and announce a brand new series next year. ​ ​

-Feyyaz Alingan, WatchNewsletter.com
Cartier
While Cartier is known more for their jewelry, they also produce beautiful watches that are well-known, especially in the vintage world.
The Tank Louis is a great style piece to buy which can also go up in value. Vintage Cartiers have stayed hot throughout the pandemic. However, modern Cartiers usually don't hold their value too well, with the exception of the Cartier Santos in blue, or skeletonized.
Richard Mille
Richard Mille combines the best in technical innovation, architecture and in fine watchmaking heritage. These are very high tech watches, made from space age materials. They are supremely limited in production (only about 10 made per year) and start at $80k – $100k.
My god, these watches are truly incredible. Limited runs start from $250k and go up to $1 million each. Of course, good luck getting one at retail. They typically sell on the secondhand market for twice that amount.
Vintage market vs modern market
Within the watch market there are two distinct sub-markets: vintage watches, and modern watches.
It's difficult to pinpoint exactly when the modern era of watches began, or when a watch falls into the vintage category. The demarcation line is fuzzy, but probably lies somewhere in the mid-80s.
Up until the 1950s, watches were thin, small and flimsy compared to today. In the 60s and 70s, wristwatches started to increase to 37mm — small for today's tastes, but still highly wearable. By the late 1980s and through the 2000s, watch size and quality had permanently increased. Watches from this point forward are considered modern.
In the vintage market, older means more expensive. Whereas in the modern market, you pay a premium the newer a watch is.
The parallel here is with cars. You'll pay a lot more for a brand new BMW off the lot, and you will pay much less as it gets older. However, once a car turns vintage & becomes a classic, you'll pay more again.
The big difference (and what arguably makes watches a better investment than cars) is that cars need to work harder than watches. They have far more wear & tear, and require more maintenance. They often sit idle, rust, and deteriorate over time.
Watches on the other hand, are constantly moving, 24/7. They rarely need to be serviced, and when they do it's much easier and less expensive.
Just like time itself, watches last pretty much forever.
Newbie tips for investing in watches
Here are some tips & tricks for making your first luxury watch purchase.
Ignore the MSRP. If you're looking to buy a watch retail, you can ignore the suggested retail price. The actual retail price is always different.
Consider starting with vintage. Vintage watch prices have been steadily creeping up over the years, and are more likely to hold their value in the short-medium term. Aim to spend at least $7k – $10k or so for something solid and sexy. But remember, vintage watches are less safe to wear. You can go scuba diving with a $200k platinum Daytona and not think twice about it, whereas even heavy rain can mess up an old watch.
Looks matter more than function. Unlike with cars, when it comes to value, the outside of the watch is mostly what matters, not the interior movement.
Forget about buying retail. Even if you are able to afford it, you won't be able to get access to the good stuff until you've built relationships. To get your hands on a sought-after model, you have to be a VIP or (very) repeat customer.
Buy from someone you trust. This is important. Watch fraud is insanely prevalent — especially nowadays, since the fraud incentive is so high. There are lots of fakes and "frankenwatches" out there (watches pieced together with some real components, and some fake ones.) It's massive issue.
Consider going with a dealer. The most trustworthy place you can buy is from an authorized watch dealer. A dealer will look after you, get to know you, and make sure you don't get screwed. Sometimes they can beat online prices, sometimes not. But with this asset class, you should feel comfortable paying a slight premium for peace of mind.
Online is the riskiest way to buy. However, there are a few trusted marketplaces. Despite its previously poor reputation, eBay has cleaned up its act, and offers a fair amount of protection from scams and obvious fraud. Chrono24 is the "eBay for watches." They are an enormous, trusted marketplace, full of both dealers and private sellers, and offer Escrow services for extra protection.
Research The Watch Fund. This secretive club started by a gentleman named Dominic Khoo allows you to make fractional investments into ultra high-end watches. With about 9,000 members, the club requires a starting investment of $250,000 in order to play ball. You don't have much, if any, say about which watches the fund purchases. But apparently they are putting up some pretty good numbers.
Look for end-of-production runs. When production ends for a watch, prices go up as investors clamor for the remaining supply. The problem is, without inside knowledge, you never know when this is going to happen. However, there are current rumors that production is ending on the Green Daytona and AP Royal Oak.
Build relationships. This is the most important thing to remember. If you are serious about watch collecting, you need to start building relationships with dealers, retailers, and industry players. At the end of the day, it's all about your connections and buying power.
​Secret tip: When you go to an authorized dealer, buy some jewelry from them first to build a relationship. It's an unwritten law that they usually give the hard to get pieces to their best clients, and the markup on jewelry is higher than on watches. ​ ​

-Feyyaz Alingan, WatchNewsletter.com
Summary
Let's face it: watches are timeless. (<– Woohoo! Two puns in one sentence!)
But seriously, in the long run, you can't go wrong with fine watches. You'll get slower growth compared to other alternative asset classes, but more certainty. Buy blue chip brands, and buy the best quality you can afford. Quality gets you value down the track.
Modern watches are better-made and easier to buy, unless you're trying to get them brand new. While there's less that can go wrong with regards to the mechanics, the financial risk is higher.
If you're a VIP or have connections, go get a brand new blue chip luxury watch at retail. The way the luxury watch market has been rising lately, it's not an alternative asset, it's essentially pure cash.
Good luck!
How to learn more