Welcome to Comics Insider – FREE Version.
We use Moneyball tactics to discover undervalued, mispriced, and hidden gems in Fractional Investing.
Comic book performance 2021
After a significant run-up in summer 2021, comics have mostly flattened with only Tier 1 blue chips continuing to rise.
Last week's performance
Fractional secondary markets
It was mostly a flat week for comics bookended by Tomb of Dracula #10 and Avengers #1, both trading on Otis. They were up 40% and down 38%, respectively.
Auctions
Last week, ComicLink wrapped up its focussed auction series with its most modern issues. Notably two TMNT #1 comics sold for nearly identical prices:
CGC 8.5: $20,258
CGC 8.0: $20,000
It's noteworthy that the sale shows the value of white pages. Typically you'll see an advance of 20% from 8.0 to 8.5. So there's a 20% premium to white pages vs. off-white.
This Week
New IPOs
Just the one asset IPO'ing this week on Rally.
Secondary markets
One asset trading this week in Rally's trading window.
Here's a breakdown of all the assets currently trading on other platforms.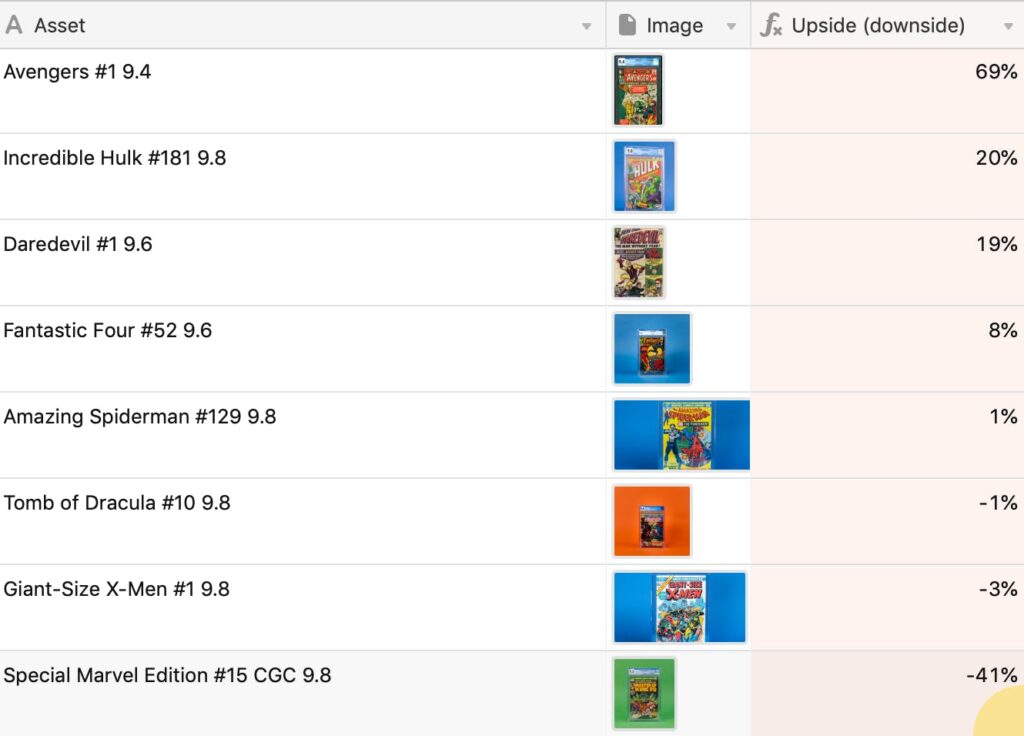 At Auction
ComicLink is wrapping up its Focussed auction with its various bits category this week. The most notable asset is an Amazing Spiderman #129 (First Punisher).
The current bid is $10k, which exceeds both the 30 day and 90-day average for this title. A significant bump in the final hours could indicate strength for mid-tier Blue Chips.
Recent history for this issue.
There are some other notable lower-tier blue-chip and second-tier comics in the auction you may want to keep an eye out for.
Heritage is currently running another segment of its Promise Collection with a number of key golden age issues. A few key issues:
The auction closes in two days.