Today we're exploring alternative real estate ideas.
With so much attention paid to the high cost of buying a home, it's easy to forget real estate takes many exciting forms.
As we work hard to launch our first investment fund, we're seeing compelling opportunities across senior housing, self-storage, cold storage, data centers, and even ultra-specialized stuff like airports.
There's a world of opportunity outside residential real estate. Horacio did a great job exploring some of these options. We hope you enjoy it.
What is Alternative Real Estate?
When you think about real estate investments, what are the first types that come to mind?
Home rentals? Apartments? Vacation rentals? Even REITs?
In reality, real estate investment goes far beyond the scope of your typical commercial and residential properties.
There's no exact definition for what alternative real estate investment is. Broadly, it can be classified as anything that isn't an office space, family home/apartment, storefront, or industrial.
There are some cool opportunities in this space presenting a whole range of benefits over traditional real estate. But first, let's look at why the alternative real estate market is compelling.
Why Alternative Real Estate?
Diversification
The housing market is hot. But for many, it's become too hot, with government subsidies and record-low interest rates boosting prices by 16–18% every year.
In the United States, there are nearly 20 million rental properties throughout the country, but over 18% of properties are snapped up by investors every quarter.
With some investors worried about a bubble bursting, and other buyers locked out of the traditional real estate market altogether, what other options do we have?
Alternative real estate can have the advantage of being a "blue ocean," where competition for market share is less fierce. Whereas other property investors are struggling with high demand and low supply, the waters of non-traditional real estate are often less competitive.
But one of the biggest arguments for investing in alternative real estate is diversification. Some alternative real estate is less prone to the fluctuations of traditional markets and better positioned for changing demographics.
Demographics
One of the most significant demographic trends is the aging of the Baby Boomer population. Boomers were born between 1946 – 1964, making them between 57 and 75 years old today.
Now, the average senior housing resident in the US is 85 years old, and this 85+ cohort will double by 2036 and triple by 2049. All of this means demand for senior housing will significantly increase over the next 30 years.
This will create a big opportunity — and one aimed at a group with higher-than-average disposable income.
Another trend in the United States is the population shift from larger, more expensive megacities like San Francisco, NY, and LA, in favor of cheaper mid-sized cities like Charlotte, Nashville, and Phoenix. Check out this great visualization of the exodus.
Taking it even further, some people are looking to get away from cities altogether in favor of exurbs, tertiary cities like Boise, Idaho (which is actually booming!) or even rural areas where they can build new homes.
Between 2010 and 2019, rural home purchases were up 3%, while urban home purchases were down 5%. This trend accelerated during the pandemic and is still going strong.
What does this all mean?
If home purchases in rural areas are surpassing even suburban purchases, rural plots of land will continue to see a surge in demand and investment.
Not all land is created equal, of course. But it may be wise to start looking at inexpensive plots of land within a reasonable distance of city centers.
If you don't know where to start, check out companies that aim to help educate investors on buying raw land. Two that have come across our radar recently are The Land Geek in the US, and Landex in Europe.
Under-Allocation
Just like with other alternative assets, institutions are getting into alternative real estate.
In the US, institutionally owned alternative real estate grew by 23% from Q3 2019 to Q3 2020, according to the National Council of Real Estate Investment Fiduciaries (NCREIF). But despite the growth, it's still an under-allocated asset in private real estate markets.
Alternatives make up 12% of most NFI-ODCE portfolios (an index of investment returns of the largest private real estate funds in the U.S.) and 5% of most European MSCI-type portfolios (a European index representing the performance of large- and mid-cap equities across 15 developed markets).
A report by Nuveen Real Estate, one of the world's largest real estate asset managers, recently noted alternatives have outperformed traditional property types by 2.75% in the past decade.
The report predicted that returns from alternatives would continue to beat traditional property over the coming decade by 1.3%.
Technology
The continued march of technology opens up new alternative real estate opportunities.
In particular, data centers and cell phone towers will benefit as companies continue to outsource IT services and society becomes more mobile-centric across travel, banking, and gaming.
Data centers alone were a $38 billion industry in 2018, and Nuveen expects 10% annual growth for the foreseeable future.
Some Examples of Alternative Real Estate
📦 Self-storage
Anyone else have a love/hate relationship with Storage Wars?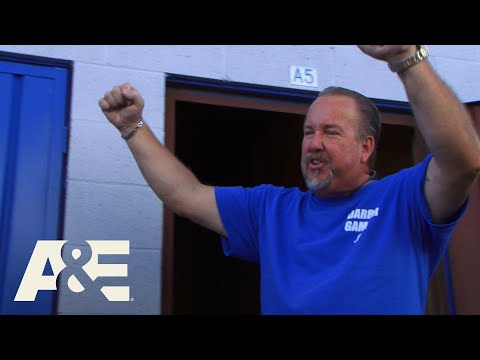 These types of storage lockers can be bought & rented out. Though they might not be filled (ahem, planted) with goodies like in A&E's reality show, they can be a great money-making opportunity for investors.
The self-storage market in the USA is strong. Even before the pandemic, the industry was doing about $39 billion per year. But this is likely to increase considering the average homeowner is 56 years old and that boomers own more than half of America's properties.
As people get older, they generally need less stuff. They downsize their houses or move into senior living, and don't have space for all their old stuff — much of which no longer serves a purpose. So they either throw it out, sell it, give it away, or put it into self-storage. Demand for storage spaces will likely rise over the coming decade.
Storage units are more expensive than you'd think, though $100,000 should be enough. While this seems cheaper than traditional property investment, banks are less enthused with handing out loans for storage units, and often assign them offer a poor LVR (loan-to-value ratio), meaning higher down payments.
But there's another option: REITs. Some storage-focused REITs have significantly outperformed the S&P 500 over the past decade.
✈️ Airports
It's flown a bit under the radar (har har) but airport investing has been accessible to investors for a while now.
In 2018, Corporacion America Airports ($CAAP) listed on the NYSE. The company operates airports in over seven different countries. Similarly, Australia's Sydney airport is publicly-traded, with shares available for purchase via the Australian Stock Exchange (ASX).
As you'd expect, Covid-19 has wreaked havoc on these assets. $CAAP has been smashed since its release, dropping from its initial share price of $16.60 to under $6 today.
The Sydney airport has fared a lot better, although it still took heavy hits during the GFC in 2008 and the onset of Covid.
The Auckland Airport is also listed on the Australian Stock Exchange (that's odd, why not list on the NZX?) and has struggled to grow its share price.
But these aren't exactly direct real estate investments. What if you wanted to buy an airport outright? Could this be an under-the-radar distressed asset/value investing play?
Unfortunately, most airports are government-owned with no equity available to private investors. But this may be changing. In fact, the Sydney Airport recently sold!
The owner, Sydney Airport Holdings agreed to a takeover worth $17.5 billion. The buyer is a consortium of Aussie investment firms, retirement funds, and a US-based infrastructure business. Together, they are known as the Sydney Aviation Alliance.
In Montauk, New York, a much smaller airport (37 acres) was put up for sale. The Montauk Airport was priced at $18 million in 2012.
Other airports that have been put up for sale include:
Ciudad Real Central Airport in Spain became bankrupt and was then sold for $63 million. This might seem expensive, but it was a fire sale. The airport originally cost about a billion euros to build.
In 2018, the Indian Government began privatizing airports by listing six for sale. Billionaire Gautam Adani (11th richest person in the world) bought out all six for just $330,000.
The Scottish Government recently attempted to sell their state-owned Glasgow Prestwick Airport, after buying it for one dollar in 2013. However, they back-flipped on their decision to sell after talks stalled with private investors.
🖥️ Data Centers
Data centers are buildings or facilities filled with computers and other hardware for storing and processing data.
These investments sit at the intersection between business, infrastructure and real estate. Between 2017–19, transactions in the data center industry averaged $25 billion a year.
Private equity is increasingly involved in the data center industry, with a DCP report suggesting a 66% increase in investment volume from 2021 to 2025.
These facilities can cost huge amounts of money to buy. Australia's biggest telecom business Telstra sold their data center to Centuria (an industrial REIT) for $416 million. And in the US, digital infrastructure company Equinix purchased 29 data centers from Verizon for $3.6 billion.
Although buying a data center outright is a big ask, there are five key REITs that give exposure to this sector.
Other alternative real estate ideas
Because 'alternative' is such a loose term, there are heaps of other opportunities in this space. Some examples include:
Manufactured housing estates (caravan parks)
Medical offices
Co-working spaces
Theme parks
Student housing
Farmland
Cold storage
We could write seven more newsletters on each of the opportunities above. Someday we will!
Conclusion
As you can see, alternative real estate isn't really a single market, but a broad characterization applied to a string of markets. It's sort of a new term that we're trying to coin. It makes sense to us. Why not?!
Alternative real estate presents an opportunity to diversify from the traditional residential, retail, industrial, and office real estate markets. Many sectors within the alternative space are expected to continue growing and, in many instances, outperform traditional real estate.
Some of the biggest investment opportunities will come out of necessity. An aging population and an increasingly connected and technologically-centered society will demand alternative real estate.
One of the best ways to gain exposure to the space is through REITs. As with most investments, the more direct you can go, the better. But as long as fees are reasonable, REITs will do the dirty work for you and provide exposure to specific markets.
Investing in alternative properties is like making an informed bet on where society is headed. We hope we've given you some insights and sparked some curiosity into thinking outside the traditional residential & commercial RE box.