Happy new year everyone!
We hope you enjoyed last week's issue on The Worst Investments of 2021. A special hello to the 805 new subscribers who've subscribed since then.
Today we've got a special issue brought to you by Horacio Ruiz. It's a look at the intersection of fractional trading cards & the blockchain through the lens of Dibbs, the world's only 24/7 platform for buying fractional shares of tradings cards, secured by the blockchain.
In addition to bringing you today's issue, Horacio had a chat with Dibbs CEO Evan Vandenberg for an exclusive podcast.
You can check out the podcast on Spotify or iTunes.
Note: This is an independent look at Dibbs. We received no compensation from Dibbs for this issue. All opinions are our own. This is not financial advice.
Let's go
Card collecting's fall and rise
Back in 2016, Josh Luber, founder and CEO of multi-billion dollar sneaker marketplace StockX, announced that sports cards were "long dead." Sneakers had become a much more viable asset class.
At the time, he wasn't wrong. Local card shops were all but disappearing. While the baseball card industry generated over $1 billion annually from 1990 – 1992, by 2017, baseball card sales were down to a measly $200 million — about 1% the size of the total market for knitting ????
I got my first job as a high school senior, working for a sports shop called BC Sports Collectibles. I loved it – even if I was only making $7.25 an hour.
When I started in 2001, BC had 49 stores. But just eight years after, all 49 stores were gone. And like many others, my card collection also stopped growing around that time.
But this isn't an issue about my youth or my experiences; it's about the most recent cycle of the hobby, which is bouncing back, changing shape, and becoming bigger than ever.
Card collecting is nearly 150 years old, dating back to tobacco cards rich with colors and subjects, ranging from famous explorers to fish. The most expensive baseball card in the world is a tobacco card, the 1909 T206 Honus Wagner.
But for the most part, the trading card industry was made up of a disparate group of tobacco, gum, and candy companies using cards to promote their products.
There was no concept of continuity from one year to the next, or highlighting a class of rookies. Still, the manufacturers produced some of the most iconic sets ever created.
One of those manufacturers, the Goudey Gum Company, emerged as a trading card leader during the Great Depression up to the beginning of World War II.
Bowman Gum emerged as the industry leader by the end of the war and produced what many card historians consider the first modern football card set with its 1948 release. Bowman also made some of the most famous baseball sets in the early 1950s.
In 1951, an upstart Brooklyn-based candy company named Topps entered the fray by going toe-to-toe with Bowman. Topps aggressively signed the top players and increased the size of the standard trading card to stand out.
By 1956, Topps acquired Bowman and asserted itself as the most dominant card company globally, a title it proudly held heading into the 21st century.
Today, card collecting is in the middle of a historic boom, and now the blockchain is beginning to turn the industry on its head.
Dibbs and the blockchain
With the emergence of blockchain technology, cryptocurrencies, and NFTs, it's natural that the trading card space would evolve. NBA Top Shot and Panini are credited for bringing mainstream awareness to NFTs.
But only Dibbs has had the presence of mind to blend two recent innovations — fractional ownership of collectibles and tokenization of those fractions through blockchain technology.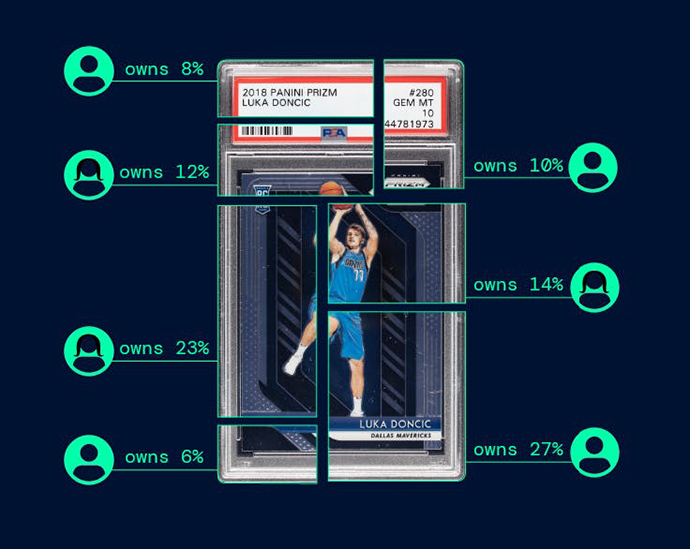 At first glance, Dibbs works similarly to other fractional sites. There are cards with estimated valuations (provided by CardLadder) based on previous sales that card collectors can purchase as "fractions."
For instance, you can choose to buy $100 worth of a 2008 Fleer Hot Prospects LeBron James card currently valued at $2.4k. This would entitle you to approximately 4% ownership of the card.
But Dibbs has taken a different approach at the point of ownership. The platform uses blockchain technology to tokenize the fractional shares bought by customers. There is no other platform that tokenizes fractional ownership of sports trading cards.
The shares purchased by a customer are recorded on the World Asset eXchange (WAX) blockchain and tokenized for trading. The WAX blockchain is the second-largest NFT trading platform globally (OpenSea is the first).
The incorporation of the blockchain is no surprise. Dibbs Co-founder and CEO Evan Vandenberg was previously Director of Business Development at WAX.
Tokenization's potential utility
One of the growing criticisms of tokenization is that it doesn't offer much utility.
While this criticism is certainly valid, we should be careful of falling into the trap of short-term thinking. Let's think bigger and really try to visualize the future for a moment.
Imagine taking your percentage of an ultra-valuable card, and slowly adding to it on a digital dashboard as you buy more shares. Or carrying these fractions with you into the Metaverse, where you can buy, trade, and sell them in a virtual hobby store or at a collectible show.
Tokenized fractional shares could even someday be used as collateral for a Metaverse business loan. You could provide liquidity from future earnings on your virtual land, or returns from your card shares.
We can get a little more ambitious. Perhaps you could set up a decentralized autonomous organization (DAO) where members can meet virtually, deposit fractional shares in a multisig wallet and then discuss the roadmap?
These are the sorts of scenarios made possible by tokenization. As Fred Wilson explains succinctly in his post Why Web3? it all comes down to having a portable, public database.
This stuff is a bit tough to visualize right now, but as the ecosystem develops it'll get easier.
How else does Dibbs stand out?
Since the Covid lockdowns began nearly two years ago, several U.S. card platforms have gained big followings. MySlabs, Alt, StarStock, and industry stalwarts eBay and PWCC all have various offerings and advantages to their sites.
So how does Dibbs stand out?
24/7 trading. This is the biggest one. Unlike with other platforms, their market never closes. This means collectors have opportunities to capitalize on player performance in real-time.
Wide range of offerings. The most expensive card currently on the platform is a 2009 Bowman Chrome Mike Trout rookie card priced at $31k. But the least expensive card is a 2018 Topps Update Gleyber Torres rookie card priced at just $26.
Accessibility. You can buy as little as one dollar of a card and, in some cases, sell for less than a dollar. Accessibility is the name of the game.
We wanted to make this accessible for anyone. If you look at Goldin Auctions, they run incredible auctions. But how many people can meaningfully participate in a lot of them? When you look at people…new to the space, getting your toes wet with a few dollars is a much different ask than putting $10,000 into a single purchase. – Evan Vandenberg
Dibbs is clearly optimizing for new collectors. This seems wise as the boom continues and lots of new blood enters the hobby.
Amazon's investment in Dibbs
2021 was full of headlines in the alternative assets space. But the overlooked stories were the acquisitions of/investments into sports card companies.
Collectors Universe, the parent company of Professional Sports Authenticator (PSA), acquired sports collectible auction house Goldin Auctions for $40 million. They also acquired CardLadder (a company just 18 months old!) for an undisclosed amount.
Andreessen Horowitz also led a $150 million investment in 2-year-old shopping platform Whatnot.
Most recently, Amazon made a move and invested an undisclosed amount into Dibbs — the only card company Amazon has ever invested in.
While Vandenberg couldn't give us too many specifics about the deal, he strongly alluded to Amazon's multimedia reach.
Card collecting and multimedia
Amazon Prime Video has more than 200 million subscribers, with nearly 75% of those subscribers in the United States.
At the moment, the most ubiquitous form of video media that card sellers engage in is called "wax ripping" or "box breaking." In this form, a customer buys a pack (called wax in the industry) or any given fraction of a card box (or wax box) that the seller then opens on a livestream.
For instance, ten people might buy a $1,000 box of baseball cards containing ten packs for $100 per pack. This setup allows the buyers to get some of the best cards without paying the total price of a box. The excitement comes with the reveal of each pack and the potential of hitting a "grail" card.
To get a feel for the excitement, make sure to watch this unboxing video:
Whatnot has also made strides to update the auction format. Think Home Shopping Network but in auction form and with a lot less TV production. The best breakers have used this format to promote their businesses and increase their entertainment value.
Could Amazon be setting Dibbs up to become the first mainstream breaker in the space? Will there be shows or live auctions in the works with Dibbs as content creators?
All of this is speculation, but one thing Vandenberg did say is to 100% expect there to be an increased multimedia presence in the trading card space.
And this is very important for moving the hobby forward:
ESPN's The Last Dance showed what it could do to card prices. The show helped contribute to a tremendous run-up in the prices of Michael Jordan cards.
The Netflix series Formula 1: Drive to Survive is now in its third season, bringing along a new generation of F1 fans and a run-up in prices on Lewis Hamilton cards. (If you're interested in F1 and NASCAR, definitely check out the podcast — Evan and I spent lots time exploring this!)
The cards will not simply be the beneficiaries of slickly produced events and shows; they are the show.
Industry heavyweight Ken Goldin has signed a deal with Netflix to star in a reality TV show featuring Pokemon cards. Now Amazon has entered the fray to offer its investment and resources to Dibbs.
Who knows exactly what becomes of their partnership? But a new path is clearing as cards continue to live at the intersection of hobby, investment, and entertainment.
Conclusion
Remember Josh Luber from above? Well, five years after declaring the card industry dead, Josh found himself the co-founder of the Fanatics trading card division.
In a move that sent shockwaves throughout the card community, Fanatics acquired exclusive rights to license trading cards for the NFL, NBA, and MLB beginning in 2025. Topps' 70-year reign as America's leading baseball card company will abruptly end.
The trading card division of Fanatics already has a valuation of $10 billion. In three years, Luber will take over the most extensive sports card company in the world, proclaiming that "trading cards are cool again," in a 40-page white paper he published in November.
The sports cards market has cooled in recent months, but the mega-trend is clear. Less than two years ago, there were zero local card shops within four miles of my house. Now there are three. The trading card industry is going through its most significant boom cycle yet, with millions of new collectors joining the hobby each year.
History tells us that the hobby goes in cycles, but if the industry is to continue its growth or, at the very least, minimize the troughs in the cycle, it is going to be because of innovators in the space.
For now, Dibbs holds the first-mover advantage. Dibbs has taken a different approach by incorporating blockchain technology. But it cannot rely on that alone as its main point of differentiation.
The industry will continue to evolve, and with players like a16z and Amazon in the space, the incorporation of trading cards into the Web3 universe is not far away. As a new generation of collectors joins the hobby, they will look for rewards (random tokens and NFT airdrops) just for participating in the ecosystem.
Cards have come a long way. They are no longer the promotional item for other commodities like cigarettes or bubble gum; they are the commodity.
Watch out, because multinational corporations, sports teams, and billion-dollar media companies are about to hop on board.