Welcome to Rare Books Insider – FREE version. You can view the whole report by clicking here.
We analyze IPOs and use Moneyball tactics to discover undervalued, mispriced, and hidden gems.
You are receiving this newsletter because you follow the Rare Books topic. To change your settings, scroll down to Subscription Options.
If someone forwarded this to you, you can subscribe here: Subscribe Now
Todays deep-dive is on a first edition dedication copy of Ian Fleming's Goldfinger. It will IPO on Rally 25 February 2021.
????????
---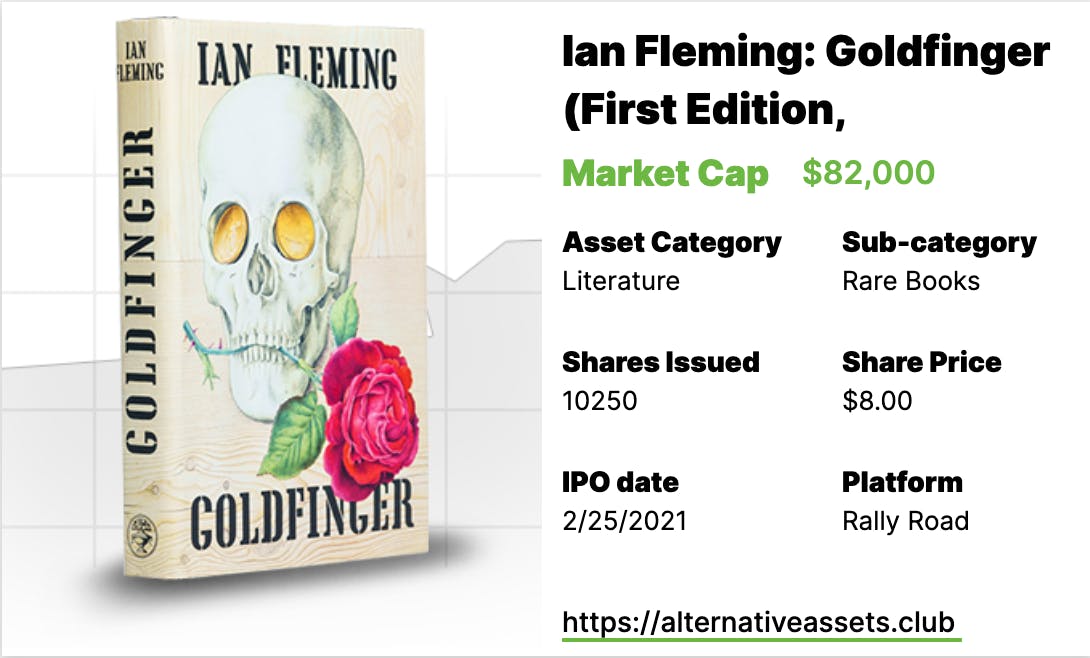 What is Ian Fleming's Goldfinger – First Edition?
This is presentation inscribed first edition of Ian Fleming's seventh Bond novel, Goldfinger. The inscription is to William Plomer, CBE, who was a friend and mentor to Fleming. Plomer first persuaded Jonathan Cape to publish Casino Royale.
As a presentation copy, this book sits at the top of the signed book hierarchy.
By all accounts, the two were very close, and Bond would not be what it became were it not for Plomer. Plomer spoke at Fleming's memorial and is widely credited for catalysing the author's success.
As for the book itself:The powerful tycoon Auric Goldfinger has initiated Operation Grand Slam, a cataclysmic scheme to raid Fort Knox and obliterate the world economy. James Bond, armed with his specially equipped Aston Martin, must stop the plan by overcoming several outrageous adversaries.
Seems plausible.
Cultural Relevance
I think you'd struggle to find an American who doesn't know who James Bond is. With nearly 700m search results for the name, there's no sign is his popularity slowing down.
His popularity remains remarkably consistent over time with spikes for film releases.
​
Bond kicked off the secret agent genre in 1962 with the film Dr. No, leading to no fewer than 22 spy films released in 1966. A few film inspired by Bond that you may have heard of include The Man from UNCLE, Austin Powers, and Johnny English.
"Bond … James Bond," was honoured as the 22nd greatest quotation in cinema history by the AFI, and Bond himself was rated the third best film hero.
The 24 James Bond films produced by Eon are the longest continually running film series of all time, and including the two non Eon produced films, the 26 Bond films have grossed over $7.04 billion in total, making it the sixth-highest-grossing franchise to date. It is estimated that since Dr. No, a quarter of the world's population have seen at least one Bond film.
Inferred Value – [Insiders Only]
An inscribed first edition is up on AbeBooks at the minute for $45,000. The message, which is on a loose bit of paper in the front flap, is addressed to Jo Bryce, wife of Ivar Bryce. Ivar was cited as a model for the Bond character.
You should apply a 20% discount to prices you find on AbeBooks, because they're always the "offer" price. So the real price is $36k, and I tend to think our book is worth double that: $72k.
[THREE other key data points were available to Insiders.]
Category Strength
The Literature category has returned 40.2% ROI so far across the entire portfolio.
Subcategory Strength
Risk Profile
Recent Growth Trend
Growth Outlook and Future Catalysts
Bond has another film on the horizon called No Time to Die. Originally scheduled for release in November 2019, it was postponed for production reasons and then due to COVID. It's now slated for October 2021. Notably, the delay of this film was the straw that broke British cinema chain Cineworld, causing it to shutter indefinitely.
Bond will always be relevant, and this is a good store of wealth.
Asset Liquidity
This will have a roughly 90 day lockup period then will trade every 60 to 90 days.
Platform Risk
Intangibles
James Bond is cool, and Rally's two other Bond offerings, Casino Royale, and The Spy Who Loved Me have done well (8% ROI and very quick funding, respectively.
---
Other ways you can invest in James Bond
If you don't fancy the first edition above, you have a variety of options to buy high quality James Bond gear on eBay for reasonable price points. Here are a couple favourites.
Goldfinger First Edition
$1,250 (link)
​
1965 James Bond Secret Service Agent PSA 7
Auction ends tonight. Current bid $113 (link)
(I've made these affiliate links just in case anyone does buy something)
---
Due Diligence Service
If you're looking to make a big asset investment, we can help you perform due diligence. Stefan created and run Flippa's Due Diligence program, and can offer the same service to you.
---
Facebook Group
Our Facebook Group is also now live. Request to join and we'll let you right in.[Insiders Only]
---
Subscription Options​
To unlock the full newsletter, try Insider free for a week.