Welcome to Video Games Insider – FREE Version. We use Moneyball tactics to discover undervalued, mispriced, and hidden gems.
If you have a moment, you may want to check out this piece from Wired about collecting rare video games. They have a little quote in it from us near the end 🙂
This week Adam's done a deep dive into the Halo: Combat Evolved – XBOX – WATA 9.8 A+ that will IPO on Otis 2nd April 2021 at noon EST.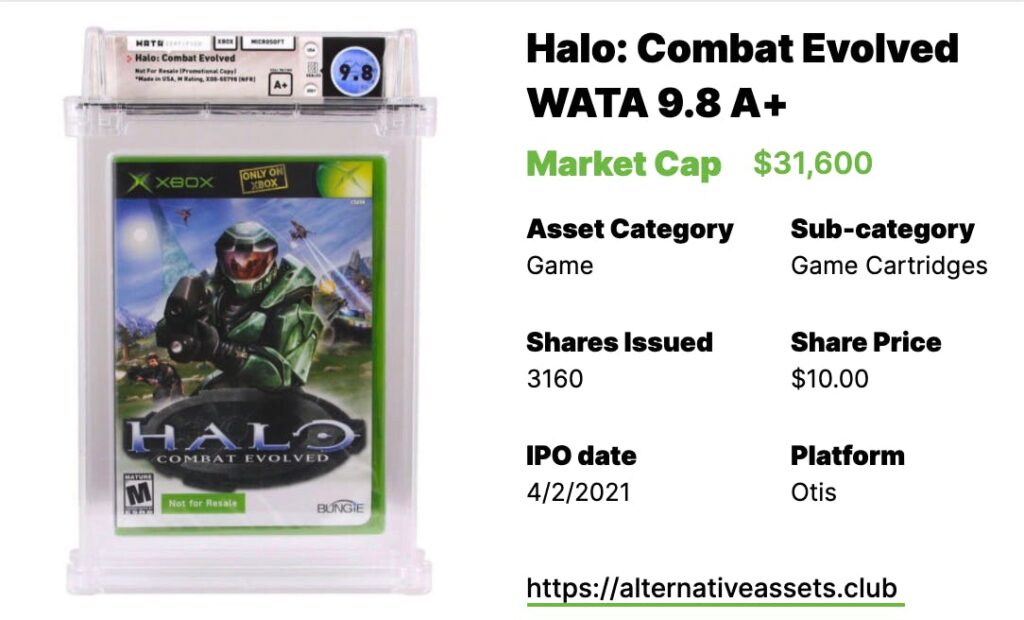 What is the Halo: Combat Evolved – XBOX – WATA 9.8 A+?
From 2001, this is a NFR (not for resale) copy of Halo: Combat Evolved (the first Halo game – usually just known as Halo) graded as a 9.8 A+ by WATA. The NFR copies were only available to employees of Bungee (the copy that makes Halo), Microsoft and select game stores as a promotional copy.
As a reminder – go read about the WATA scale if you haven't before. The grade is the main driver of a video game's value and understanding its meaning is crucial. The first number represents the condition of the item (in this case, the unopened box) on a 10-point scale, with increments of .5 until 9, and then increments of .2 until 10. 9.8 is functionally the highest grade as they don't really give out 10s.
The second part of the grade is the seal grade – the condition of the factory seal. This scale goes from C to A++. A+ is the 2nd highest grade.
This copy of Halo is the highest graded NFR version of the game to date. It's hard to know exactly how many sealed copies of the game exist, but in 2019, Heritage claimed there were only around 10 up to that point.
It IPOs on Otis at 12 PM EST on April 2nd for $31,600.
Add this IPO to your calendar
Cultural Relevance
Even if someone is not a gamer, they have probably heard of Halo and are probably aware that it's a first person shooter (FPS) game. The flagship title for the Xbox family of consoles, it was originally released in 2001 and revolutionized the FPS game for consoles and inspired countless imitators across many platforms. It was a critical and commercial success at a level few other modern games have achieved.
It has spawned four main sequels (with a fifth on the way) and twelve total follow-up games. The original has sold 5.5+ million copies and the series itself has now surpassed 70 million copies sold and grossed over $5.5 billion.
That being said, because the last main sequel was in 2015, the franchise has faded from the public consciousness a little, being far surpassed in FPS games by the Call of Duty franchise and on the level of more modern games like Overwatch and Apex Legends.
Inferred Value – $30k+
[Detailed Analysis Available to Insiders Only]
Asset Growth TTM
Growth Outlook and Future Catalysts
A much-anticipated sequel, Halo: Infinite is due to be released for XBox One and Windows PCs later this year. Each successive main sequel to the game has broken its own record for fastest-selling and I'd expect this one to do the same. If it is a critical and commercial success, interest in the original game will rise.
There was a long-gestating movie that had multiple high profile directors and actors attached but never came to fruition. Halo will finally be making the leap to live-action, however, as a series on nascent streaming service Paramount+. It is projected to be released in early 2022 and the network is hoping it will be a high-profile series to draw in subscribers. If it proves popular it will certainly drive interest in the gaming franchise.
On the downside, something to consider for all console games is that there may be plenty of sealed ungraded copies floating around – the newer the game, the more likely that this is the case. In this particular case, as it's a NFR/promotional copy, the population is relatively low, so it's not as big a worry.
Category Strength
The Video Game Cartridges category has returned 66% ROI so far across the entire portfolio.
Subcategory Strength
Risk Profile
Asset Liquidity
This will have a roughly 30 day lockup period then will trade daily.
Platform Risk
Intangibles
To steal a line from a friend – Master Chief is Generation Z's Mario. This either is or will be as much of a blue chip asset as Super Mario Bros — the only question is the relative scarcity.
---
Due Diligence Service
If you're looking to make a big asset investment, we can help you perform due diligence. Stefan created and runs Flippa's Due Diligence program, and can offer the same service to you.
Enquire about Due Diligence Packages
---
Subscription Options​​
Start your free trial of Insider.
Deep research and investment insights, now on thirteen alternative asset classes.