Welcome to Inverse Cramer by Alts.co: Tracking Jim Cramer's stock picks so you can do the opposite 🙃
You are subscribed to receive Weekly updates.
We now do Daily updates as well. Get Daily updates here.
Quick links:
Monday May 8
It's being pushed down pretty aggressively. Part of a company is a bank that can sink gigantically. I don't want to own the stock. I don't recommend any regionals.

– On Charles Schwab ($SCHW)
He has a superpower pic.twitter.com/BCmf2Tm8jF

— Inverse Cramer (Not Jim Cramer) (@CramerTracker) May 12, 2023
Tuesday May 9
I like that stock (BUY BUY BUY). You've got a winner there, Jim.

– On Nextra Energy ($NEP)
I've been very disappointed in them. I thought they have a very good game plan. I thought they knew what they are doing. They haven't been able to execute their game plan, so therefore I have to say (SELL SELL SELL).

– On STEM ($STEM)
I like them very much. Terrific company. I've liked it for ages.

– On Fortinet ($FTNT)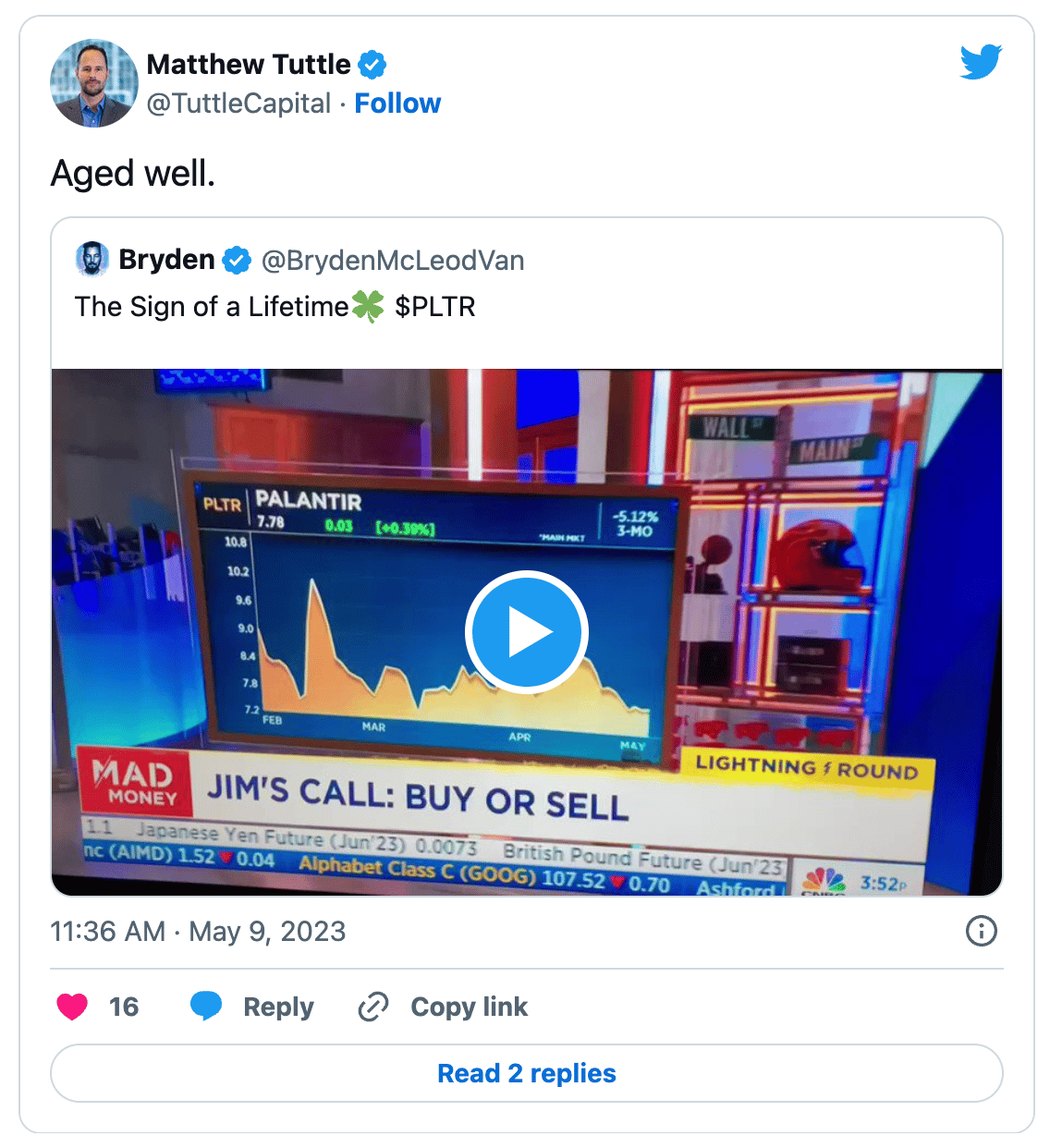 Wednesday May 10
I like a non-financial financial. In other words, they actually just do trading. They got no interest rates risks. It's a goldmine. I think you have a fine choice here.

– On Tradeweb Markets ($TW)
I don't like the stock. I don't like any financials in that segment. We're gonna have to just say (SELL, SELL, SELL).

– On Block ($SQ)
We sold a tad of it. We owned it for years and years. Like I said to club members, I've got to cut it back a little because I'm worried about the fact that the AI race could cannibalize revenue streams. That said, they are awful smart people. They have a lot of things cooking. So, we didn't sell it all we just sold some.

– On Alphabet ($GOOGL)
Last quarter for them was good. Now the stock was going UP, UP, UP, for that quarter. You know what, I'm done with it. (SELL, SELL, SELL).

– On HubSpot ($HUBS)
Why can't the FDIC offer individual insurance above $250,000 where you can pay for it if you really are concerned. I am sure they have the data to figure out the cost. it would end this crisis immediately

— Jim Cramer (@jimcramer) May 9, 2023
Yes just go bearish banks Jim pic.twitter.com/fyIiHvZR1q

— Inverse Cramer (Not Jim Cramer) (@CramerTracker) May 11, 2023
Thursday May 11
For the long term, they are very good. Here's the problem in the short term: they aren't so far from Artificial Intelligence. But I think they'll make a case and then we'll feel better about it.

– On Amazon ($AMZN)
I think it's an excellent quote utility. I like utilities. I'm one of few people that talks about it. They're a very good one and congratulations for reinvesting.

– On Otter Tail ($OTTR)
They're a hot one. Too hot for this guy. We've got a justice department inquiry. We've got short sellers saying bad things about it. It is too hard. It is what I called a battleground. That's not for me.

– On Icahn Enterprises ($IEP)
This is a payment situation. I stop recommending any payment company. The reason I have is because Apple is going to be the only wallet we need – Own it don't trade it.

– On Paysafe ($PSFE)
David is a very good executive and a terrific guy. The company did have a good quarter, but that's maybe an opportunity to (SELL, SELL SELL). It's a very competitive space.

-On Roblox ($RBLX)
I hated being so downbeat tonight but I also never thought that there would be so many people who don't seem to realize that defaulting changes the geopolitical face of our great nation. There are other ways to disagree

— Jim Cramer (@jimcramer) May 12, 2023
I see the shorts operating on Western Alliance already!!! Wow

— Jim Cramer (@jimcramer) May 11, 2023
Yeah, not sure what to criticize, kept rates too low too long causing inflation, then said it was transitory when everyone knew it wasn't, now trying to bring on a recession while regional banks are going under. Job well done

— Matthew Tuttle (@TuttleCapital) May 11, 2023
Friday May 12
That company is losing money fast. They probably lost like $1B on this phone call. We're gonna say 'No' to that company.

-On Virgin Galactic ($SPCE)
No. We've got nothing good to say about Rocket Mortgage. We don't like mortgage companies.

-On Rocket Companies ($RKT)
Weekend Bonus
It's over pic.twitter.com/tUf5V5Hjd1

— Inverse Cramer (Not Jim Cramer) (@CramerTracker) May 14, 2023
Red tsunami inbound pic.twitter.com/8SNRQMv83N

— Not Jim Cramer (@cramercoin) May 14, 2023
That's a wrap. As always, we'll be following Cramer's every move so you can do the opposite.
Enjoy the week ahead.
-IC
Disclosures