Welcome to the latest issue of Trading Updates/Rare Books – FREE Version.
Today we're digging into a special piece of literary history – a first edition, second issue copy of Lewis Carroll's Alice's Adventures in Wonderland.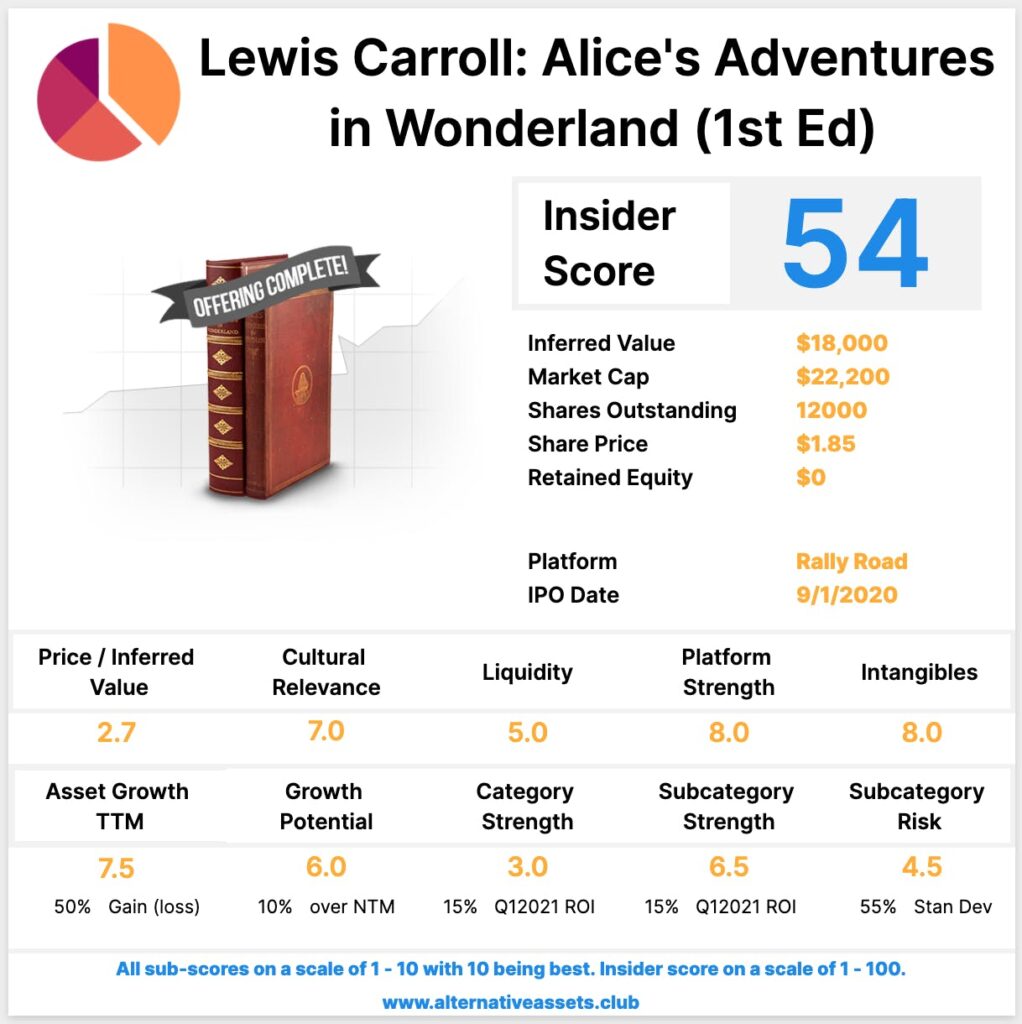 What is the asset?
Written by Lewis Carroll, whose real name was Charles Lutwidge Dodgson, and printed in 1865, this is a first edition, second issue of the classic story of Alice's adventure down the rabbit hole.
Macmillan of London produced 2,000 copies of the book initially, but illustrator John Tenniel was dissatisfied with the print quality. He asked that the books be recalled, and subsequently only a couple of dozen of those first edition first issue books remain.
Our book is not one of those.
American publisher D. Appleton & Company purchased the text blocks from those 2,000 copies and converted them into 1,000 new books with their own name at the foot of the title page. The books were published in December 1865 but bear the date 1866.
Our book is one of these 1,000 that went on sale for Christmas 1865. Our specific book has been recased, which means the casing has been removed and replaced with one from a similarly-aged book. This detracts from the value of the book relative to another book in similar condition that hasn't had work done.
Origin story
The books sold out quickly and drew in some famous fans including Queen Victoria and Oscar Wilde. Remarkably, the book has never been out of print and has been translated into at least 97 different languages.
For the pedants out there, the correct title is Alice's Adventures in Wonderland, though it's commonly referred to as Alice in Wonderland due to its many adaptations on stage, film, and television.
Speaking of film and television, the book has been adapted over fifty times between 1903 and 2020 and was first seen live on stage in 1886 in London' West End. Hundreds of productions, some faithful to the story and other not, have hit the stage in a variety of forms – plays, pantomimes, operas, and ballets.
Of course, there's some controversy
In July 1862, Carroll came up with the idea for Alice's Adventures in Wonderland while on a boat trip with three young girls – Alice Liddell and two of her sisters, age 10, 8, and 13 – and Reverend Robinson Duckworth.
Why were two grown men alone on a boat with three young girls?
Dodgson (Carroll) met and became very close with the well-respected Liddell family some eight years prior and befriended one of the eldest brothers, Harry. He took Harry and the eldest sister, Ina on several of these boating trips. When Harry went off to school, the younger children started joining the boat trips instead.
A year after the serendipitous boat trip in July 1862, Dodgson broke with the well-respected Liddell family, but there's no record of why. In fact, Dodgson's diary pages are missing from both 1858 – 1862 and 27 – 29 June 1863.
Biographers speculate that Dodgson wanted to marry eleven-year-old Alice, while other evidence points to the slightly older Ira, who was a bit too fond of the author.
Either way, the relationship between Dodgson and the Liddell's broke down and never seemed to recover.
Was Dodgson in love with Alice? Or Ira? Or vice versa?
It's unclear, but there are several references to each girl in both Alice's Adventures in Wonderland and its sequel, Through the Looking-Glass, and What Alice Found There.
The books are set on Alice's birthday and half-birthday
The book is dedicated to Alice Pleasance Liddell
Fictional Alice is exactly the same age as real Alice
A character tells a story with anagrams of the sisters' names
Finally, and most convincingly for me, there's an acrostic poem at the end of Looking Glass that spells out Alice's name using the first letter of each line. Here are three lines from that poem:Still she haunts me, phantomwise, Alice moving under skies Never seen by waking eyes.
So…make of that what you will.
What is the current status of the asset?
The book IPO'ed September 2020 with an initial market cap of $12,000. Since then, it's traded up to $22,200, partly aided by its initial $1/sh offering price.
Category Performance
Twenty books have traded so far in Q2 2021, and they're down an average of 8% and a median of 0%. The best performer so far was AA Recommendation Dune, which was up 58%.
Risk Profile
Valuation and target share price
Target Share Price: $1 – $2 per share
Valuation details:
Asset Growth
The book has seen some decent appreciation over the last year. Perhaps 50%.
Growth Outlook and Future Catalysts
Final Thoughts
This is a great piece, and it's a real shame about the recasing.
Other ways to invest in Alice in Wonderland
Medicom has produced a Mickey Mouse Mad Hatter doll figure, which has become an immediate collectable. Look for it under $200 still in the box.
Mad Hatter / Mickey Mouse Hybrid doll not enough for you? Look out for a Disney Limited Edition Alice in Wonderland 17″ Doll. Only 500 were produced, and they're a big deal for Alice Fans. Look for it under $5,000.
The 1907 version of the book with Arthur Rackham's illustrations can be found for less than $400 in good condition. It's a great pick up on a budget.