Welcome to Cultural Assets Insider – FREE Version.
Today, we're covering the investment opportunities for original apple equipment:
Apple iPod 2001 1st Edition (Sealed)
Insiders get one dedicated email for each asset with more analysis, comps, and full valuations. We also give the AA Verdict for each card: a straight up Yes or No. Free members only get a weekly roundup.
Do you want to see our recommendations? The ones that are up over 300% this year? If so, make sure you're signed up for our weekly trading and performance updates.
Apple iPod 2001 1st Edition (Sealed)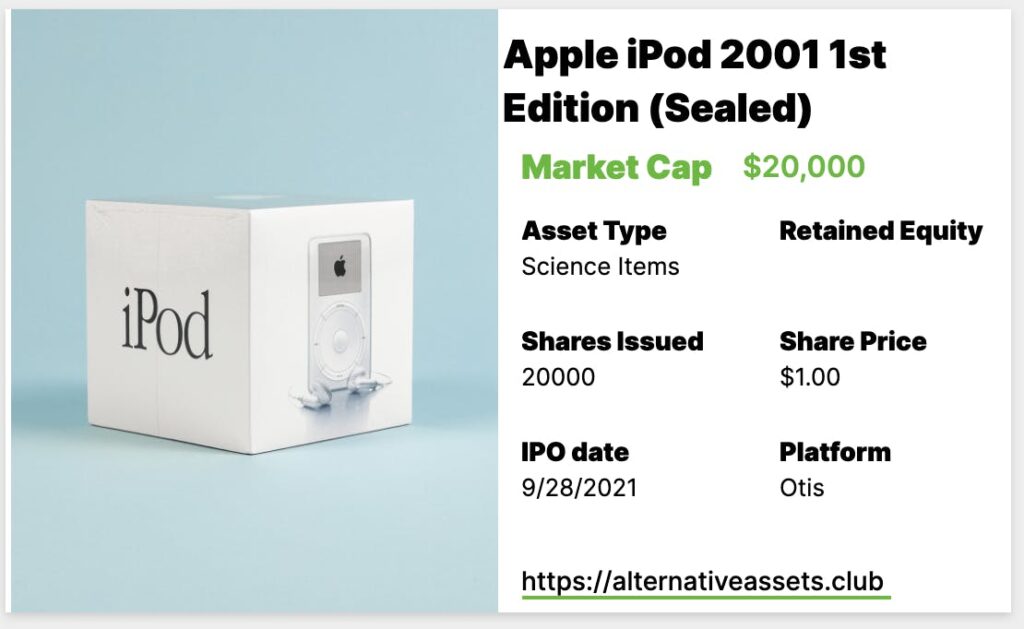 About the Asset
This is a 5GB first generation Apple iPod built 17th December 2001 (original release was a couple of months prior).
Still sealed in its box, it's the third OG Apple product to IPO.
An original iPhone debuted on Otis and is up 250% from the IPO price (as of writing, 28th September, 2021).
An identical version of this iPod dropped on Rally in July 2021 with a market cap of $25,000. It's not traded yet.
Apple shares were $0.38 each when this launched. If the owner had spent $399 on Apple shares rather than buying an iPod and keeping it sealed, they'd have $152,638 today.
About the drop
This asset will drop on Otis 28th September 2021 with a market cap of $20k and no retained equity.
Add IPO to calendar
About Apple and the iPod
We covered this one extensively for the Rally drop. Read about the iPod.
Recent sales history and Valuation
Inferred value is $15k – $25k