Welcome to the latest issue of Trading Updates/Rare Books – FREE Version
Today we're digging into a special piece of science history – Albert Einstein: Philosopher-Scientist – Signed First Edition. It's trading right now on Rally until 4 PM EST.
Albert Einstein: Philosopher-Scientist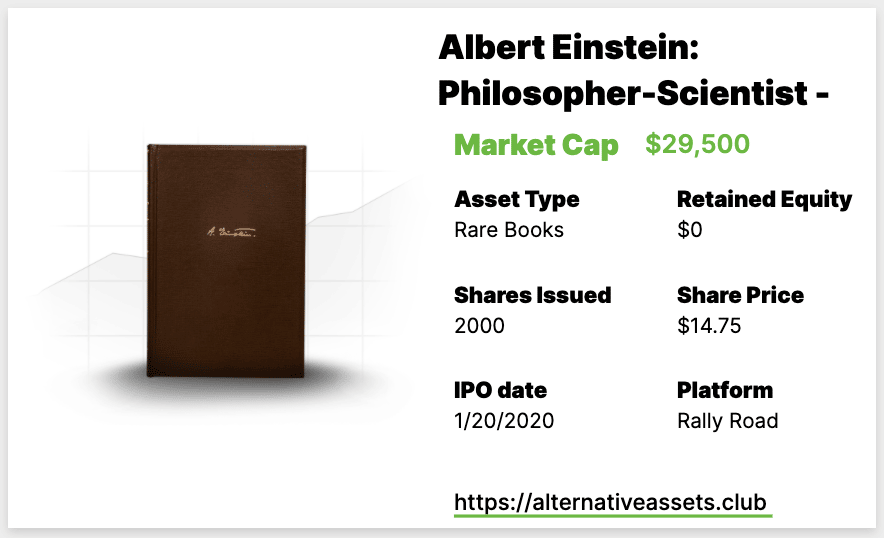 What is the asset?
This is Einstein's autobiography from a scientific point of view. Unlike last week's Note on God, which dove into his personal feelings on the divine.
In Albert Einstein: Philosopher-Scientist, the German gives readers an insight into the evolution of his views on classical mechanics (he says they've failed), the rise of the electromagnetic field, quantum mechanics, relativity, and much more. Described by Harvard University Press as "a rather hard book to read," it was originally written in German before translation into English.
Notably, this is part of a much larger series of works called the "Library of Living Philosophers." Einstein's was the seventh volume, and other notable contributors include John Dewey, Bertrand Russell, Jean-Paul Sartre, Michael Dummett, and Julia Kristeva.
Einstein's volume was limited to 760 first editions, each of which were signed by the author. It features a translation from German to English.
What is the current status of the asset?
The book IPO'ed end of 2019 with a market cap of $14,500 and has traded up to $29,500 since then.
It's currently trading at $30k in the early goings with relatively low volume.
Category Performance
Risk Profile
Valuation and target share price
Target Share Price: $5 to $10 per share
Valuation details:
Asset Growth
While the asset has doubled in price on Rally, there's not much reason to believe it's done the same in the open market. Rally bought it for $11k in 2019, and it may have appreciated 10% to 15% per year since then.
Growth Outlook and Future Catalysts
This is a nice piece that will continue to appreciate at a modest but steady clip.
Final Thoughts
It's a lovely piece, but it's trading way to high.