Today, I'm happy to announce that we've just completed our first artwork purchase for our ALTS 1 Fund, acquiring two blue-chip paintings from well-known artists in the British modern art scene.
So, what is British modern art, who are the two artists we bought, and what sets them apart from other artists?
Oh, and why invest in artwork in the first place?
Let's explore 👇
Why artwork?
If you've been following us, you may know we're making key acquisitions for our ALTS 1 Fund.
The first assets we acquired were an original sealed Darth Vader action figure, followed by a highly graded Daredevil #1 comic book. Last month at auction, we delved into the music space and picked up a first pressing #0000002 of The Beatles White Album.
After months of research and consulting with an industry expert, we've landed on two very different pieces: A gouache painting by Bridget Riley and a crayon drawing by Frank Auerbach.
Rily and Auerbach are both living British artists, and in any economic atmosphere there are strong, logical reasons why they have such great investment potential.
However, given the current climate, it makes even more sense.
Interest rates and real yields
In the US, 10-year real yields have surged. Real yield is the interest rate an investor receives from government bonds, minus the actual interest rate. This has risen from a record low of -1.25% seven months ago, to 0.88% today.
Real yields are a relatively obscure bond market indicator, but they are a benchmark many see as the true cost of borrowing. Rising real yields across the board have been one of the factors leading to the fall of stocks.
When interest rates are low, investors confidently back riskier assets/stocks from companies with low revenue and high speculation. In contrast, high interest rates make government bonds more attractive and cause a drain on stocks. During these times, downturn-resistant markets like government bonds, gold, and artwork become highly attractive.
The higher US real yields go, the higher the opportunity cost of not buying these resistant assets. This means it's likely stocks (particularly speculative, low-revenue tech), crypto, and emerging markets that will continue to struggle, while safe-haven alternatives will continue to hold their value.
And this is before groupthink comes into play. Investors understand that they should hedge against stocks by deploying capital into historically savvy alternatives. If everyone does this, the asset class value rises even more.
Our investment criteria
The point is that artwork is a wise investment, especially right now. If you buy quality, fine art tends to keep its value in bad times and skyrocket in good times.
But despite the above graph, we didn't go out looking specifically for British modern art. Our criteria was pretty simple; we wanted to acquire work that:
Is extremely unlikely to get devalued, and
Still has lots of potential for huge returns
Criteria #1 quickly ruled out entire markets, including urban art, young contemporary art, and of course most NFTs.
We went looking for artists with a long, strong auction history; artists who have been exhibited in major galleries & institutions, and whose work is held by major collectors.
Take Banksy, for instance. Yes, he's internationally famous, has a huge number of small/medium-sized private collectors, and he crossed the rubicon into being liked by people who don't like art. Yet, incredibly, Banksy still isn't in many major institutions, and he doesn't have a major gallery (or shady powerful art world figures with skin in the game) behind him.
Despite all his hype, Banksy paintings are more vulnerable to bursting than more established artists. His collectors are more likely to need to liquidate and panic-sell when his price stops rising.
As far as criteria #2 is concerned, there are plenty of artists you'd consider "recession-strong" who also have potential for healthy price long-term appreciation. French impressionism, American modernism, and Renaissance paintings are all blue-chip choices where the potential is already priced in.
But we're looking for fantastic growth potential.
Why British modernism?
British modernism is the perfect blend of safety and untapped potential.
As a result, British modern art has seen very fast and consistent growth. It's the worst-kept secret in the art world.
The chart below shows how different asset classes perform during positive and negative U.S. real yields:
Quite clearly, British paintings are the standout here. They have the highest potential return of any sub-category, mostly fueled by the growth of British modernism.
Compared to their American counterparts, and despite the presence of these artists in the collections of the world's greatest museums, 20th-century British artists are often hugely undervalued in the marketplace.
Notably, there are a handful of figures like Henry Moore, Lucian Freud, and Francis Bacon who transcend the somewhat parochial Mod-Brit category. Nevertheless, several British artists are on the cusp of breaking out from the mold and increasingly becoming valued alongside their international contemporaries.
Bridget Riley and Frank Auerbach immediately come to mind. At leading auction houses like Sotheby's, their works rapidly migrate from the "Modern British" category into the bellwether Contemporary and Modern categories.
Let's start with Bridget Riley.
Who is Bridget Riley?
Bridget Riley is known for helping spearhead the "Op Art" movement, or optical art.
As an artist, Bridget took a while to find her groove. She spent her 20s in art school in London, and her early work was mostly what is known as pointillism, or modern-impressionism. She had some difficult years, and it wasn't until 1960 that Bridget Riley created her first abstract op-art paintings that she's best known for today.
Op art paintings are all about creating optical illusions. They look like they're moving, even though they're not. The goal is to trigger conscious or subconscious sensations of vibration and movement. Bridget's works induce a variety of sensations in viewers, from seasickness to the feeling of sky diving.
In 1965, Riley first exhibited at a MOMA exhibition called The Responsive Eye. This exhibition is where she first drew worldwide attention to her work and the Op Art movement.
With her visual language accessible to a global audience, she has long been the most renowned figure of Op-Art, and her 1960s works have come to define an entire era. As such, her prices have been climbing steadily.
It's clear to many collectors that her work is still undervalued when compared to her European and American counterparts. Still exhibiting at 91 years young (!) Bridget has major exhibitions this year at Yale and the Zentrum Paul Klee Museum in Switzerland.
But the piece we bought isn't from Bridget's early work. It's a gouache painting from her later years, when she created what is known as her "striped paintings."
Gouache is similar to acrylic paint, but contains additives that give it a matte finish.
The piece acquired by our fund is an example of Riley's most celebrated and iconic striped works. The work is in mint condition, and similar quality pieces are becoming harder to find. Indeed, as Riley's global audience increases, prices for these colorful, totemic examples of her practice continue to move with it.
Acquired for ALTS 1: Bridget Riley, Serpentine Study 3, Group A (1999)
Now, any good dealer will insist that, even if you are motivated by investment potential, make sure you love the artwork itself. Because we were purchasing the asset for the fund and not for a personal collection, how much we love it wasn't a consideration.
However, I must say, I really like this piece.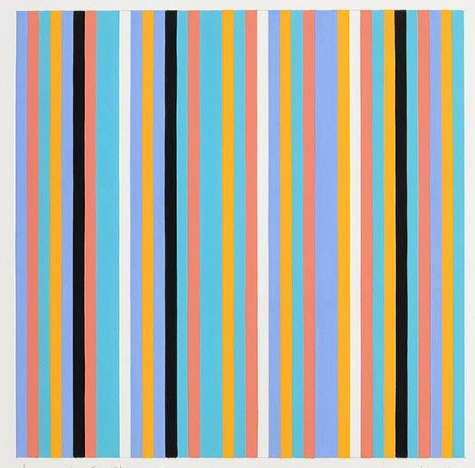 In June 2014, the retrospective show "Bridget Riley: The Stripe Paintings 1961–2014" was presented at the David Zwirner Gallery in London. You can see the up-close detail in her paintings in this video from the exhibition:
Bridget Riley may be approaching the end of her life, but she's still sharp as a tack. Her paintings now average a few million dollars each, although you can pick up some of her stuff for $500k or so.
In 2006, her Untitled Diagonal Curve (1966), a black-and-white canvas of dizzying curves, was bought by Jeffrey Deitch at Sotheby's for $2.1 million, nearly 3x its $730,000 high estimate and a record for Riley.
The record would be short-lived. Two years later, the artist's dotted canvas Static 2 (1966) brought in $2.9m, far exceeding its $1.8m high estimate, at Christie's. Finally, in 2008, Chant 2 (1967) went to a private American collector for $5.1m.
If you're interested in learning more about Riley's iconic stripe paintings, pick up a copy of the aptly titled book: Bridget Riley: The Stripe Paintings 1961-2014.
Throughout her development, Riley has drawn confirmation from Eugène Delacroix's observation that 'the first merit of a painting is to be a feast for the eyes.' [Her] most recent stripe paintings are a striking reaffirmation of that principle, exciting and entrancing the eye in equal measure.

— Paul Moorhouse, Curator at London's National Portrait Gallery and author of Bridget Riley: The Stripe Paintings 1961-2014
Bridget Riley is a legend. But she was only one of the two artists whose work we purchased for ALTS 1.
The second was Frank Auerbach.
Who is Frank Auerbach?
Frank Auerbach is a British painter known for his thick, textured brushstrokes. Auerbach's goal is not to create a realistic representation of the world, but to capture an emotional truth.
Auerbach was sent to England by his Jewish parents under a UK refugee program in 1939 and never saw them again. He became a British citizen in 1947.
He's the quintessential painter's painter. Auerbach's life has been dedicated to mastering his craft. Unlike Francis Bacon or Lucian Freud, dating famous models, partying in the hottest clubs, and dining at The Wolseley, Auerbach would rather spend 364 days a year honing his skills, not showing the least bit of interest in luxury or leisure.
He studied at the famous St Martin's College and the Royal College of Art in London. Auerbach's paintings are intense, expressionist, and notable for their use of extremely heavy impasto (ultra-thick texture), so that the paint at times seems modeled like clay rather than painted with a brush.
Now widely viewed as one of the best painters of his generation, it's clear he is somewhat undervalued compared to his contemporaries. His star power in the US has accelerated significantly in recent years, but is still nowhere near its potential. Asian markets are just now looking like they've woken up to Auerbach, but there is still a ton of potential internationally as well.
His favorite subjects include portraits (particularly of people he knows well), nudes, townscapes, and building sites. The poet Stephen Spender has suggested that Auerbach's fascination with building sites reflects the destruction he saw around him in his childhood.
The figures in his paintings are like people who seem burdened with perhaps terrible experience…like refugees conscious of concentration camps.

— Stephen Spender, Poet
Since arriving in England, Auerbach has been inspired by London's evolution and changing landscape. His most famous landscape series is called "To the Studio" which captures the ever-changing north London streets near his workplace.
Alongside portraiture, landscape is Auerbach's most iconic subject matter. Painted exclusively in his studio, he makes excursions to make on-site observational drawings, which are then used to create larger paintings from his studio.
Most of these observational drawings are then destroyed or kept away. While some have come to market, they are often somewhat unresolved and executed mostly in felt tip, which fades over time.
The most desirable examples of these jewel-like works involve heavy use of crayon, much like the exquisite example purchased by our fund.
Acquired for ALTS 1: Frank Auerbach, Study for "From the Studio" (2018)
Our acquisition is from a newer series called "From the Studio." It's a rare and interesting new angle that he has approached in his senior years on this career-spanning project.
My paintings are not about what is seen. They are about what is felt. — Frank Auerbach
Auerbach's foundations are secure. He won the Golden Lion at the 1986 Venice Biennale. He has exhibited at The Royal Academy of Arts, The National Gallery, The Courtauld Institute, and The Van Gogh Museum, and has had major retrospectives at the Hayward Gallery and Tate Britain.
His works have also attracted celebrity interest. David Bowie bought and owned Auerbach's Head of Gerda Boehm (1965) as part of his private collection. After Bowie's death in 2016, this piece was among many put up for auction in November 2016, where it was sold for $4.7 million.
Conclusion
As they say, the best time to invest in fine art is yesterday. The second-best time is today.
With rising interest rates and rising, well, interest in alternatives, you'd be hard-pressed to find a better blend of safety & performance than these two British contemporary artists.
Riley and Auerbach are both hugely undervalued. These artists aren't from a frothy or emerging market; they both have extremely strong foundations and are perfectly poised for strong growth for years to come.
We hope you find these pieces as exciting and beautiful as we do. We would love for you to become an investor in the ALTS 1 fund, and become a part-owner of unique assets such as these.
If you have questions about ALTS 1 or want to learn more, download our brochure, or book a time with me here. I'd love to chat.