Today we dive into something that makes us laugh, lose our inhibitions, and something that I am currently drinking right now as I type this: Champagne.
(Please pardon typos and excessive exclamation points)
Let's pop the cork! ????
– – –
But first…
Today, we published something super cool.
Over the past few weeks, Wyatt has been working his a$$ off to create the world's first Fractional Investment Index. This index tracks the performance of all fractional IPOs across Collectable, Rally, and Otis since inception.
Since February, we've been analyzing each fractional IPO in our special newsletter, Alternative Assets Insider. By equally weighting a $100 investment in every offering, compared to a $100 investment in assets we have purchased, we can compare our performance against this index.
As it turns out, we don't just track the market, we smash the market.
Have a look…
There's a lot more to come with this index. We plan on keeping this up-to-date going forward.
In the meantime, you can get our picks through Alternative Assets Insider. And of course, as a subscriber, you can download this report free.
---
Why Champagne?
Everyone loves champagne. It's one of the world's most delightful mood-boosters.
Unlike other fine wines, champagne is unique in its global appeal. Whether you're dining, partying, or celebrating, champagne means excitement and luxury.
Me? The reason I love champagne might be a bit different.
When I was born, my parents took me home from the hospital, and toasted me with a bottle of champagne. My dad dipped his finger in the champagne and (despite my mom's objections) let me have a little taste. As the story goes, I licked it and smiled.
It's been my favorite drink ever since! ????
Red wines, especially Bordeaux and Burgundy reds, are increasingly well-known as an investment with good aging potential. However, although many more people will be familiar with Champagne brands such as Dom Perignon or Cristal, most haven't considered them as an investment.
But there's no good reason for this! The Liv-ex Champagne 50 index has risen nearly 60% over the past 5 years (while remaining stable), it's time alternative asset investors explored this market.
In this issue we provide an overview of the Champagne market, why you should consider investing in it, and how you can access this delicious asset class.
The history of Champagne
"Champagne" has become a generic term for sparkling wine. But as you probably know, sparkling wine can only be called Champagne if it comes from the region where it is grown, fermented, and bottled: The Champagne region in northeast France, 150 miles east of Paris.
There are over 15,000 growers in this region, where Champagne is produced at a massive scale. This is where Moët & Chandon is located, among others. The requirement for champagne grapes is the same today as it was in the 18th Century: all grapes must be hand-picked; machines are forbidden!
Who invented Champagne?
That would be mister Dom Perignon, the famous Benedictine monk.
….Well, almost. Dom Perignon put the "fizz" in the movement, kicking it up a notch. But he wasn't actually the first. An Englishman named Christopher Merrett first documented "how to put the fizz into sparkling wine" in 1662. Merrett & the English are only now starting to get recognition for this.
Regardless, Dom Perignon perfected the process and was pivotal in its development. He figured out a way to get clear white wine from black grapes, and pumped Champagne to the elites like a modern-day meme stock. Champagne was rapidly adopted by high society, and was served at Kings Courts by Louis XIV (before he got the guillotine.)
The story goes that when Dom Pérignon first created his delicious bubbly champagne, he called out to his fellow monks "Come quickly, I am tasting the stars!"
Veuve Clicquot was another trailblazer. A master marketer and businesswoman, Clicquot was ahead of her time in marketing and exporting Champagne to the rest of the world. Even today, Veuve Clicquot's yellow label is perhaps the most well-marketed Champagne on the face of the planet.
Champagne market overview
Grape varieties
So yes, Champagne needs to come from the Champagne region, and the grapes must be picked by hand. But the grapes used matter as well.
Although there are seven 'approved' grape varieties for Champagne production, the majority is made by blending only three types; black Pinot Noir and Meunier grapes as well as white Chardonnay.
Each adds unique characteristics to the flavor, structure and aging ability of the wine. For example, Chardonnay often adds floral and citrus tones whilst Pinot Noir introduces aromas of red berries.
Although most Champagne is produced by carefully blending all three grapes, some specific types that use more unique combinations or don't mix grapes. For example, 'Blanc de blancs' (white from white) is made only from white grapes, mainly Chardonnay.
Rosé, on the other hand, is a pink colored Champagne that is made by blending non-sparkling red wine with sparkling white wine. This blending technique is only allowed in Champagne with non-sparkling Rosé wine getting its color from the red grape skins during fermentation, instead of the mixing of two wines.
The four additional grape varieties permitted in Champagne production are Pinot Gris, Pinot Blanc, Petit Meslier and Arbane.These, however, only make up a tiny fraction of production.
Champagne vs wine
Champagne is a white sparkling wine. It gets its fizz from a second fermentation which occurs in the bottle itself.
Champagne tends to have a shorter shelf life than non-sparkling fine wines. Vintages can lose their bubbles and tend to last 15-20 years compared with 30+ years for Bordeaux wines.
Authentic bottles will bear the mark AOC, or 'Appellation d'origine controlée'. If you want to a wine production rabbit hole here's a guide on the strictly controlled Champagne production process
Market size
Despite putting sparkling wine on the map, and even though it often costs twice the price of other sparkling wines, Champagne does not have a majority share of the market.
Over 240 million bottles of Champagne were produced in 2020, with a value of over 4.5 billion dollars ($18.75 per bottle). Champagne makes up around 1/3rd of global sparkling wine sales (And Dom Perignon takes about 1/3rd of that).
The UK and the USA are the largest export markets, absorbing approximately 20 million bottles each per year, followed by Japan and Germany, both purchasing approximately 10m each.
Vintage vs non-vintage
Champagne comes in a variety of forms, but before we look at it through an investment lens, it's critical to make the distinction between the vintage and non-vintage varieties. Vintage Champagne refers to bottles produced with grapes harvested only from a single year, compared to a non-vintage bottle that will include a blend of wines from various years to ensure consistency in taste. The vast majority of Champagne produced is non-vintage and will likely be the type you are used to drinking.
Vintage Champagnes are more valuable and make much better investments. They are only produced in good years, which means that a Champagne house may only produce a vintage 3 times in a decade.
Why invest in Champagne?
Growth
Champagne occupies a niche in the fine wine market and was, until fairly recently, broadly overlooked by the fine wine investment community. Two decades ago, Bordeaux dominated the wine investment market, however, Champagne now accounts for around 7% of secondary market trading by value.
Stability
Despite the excitement often surrounding the uncorking of a Champagne bottle, the market has been very stable and one of the best performing sectors of the 'investment grade' fine wine market over recent years.
The Liv-ex Champagne 50 Index, which tracks the most recent physical vintages for 12 champagnes, has returned nearly 60% over the past 5 years.
Pricing trends
Champagne prices often fluctuate over the year, exhibiting some 'seasonality'. This is notable in autumn as trade buyers and consumers prepare for the festive season, often resulting in a temporary increase in prices.
After Champagne is released, prices often plateau initially, before steadily rising over time.
---
Champagne investment returns
Not all Champagnes are equal.
A Champagne's house top produce is called prestige cuvée and is regarded as the highest quality produce. But variations go far beyond that.
Looking at Liv-ex data, although index returns have been very steady, there are significant discrepancies between individual producers when looking at price changes over time, as you can see in the graph below.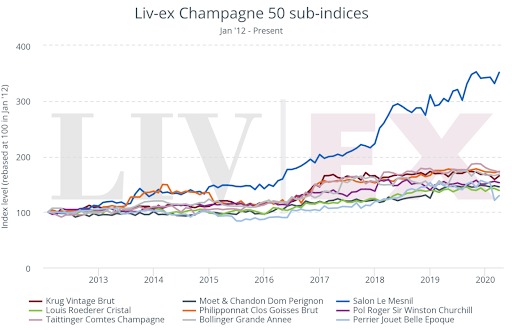 Similar to other fine wine markets, there are a number of key factors that influence price:
Scarcity
Brand equity
Vintage quality
Critic scores
Bottle size
Let's take a look at each of these in more detail.
Scarcity
One of the key drivers of fine wine investment is scarcity. Investment grade wines are produced in small quantities and become increasingly scarce over time as bottles are consumed. As this happens, prices naturally increase as the available supply diminishes. This is the primary driver for Champagne returns.
Although the production quantities of Champagne are higher than many other 'investment grade' fine wines, demand is massive, global and increasing. Investors should, however, only focus on 'vintage' champagne which is made out of grapes taken only from a specific year and produced in much smaller quantities. It is vintage Champagne that has the best potential to appreciate in value over time.
Salon, as an example, has a more limited supply and fewer vintages than its peers. As a result, it has significantly outperformed the broader Champagne market over recent years.
Brand equity
Akin to other luxury products, brand equity is critical from an investment standpoint. Demand for both consumption and investment is often focused on only a handful of producers, as is the case with many other luxury collectibles.
The most notable Champagne brands include:
Moët & Chandon "Dom Pérignon"
Louis Roederer "Cristal"
Krug
Bollinger "Grande Année" and "R.D."
Pol Roger "Sir Winston Churchill"
Salon
Taittinger "Comtes de Champagne"
Armand de Brignac
Boërl & Kroff
Vintage quality
Given Champagne's northern location, the quality of vintages varies more than wine produced in warmer climates.
In years when the grapes are ripened to perfection, a vintage Champagne will be made. These reflect not only the quality of the harvest, but also the producer's style.
The most notable years for recent high quality are vintages from 2012, 2008, and 2006.
Global warming is putting all wine regions at risk, including the Champagne region. Harvest season is already up 2 weeks, and the impact of climate change on the global wine industry is going to be significant. We'll save that topic for future issue.
Critic scores
All wines are reviewed by critics and this will often drive demand from consumers and investors.
Where there is a consensus or particularly positive view from critics, such as Richard Juhlin, Antonio Galloni or Lisa Perotti-Brown, there will often be a price impact.
Unlike other wine regions such as Bordeaux, critics' scores of Champagne do on average appear to have a lesser impact on price.
Bottle size
The size of the Champagne bottle will also have an impact on price.
When Champagnes are first released, larger bottles will often trade at a 10-20% premium to 75cl bottles. This premium can change dramatically over time, with some extremely rare and very large bottles such as a 'Midas' (30 liters) commanding significant premiums by collectors or consumers looking for trophy assets.
As a rule of thumb, due to the potential for the premium between a 75cl and larger bottle fluctuating significantly, large bottles can actually carry more downside risk.
A similar pattern can be observed in Rosé Champagne, where investors pay a premium and benefit from a more limited supply, but the extra risk often isn't rewarded from an investment perspective.
The largest bottle of Champagne ever produced (and critically, filled) was a 117-liter bottle from Korbel that could fill 1,000 glasses.
What are the risks of investing in Champagne?
Like any investment, Champagne investing carries risks. Although the price appreciation of Champagne has been extremely steady and robust over the past decade, if demand from consumers or investors drops prices might adjust.
Thankfully, demand for Champagne alternatives, such as Prosecco, over recent years so far doesn't seem to have impacted demand for investment-grade vintage Champagne. Avoiding non-vintage champagne and 2nd tier producers will help protect from short-term demand changes.
Like all wine, Champagne is alive. Unlike traditional investments, Champagne needs to be stored professionally to maintain its quality. There are several storage facilities that offer professional storage solutions for wine merchants and investors, such as Octavian in the UK.
Fakes are also a concern, though not a huge one. As I wrote about last August, wine has attracted a fair share of scam artists — some of them very good. The majority of attention around fake bottles has centered on exclusive reds from regions like Burgundy. It's possible that there are fake Champagne bottles in circulation, so you should only source from a reputable supplier.
How to invest in Champagne
There are various ways in which you can invest in Champagne. We'll go over the 3 main options here.
Use a wine portfolio manager
Various wine investment businesses allow you to deposit money and, in turn, a wine portfolio manager picks wines to invest in on your behalf.
Usually, the service is bespoke and the portfolio is created based on your investment goals (and taste, if you wish to drink some of it). It typically requires you to invest a relatively high amount to start with. The experience is akin to working with a wealth manager or private banker.
If you have the money to invest and value the personal service and attention, this may be a suitable option for you. Minimum investment amounts with some of the more well-known wine investment businesses such as Cult Wines typically start at £25,000.
We would strongly advise doing your research or contacting an independent specialist, as, historically, a number of less than reputable companies have offered managed portfolios to clients.
Buy your own wines
Another option would be to buy your own wines via fine wine merchants such as Fine + Rare. As stock of the more premium wines is usually limited, the wine merchant would regularly contact you via phone or email when new wines become available.
The advantage with this option is that you have full control over what you want to buy and you can get started for less than a thousand pounds, if buying lower-end cases of Champagne.
The main challenge with this approach is that you would need to do your own research. The retailer may be able to advise you, but keep in mind that they want to sell their wine and if they're primarily a retail business, they may not utilize the same data-driven approach that a professional investment firm would to make investment decisions.
Lastly, you cannot easily diversify your portfolio, unless you have thousands of pounds to spend and can buy a number of different cases.
Use Koia
Koia has fractionalized ownership in alternative assets such as fine wine, including Champagne. This means you can start investing in wine with as little as £20.
They will only list a small number of carefully selected wines on the platform at a time, with clear information about the producers, critics' scores, as well as price history to give you as much information as possible and allow you to make an informed decision.
They also clearly state where the wine will be stored and how it was sourced. And since you can buy fractions of the cases of wine, it means that you can more easily diversify your portfolio and buy into a number of different wines from different years and diverse regions, without needing to spend thousands of pounds.
This option is most suitable for investors who want to get started with modest amounts and want to diversify. You'd typically have some interest in wine investing and be happy to read up on investments put out on the platform, but not wish to spend many hours learning, or becoming an expert and choosing between hundreds of possible options to buy.
Conclusion
Despite global awareness and distribution, Champagne was broadly overlooked by the fine wine investment community for many years.
This has started to change. The asset class has been delivering steady positive returns over the past decade. There is a strong correlation between the price of Champagne and its age. As time passes, the available supply becomes more scarce and the value of each bottle normally increases.
Collectors and investors must, however, pay special attention to the type of Champagne and producer. Due to the lower production quantities, only vintage Champagnes are normally considered for investment purposes.
Investors can gain exposure to the asset via three primary channels; using a fine wine investment manager, buying bottles directly from a wine merchant or using a platform like Koia that enables fractional ownership in real assets.
As with any investment, there is no guarantee that past performance will continue, but the less efficient nature of alternative investments presents opportunities for the savvy investor and the Champagne market certainly looks like it has room to keep on fizzing. ????