We hope you enjoyed our last issue on arbitrage opportunities in the Shopify App Store.
Today we dive into the world of investing in domain names. This issue is coupled with a new podcast episode.
Podcast with Alex Drew from ODYS
Last week I had the pleasure of sitting down with Alex Drew from ODYS.global. You may recognize ODYS from past issues of Alternative Assets. In fact, ODYS was our very first newsletter sponsor, going back to late 2020 (when we were still on Substack!) Since then Alex has grown ODYS into a powerhouse marketplace for buying pre-owned domains.
We spend the first half discussing domain investing in general, and the second half on the world of pre-owned domains.
Check it out on iTunes and Spotify.
---
Why invest in domain names?
Domain names are essentially a cornerstone for the entire Internet. With the exception of mobile apps, where the need for an underlying URL has been negated or abstracted away, domain names are the most universally recognized aspect of a company's online existence, and probably always will be.
For companies and entrepreneurial individuals, domains can be extremely valuable. They're your brand, your identity, in many cases your actual company name, your email address, your own private space on the Internet. It's no wonder why, after all these years, domain trading is still so popular.
But getting the right domain is often a highly intense, emotional, and expensive process. If it sometimes feels like all the good domain names are taken, it's because there's definitely some truth to that.
How many domain names are there?
According to Verisign, one of the world's largest providers of domain name registration services (as well as the authoritative registry for .com and .net), there were 363.5 million registered domain names in March, 2021.
(Interestingly, this is actually down YoY Total domain name registrations have decreased by 3.3 million, or 0.9% since this time last year.)
Okay, but how many of these domains are actually being used?
A man named Christopher Forno at Singapore Data Company has done some research on this. He crawled a random sample of the 137 million .com domain names registered, and found there is a pretty even split among activity buckets:
1/3 are currently in use as active business/personal websites, or for private email, etc
Another 1/3 are empty, parked, or unused
The remaining 1/3 are for squatting, sales, and speculation.
Keep in mind this data only looks at .com domains. It's reasonable to believe other TLDs would yield different results.
Still, there's a reason finding the perfect domain is so challenging: Most registered domains are collecting digital dust or maybe some minimal ad revenue. Just 7.1% of registered .com domains are currently for sale.
---
What are the most expensive domains ever purchased?
Buying and selling domains can be big business. However, pinning down the most expensive domain names of all time isn't as easy as you'd think. Not all domain sales are publicly reported. Big-ticket, high-profile sales are often exchanged in private transactions. Companies don't want their competition getting a head start on what they're up to, nor do they want to let the world know just how much they're willing to spend on a domain name in the future.
Luckily, most sales are still public, so we have some pretty good transaction data.
Here are the top 7 domain name by sale price:
As you can see, a good portion of the most expensive domain names are vanity plays for
Valuing domain names
Domain names are notoriously hard to value. And the reason is due to the concept of relative value. Humans don't have an agreed-upon set of rules for how to value domains. A domain worth ten dollars to one person might be worth ten thousand to someone else. We all value domains differently.
Now, to be fair, there are certainly some rules that govern the value of a domain — we'll cover the main ones below. And while tools like Estibot attempt to use these rules to provide a baseline value, at the end of the day emotion ultimately plays an enormous role in the buying decision.
We see this phenomenon in the world of collectibles, especially sports cards and memorabilia. That Tom Brady rookie card might be overvalued, but if you grew up in New England like I did, the card carries tremendous emotional weight, and you're much more likely to value it highly. (Heck, a few months ago I bought shares of this Apple 1 Computer, going against my own company's recommendations!)
But with domains, the concept of relative value is especially pronounced. One man's trash is another man's treasure. One company may be willing to pay $30k for the perfect domain, while another company may have been stalking it for years and willing is to pay a million, without batting an eye.
A domain name can simultaneously be the beginning of someone's dream, a speculative asset someone is squatting on, or a worthless string of characters. It just depends on who owns it, and who wants it.
The evolution of Top Level Domains
The non-profit group ICANN (Internet Corporation for Assigned Names and Numbers) has been responsible for managing the Internet's top-level domains (TLDs) since 1998. Back then, good .com domains were plentiful, and acquiring them was pretty easy…at least for a short while.
The "original six" TLDs that were released are all familiar to us now:
Soon after, TLDs were divided into two classes; generic TLDs (or gTLDS) and country code TLDs (or ccTLDs).
Country Code TLDs
Country code TLDs (ccTLDs, like .ca or .fr) were reserved for countries and territories, expressed in two-letter country codes mostly based on the ISO standard.
A country's top-level domain can be a strategic national asset. It represents the national interests of a domain, and is often viewed as the flagship of a country's Internet participation, with symbolic and even security implications.
When first created, only residents of a country could register a ccTLD for that country. And still to this day, some countries choose to hang on to their ccTLD rights pretty closely. (For example, to register an .eu domain you need to be a resident of the EU. And to register a .com.au domain, you must be an Australian resident and have a valid ABN.)
However, other countries have begun to let non-residents register their domains as a way of raising cash. And other nations have licensed the rights completely! When ICANN assigned the tiny island nation of Tuvalu the exclusive .tv domain in 1995, it was like a gift from the gods. In 2011, the government negotiated an agreement allowing Verisign the right to administer .tv domains for commercial use. Thanks to the growth of streaming sites like Twitch.tv, Tuvalu now earns about $5 million per year, or 1/12th of its annual gross national income from licensing its domain. For a nation of just 11,000 people, this asset licensing agreement has been incredibly beneficial.
Generic TLDs
Generic TLDs (gTLDs, like .info or .biz) are the other type of standard TLDs.
In 2011, ICANN announced they were releasing 1,200 new generic TLDs into the wild. At the time, there were only 22 functioning gTLDs, so this release was a very big deal.
The new batch included terms denoting industries and professions (.law), terms denoting goods and services (.money), brand names (.toyota) and geographic locations (.asia). Interested entities could apply to be given access.
On June 13, 2012, also known as "Reveal Day," ICANN announced they received nearly 2,000 applications for these TLDs, over 62% of which were contested by multiple parties. Between the application fee and related costs, each application cost hundreds of thousands of dollars. So naturally, big companies dominated the applications. Google alone applied for over a hundred TLDs. Amazon applied for another 75. A company called Donuts put together a domain fund, and applied for 307 of them.
Fast-forward to today, there are now over 1,514 different TLDs in use.
So, did this influx of TLDs mean that the older, traditional .coms were no longer as valuable?
Well, yes and no…
---
What characteristics make a domain name valuable?
For a while, there was an argument that the influx of thousands of new generic TLDs meant .com speculation would decrease. Since there are so many other options, the thinking went, you won't need a .com anymore.
This is somewhat true, but it's mostly false. Sure, if you can't get the .com domain you want, you can now choose from a large amount of "good enough" domains that may be available. But on the other hand, the fact that there are so many TLDs just makes .coms even more valuable.
The fact is, .com domains are the OG. The first choice. The most legit. The most valuable, in-demand domains by virtue of nothing more than history, tradition, and panache. In a sense, .coms are like the Bitcoin of domains.
I've looked at historical data of sold domains on Flippa to better understand the correlations between different domain attributes and their sale price. I've found some really interesting stuff.
First, I looked at character length. All else being equal, companies prefer shorter domains to longer ones.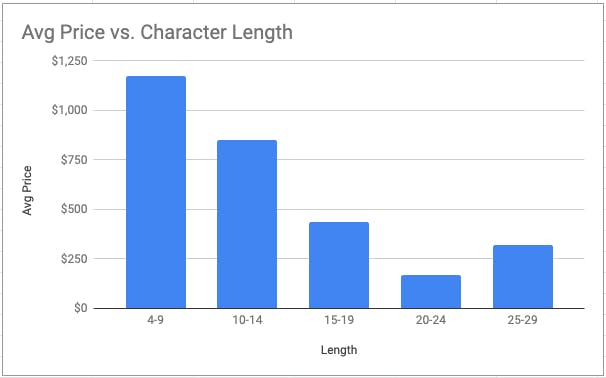 As you can see, domains with a length under 10 characters fetch, on average, 3-7 times the price that domains over 15 characters sell for. So the market certainly values shorter domains. Domains between 4-9 characters are worth 45% more than those between 10-14 characters, and 250% more than domains between 15-19 characters.
Next, I looked at TLD:
As expected, .com is the most valuable. This is followed by .io, which makes sense given the high-income demographics of .io buyers & sellers. Somewhat unexpectedly, .org & .net are about the same, with .co coming in last. (Personally, I've always really disliked .co)
Lastly, I looked at something many people don't think about — domain age:
Domains 1-15 years old or so sell as you'd expect. But after that, the price starts taking off exponentially. Age is indeed correlated with value, which makes sense given that nearly all of the short, catchy, single-word .com's were registered before some of us were even born.
But there's another reason aged domains are so valuable.
---
The aged domains movement
Aged domains (also known as "pre-owned domains" or "SEO domains") are a new and growing phenomenon in the world of domain investing that everyone should know about.
Think of pre-owned domains as simply domains that had a "former life" as active websites. The site was alive at one point, but may have gone out of business, or been neglected, or sold, etc.
Because they're older, aged domains tend to be shorter .coms originally registered many years ago. However, it's not the age itself that makes these domains so valuable. Rather, aged domains have two things that matter a lot.
Aged domains give you traffic
Pre-owned domains often, but not always, still get consistent traffic to the domain. This usually isn't too common, as Google figures out pretty quickly when a site is no longer active, and pushes the site down in search results. But a hit is a hit, and traffic comes from many sources. This brings us to the next reason aged domains have so much value.
Aged domains give you backlinks
If you know how the web works, you know that when it comes to ranking in Google, backlinks are everything. The more websites (and especially the more high-quality websites) that point to your site, the more highly Google will rank your site in search results, and the more traffic your site will get.
The value of a good backlink profile can be tremendous in terms of the traffic & trust it carries. Forget crypto; high-quality backlinks are essentially the web's most valuable currency.
When you start a website from scratch, you don't have any backlinks yet, and getting them takes hard work and lots of time. This period is known as the "Google Penalty Box," and it can last anywhere from 3 – 9 months.
Sure, you can pay for backlinks. But this is technically against Google's guidelines (I won't get into that right now, another topic for another time, folks) and either way, it gets very expensive. A high-quality backlink from a quality website can run anywhere from a few hundred to thousands of dollars. For a single link from TechCrunch.com, I've been quoted twenty thousand dollars. (Bribery is expensive!) ????
But because they existed as real businesses for many years, aged domains come pre-loaded with dozens if not hundreds of backlinks. Think of it like building a house. Instead of starting from scratch, hiring an architect, digging holes, and pouring concrete, you can supercharge your efforts by building on top of a foundation that already exists.
The previous owner has already done the hard work for you. You're fast-forwarding the painstaking and expensive process of building backlinks, and buy an existing backlink profile that can boost your website for years to come.
Flipping the entrepreneurial process around
What I like about buying aged domains is how it flips the typical entrepreneurial equation on its head. Most entrepreneurs think of an idea first, then look for the perfect domain, then start validating. They often overpay, and they almost always start building everything from scratch.
But buying aged domains reverses the process. It takes the guesswork out of your entire business model, and gives you a shortcut to success.
If you buy a pre-owned domain called, say, MiamiMattresses.com, and that domain already has quality backlinks from MiamiHerald.com, MiamiDolphins.com, etc., you don't need to worry as much about link building, or even choosing the perfect name for your business. You may not be in love with Miami (or mattresses, for that matter) but you have a website ready to go, and a new business out of the box, with a head start on everything.
It's truly a new way of thinking about entrepreneurship.
---
Learn More about Domain Investing​
Want to learn more about Domains? Check out the podcast, and follow the Domains topic.
We're now adding Domains coverage to Insider. You'll get twice-monthly updates focused on finding the best undervalued and hidden gem domains for sale.
Interested? Start a free trial of Insider today. Credit card not required.