Today we're looking at the world of Funko Pops — those well-priced bobbleheads you've probably seen everywhere.
We'll look at where they came from, how they skyrocketed to popularity, and why they make the perfect little collectibles.
Let's explore 👇
Intro
A few months ago, ecom giant eBay formed a consortium with a bunch of executives, including ex-Disney CEO Bob Iger, sports agent Rich Paul, and Peter Chernin from the Chernin Group (whose portfolio includes Goldin, Hodinkee, and a bunch of other names you'd recognize).
Together, this group threw down $263 million to purchase a 25% stake in Funko, Inc. This investment came on the heels of Funko reporting sales of over $1 billion last year, up 58% YoY. As part of the investment, everyone agreed eBay would become the preferred secondary market for Funko products.
What's behind the surge in popularity? And what the hell are these things anyway?
What are Funko Pops?
Funko Pops are collectible toys that look very similar to bobbleheads. (Only their heads don't actually bobble anymore. But let's ignore that for now.)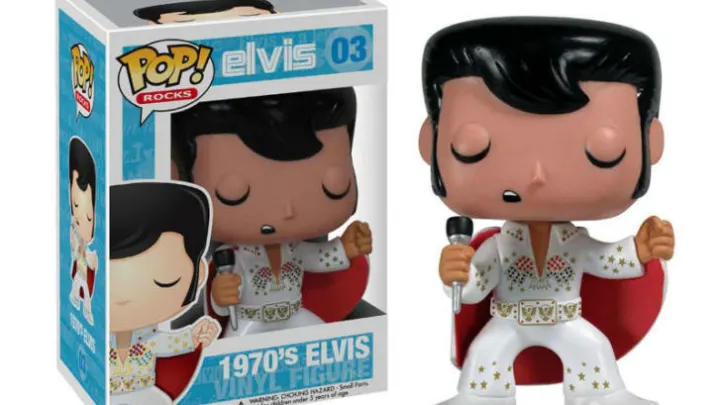 Funko Pops are made out of vinyl, giving them a high-quality shimmer. They look and feel more expensive than they are, which makes them great action figures and collectibles. Some kids buy them to play with, others stack up huge collections without ever taking them out of the box.
The figurine's style is referred to as chibi, a Japanese term describing someone small being drawn in an exaggerated manner.
The toys are fairly small (about 4 inches in height) but pack a visual punch. Funko Pops are famous for depicting pop culture characters and real people with exaggerated heads, little bodies, and countless accessories.
How did Funko Pops begin?
It seems like a recent phenomenon, but Funko Inc. was founded in the late 90s by Mike and Claudia Becker. It all started when Mike was looking on eBay for a coin bank in the style of Big Boy— the "chubby boy" mascot of the famous vintage US restaurant chain.
He realized these things were pricey — he couldn't find one for less than $100. So he figured, why not just create his own by outsourcing production to China?
With that, Funko was born.
The initial goal was to create a series of small, nostalgia-themed coin banks and bobbleheads, representing mascots from times past.
Within a year, Popeye, General Mills, and Count Chocula all had their own Funko dolls.
But as time passed, Mike Becker lost interest in his own company. The business was doing well, but his passion was gone.
He thought about closing up shop, until Brian Mariotti, a former nightclub owner and avid collector, convinced Becker to sell Funko to him in 2005.
We don't know how much Mariotti paid for Funko. But we do know that after fumbling with different prototypes for 5 years, he finally struck gold with the big eyes and the head that no longer bobbled.
The team unveiled four of these new figures at Comic-Con 2010 to a mixed reception. Fans of Funko's previous work were a bit incensed, yet interestingly two groups unexpectedly loved them: women and non-collectors.
Funko was definitely onto something here. Over the next 5 years, the team began securing licenses from as many popular franchises as they could get their hands on.
By 2012 they had doubled their revenue to $20 million, leveraging the immense popularity of films like The Avengers, The Hunger Games, and The Dark Knight Rises.
Five years later, after hitting $400m in sales, Mariotti decided the company was ready to go public.
The worst IPO of the 21st century
Everything was looking up for Funko. Their Pop line was a massive hit, they were on a five-year track to becoming a $1b company (a real unicorn, not a valuation unicorn).
But in November 2017, they went public on the NASDAQ and got absolutely smashed.
Within minutes, the stock price fell, and kept falling all day long. When the markets closed, Funko's shares had plunged from $12 to $7.07, a five-day drop of -41%. Funko's debut was technically the single worst IPO of the 21st century.
But they powered through the failure and quickly recovered. Within 10 months, their share price shot up 4.4x to an all-time high of $31.05. and big deals with Disney and Marvel ensued.
In 2021, they hit their goal of reaching $1b in sales — one full year ahead of schedule.
Why are Funko Pops so popular?
Pop culture licensing
Funko is hardly the biggest toymaker in the world. Hasbro ($6.4 billion) and Mattel ($5.4 billion) still reign supreme. But when it comes to pop culture, Funko is unparalleled.
From the very beginning, licensing has been key to Funko's success.
And they've come a long way. Today, Funko holds over 150 production rights licenses, including agreements with mega-popular franchises like:
Marvel
Seinfeld
The NBA
Squid Game
Breaking Bad
The Simpsons
Rick and Morty
Stranger Things
Game of Thrones
The Legend of Zelda
Remember, Funko learned early on that their collectibles are popular with non-collectors. So they ramped up their licensing machine to the point where, if a movie or TV show takes the world by storm, you can pretty much guarantee a Funko Pop collection will follow suit.
This makes the TAM of a Funko Pop larger than perhaps any other collectible in the world.
Affordability
A big reason Funko Pops managed to capitalize on all their new fans is affordability. Their low price tag — typically $10 – $20 each — is perfect for both collectors and casual fans.
Funko lovers can easily accumulate dozens of toys without taking a big hit. The fact that kids could afford them is also huge. What kid wouldn't spend a tenner on a cool toy from his favorite movie?
Do Funko Pops have brains?
Of course not.
But last year, a viral video showed a DragonBall extracted from a Piccolo Funko Pop's Head. This video started a worldwide rumor that ultra-rare Funko Pops had heads full of hidden toys.
It was all a prank. It turns out it's pretty easy to open a Funko Pop and put something inside the head. But the meme survived, and there's now a whole TikTok genre dedicated to people cutting open their toys' heads and "finding" all sorts of things.
And then of course, there's the rare "Headless Ned" Stark Funko Pop, whose head is actually designed to come off.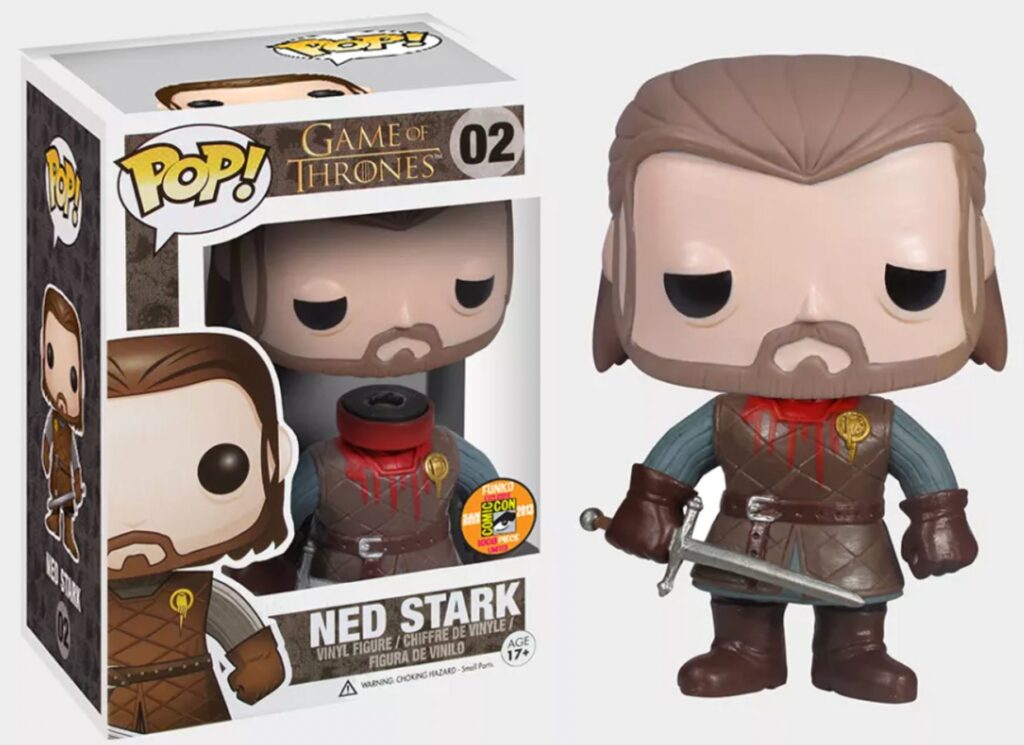 Which brings us to limited editions.
Are Funko Pops worth investing in?
Yes, but only if they're a limited edition.
Funko has learned to follow the LEGO playbook, releasing limited edition Pops in almost all of their popular lines. But the word "limited" can be pretty arbitrary. Some limited releases produce tens of thousands of units, while others have just a few dozen.
The two key limited edition terms to know are Exclusive and Chase.
What is an Exclusive Funko Pop?
Exclusive Funko Pops are specific to an event (usually Comic-Con) or a store (Wal-Mart, Target, Hot Topic, etc). These always include a sticker indicating the event or situation it was released for. Unlike regular Funko Pops, these are produced once, and then they're gone forever.
One example is the "Freddy Funko" Jamie Lannister — two versions were made exclusively for Comic-Con 2013. Anyone could have bought these at the event for $40. Today, the standard version sells for up to $1,800, while the ultra-rare "bloody" version goes for $10,000+.
Comic-Con 2022 is coming to a close as I write this, and it looks like this year's exclusives include Ted Lasso, Squid Game, and dozens of others.
What is a Chase Funko Pop?
A Chase is a limited variant not specific to an event or store.
Its design, color, accessories, glow, imprint, or materials differ slightly but significantly from the original. Chase Funko Pops are recognized by the golden sticker on the front of the box. Most Pops don't have them.
When a figure does have a Chase version, it's usually just one piece per case. Cases come in packs of 24 or 36, so Chase versions are typically just in 1 out of every 24 or 36 units (about 2-4% of population).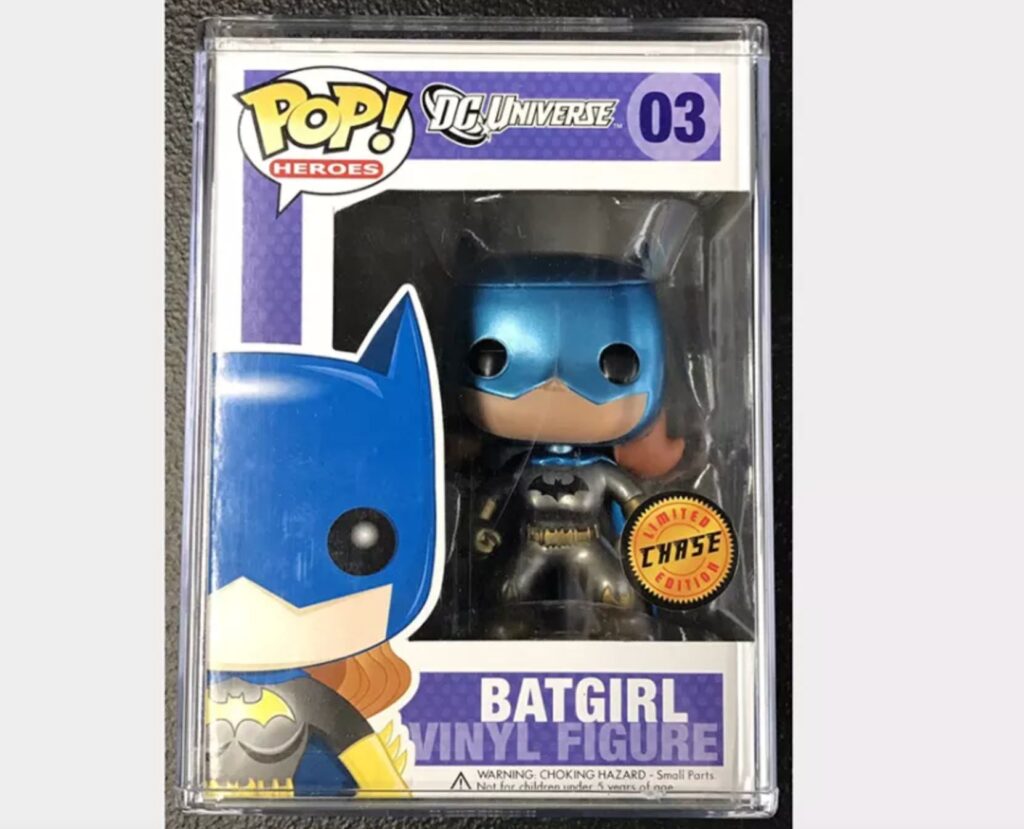 How to buy limited edition Funko Pops
You have to know when and where to look to get your hands on the rare stuff.
An Exclusive is easier to get, especially if it's preordered. But because they're made in collaboration with another company, you can only buy a new one from that specific company, nowhere else.
The Chase versions are rare and scooped up quickly. However, there are plenty of options available on secondary markets like eBay and HobbyDB.
What is the rarest Funko Pop?
There are many contenders, but the Holy Grail of Funko Pops is likely the glowing Alex DeLarge Clockwork Orange Funko.
Yes, it glows in the dark. But that's not what makes it so valuable. Three things separate this from the rest:
Its release was limited to just 6 pieces
Each box was signed by CEO Brian Mariotti, who personally gave them away to top Funko collectors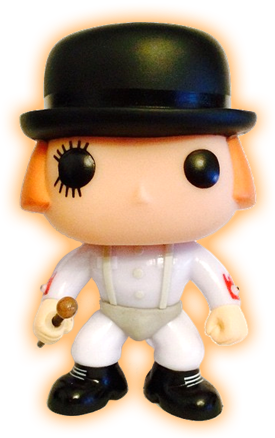 Graded Funko Pops
One interesting selling point of Pops is that they aren't sealed. This lets you get them out, play with them, and put them back in without damaging the packaging.
And that packaging is terrific. In fact, the box is arguably the defining feature — even more than the toy itself!
Given the high supply of most Funko Pops, boxes need to be in excellent condition to have any real value.
When PSA caught a whiff of the Funko Pops rising in popularity, they launched a Funko grading service. Graded Funko Pops are almost always more expensive than their ungraded counterparts (though the cost of getting the item graded is baked in).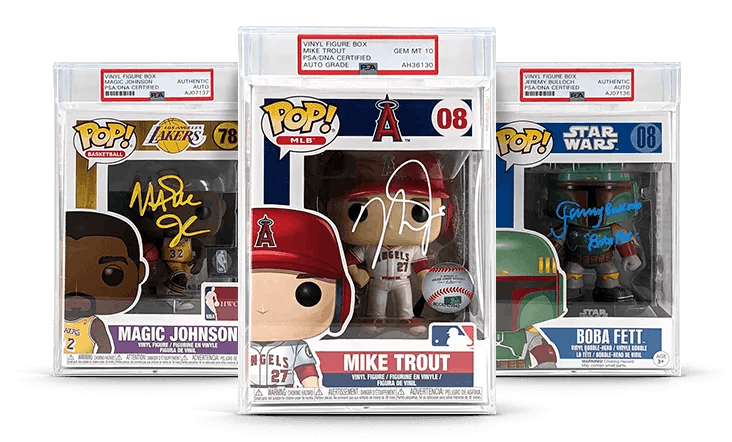 How to tell if a Funko Pop is fake
Sometimes people mistake fake Pops for Chase or Exclusive variants. If it looks different, there are a few things you can do to check its legitimacy:
Be aware of where you buy from (it's best to stick to verified sellers)
Check that the box has the right coloring, stickers, font, etc.
Look for an item number on the foot of the doll
Pay attention to the details. If it looks sloppy or unusual, it's probably fake.
Do pricing research and trust your gut. If a deal seems too good to be true, it probably is.
The Pop Collectors Alliance has a very extensive article on the topic.
Criticisms of collecting Funko Pops
Funko has built a thriving empire based on pop culture. Some Pops would appear to be a perfect match for investors. Extremely limited supply, gimmicks (glow-in-the-dark), and a healthy dose of nostalgia.
So why have some collectors soured on Funko Pops as an investment?
Volatility
Funko Pops are extremely volatile. Take Pop #252 from the My Hero Academia Collection – Deku (Battle), Hot Topic Exclusive.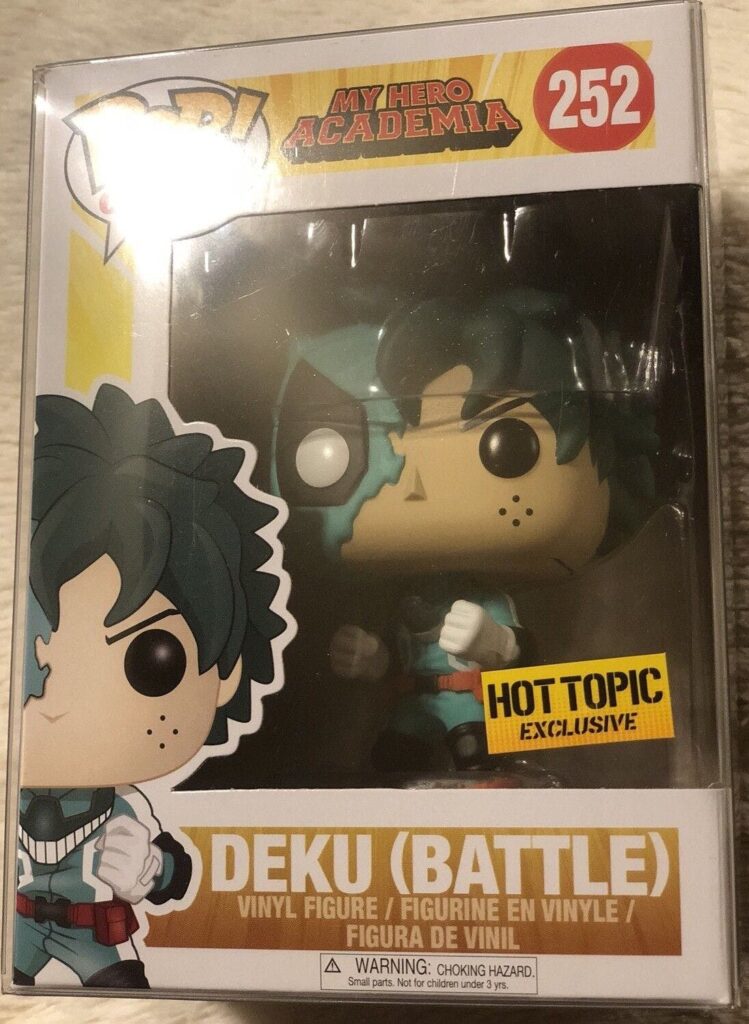 The anime show first aired in 2016, and the Deku (Battle) edition was one of the first ten Pops released in the MHA series. It was an exclusive that could only be found at Hot Topic, and sold anywhere from $180 – $500
Fast forward to 2022, and you can get this same Pop on eBay for like thirty bucks.
Stuff like this has caused people to call Funko Pops "the cryptocurrency of collectibles." Even limited editions notoriously drop 200–300% without warning.
Oversupply
Lack of true scarcity is the real issue here. Commons are a dime-a-dozen, and the days of ultra-rare Pops seem to be gone.
Remember, Funko raked in over $1 billion in sales last year. You don't get to a billion by limiting supply.
"Limited edition runs" aren't as exclusive as they seem. The company regularly manufactures over 100,000 Pops per release. Even special versions usually have runs in the tens of thousands.
Some collectors attest to finding last year's limited editions gathering dust on store shelves. The supply of Pops has become so large that there are hardly any chances to get yourself a new, exclusive, in-demand product.
Wrapping up
Funko Pops are the quintessential collector's item: High-quality, well-priced toys that look terrific on display. It's sort of like a modern-day Pez.
There's a reason eBay & industry execs teamed up to invest in Funko, Inc: They're one of the few collectibles adored by women and non-collectors.
The man responsible for taking Funko Pops from an obscure garage project into a pop culture titan put it best:
These are the gateway drug for collectibles. – Brian Mariotti, Funko's former CEO (now Chief Creative Officer)
Some collectors are wary of viewing these things as viable money-makers. Oversupply is a big issue, and unless you have Exclusives or Chase versions, you're not sitting on anything valuable. Nobody wants your dang commons.
Still, the company's licensing execution has been flawless, and the toy's enormous range has led to mass appeal and a collector flywheel effect, where more characters & versions lure new people into the hobby.
At the end of the day, collecting Funkos is just plain fun.