The unintentional collectible
Today, we're looking at something we've never covered before: The newly budding market for ticket stubs.
Let's explore ????
Why ticket stubs?
Tickets are a unique investment opportunity that many have never actually considered.
What's interesting about tickets is that they were never intended to be collectibles. At their core, tickets are purely functional. A means of entering and exiting an event. That's it.
While most people dispose of their tickets once the event is over, others hang on for the sake of memory.
I've been collecting concert tickets since I was a kid – long before I knew they were a potential investment. Granted, I did not take good care of mine. They're sitting in a box in my garage, wrapped up in a rubber band that probably destroyed the edges. I look inside that box once every ~7 years and fill up with joy each time.
Others do a slightly better job preserving their memories.
Ticket stubs tap directly into one of our most engaging and overwhelming emotions — nostalgia.
Every ticket stub tells a story. While sports cards & other collectibles are cool to look at, ticket stubs signify a specific moment in time. There are not many alternative assets that can so easily transport you back in time just by looking at them.
Therein lies the value of ticket stubs — they are a portal back in time to a memory that brings you joy. Outside of something directly used during an event (say an athlete's jersey, glove, or maybe a drumstick) few other items can authentically represent these moments in time the way a ticket can.
Good vintage ticket stubs can end up more like historical artifacts than niche collector's items. Imagine you had a ticket to Brady's first Superbowl. Or a ticket to see Hendrix at Woodstock. You were there. You were in the room where it happened.
It's not just a piece of cardboard with a pretty picture. It's proof of a memory. It's a timestamped collectible with actual historic value.
What makes a ticket valuable?
Venues can only hold so many souls, so tickets have a finite supply.
There will only ever be a set number of tickets for each event, and each ticket stub is totally unique. The specific seat you were sitting in is like a serial number that ensures its identity. (It's like an NFT, but for the real world!)
Think about going to an art show or a comedy gig. They'll often hand out a program, which could certainly be a collectible. But the key difference is programs are not unique — they are generally printed en masse and hundreds, if not thousands, will exist.
Compare this to trading cards. Sports trading cards have exploded in popularity in the last decade, amassing an impressive 10-year return of 165% (most of which has come in the past 18 months).
But sports cards are mass-produced. Common cards are printed in the tens of thousands, and even rare cards are typically issued in the thousands.
As exclusive as some trading cards are, this is nothing compared to the scarcity of ticket stubs, which have nowhere near that same level of accessibility and exposure.
But if scarcity makes a ticket stub stand out among other collectibles, what makes a ticket valuable compared to other tickets?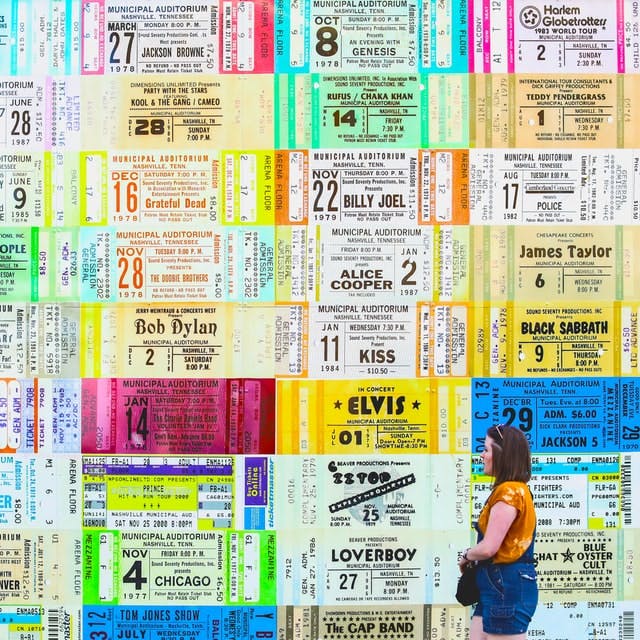 Significance of the event
The more global significance and recognition an event has, the more valuable a ticket stub.
Sentimentality makes an event valuable for an individual, but public recognition is a big factor in price. The more significant the moment, the better.
I have great memories of seeing comedy legend Mitch Hedberg in Santa Barbara just a few months before he died, but it wasn't his very last show. So it probably means more to me than it does to the market.
A ticket for the Game 5 NBA finals in 2009 is listed on eBay for $1,000. Obviously, a ticket for the ultimate game of a finals series is a rare and significant moment, but it's nothing compared to events like Kobe's final game, his 81pt outing, or even his debut.
Kobe Bryant ticket stubs are some of the most popular collectible items, particularly given his tragic passing in 2020. Even reprint tickets of his 81 point game fetch $50, while the originals routinely sell for upwards of $1,000.
Autographs
Tickets become even more valuable when they have an autograph. A ticket for the 1923 World Series Game 6 signed by Babe Ruth sold for $72,000. (And that was in 2014. It would likely fetch far more today)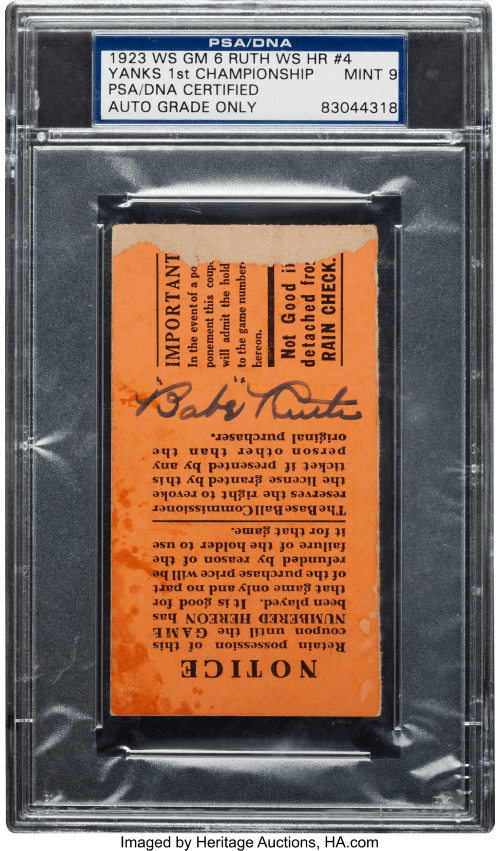 Authenticity
Authenticity is a huge element of most collectibles, and ticket stubs are no exception.
The value of a ticket stub can be amplified depending on how it's distributed. Typically, tickets are distributed by a first-party, meaning they are sent by promoters, event-runners, or the venue itself.
Secondary-licensed products, such as those sold directly to fans, simply aren't authentic. While these products are usually offered as a limited run, they aren't limited to a 1 out of 1 print run the way first-party tickets are.
Additionally, the owners probably didn't attend the event, so the moment isn't as real. The memory wasn't as organically captured as it is with a used ticket stub.
Special edition tickets
While tickets were initially intended to solely serve the function of getting in and out of a venue, recently ticket distributors have recognized their potential for value, and have begun to design collectibles sold in conjunction with the ticket.
These take all sorts of different forms, and usually incur an additional fee to upgrade your ticket type. These are still authentic and unique, they still have the unique serial identifier, seat row number and are distributed solely for the event. But they also have some fancy features, like holographic or 3D artwork.
In fact, I actually own one of these from a Pixies concert I went to in 2020 (which was one of the last international concerts in Australia before the Covid shutdown). It's printed on shiny plastic and appears holographic.
These special tickets are designed with collectors in mind, and may hold more value than their plain counterparts. Think of them as special edition trading cards.
Condition
As with every type of collectible, condition plays a major factor in the value of a ticket stub, graded through PSA. (For those not familiar, PSA is the largest third-party sports authentication service in the world.)
Items are graded on a scale from 1 to 10, with 10 being perfect mint condition. Naturally, tickets that maintain a rating of PSA 8-10 will be more expensive than those on the other end of the spectrum.
What makes ticket stub conditions particularly important is their typically disposable nature. Tickets are flimsy, and compared to other collectibles, they are often in terrible condition. We've all been there. You shove the stub into your pocket, put it in your wallet, crumple it, spill beer on it, etc. This makes good-quality stubs ultra-rare and extremely valuable.
What are the most expensive tickets in the market?
This is a relatively rare asset class, and not a ton has been written on this topic (heck, that's why we're doing it!) While it's difficult to find a definitive list of the most expensive tickets ever sold, there are plenty of notable sales.
Many Super Bowl stubs are valuable, especially for older games. This ticket to the third Super Bowl featuring the Jets vs Colts in 1969 (where Joe Namath famously guaranteed a victory) is back on the market for $2,799.
In 2012, this stub for Joe DiMaggio's 1936 debut sold for $3,383 .
A ticket to Game 6 of the 1998 NBA finals, where Jordan's Bulls beat the Utah Jazz by a point to win the championship. This was listed at $30,000, and sold via an undisclosed offer.
Game 4 of the 1918 World Series was a significant event, as it was the game where Babe Ruth set the record for the most consecutive scoreless innings in a World Series, and was the last time Red Sox won the World Series until 86 years later. The ticket sold for $24,000.
Finally, this Signed Kobe Bryant ticket from his final, 60 point game against the Jazz, was bought by Otis and fractionalized back in June, with a market cap of $31,700. (Yes this was a hugely significant game. Yes, it's signed. And yes, he will sadly never be able to sign any tickets ever again. But no, we did not recommend buying shares of this asset. Read our full analysis and recommendation here)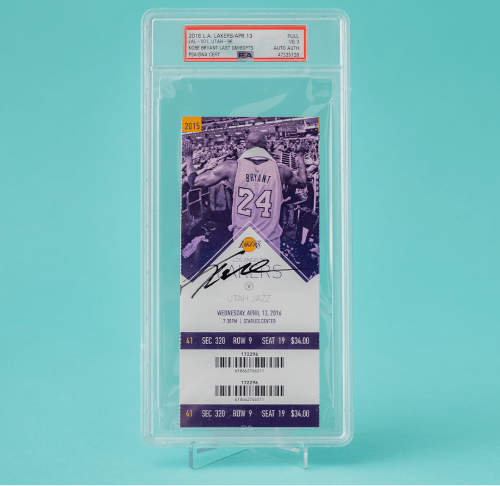 Right now eBay has a stub from the 1960 Rome Olympics where Muhammad Ali (then Cassius Clay) fought Zigzy Pietrzykowski.
Cassius clay was only 18 at the time, and this was before the world knew who he was. He won the gold, but upon returning home to America, he was still not able to eat in certain restaurants because he was Black. According to legend, Clay was so furious about being denied service that he threw his gold medal into the Ohio River.
Ticket supply and distribution
What's interesting about tickets compared to most other collectibles is that they are almost always distributed locally. Whereas trading cards, comic books, and video games are available globally, tickets are usually purchased in the proximity of the actual event.
Athletics tickets are most likely to be found in Oakland, Cavs tickets in Cleveland, and so on. This tends to make them more exclusive, as they're physically carried to and from the event.
The other important element to consider regarding ticket stubs is that their supply is, and has always been, public. Attendance records are almost always available. This transparency makes it easier to research and understand exclusivity, because know exactly how many tickets were sold for each event.
For example, there were more Zion Williamson Prizm PSA 10 Rookie Cards printed than there were actual fans in attendance at his debut game in San Antonio (19,123 of these cards in supply, vs 18,365 attendees at the game).
Then, add in the fact that the vast majority of these tickets were likely thrown away, crumpled, or otherwise ruined in some way, you have a far smaller number (approximately 162 PSA 10 tickets).
Diving deeper into this, PSA releases an annual report on the availability of collectibles in the marketplace. According to their most recent report, there are currently 82,090 certified Ken Griffey Jr. 89 Upper Deck cards available on the market. Keep in mind, that's just one series of cards out of thousands.
In comparison, since 1989, there have only ever been a total of 72,274 graded tickets for any event! ????
This shows perhaps better than anything else, the rarity that ticket stubs hold over nearly every other asset type on the market.
The future of ticket stubs
Ticket stubs have changed dramatically since the 90s. What started as cardboard later morphed into paper tickets you print at home.
This is the last gasp of physical tickets. Digital technology (which was changing the ticketing landscape even before the Coronavirus) has kicked ticket digitization into high gear. Physical tickets are being rapidly phased out in favor of QR codes.
While some companies & venues still give ticket holders the option to receive a physical ticket, it doesn't seem likely this will continue for much longer. Most people are fine with someone scanning their phone, and as the world gets back to a new normal, it's likely many concertgoers will never touch a physical cardboard ticket ever again.
This means that rare, "vintage" tickets in good condition are likely to become even more valuable in the future. The asset class hasn't quite caught on yet. Collectors go gaga over sports cards, but haven't yet placed similar high values on tickets — even though tickets have far higher scarcity than cards.
Watch this space, I think this will start to change.
And in the meantime, we are about to enter a new era of unique ticket digitization…
NFTs and digital tickets
What's really interesting is the intersection of tickets and NFTs.
NFTs are built on the premise of a unique, identifiable serial number that cannot be replicated, digitally stolen or mass-manufactured. Sound familiar?
Exactly. Ticket stubs are like NFTs before they were cool.
With the move towards electronic tickets, NFTs are about to become very useful for ticket verification. NFT-based tickets will provide a verifiable and secure way to trade tickets, without the need for a middleman in the marketplace. Oh, and they'll also be a way for collectors to assign value without accessing any physical good.
I predict venues will turn towards NFTs for ticket distribution as they continue to grow in popularity. This isn't exactly a bold prediction — in fact, the NY Knicks have already issued NFT-based tickets.
It's only a matter of time before blockchain-based ticket stubs come to life as collectibles themselves. For example, an NFT of Lebron's first-ever game in Toronto is available on OpenSea for 23 ETH ($78,000). Mind you, this isn't even a digitally issued ticket — it's a representation of the stub which is backed by the underlying asset. (Confused yet? Don't worry, we're all in the same boat.)
Conclusion
As it stands today, the market for ticket stubs is still quite small. The big question is, will it grow?
The roaring success of the sports trading card over the past decade is a pretty good indicator that investors and collectors are interested in these types of assets. But stubs are still mostly sitting in the trading card industry's shadow.
It'll be engrossing to follow the trends here. Will physical ticket stubs go the way of CDs, which were usurped by MP3s and later streaming services? Will digital QR code tickets raise the value of the physical tickets market, as people realize we ain't making any more of them? Will NFTs create a new wave of interest in both digital NFT tickets and physical stubs? We shall see ????
In the meantime, savvy alternative investors could do worse than picking up some blue-chip stubs. They won't stay this cheap forever.
---
A big shoutout
We'd like to thank Hall of Stubs for helping out with this issue.
Hall of Stubs (@hallofstubs) is a ticket stub expert who sells famous tickets through his Instagram and eBay page. He's dedicated to sourcing and sharing some of the most exciting ticketed moments in sporting history.
Some of his coolest offerings include:
A ticket for the 2020 Tokyo Olympic Games Opening Ceremony. This one is particularly interesting and rare given the lack of crowds allowed at the venue. It may end up being a landmark collectible in a few years, when people look back on this one-in-a-hundred-year pandemic. This had 60+ bidders and sold for $1,395 on eBay.
---
One year ago…
On September 7, 2020, we published our 8th issue on the world of newsletter acquisitions.
It's been a while since we've acquired another newsletter. We made an offer on a small finance newsletter last month which didn't pan out. But we'll be back at it soon, thanks to none other than our very own Jakob Greenfeld, who just released Newsletter Spy 2.0