Welcome to Sports Memorabilia Insider – FREE version. You can view the whole report by clicking here.
We analyze IPOs and use Moneyball tactics to discover undervalued, mispriced, and hidden gems.
If you're new here, you can subscribe to get analysis like this in your mailbox for free every week.
Todays deep-dive is on a pair of Michael Jordan 1992 Signed Game Worn Air Jordan 7 Shoes. They IPO on Rally 24 February 2021.
????????
---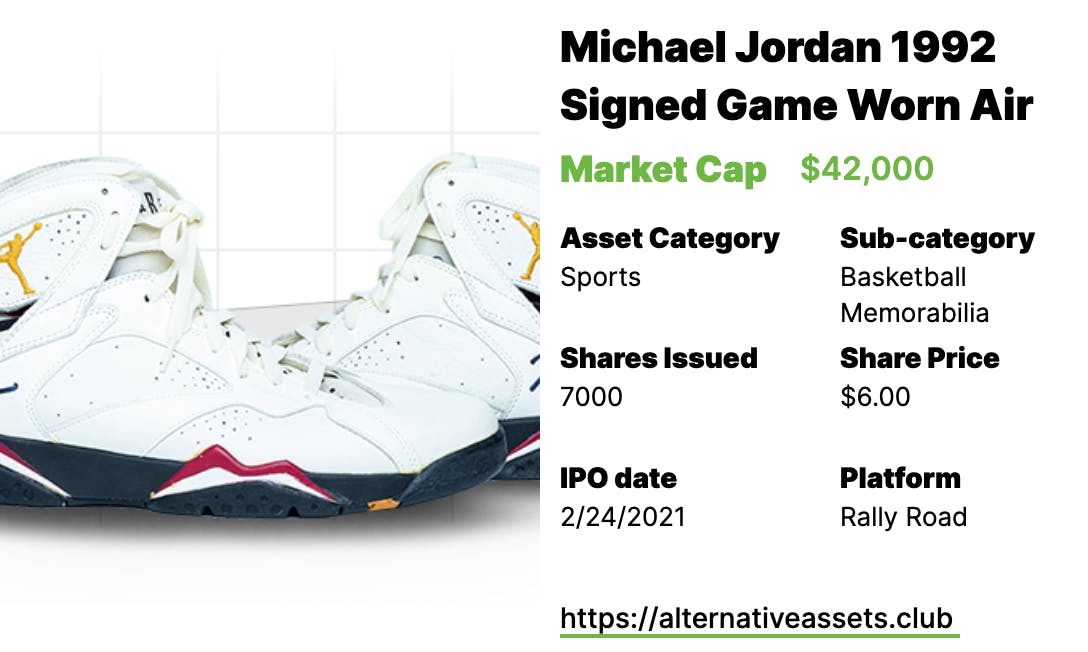 What are the Michael Jordan 1992 Signed Shoes?
This is a pair of game used shoes worn by Michael Jordan during his MVP-winning championship 1992 season. In this particular game, Jordan had a game-high 39 points as the Bulls eased past the Heat 105 – 100.
Jordan signed the shoes and gave them to a fan after the game.
Cultural Relevance
Jordan wore these shoes during the 1992 – 1993 season, which was his last before retiring to pursue a career in minor league baseball subsequent to his father's death.
Michael Jordan is considered by most to be the greatest basketball player of all time, and his 1986-1987 Fleer rookie card has led the collectables market into the mainstream in many ways.
He's been consistently popular for decades, never really leaving the public discourse. Of course the Netflix documentary "The Last Dance", which debuted early 2020, has reinforced this.
Relative to other Tier One NBA players of his time, it's not even close. MJ is by far the most culturally relevant.
It's not even close. The nearest Magic Johnson gets to MJ is in California with a 19% share relative to MJ's 72%.
This is certainly a cool item, but as far as Michael Jordan game-worn autographed sneakers go, there's nothing very special about them. They're not from a particularly important game or season, and there's not really any sort of special provenance about them.
All of which is to say that there's no special premium value to assign them above any other set of similar sneakers. I think the IPO price is a bit high.
[MUCH more info available for Insiders.]
Category Strength
The sports memorabilia category has returned 62.6% ROI so far across the entire portfolio.
Subcategory Strength
Risk Profile
Recent Growth Trend
Growth Outlook and Future Catalysts
Michael Jordan memorabilia still lags way behind his sports cards, which have 8x to 10x over the last year or so. So there's a case to be made that they will close that gap at some point. If you believe that, there's a heck of a lot of growth to come. On the other hand, if you think Michael Jordan has sort of run his course, there's perhaps less upside.
Asset Liquidity
This will have a roughly 90 day lockup period then will trade every 60 to 90 days.
Platform Risk
Intangibles
This is an undeniably cool item even if it isn't special by MJ standards.
---
Other ways you can invest in Michael Jordan
If you don't fancy the shoes above, you have a variety of options to buy high quality MJ memorabilia on eBay for reasonable price points. Here are a couple favourites.
Chicago Bulls Game Used Stadium Floor (1987 to 1994)
$399 (link)
Game-worn Nike Air Jordan 1 Sneakers Michael Jordan Signed 1985
$350k (link)
(I've made these affiliate links just in case anyone does buy something)
---
Due Diligence Service
If you're looking to make a big asset investment, we can help you perform due diligence. Stefan created and run Flippa's Due Diligence program, and can offer the same service to you.
---
Facebook Group
Our Facebook Group is also now live. Request to join and we'll let you right in.[Insiders Only]
---
To unlock the full newsletter, try Insider free for a week.