Welcome to Sports Memorabilia Insider for April 14th, 2022 – FREE Edition.
Each week we give you the scoop on undervalued, mispriced and hidden gems in Alternative Investing.
Sports Memorabilia performance 2022
The sports memorabilia index seems to have found a temporary floor as it has bounced around a few percentage points over the last several weeks.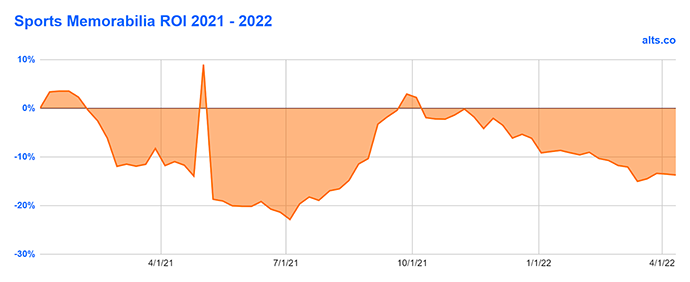 Last Week
Fractional Secondary Markets
Baseball memorabilia, perhaps aided by the beginning of the season, gained 1% on the week, more than offsetting the 0.2% decline of basketball memorabilia.
Kobe game-worn memorabilia was hot as the Collectable Kobe signed Jordan 12's gained 68% and his ring ceremony and NBA finals warm-up jacket gained 45%.
The Paul Pierce All-Star game jersey led the decliners with a loss of 29.5%.
A full uniform from Michael Jordan on Rally was also down as it dropped 18.4%.
Auctions
The big auction news last week centered around the sale of a set of Tiger Woods 2000-2001 Grand Slam winning irons which sold at Golden Age auction for $5.1 million. This easily set the all-time record for golf and Tiger memorabilia.
The final sale was helped by photo-matching of the irons, which occurred just days before the final hammer. The auction result helped propel the Collectable Tiger Woods tournament used putter up 42% over the last week.
From the same auction, a stub from Tiger's first PGA event that was signed by the 16 year old, sold for $104,694. Collectable has the full unsigned version in early access for $88,550 (inferred value $64,000).
Changes in Our View
Market Cap: $18,500
Retained Equity: $0
Inferred Value: $15,000
Drop: week of April 4 (sold out)
Our View: [INSIDERS ONLY]
This Week and Next Week
Fractional Market IPOs
Market Cap: $111,250
Retained Equity: $30,000
Inferred Value: $30,000
Drop: 4/14/2022 on Collectable
Our View: [INSIDERS ONLY]
Secondary Markets
One new sports memorabilia asset debuts for live trading this week:
Market Cap: $49,500
Inferred Value: $48,000
Live Trading: 4/15/2022 on Collectable
Our View: [INSIDERS ONLY]
Auctions
The Robert Edwards Spring auction is open now through April 24. Items of note include a 1976 Hank Aaron Atlanta Braves Signed Game-Used Bicentennial Bat PSA GU 9.5, which is the highest graded Aaron bat in the pop report (current bid of $24,500). A bat from another baseball Hall of Famer, a Roberto Clemente 1970-72 game used PSA/GU 10 offering, is currently at $19,000; there is a Clemente bat on both Rally and Collectable.
A neat alternative to the Collectable Babe photo, there is a 1928 Babe Ruth and Lou Gehrig dual signed photo currently at $9,500; this photo was issued during the duo's barnstorming tour and features them in their unique tour uniforms.