Hi
Welcome to Video Games Insider for March 18th, 2022 – FREE Edition.
We use Moneyball tactics to discover undervalued, mispriced, and hidden gems in Fractional Investing.
Video Games in 2022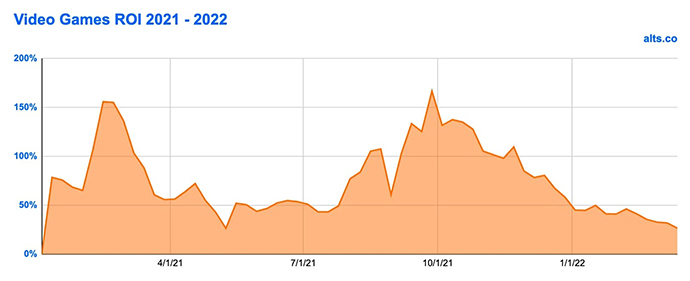 Video Games entered 2022 at about 50% ROI (still quite far away from their highs from October last year) but the downwards trend from December seems to continue through March 2022 and Video Games are lingering at around 30% at the moment.
Market Recap
The high-end market continues to hold pretty steady, with just a few games showing declines, though this is not demonstrated by trading on the fractional platforms as they continue to lag the market on most games.
The lower-end of the collectible game market is booming. Complete in Box games are now selling for thousands. Early prints and high grades lead the way for drawing top dollar.
The Heritage Tuesday, which used to be a weekly powerhouse auction, is now reduced to mostly Complete in Box, Atari and modern games.
Sealed NES, SNES and N64 are mostly reserved for the major auctions. Complete In Box prices are seeing the fastest price increase. WATA clearly recognized this and, after getting hit with a wave of CIB, has drastically increased prices to grade non-sealed games.
The super-high-end market continues to be a bumpy ride but WATA releasing POP reports clearly has settled this market some.
We eagerly await WATA's release of population reports for non NES games any day now. The original NES release has not been updated since November and still does not include seal ratings. CIB collecting has a lot of upside in the current market with the biggest risk being grading times and costs.
Last week's performance
Fractional Marketplaces
Pretty tame last week, relatively, as nothing either advanced or declined more than 37%.
Nintendo World Championship on Otis continued to retreat and is now the most undervalued asset across the fractional marketplaces.
Recent Auctions
Goldin had a small auction wrap-up this week. It was made up of the lower-end items that did not make the Elite auction. It had lots of complete in box sales and overall, they did well.
In sealed games they sold a TMNT for NES for $7,920, it was a 9.4 A. Which makes it a pop 11 with 13 higher. Also this TMNT 9.2 B+ for $4,020. This game only has one print run, which makes it easier to compare sales.
No recent sales on the 9.4 but the 9.2 seems low even considering the seal rating. Another needed addition for WATA will be the seal ratings on their population reports.
They also had a Mike Tyson Punch Out CIB sell for $5,040. This game might have gotten a small boost since it still had some of its original shrink wrap on the box. This looks to be the highest verified sale of a late production CIB.
Finally, Heritage had a Super Mario Bros WATA 8.5 A sell for $18,600.
This is up from the previous 8.5 that sold for $15,600 on February 22nd, but it did have a slightly better seal rating than that copy. It is down from the last 8.5 A that sold on January 25th at Heritage for $19,200, about a 3% drop in price.
The Dreamer Collection ended last night at Heritage. The big winners there were a couple of sealed Playstation games. Crash Bandicoot and Doom returned $48k and $38k, respectively. According to Heritage, Crash Bandicoot is Mario's and Sonic's counterpart at Playstation, and this was his first appearance.
This Week
Fractional Marketplaces
NBA Jam is being offered by Rally Road on Friday.
NBA Jam was originally released in 1993 as an arcade game and it was an instant success. Sega released it in 1994 with NBA licensing and digitized likeness of the players. It was the first video game to mix pop culture into the game. The players' skills were also quite exaggerated to put it mildly. In this game fouls don't exist, except oddly enough goaltending.
The game gave us multiple catch phrases that are still recognizable to this day such as "he's on fire", "boomshakalaka" and "he's heating up". This game led the way for other fictionalized sports games such as NFL Blitz.
With no population reports yet from WATA Games for the Sega Genesis, it's hard to determine rarity. This game does come up for auction somewhat regularly but that's usually in the more common Tournament Edition, noted by a TE in the lower left corner. This game is graded 9.8 A++ which is the highest grade WATA awards.
Generally, when you see a 25+ year old game getting a 9.8 A++ you can only assume they came from sealed cases. Not a great sign for population estimates, but it's not like they come up every auction. We have only seen 2 of these non-TE versions come to auction so far in 2022.
On 1/30/22, Heritage sold a 9.8 A++ for $38,400. This is the best comparable sale we can expect selling at one of the premier video game auctions. Putting Rally's copy at a value right around that recent sale.
On 2/2/22, Heritage also sold a 9.4 A copy for $4,800. Though the seal rating hurt this sale, the hammer price does not help Rally's valuation at all.
Otis has a copy that IPO'd at $32,800 but not yet trading​​. This copy took a while to fill even after a good auction result of $38,400. This was more a result of Otis than the game or valuation. It would not be shocking to see it trading down, as people look to liquidate their Otis holdings after the announcement from Public that they are acquiring Otis.
Rally's IPO at $47,000 would represent a 22% increase over the highest public sale of the game. It would represent a 43% premium over the recent Otis IPO. Also, it would be hard to forget it was only last summer when a 9.8 A++ was selling for $15,000.
NBA Jam Sega Genesis 9.8 A++
Market Cap: $47,000
Inferred Value: $38,000
Platform: Rally
Date: March 18th at 12 Noon E.T.
Our view: [INSIDERS ONLY]
Secondary Markets
Fortnite for the PS4 opens Monday 3/21 on Rally. It is a 9.8 A+ and the IPO was for $16,000. We wrote about the Fortnite IPO here. For being a game that came out in 2017 it is shockingly rare.
A 9.4 A sold on February 20th for $4,950 on eBay, which implies $16k for a 9.8 A+ is slightly low.
The last 9.8 A+ sold all the way back on 10-29 for $13,200.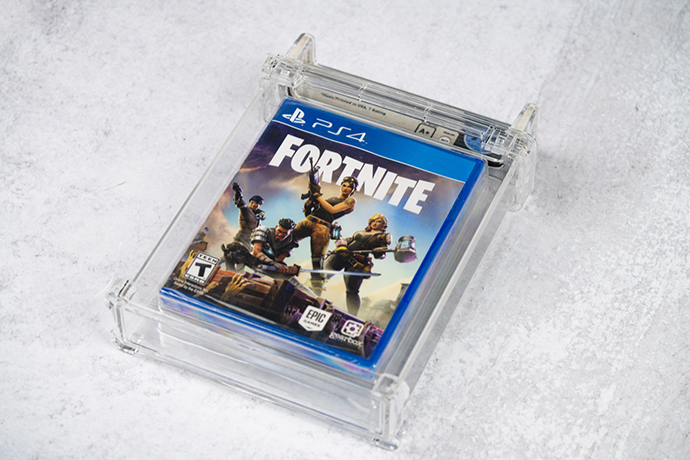 Based on that sale and no new copies coming to market, it's possible this game trades higher at IPO. $16,000 seems reasonable and when population reports get released this game could see a bump. A few raw copies sold on Ebay for around $2,000 but not enough to worry yet, no case packs.
Video games are not doing very well on the secondary markets. DK 3 opened last week and is down 68%. No recent sales of any kind, as the game is only a pop 8.
Final Fantasy VII is recently trading.
This is a later production but more rare version than the Masterpiece misprinted, but still getting no love on the secondary market. On 1/28/22 Heritage sold a 9.8 A+ masterpiece misprinted, which is an earlier version for $17,400, with Rally's copy that's currently trading at $20,000.
Bart vs the Space Mutants is also down 60% in just a short time despite it being a pop of 1 with none higher of the earliest version of this desirable game that draws video game collectors and Simpsons collectors.
Upcoming Auctions
After the big winter auction run, things are quite slow right now.
Heritage does not have their big Signature Auction till April 22nd.
Goldin just wrapped their Elite and the small one this Tuesday with nothing there until the May Goldin Elite Comics and Video Games Auction with bidding opening May 4th and closing May 18th.
Certified Link has nothing until their Spring Auction, which opens up on April 14th.
Just the Heritage Tuesdays for now. Coming up at this Tuesday's Heritage Weekly Video Game Auction – a sealed SMB WATA 8.5 A+ late production.