Welcome to Video Games Insider for May 13th, 2022 – FREE Edition.
We give you the scoop on undervalued, mispriced, and hidden gems in Fractional Investing.
Let's go!
Video Games in 2022
Prices continue to decrease, but that trend could reverse with some big auctions coming up.
Video Games last week
It was mostly green last week with Final Fantasy V11 and Grand Theft Auto running hot!
Video Games this week
Fractional marketplaces
One IPO from Rally this week:
Market Cap: $70,000
Inferred Value: $60,000
Platform: Rally
Date: May 13, 2022
Our View: [INSIDERS ONLY]
In 1986 Contra was released as an arcade game and became an instant success. Contra was released for the NES in 1988 by Konami. The game is a single or multiplayer, run and gun shooter style that takes place in the year 2633. Bill and Lance are two commandos sent to an island to destroy an alien-like being set to destroy humanity.
The graphics, the weapons, the bosses, and the 2-player mode made it a game-changer for the NES. One of the tougher NES games and considered to be one of the more influential NES games. Kids of this generation will surely remember the Konami code for the rest of their lives, thanks mostly to this game.
We only have one variant of this game, making comparing sales easier. Heritage Auctions sold this exact WATA 9.6 on 10/29/2021 for $60,000. That sale was the most recent sale of a WATA 9.6. Heritage sold a 9.2 that is a good comp for $21,600 on 4/22/22 and Otis has a 9.2 A+ trading at $22,900. But the 9.6 population has doubled since then.
Contra has a total WATA population of 36. The 9.6 pop doubled from 3 to 6 since the last WATA update. 6 9.6's and only 1 higher 9.8 are the highest graded copies. The 9.8 sold last year for $150,000 at Heritage on July 9th 2021 and we have no recent 9.4 sales.
Secondary markets
Super Mario Brothers 2 WATA 9.6 A++ with a round SOQ opened for trading on Rally on Monday.
This game was IPO'd for $300,000 in December. After three days of trading, it is currently at a $80,000 value, down 73% from IPO. Shares at $80,000 are a good value given everything we know.
We get a good comp when a 9.6 A++ currently in the Goldin Elite sells, it is sitting at $34,800 with over a week of bidding left. The highest graded copy, a 9.8 A+ sold for $324,000. SMB2 with a round seal of quality has a population of 41, with 5 9.6s and 1 9.8. A 9.4 A+ sold at HA in April for $48,000.
Auctions
The May Goldin Elite is open for bidding now and ends Saturday May 21st. It's featuring 47 video games, with the highlight being Super Mario World for SNES 9.6 A. It's a pop 1 with none higher.
Rally IPO'd a 9.4 A for $165,000 in December that has yet to open for trading.
Heritage Auctions has its 6th generation auction coming next week, and it is much anticipated. A super-rare black label Halo is outpacing the first print NFR. These will be some of the last games to sell at auction without a population report available. That is unless WATA magically releases them before the auction, which is very possible.
Certified Link is having their spring auction. More of a deep collectors auction, with less investors bidding.
Industry news
Among the more notable news from this week is WATA releasing round 2 of their population reports. The first round was just the Nintendo Entertainment System. This second round expanded to 13 consoles.
SMB3 for NES still leads the way as the most graded game by WATA and NES still has the most sealed games. Much anticipated Sega, N64 and PS1 games were much less common than many expected.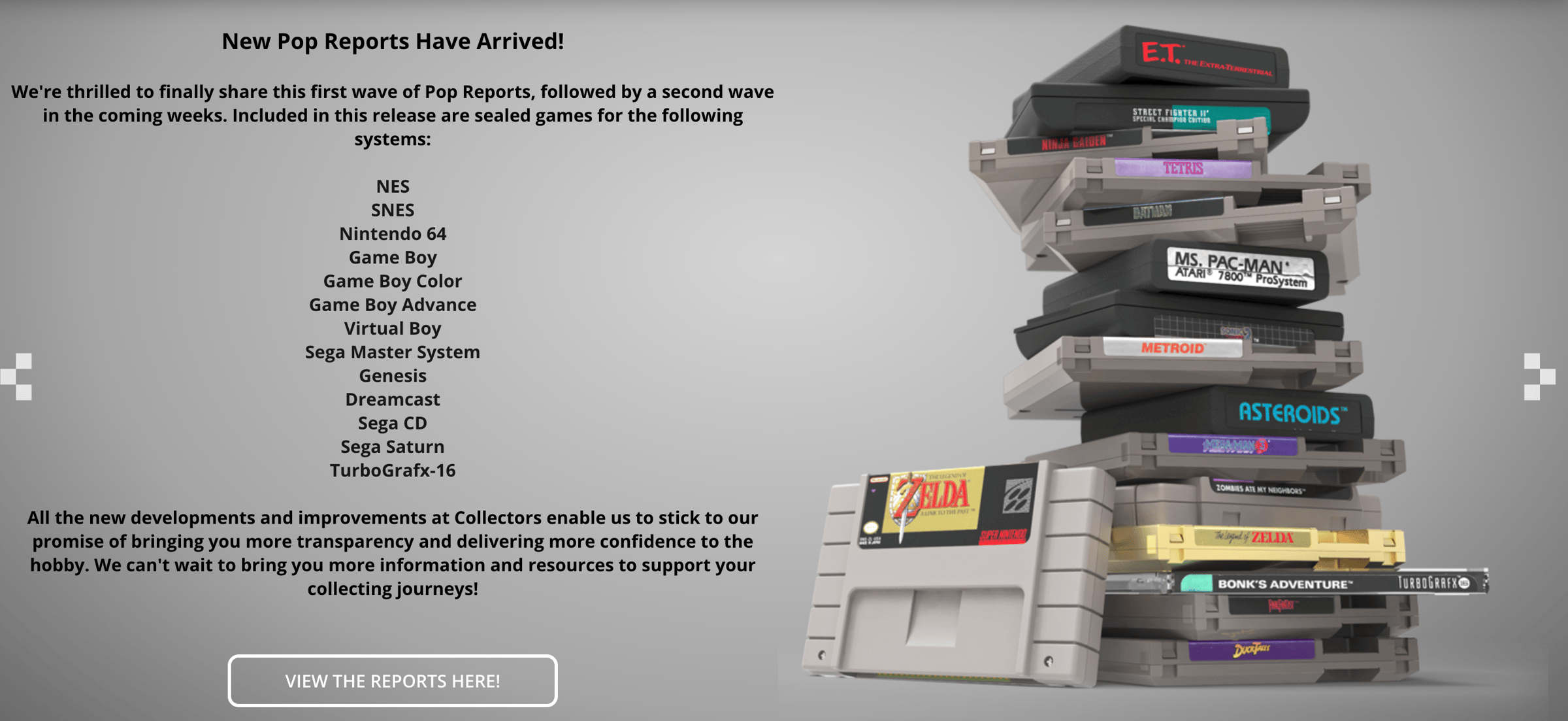 Of biggest note was the increase in games graded on NES since the first pop report was released. Comparatively speaking, these population reports are still very low. Compare these pop reports to a PSA pop report or a CGC census report and these sealed games seem truly scarce.
That's all for today's Video Games Insider. If you have any questions or requests, please feel free to respond through email. We read every single piece of feedback.
And don't forget to get on the waitlist for Alts Edge. That's where the cool kids hang nowadays.
Cheers,
Wyatt