Welcome to Game Trading Cards Insider – the FREE version. We use Moneyball tactics to discover undervalued, mispriced, and hidden gems in Fractional Investing.
This week Adam's done a deep dive into the Pokémon Blastoise #2, 1st Edition Holo, PSA 10 that will IPO on Otis 17 March 2021.
---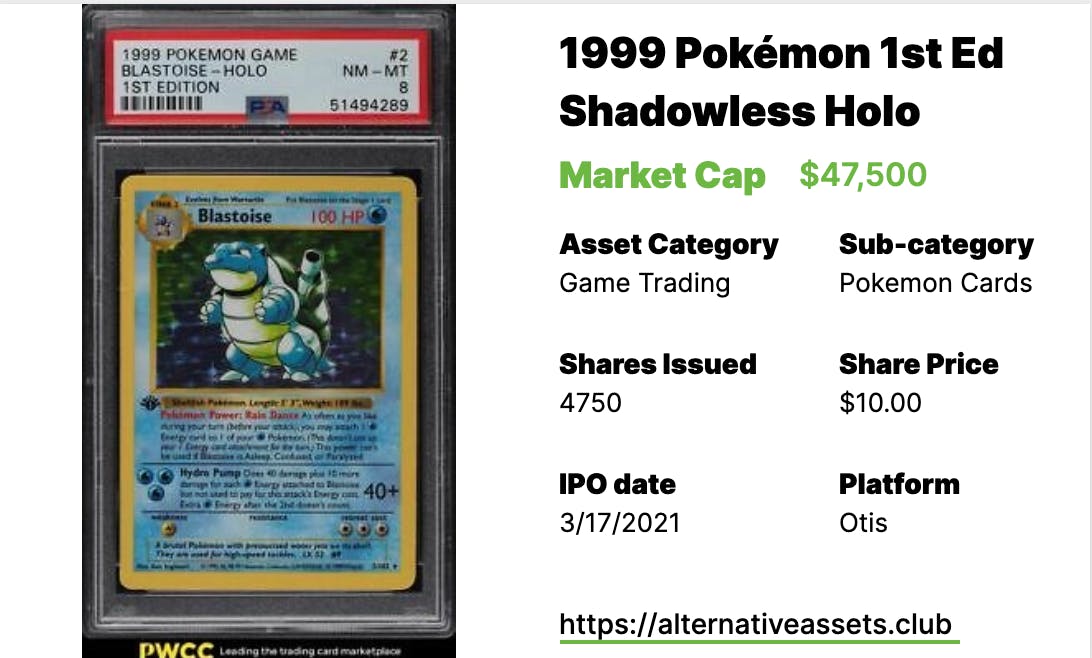 What is the Pokémon Blastoise #2, 1st Edition Holo, PSA 10??
The first English edition of the Pokemon Trading Card Game (TCG) was released in January, 1999 and is the most valuable of all the sets. There are 102 cards in the set and 16 of them are the rarer, more valuable Holos. The Blastoise card (#2) is the second most valuable behind Charizard. There is an important distinction between the Base Set First Edition and the Base Set Unlimited, as the former is much more valuable due to its relative scarcity. This is a 1st edition card.
There have been 100 total Blastoise 1st edition Holos graded PSA 10.
It IPOs on Otis 17th March.
Cultural Relevance
Base Set 1st edition cards are highly coveted, particularly the Holo variants. Blastoise is considered the second most popular character in the set (behind Charizard) and the sale prices have reflected that.
Blastoise is the final evolution of the starter Pokemon Squirtle and is essentially a turtle with two water cannons protruding from its shell (hence the name). It is most recognized as the cover character for the Pokemon Blue video game and has made appearances in the Pokemon movies.
I included this graph in Monday's Lugia write-up. As you can see, Blastoise lags behind the most popular characters and is in line with Lugia on the second-tier of popularity.
In recent popularity polls in 2020 and 2021, Blastoise (and Squirtle) went unranked.
Inferred Value
[Detailed valuation available to Insiders Only]​
Asset Growth TTM
Category Strength
The game trading cards category has returned 5.4% ROI so far across the entire portfolio.
Subcategory Strength
Risk Profile
Growth Outlook and Future Catalysts
Was the most recent auction a sign that the value of this card (and Pokemon cards, in general) is back on the rise? Or was this another outlier?
Because Blastoise isn't wildly popular, the value of the card is likely to move with the value of 1st Edition cards in general. If there are more promising auction results for this card and others like it — an indication that the market is on a positive trend line — this could be an opportunity to buy the dip.
Asset Liquidity
This will have a roughly 30 day lockup period then will trade daily.
Platform Risk
Intangibles
I like turtles.
---
Due Diligence Service
If you're looking to make a big asset investment, we can help you perform due diligence. Stefan created and run Flippa's Due Diligence program, and can offer the same service to you.
---
Facebook Group
Our Facebook Group is also now live. Request to join and we'll let you right in.
---
Subscription Options​
Start your free trial of Insider
Deep research and investment insights, now on thirteen alternative asset classes.
---