Welcome to Sports Cards Insider – FREE Version. We use Moneyball tactics to discover undervalued, mispriced, and hidden gems in Fractional Investing.
Today is a deep dive into one asset a Rickey Henderson 1980 Topps PSA 10 that IPOs on Collectable Sunday 18th April at 6pm EST.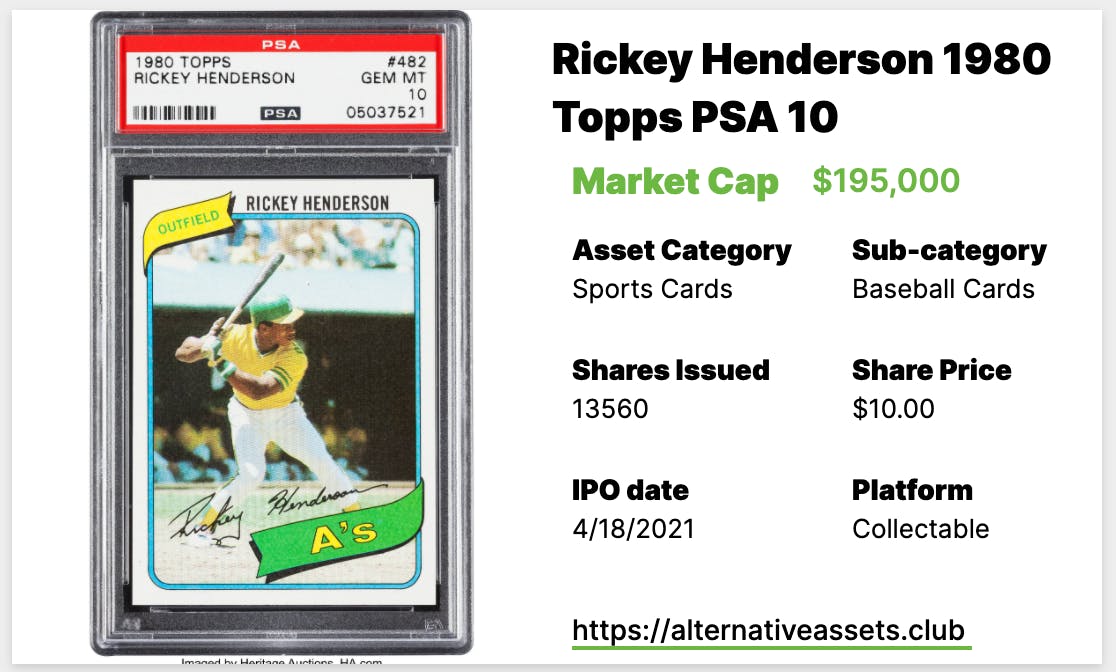 What is the Rickey Henderson 1980 Topps PSA 10?
This is Rickey Henderson's rookie card from the 1980 Topps set. A very difficult card to pull with a decent grade due to endemic centering issues in the 1980 Topps set, there are only 25 PSA 10s out of over 20k submissions.
It IPOs on Collectable 18th April for $195k with $59,400 retained equity (30.46%). There's another version of this card set to IPO on Rally at some point for $200k.
Cultural Relevance
Rickey Henderson was a first-ballot Hall of Famer and holds the record for stolen bases, runs, walks, and leadoff home runs.
Widely considered the best baserunner and leadoff hitter of all time, the Man of Steal (get it) played for 25 seasons. He also holds the single season record for stolen bases at 140.
He also won the World Series twice, with two different teams: the A's in 1989 (remember the earthquake?) and the Blue Jays in 1993 (remember the Joe Carter home run?).
His legacy is somewhat diminished by his drawn-out retirement. Rickey stuck around longer than most would have, and he's got a bit of a bad reputation for it. Of this he said, Each and every day I set a record, but we never talk about it. We'll talk about a home run hitter 24/7. Well, they haven't broken any all-time records, but they hit homers, and that's what matters nowadays. You continue playing, you accomplish a lot, and you'd think people would look at it as a fantastic career. Instead, Rickey thinks people want Rickey to quit more than anything."
In his last MLB at bat, Rickey was hit by a pitch and came around to score.
It all feels a bit sad, tbh.
While he was a great player and a huge personality, his legacy pales in comparison to other MLB players who have IPO'ed.
On the bottom is monthly google searches, and the Y-axis is total google results. He's tucked down there in the bottom left next to Carl Yastrzemski and Rod Carew.
Inferred Value – $100k +
[Detailed Valuation for Insiders Only]
Category Strength
The sports cards category returned a 60% ROI in Q1 2021.
Subcategory Strength
Risk Profile
Recent Growth Trend
Growth Outlook and Future Catalysts
There are two more Rickey Henderson PSA 10s at auction with Heritage. This is a lot of turnover for a population of 25. Keep an eye on them, particularly given the forthcoming Rally IPO.
Asset Liquidity
This will have a roughly 90 day lockup period then will trade daily.
Platform Risk
Intangibles
Henderson refused to spend his per diem money that all players receive on road trips: instead, he would put the envelopes containing the cash in a box, and when one of his children performed well in school he would invite them to choose an envelope out of the box and keep its contents.
This card, relative to the slightly more expensive one coming on Rally, asks you to make a decision. What bothers you more? Retained equity, or suboptimal trading windows?
---
Due Diligence Service
If you're looking to make a big asset investment, we can help you perform due diligence. Stefan created and run Flippa's Due Diligence program, and can offer the same service to you.
Enquire about Due Diligence Packages
---
Start your free trial of Insider. Deep research and investment insights, now on thirteen alternative asset classes.