Welcome to Sneakers Insider for 20th December 2021 – FREE version.
We use Moneyball tactics to discover sneaker arbitrage opportunities across the fractional platforms.
Sneakers in 2021
Probably the choppiest asset class on fractional marketplaces, sneakers have been all over the place in 2021. After a tough start to the year, things looked like they were picking up… Until autumn, at which point they immediately sunk back to their early Q1 lows.
Sneakers are thinly traded, though, so take the data with a hefty pinch of salt. A few moves can shift the entire index.
Sneakers last week
Just one asset traded up last week – the Nike x Artist Collection featuring Virgil Abloh on Otis. Everything else was flat to down.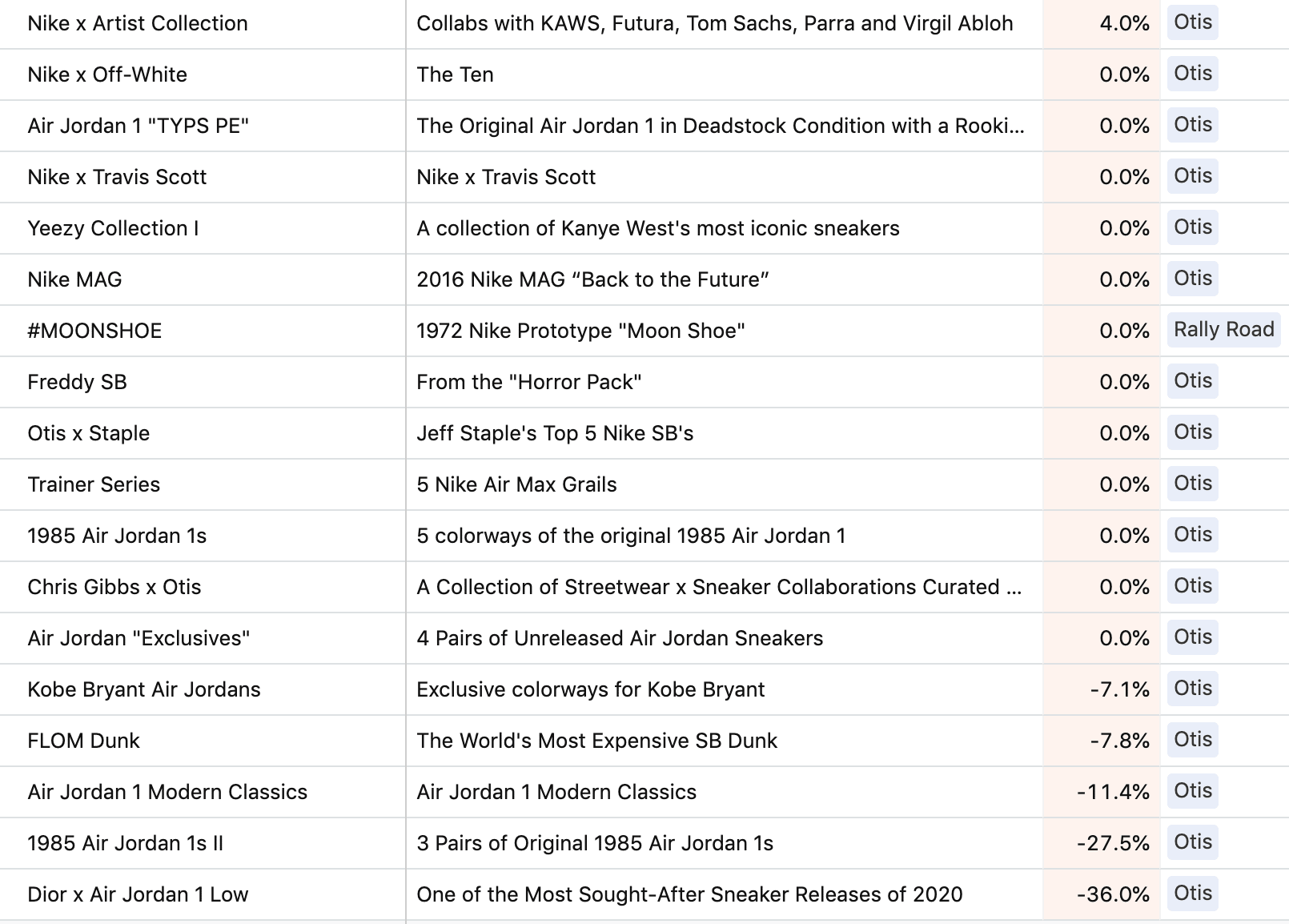 Upcoming Profitable Sneaker Drops
Yeezy is pushing the pace.
Ye is back with even more sneakers and is leading the charge along with Nike. Other brands seem to have a hard time keeping up and are almost obsolete by now in the reselling game unless it's a huge collaboration.
Adidas Yeezy 1050 Hi-Res.
This particular sneaker was first seen on the Kanye West DONDA album release, which increases the hype even more. They retail for $400 USD and have an expected resell value of $500+. You can expect even higher price tags for odd sizes.
Adidas Y eezy Boost 350 V2 Beluga Reflective
The older "normal" version dropped back in 2016 with a retail price of $220, and currently has an average resale value of $900.
At the time of writing, the Yeezy Boost 350 V2 Beluga Reflective has a retail price of $240 and a resale value north of $350.
The real question is: Do we expect the reflective version to trend up the same way the originals did?
In short, no.
Put simply, Yeezy has been pushing out too many of the same sneakers in the past 5 years, damaging the perception of them being "exclusive" and dramatically lowering the resale values as a result.