Welcome to Sports Cards Insider for January 11th, 2022 – FREE version.
We use Moneyball tactics to discover undervalued, mispriced, and hidden gems in Fractional Investing.
Sports Cards in 2022
Our predictions
These are the three markets I'm most bullish on for 2022:
Vintage basketball
Vintage football
All soccer
I'll highlight cards fitting these categories whenever I check in on forthcoming or previous auctions. Jump back on these predictions after a year to see if I'm right.
Fractional shares of sports cards continued to trend downward. They were off nearly 2% to start the year. We noted last week that fractional sports cards are nearly in line with the overall market value of the cards they represent, so we may be near the bottom.
The golf index is one interesting chart pulled from CardLadder this week. Golf and wrestling cards suffered the biggest drawback off early 2021 highs. While wrestling hasn't really recovered, golf has not only levelled out but has started to climb back up.
The golf index is anchored heavily by Tiger Woods cards – they make up the ten most valuable assets. They also comprise 18 of the top 20 in terms of monthly % change (Jack Nicklaus is the other two). The impressive run-up could have something to do with Woods' runner-up finish to John Daly (and son) in December's PNC Championship, fuelling speculation the star will be back on the link in time for the Master's in April.
I think it's pretty unlikely, FWIW.
Last Week in Sports Cards
Fractional secondary markets
Serena Williams leads the way as tennis cards surged last week. She wasn't enough to prop up the tier one sports, however. All of baseball, football, and basketball were down on the week.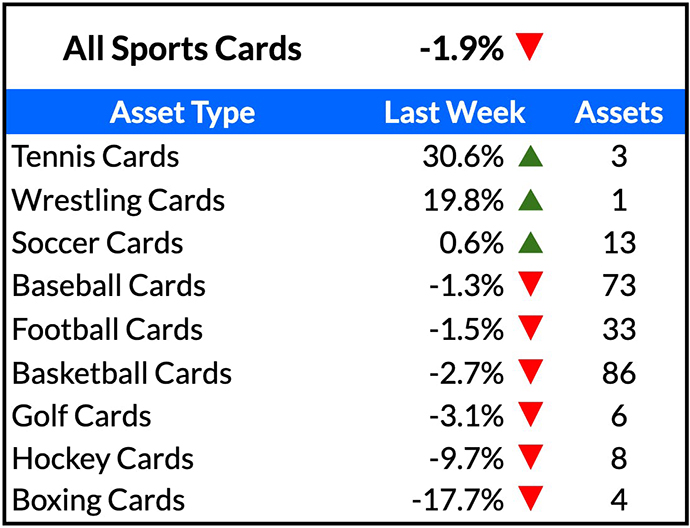 All six asset classes were up for the week for the second time in a row at Alt.
Goldin's big auction ended over the weekend. The headliner was a LeBron James 2003 Upper Deck Autograph Patch that sold for $1.6m. That was slightly up on a BGS 8.5 sold at Goldin October 2021 for $1.3m and the current market cap of another BGS 8.5 card trading on Collectable for around $1.2m.
As a reminder, these are the cards I was keeping a close eye on:
We hoped the Michael Jordan rookie — one of the best-looking PSA 10s available for months — would pierce $400k, but it lost momentum at $360k.
What does it all mean then?
There were two overachievers (Pele and Wilt), three that finished inline (Mantle, LeBron, Jordan), and two underperformers (Charizard and Brady).
So about what you'd expect for a market that's healthy and stable.
I think we're solidly back to 10% to 15% returns for blue-chip sports cards.
This Week
Assets dropping on marketplaces
Two IPOs this week – one from Rally and another from Collectable.
Ken Griffey Jr 1989 Upper Deck SGC 10 Pristine Gold Label
Market Cap: $15,500
Inferred Value: $20k
Date: 1/11/22 on Collectable
Recommendation: [INSIDERS ONLY]
Market Cap: $56k
Inferred Value: $54k
Date: 1/13/22 on Rally
Recommendation: [INSIDERS ONLY]
Auctions
There are a couple of days left in the January OnlyAlt Liquid Auction. They're slowly climbing up the value chain to offer some lower-blue-chip cards, which is a point in the right direction. Nice to see some (lower-graded) vintage stuff there — a 1951 Bowman Willie Mays and 1979 Topps Wayne Gretzky feature alongside a 1979 Panini Diego Maradona and 1958 Topps Jim Brown.
Keep an eye on the Maradona and Brown and snatch them up anywhere below $3,500 or so.
Speaking of vintage, Heritage's Winter Sports Card Auction is underway with a couple of weeks to go. There's a lot to like. Here's what I'm watching: