Welcome to Sports Memorabilia Insider – FREE Version.
We use Moneyball tactics to discover undervalued, mispriced, and hidden gems in Fractional Investing.
---
Survey
We're tossing some ideas around. Take this quick survey and let us know what you think (1 min).
---
Sports memorabilia performance 2021
After dipping its toes into positive territory, memorabilia is back in negative territory.
It's been a dire year for sports memorabilia relative to other alternative asset classes, though it's worth noting there's a larger-than-average platform concentration risk here. Nearly 3/4 of memorabilia assets (by market cap) are on the Collectable platform, so it's hard to say if it's a Memorabilia Problem or a Collectable Problem.
The average sports memorabilia asset has IPO'ed for around 50% more than its inferred value on Collectable, which may explain the category's dip in 2021. To get a better feel for it, we could track each asset's performance starting the day it begins trading, which would eliminate the IPO value as a variable. We'll try to get to that next week.
Ultimately, we need to decouple the asset class from the platform it's trading on if we want to get a real feel for how the category is doing overall. It's definitely worth noting this is true for all asset classes, not just sports memorabilia, and all platforms, not just Collectable.
Last week's performance
Fractional secondary markets
The George Mikan rookie card photo led the decliners with a 22.2% drop. Another photo, the Ty Cobb photo for T-206, led the gainers with a 17.8% increase. Overall, the market was pretty flat.
Auctions and elsewhere
Michael Jordan 'Player Sample' 1985 Air Jordan 1 Sizes 13 & 13.5 (Sotheby's Icons of Excellence and Haute Luxury)
Sold for $100,800 (pre-auction estimate of $50,000 – $70,000)
A similar pair of shoes, but signed by Michael Jordan in his rookie year, is currently trading on Otis for $67,500.
Jordan's signature from around his rookie year has added approx. $60,000 in value to his 1986 Fleer rookie card (Michael Jordan Autographed Rookie Card).
Inferred value of Otis asset updated to $164,000.
1995 Derek Jeter Minor League Game Used & Signed Columbus Clippers #13 Road Jersey (Goldin Elite Auction October 23 – 24)
Sold for $27,060
Rally has a similar jersey, but from one year earlier in 1994, that is also game used and signed by Jeter which last traded at a $30,200 market cap.
Jeter switched jersey numbers from 1994 to 1995.
I would expect the 1994 jersey to trade at a slight premium due to the older age, but otherwise the Goldin offering is a good comp for the Rally asset.
Maintain inferred value of Rally asset at $39,000.
1971-72 Roberto Clemente Game Used, Signed & Inscribed Hillerich & Bradsby U1 Model Bat – (Goldin Elite Auction October 23 – 24)
Sold for $118,080
Both Rally (1959/GU 10/market cap = $50,000) and Collectable (1965 & 66/GU 9/market cap = $56,952) offer game used, but unsigned Clemente bats.
Both are from earlier years in Clemente's career; the Goldin offering is later, but is from his final seasons (including the season of his 3,000th hit) and has a personalized autograph.
Strong result that is influenced by the high grade (GU10) and autograph.
Recent comp sale for the Collectable offering cause inferred value to decrease to $24,000 (1965-68 Roberto Clemente Game Used Hillerich & Bradsby U1 Model Bat (PSA/DNA GU 9)
Notable Items
1974 Hank Aaron Batting Helmet Game Used for Record Tying Home Run (Goldin Elite Auction October 23 – 24)
Sold for $221,400
Sets an all time record for batting helmets sold by Goldin.
Photo matched to the record tying 714 home run and strongly believed to be the same helmet worn four days later when Aaron broke the record.
This Week
New IPOs
Slow week as only one sports memorabilia IPO scheduled.
Secondary markets
Two memorabilia assets new to trading this week:
Market Cap: $450,000
Inferred Value: $373,500
Platform: Rally
Trading Date: 10/28/2021
Market Cap: $690,000
Inferred Value: $100,000
Platform: Collectable
Trading Date: 10/25/2021
Buy-Outs
Shareholders accepted, with 90% voting in favor, of a buyout of the Frank Robinson 500th Home Run bat for $200,000 on Collectable (14% premium on IPO and 34% premium to last trade) – AA inferred value was $125,000.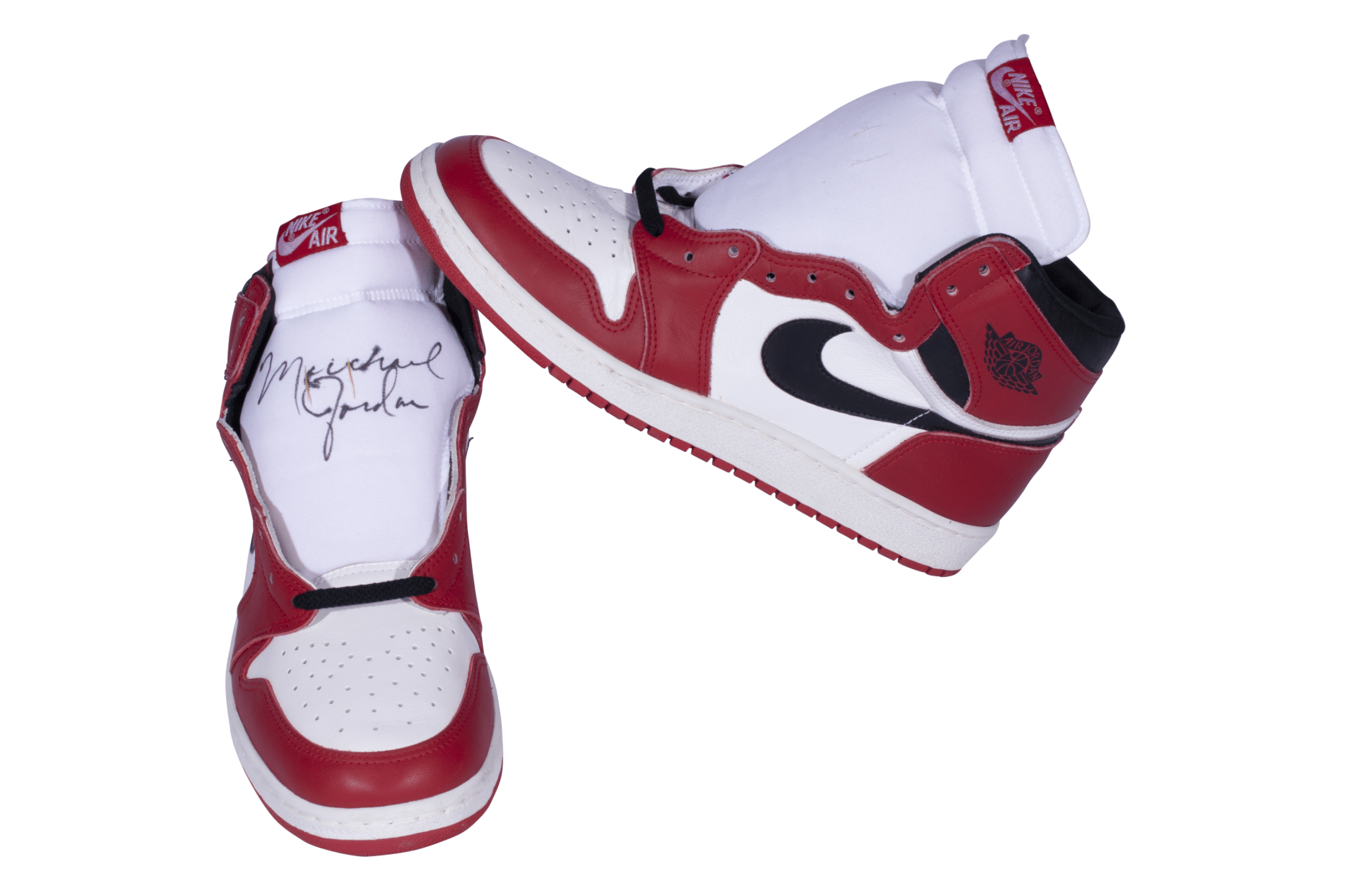 At Auction
Michael Jordan Air Jordan 1 "Player Sample" Sneakers w/Rookie Autograph (SCP Auctions Fall 2021 Premier Auction)
Current Bid – $107,181
More direct comp for Otis asset as both have same shoes with rookie season signature (Otis asset has two signatures)