Today we're looking at ultra high-end sports trading cards, the very top-tier of the market. These rare, valuable cards outperform the rest of the market, and collector-investors are paying astounding sums to get them.
This week's issue is timely: On August 24, there will be a new world record for the most expensive trading card ever sold. That's when the auction for this Mickey Mantle card in near-perfect condition is ending. The current highest bid is already at $7.9m, breaking the previous world record of $7.25 million.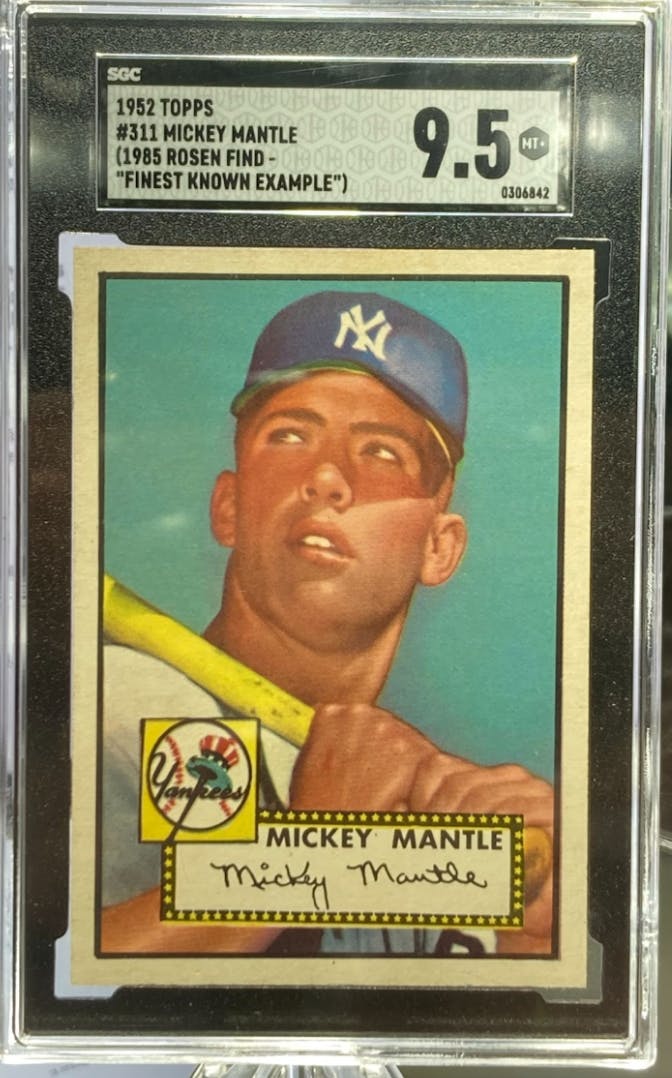 Interest in sports cards jumped during the pandemic and is still elevated. Until the pandemic, just two sports cards had sold for over a million dollars. Since the pandemic, over thirty $1m+ cards have been sold — 22 this year alone!
What's behind the booming market of high-end sports cards?
Let's discover why these 'holy grails' are so sought-after 👇
What makes a card expensive?
Top-shelf sports cards are suddenly commanding the same kind of money and attention that fine artwork has had for years.
But when ultra-rare cards are sold and millions of dollars change hands, the most frequently asked question is why? Artwork is one thing. But who pays that much for a piece of cardboard?
Like with all collectibles, scarce cards are more desirable and valuable. But what drives scarcity in the first place?
Vintage cards
Vintage cards are broadly defined as those produced before the 1980s. These cards weren't considered valuable until card companies like Upper Deck and Donruss began printing millions of cards, sending supply into the stratosphere and diluting the market.
But there's a huge difference between cards from, say, the 1970s and those from the 1950s. Cards from before WWII are way more scarce because they were far more likely to be destroyed or thrown away.
Famous athletes
Rare cards of GOAT contenders & the world's greatest players are always in high demand. Regular players can command a slight premium, but famous athletes are another story.
Condition
With cards, condition is everything. After all, this is cardboard we're talking about. Cardboard is delicate as hell, and makes mint condition cards extra valuable.
It's hard to believe, but for decades hobby dealers and card store owners dictated the prices of their cards with no real set of rules. They essentially made arbitrary claims about condition and scarcity, with no way for consumers to know if it was true.
But that all changed once the Professional Sports Authenticator service (PSA) was established in 1991.
PSA initially struggled. Some shops scoffed at the idea of a 3rd party authenticator. But unknown supply and counterfeit cards were making 3rd party authentication a necessity.
PSA was the only way of knowing how authentic, rare, and well-preserved a card truly was.
Critically, PSA also kept track of all submissions, so everyone knew how many graded cards were in circulation at any given time. This concept is known as population.
In a stroke of brilliance, with these population reports PSA had created a new market based on graded scarcity. Take the 1952 Topps Mickey Mantle, for example. PSA knows there have been ~1,800 submitted, only six of which are graded 9s, and only three that are graded 10s.
The price jumps between grades can be huge. A Mantle PSA 1 goes for about $40k, whereas in 2021, a PSA 9 was sold for a whopping $5.2 million.
Controlled (artificial) scarcity
Today, card manufacturers apply artificial scarcity to drive up the price of certain cards. Companies purposefully limit the supply by printing 5, 10, or sometimes just a single version of an extra-special card.
Artificial scarcity can be controversial. In many ways it adds value to the hobby. But collectors are becoming weary of a continuous string of "limited edition" cards that aren't as exclusive as they seem.
For instance, you can now find dozens of "1 of 1" cards made of certain players. These cards are still in demand today, but if the companies keep adding supply, how will that affect their value in 10 years?
It's the same thing that happened to Funko Pops.
What are the holy grails of baseball cards?
The T206 Honus Wagner
For years, the T206 Wagner has been the image, the brand, of card collecting.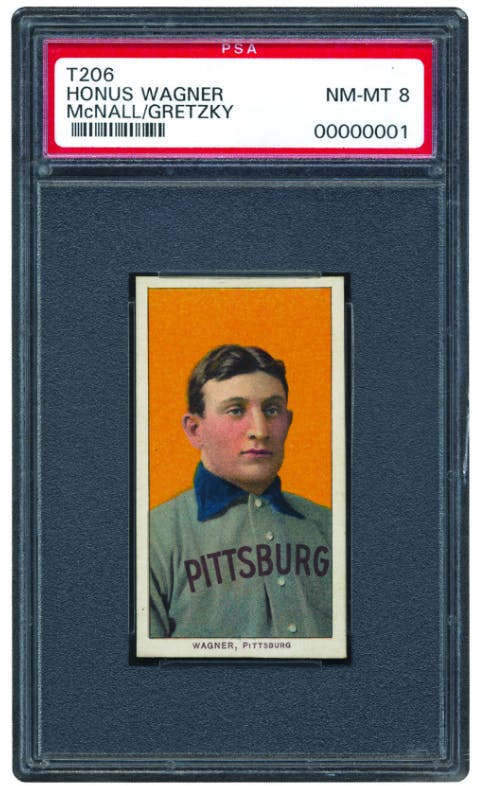 Today there are only about 50-60 known T206 Wagners in existence.
When PSA debuted in 1991, they came out swinging. The T206 Honus Wagner was actually the very first card the company ever graded! It was co-owned by none other than Wayne Gretzky and former LA Kings owner Bruce McNall.
By all accounts, it is the finest known example of any Wagner. But there was a problem: back in the 80s, the card was trimmed by its former owner, Bill Mastro. For collectors, this is one of the worst alterations anyone could possibly make. It's like desecrating fine artwork (can you imagine if someone trimmed the Mona Lisa?) In most cases, it almost completely devalues the card.
As the T206 Wagner made its rounds, industry experts sensed something was off. Its edges didn't fit the mold of the typical cut patterns. When it arrived at PSA, appraisers were curious if it would even be authenticated, let alone given a grade.
Industry vet Bill Hughes graded the Wagner. The card was in such terrific shape it got a grade of PSA Near Mint / Mint 8. Years later, he admitted he knew the card had been trimmed.
PSA holds a ton of respect in the industry, but it's amazing that the company altered the first card it ever graded! Despite the trimming, this Wagner is still considered the greatest card in the world; a one-of-a-kind relic without a peer.
On August 3, another version of the T206 Wagner sold for $7.25m through Goldin Auctions. This card was graded a Good 2 by SGC, another grading company.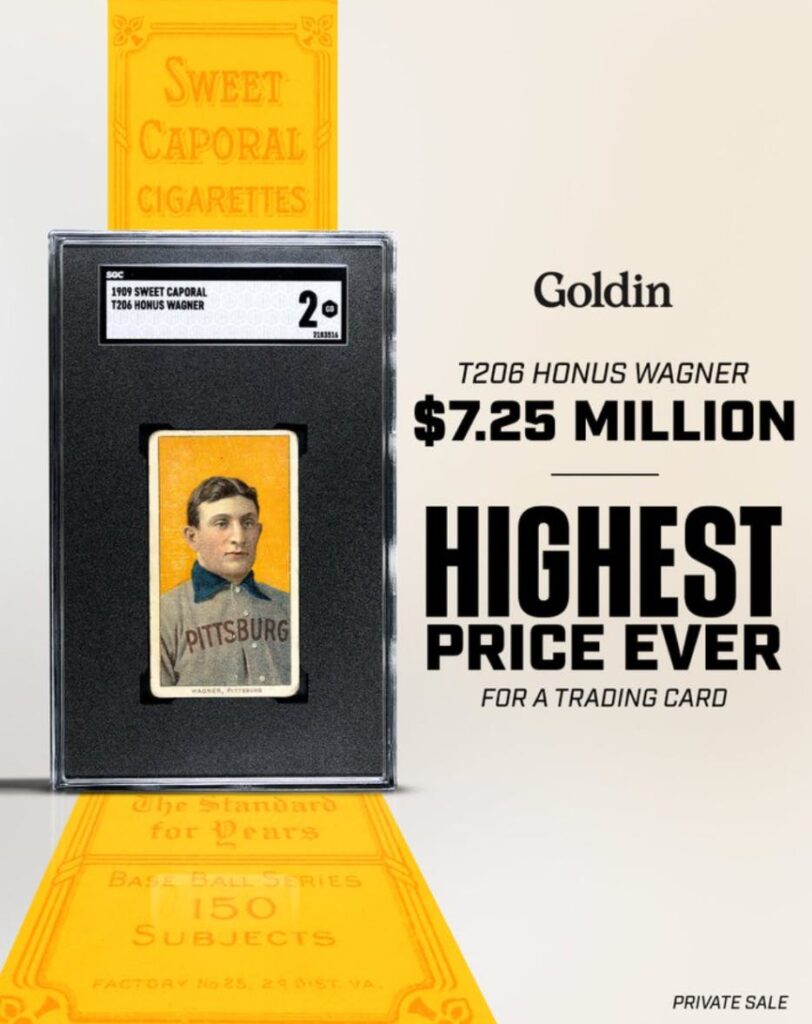 We may not get the answer for a long while. But this week's Mickey Mantle auction will give us some clues.
In 1952, a company called Bowman was the sports card market leader at the time. To stand out, newcomer Topps made its cards larger. And rather than going with full-body pictures, it used a portrait style that focused on players' faces.
It was a successful debut, but they produced too many cards and couldn't sell them. In 1960 the Head of Topps Sy Berger famously dumped hundreds of cases into the ocean just a few miles off the Jersey Shore — immediately upping the nearby property values 😉
In his defense, Berger said he tried selling the cards at carnivals for a penny each, and couldn't even do that.
There were 24 boxes in each case, and they dumped an estimated 300-500 cases. So it's entirely possible that 6,00-10,000 Mickey Mantles were instantly taken out of circulation and forever buried in the ocean.
Topps' debut coincided with the arrival of Mickey Mantle. Mantle was more than a star athlete to kids and collectors; he represented their childhood and the memories of their youth. Nostalgia played a huge role in lifting the value of the 1952 Topps Mantle, which has stuck in the hobby's psyche ever since.
This card has always been extremely rare. But remember, there are still three PSA 10s out there. And once this week's Heritage auction ends, we'll have a pretty good idea of their value.
If put up for auction, experts estimate these three PSA 10 versions would reach between $25 – $35 million each.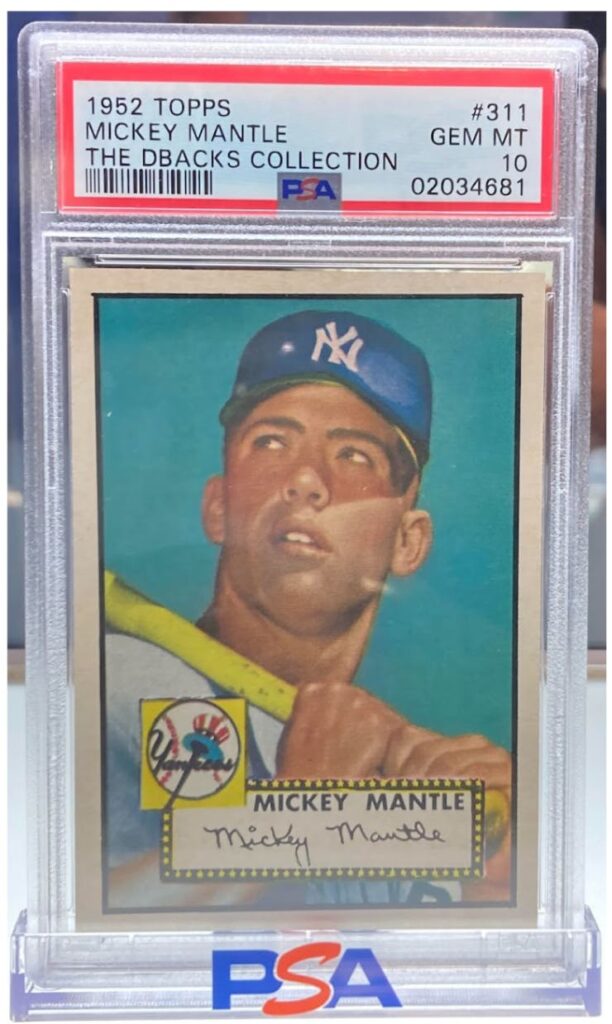 The D-backs Collection is owned by Ken Kendrick, the majority owner of the Arizona Diamondbacks baseball team.
Ken's collection is worth at least $100 million. It includes the Wagner & Mantle mentioned above, along with some choice picks:
1916 M101-5/M101-4 #151 Babe Ruth PSA 8
1909 T206 Eddie Plank PSA 8
1911 T3 Turkey Red Ty Cobb PSA 8
1933 Goudey #144 Babe Ruth PSA 9
1934 Goudey #61 Lou Gehrig PSA 9
Each of these cards is super rare and in near-perfect condition.
Future sports card holy grails
You may be wondering, what's next? What are some modern names that could become million-dollar cards over the next few decades?
The biggest key to look for is, you guessed it — scarcity. But it's not baseball driving the hobby. It's basketball.
Over the past 20 years, basketball has become a worldwide sport with global appeal. Unlike baseball or even American football, the sport is now a fixture in most countries on Earth. Last season, the NBA boasted 92 international players hailing from 39 different countries. Both of these numbers should increase next year.
Of all the sports, basketball has the most innovative card products. Whereas football cards are almost entirely driven by quarterbacks, every basketball player can potentially generate buzz around their rookie cards, regardless of position.
The Logoman cards are the most desirable & coolest cards on the market. They contain a patch of the NBA logo from a player's actual jersey. They're also produced in 1/1 quantities, making each card totally unique.
Just about every famous basketball star has had a Logman card produced. But the most desirable are for the best of the best. Think Jordan, LeBron, Kobe, and Curry (and to a lesser degree players like Shaq, Tim Duncan, and Dwyane Wade).
Closing thoughts
There have been so many big dollar buyouts in the sports cards industry, that it's starting to feel more like a business than a hobby.
And let's be clear: sports cards are not immune to the downturn in other markets. 2022 has been awful for cards so far, and cards in fractional markets we track are down 23% since the beginning of the year.
But remember there are markets within markets! Records continue to be set, and ultra high-end sports cards have, so far, proven to be recession-resistant assets.
Most people won't be able to afford high-end cards. The 9.5 Mickey Mantle on Heritage could reach $15m. Heck, earlier this year a torn T206 Wagner sold for nearly half a million!
But if you don't have $15m to spare, fractional markets allow you to buy shares without breaking the bank. Here's a sample of some blue chips available right now:
These platforms likely create induced demand effects that can drive up the price. But the true demand for high-end sports cards is still high. As long as there are potential buyers (and there are many) fractional platforms offer an opportunity to own a slice of ultra-valuable cards worth millions.
Of course, if you want even more de-risked exposure to this growing asset class, consider our ALTS 1 Fund. 35% of our allocation is carved out for collectibles & culture, including blue-chip sports trading cards & memorabilia.