New here?
The WC is a selection of five useful, interesting & notable insights handpicked by CIO Wyatt Cavalier and dropped into your inbox every Wednesday.
OK, let's go!
What does diplomatic immunity tell us about trust?
Fans of the classic buddy cop sequel Lethal Weapon 2 will know all about diplomatic immunity.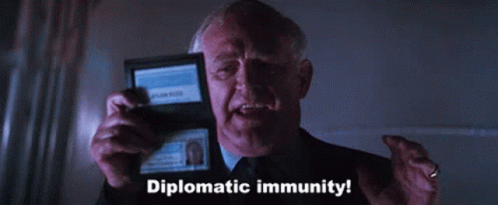 And while boring film pedants might point out that diplomatic immunity doesn't really give you carte blanche to run a drug smuggling operation, it did let you ignore parking tickets in New York until 2002.
Perhaps surprisingly, many diplomats paid those fines even though they didn't have to. And their home country's position in international corruption rankings was an excellent determinant of whether or not they paid those fines.
Someone used to doing the right thing will more often do it when they don't have to, and vice versa.
You can apply this to everyday life in remarkable ways.
If you're considering someone for a position of significant responsibility (perhaps renovating your home), allowo them to do the wrong thing when they think no one's looking and see what happens.
Dig deeper into diplomatic immunity:
Better investment — and old iPhone or Apple shares?
On June 27th, 2007, you could buy a share of Apple stock for $4.36. Today that's worth $152.55 (as of Monday, February 20th, 2023). That's a solid 35x on your investment.
Over the weekend, an original sealed version of the first iPhone sold at auction for over $64k for an even better 127x return.
The record previously was over $39k (still a big chunk).
BREAKING NEWS: a sealed first generation iPhone just sold on @lcgauctions for a world record price: $63,356.70 pic.twitter.com/cihFX9qmU4

— Eric Naierman (@ENaierman) February 20, 2023
The piece is in great condition, and while no one knows how many sealed 1G iPhones are out there, it can't be many. There have only been a handful of public sales over the last twelve months.
Dig deeper into quick sixteen-year iPhone flips:
I don't ever need much encouragement to wax lyrical about the joys (and upsides) of Tequila investing. But today I have very good reason to tell you about House of RARE.
They've just launched their Spring Collection of Tequila barrels. There will be 100 casks distilled in April, and they've already pre-sold 65 (this thing only opened on Feb 15th). That means we're still technically in Phase 3 pre-sale, where casks are $6,200 each instead of the normal sale price of $7,000.
What's super interesting about these guys is that they've tied the sale to a Digital Ownership mechanism using blockchain technology. So while they recommend minimum aging of 3 years, collectors can trade their barrel token online before then if they want to, or hold on for the Tequila to reach the super-rare (and super valuable) "extra añejo" vintage. Or, even more fun, bottle your barrel as your own private-label Tequila.
You'll know I'm a big fan of Tequila as an investor and consumer, so in the spirit (sorry) of full disclosure, we snapped up six barrels for our ALTS 1 fund.
As if you needed further convincing, they're giving Alts readers an even better deal: a $5,200 price point for the first five sales through this link.
Snap up a pre-sale bargain or email them directly for more info: [email protected]
Just popping downstairs for 28lbs of mac and cheese
Costco* is one of the things I miss about living in the US. Cruising around for free samples, buying a few five-gallon drums of mayonnaise, and finishing up with a $1.50 hotdog is a fantastic way to spend a Saturday.
Imagine if that could be your every day; all you had to do was pop downstairs.
Dream no more, amigo:
This 800-unit apartment complex in Los Angeles has landed Costco as its anchor ground-floor tenant, and while some may disagree, I think it's genius.
Get the bag boy to haul my 72lb parmesan wheel upstairs, and I'm a customer for life.
*This is not a sponsored post, but I would happily shill for Costco.
Dig deeper into what makes Costco great:
Fungi – the next pandemic?
The excellent series, The Last of Us, treats us to a cold open with a scientist explaining how scary and dangerous fungi can be.
According to the TV scientist, unlike a virus, a fungus can take over your mind turning you into a zombie. He's not wrong; it can happen to ants.
But it can't happen in humans because fungi can't survive inside an animal with an internal temperature above 94 degrees (humans average 98.6).
Or can it?
Well, there are two main problems the fungus would need to overcome:
It would have to evolve to survive higher temperatures. Climate change could cause this.
It would need to mutate more quickly than typical fungi do.
Guess what? We've got a fungus for that:
There's some evidence that this process is already happening, at least with one fungus species called Candida auris. It's an emerging species, first detected in a 70-year-old woman's ear in Japan in 2009, and it's already emerged independently on three continents.
"This fungus species is pretty nasty," Goodman says, "because it is resistant to many of the drugs that we have available.
"And not only that, but it also seems to have a strong advantage in changing in such a way that it can cause disease in people."
Studies suggest C. auris can mutate as quickly as some viruses and that rising temperatures in some parts of the world may have pushed it to survive at higher temperatures.
This fungus is pretty harmless to healthy people, but for how long?
Dig deeper into how a fungus will soon control your brain:
What's the point of non-alcoholic beer?
Maybe it's encourage you to drink more of the real stuff.
Non-alcoholic beers, wines, and spirits are having a moment. Sales have grown 120% over the last three years and are continuing at a 20% clip.
While the $400m they're bringing in is small potatoes compared to $200b distilled from alcoholic beverage sales, it's still a heck of a wedge for something that seems a bit pointless.
"Why drink if you're not going to get drunk?" asks my alcoholic id.
What if non-alcoholic drinks aren't a substitute for real ones, but a compliment? It looks like most people actually drink them together, either because they're trying to drink more responsibly or for longer – one real beer, one fake beer, one real beer, etc.
NielsenIQ data shows that 82% of people who buy non-alcoholic drinks also buy the hard stuff.
"Furthermore, NielsenIQ finds, the households that buy alcohol alternatives are overall more valuable consumers for the alcoholic industry, spending roughly $160 million more per year than households that only buy the stuff that gets you tipsy."
Dig deeper into the pros and cons of near bear:
That's all for this week.
Cheers,
Wyatt
P.S. Did you know we have a jobs board? Check it out
Disclosures
Our friends at Qnetic and House of RARE sponsored this issue.
We've bought six barrels of House of RARE's Spring Collection tequila for our ALTS 1 fund.
I don't personally hold any stock or vested interest in any products or companies covered in this email, sadly not even Costco.