Welcome to a Very Special issue of The WC
Last week, I talked about The worst investments of 2022.
Hoping to turn things around, this week's issue is five investment trends I'm watching in 2023.
Let's go!
First, it's worth saying a few words about how I see 2023 shaping up from a macro point of view because it will drive everything else in some way or another:
The Russian invasion of Ukraine will rumble on, but the world will lose interest.
US equities will continue to go lower for the first half of 2023.
Developed countries in the west will get inflation under control, more or less.
Housing prices will continue to fall overall, perhaps another 15%.
Job cuts will trickle down from tech companies to construction and into the rest of the economy.
American politics will get ugly, and very little will get done from a legislative perspective.
The British economy will fall farther behind the rest of Europe.
Most countries will continue to accept COVID as an ongoing fact of life (death).
Everyone is going to talk about AI, including your taxi driver and grandma.
This, mostly.
Every forecast for 2023:

1. The first half of the year will be awful ☹️
2. But it'll get better in the second half 😀

People are deluded.

— Wyatt Cavalier (@itiswyatt) January 2, 2023
Now, let's get to it.
The rise of AI
You've already been drowned in AI analysis and forecasts, but we've got to start here.
Everyone's talking about it, and we'd be delinquent to ignore it.
Artificial intelligence is coming, and the practical applications are limitless.
Like the internet, electricity, or mobile phones, AI is a layer over an existing industry that will evolve and revolutionize it. It's a platform you can build on; a means to an end. It will remake the world as we know it in many good (and probably some bad) ways. It's the natural evolution from PC > Internet > Mobile. It's what people want blockchain to be.
And startup investors have noticed — startups in the AI space will be twice as hot as Web3 was in 2021 and will completely decouple from the rest of the pack from a valuation point of view. At the end of 2022 it has already begun, with AI startups raising 35% bigger rounds than the rest of the pack.
That delta is going to increase as funding flows to the only part of the startups ecosystem that will be growing in 2023.
How to invest in the rise of AI
I think 2023 is going to be peak AI for a bit.
We'll see exuberance through at least the first half of the year, followed by some disillusionment, as many companies raising capital in this space get exposed as ChatGPT skins that add very little value.
So there are two options:
Get in on everything you can now and look to exit via secondary at the next raise.
Dig deep and pick the winners.
Option one is pretty self-explanatory, but if you're going for the latter, you'll need to decide where do you want to be on the AI value chain. The software engine? The hardware driving it? The applications using it? The picks and shovels supporting it? I'd put my bet on applications enhanced and enabled by artificial intelligence.
Here are a few that spring to mind:
Tutoring and teaching
Medical diagnosis and surgery
Personal assistants
Porn
Eldercare
Child care
Legal help
Investment analysis
Remote work's creative destruction
I briefly touched on this in last week's Worst Investments of 2022 issue, but remote work is here to stay, and it's dramatically shifting the landscape for several industries.
Far from being a relic of the pandemic, the interest in (and demand for) remote work continues to grow.
The search volume today is 5x what it was before the pandemic and double what it was a year ago.
Here are some more stats from the US:
26% of employees work remotely full-time, and 66% at least part-time.
That's more than 36m working remotely full time by 2025.
The 15% of job postings that are for remote jobs get more than half of all applications.
81% of workers expect their employer to continue supporting remote work.
Regardless of what CEOs and commercial landlords want, they're going to have to adapt to this new trend. The implications of this will be far-reaching and could shift workforce demographics and participation as much as the assembly line.
How to invest in remote working
San Francisco is the canary in the coal mine, having finally realized they've got a $728m problem to solve that's been caused mostly by remote work decimating office tenancy.
The city's ability to generate revenue is — by extension — bad news for San Francisco's outstanding municipal bonds.
But while you can't short muni bonds directly, you can short muni bond ETFs like the VanEck Short High Yield Muni ETF, which comprises riskier bets.
All those office buildings are worth half what they were three years ago, whether they've been officially written down or not. If you want to invest in a fund shorting their credit, get in touch with Polpo Capital. The minimum investment there is $250k.
The other option is to fund (or found) companies that specifically look after employees or companies working remotely. Here are some stats that might get the juices flowing. The highlights:
40% of remote workers say that struggling to unplug at the end of the workday is their biggest challenge.
50% of remote workers feel lonely at least once per week.
If you're brave enough to go long equities, there's a remote work ETF (called WFH, of course) that you can invest in. It's been an awful year for WFH, but then again… it's been awful for everything.
The rise of African tech
The last few years have been a mixed bag for emerging markets. Africa has struggled with COVID-19, as vaccines and treatments went to developed countries first, and Eastern Europe has had a war to deal with.
First, the challenges:
There continue to be Covid-19 controls in China, supply chain challenges from US–China competition and the Russia–Ukraine war, and a lack of global action on climate change. The bleak outlook is most pronounced in Africa, given high exposure in terms of sovereign debt and commodities, yet the least protection from value-added export markets, capital and tourism flows, as well as slow-responding international financial organisations.
But there's a reason VC investment in African companies doubled in the first half of 2022.
Africa is the world's growth engine over the next several decades — Libya, Senegal, Democratic Republic of Congo, Rwanda and Niger are all in the top ten fastest-growing countries in 2023.
The Marriott hotel group is adding more than 5,000 rooms by 2024, and Radisson has invested over $1B since 2016.
Zambia is transforming itself into the continent's startup hub aiming to become Africa's Estonia or Singapore. So is Senegal. Silicon Zanzibar is making work visas, co-working spaces, and tax incentives available to tech workers relocating to the semi-autonomous island paradise.
Seven different startup accelerators have launched in Kigali, Rwanda, in the last two years, and you can register a business there in less than 24 hours.
But Lagos, Nigeria is where it's at right now.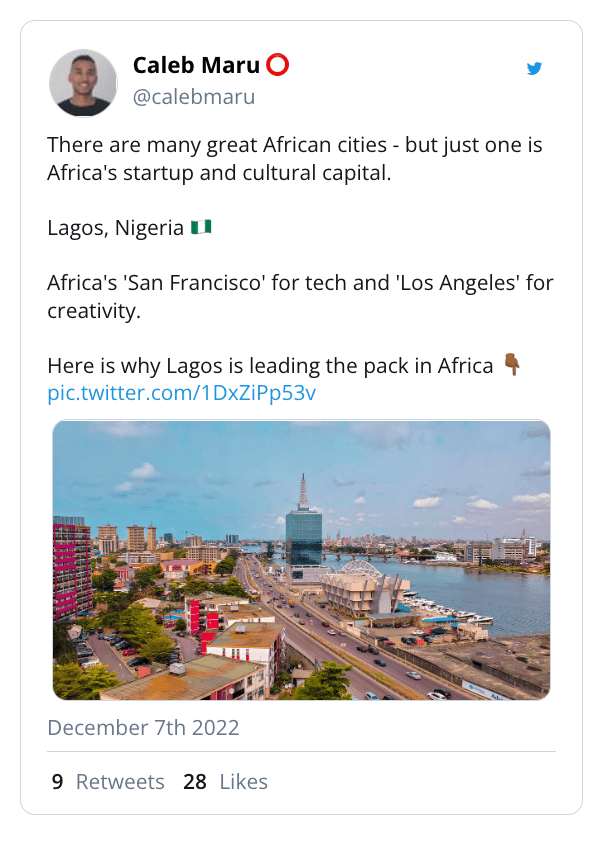 It's already produced four unicorns, and 77 people move to the city every hour.
How to invest in African tech
Several organizations focus on African startups, including Proximity Ventures, TEN13, and many others.
If you want a more hands-on investment, look at the picks and shovels approach.
All those newly-minted entrepreneurs need a place to live and work, and infrastructure to support these basic requirements has a long way to go. The opportunity to build out remote-friendly living and workspaces is immense.
Or you can found (or fund) a startup that serves startups with requirements specific to emerging markets. Zenefits for Zanzibar or Brex for Botswana.
Or better yet, skin ChatGPT to deal with all the legal hurdles inherent to company formation across the continent as these companies look to expand.
Collectibles bottom out
This year was pretty awful for collectibles after a banner 2020 and 2021.The bubble well and truly popped on sports cards, comics, video games, and others.
While there's still further to fall, I think we'll see a bottom for many of these markets in the first half of the year as valuations return to pre-Covid levels.
Here's what the public sales activity for the 1999 Charizard 1st Edition Holo PSA 10 (the Pokemon grail) looks like:
If you extrapolate the pre-2020 trend line out to next year, you begin to see a reasonably sensible growth trajectory for a grail blue-chip asset that will intersect with the existing price trend in the not-too-distant future.
To double-check this, let's make sure nothing has changed since Covid that makes the asset less desirable. For this, we can look at the search volume:
Not only has Pokemon's Charizard retained its popularity through Covid, it's actually increased since the pandemic bubble popped. We could possibly dial up the trend line above slightly.
Next, let's check in on high-end comics via the Alts Comics 50 Index:
And high-end sports cards:
The story is the same wherever you go.
Not quite there yet, but we're getting there soon.
How to invest in collectibles bottoming out
In most cases, we've got another 10% to 15% to go before these asset classes hit bottom, which should happen early(ish) in 2023.
For now, auction results are still a disaster.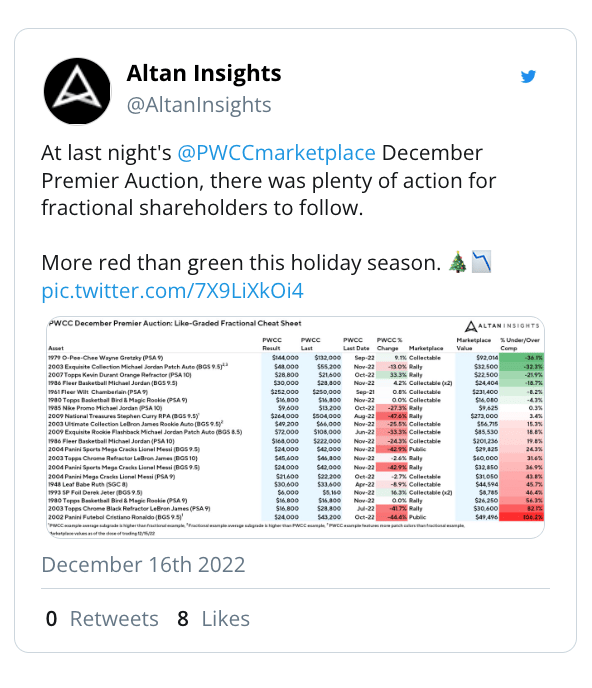 So, you can set price targets based on sensible long-term trends and wait a few months until the rest of the rubbish is flushed out. Keep in mind that blue-chip always leads the way up, so don't try to get cute with anything too modern or speculative.
For disclosure, we picked up a grail Pele rookie card a few weeks before his passing for ALTS 1.
Happy to announce we've pulled the trigger on this bad boy for ALTS 1

We love Messi but Pele is the 🐐

Pop = 1
Highest graded copy 🤘 pic.twitter.com/STF82R3hqY

— Alts (@AltAssetsClub) December 20, 2022
Electric vehicles slide
Readers of The WC were treated to a short take on electric vehicles in November, but here's a recap for those who missed out:
Electric vehicles are here, they're here to stay, and they're about to take over. Two years ago, 2% of car sales in Europe and China were electric. In 2022, the number topped 25%:
If anything, the trend lines above are set to increase in velocity through the end of the decade.
But wait…
In 2023, the economy's going to slog through a global recession, commodity slump, and mass unemployment. Inflation's coming back under control, and gas is getting cheaper. Further, America's EV darling, Tesla, is facing external distractions while Covid's ripping through China.
Not exactly the kind of environment that's likely to spur on adoption of this particular expensive new technology.
After a huge 2022, I think EV sales will slow down (or even reverse slightly) in 2023.
How to invest in an EV slide in 2023
The most obvious play here is just to short one of the EV ETFs like the S&P Kensho Electric Vehicles Index.
They're mostly down 30% to 40% on the year for 2022, but there's possibly more room to decline.
The second play is to go after the commodity components, directly shorting rare earth metal indices like the Global X Lithium & Battery Tech ETF. Be ready to reverse course, though, because as soon as this trend resumes, it's going to kick like a mule.
If you don't want to wait for a turnaround, you can invest in the back end of EV production that's been enabled by America's Inflation Reduction Act. Korean company LG is building a $3B EV battery cathode factory in Clarksville TN, which will create nearly 1,000 permanent jobs. Buying up single-family homes there could be a winner.
What are you investing in this year?
Happy holidays,
Wyatt