Welcome to the Sports Memorabilia Insider – FREE VERSION.
Today we have a deep dive into a 2005-06 Kevin Durant Game-Worn High School Jersey that opens at Collectable on Tuesday, August 17th at 2:30 PM EST.
Kevin Durant Montrose Christian Jersey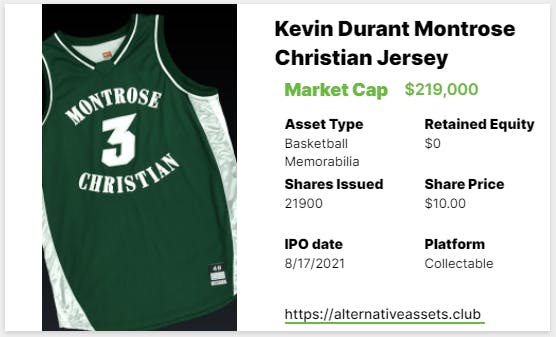 About the Asset
This is a jersey worn by Kevin Durant while a high school senior at Montrose Christian during the 2005-06 season. It has been photomatched and authenticated.
It was last sold at Goldin auctions in February of 2020 for $15,600.
If you were signed up to Insider (start a free trial), you'd also learn:
Projected future growth
Asset class ROI, volatility and risk statistics
Detailed valuation with recent sales
Our verdict
About the Drop
This asset will drop on Collectable at 2:30 PM EST on August 17th, 2021 for $219,000. There is no retained equity. Collectable has been scheduling their IPOs for trading around 3 months after they fund, though recently some assets have been pushed back further than that.
Add IPO to calendar
About Kevin Durant
​We've written about Durant many times, and I've written about Durant jerseys here, here and here. He is coming off a gold-medal winning performance at the Olympics, so keep an eye on how his items do in auctions in the next few weeks.
Recent Sales and Current Valuation
[Detailed Valuation for Insiders Only]
Verdict
Because it is a 1/1 item and some unique jerseys have been selling for well above expected, there is always a chance this item could get an unexpected buyout offer. But, given the performance of Collectable IPOs after they hit the secondary market, I suspect that if you are interested in investing, the price will drop whenever it opens for trading.
[Full Evaluation for Insiders Only]
We recommend against this drop based on valuation.
---
Facebook Group
Our Facebook Group is also now live. Request to join and we'll let you right in.
---