Welcome to the Game Trading Cards/Trading Updates Insider – FREE VERSION.
Today I'm looking into the Pokemon 1st Edition Complete Set trading at Rally Road on Monday August 16th, from 9:30 AM – 4 PM EST.
1999 Pokemon 1st Edition Complete Set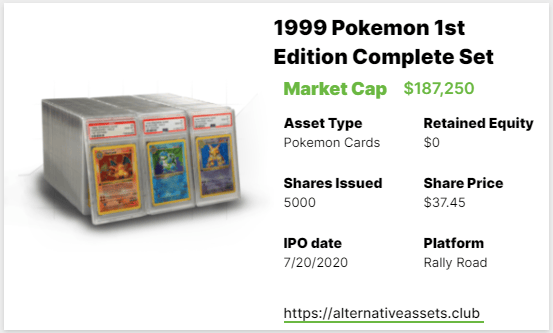 What is the Asset?
I wrote about this when Rally IPO'd an identical set in April – but it is what you think it is from the name, a complete set of the 1st Edition Pokemon cards, all graded PSA 10. I wrote an update last month on the most valuable card in the set – the Charizard Holo.
If you were signed up to Insider (start a free trial), you'd also learn:
Projected future growth
Asset class ROI, volatility and risk statistics
Detailed valuation with recent sales
Our verdict
What is the current status of the Asset?
This originally IPO'd on way back in July of 2020 with 5000 shares at $25/share for a market cap of $125,000. It quickly rose in value, peaking at $120/share ($600,000 market cap) earlier this year at the height of the Pokemon card craze. However, in the last trading window on June 1st it dropped an incredible 68.79% all the way down to $37.45/share (market cap of $187,250) It begins trading again Monday August 16th from 9:30 AM – 4:00 PM EST.
Inferred Valuation / Target Share Price
Final Thoughts
Look, I know that Pokemon card prices have been crashing and the recent Charizard sale might not mean the bleeding has stopped. It's a risk to try to time the bottom on any asset. But you have a full set here valued at less than what just the Charizard just sold for.