Welcome to NFT Insider for January 28th, 2022, brought to you weekly by Alts. This is the FREE edition.
Before we dive in, just a reminder that our Discord is live and the NFT channel is an everyone-welcome place to get tips and swap opinions with other NFT fans. The community is friendly, helpful, and the invite is open to all. Come on in.
Podcast
This week, I got to sit down with "the boss NFT DJ", John Caldwell, aka @VegSurfer.
Listen (and try not to feel too nauseous) as he tells me about people he knows who made 8-figure sums from the recent Loot airdrop, the importance of community in NFT projects, and PFPs as status symbols. Oh, and surfing.
NFTs in 2022
Fractional marketplaces have remained relatively stable over the past few weeks. There was a slight dip from last week, with fractional returns dropping from 224% to 215% since 2021.
Looking at the value of the NFT market more broadly, total daily sales are ranging between $50 million and $100 million in a cyclical pattern. Tuesday, Jan 25th saw the second-largest volume of NFTs traded in the past month, breaking the trend for Sundays being the busiest days for sales.
NFTs Last Week
NFTs on Fractional Marketplaces
NFTs were down 4% from the previous week. This mirrors a trend in the larger marketplace with a weak Ether affecting the marketplaces.
Despite the change, assets on both the Otis and Rally platforms have been trading in familiar ranges for the past month or so.
NFTs on Opensea
Azuki is the biggest project to hit the NFT scene since the Doodles were released in October. Since its minting on Jan 12th, Azuki is already the 18th-highest traded NFT by sales volume in OpenSea history – and still trending up.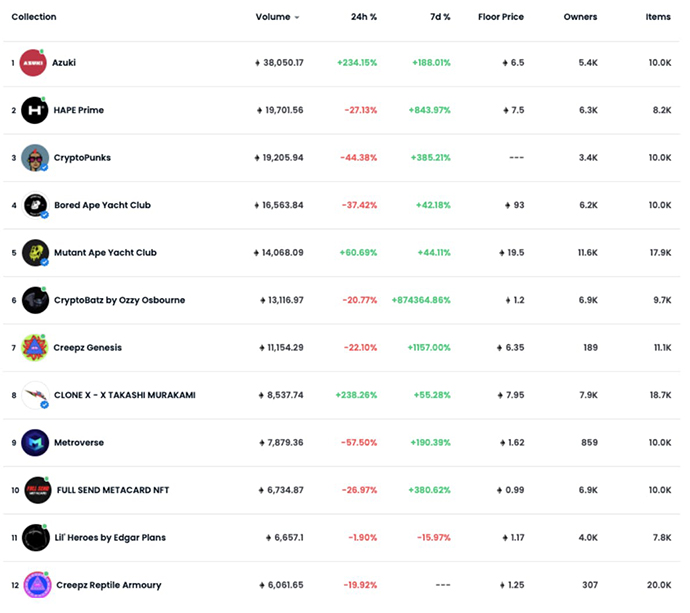 So what's the big deal?
The project is ambitious. The founders want to make Azuki a leading brand for the metaverse and establish a network of chapters around the world connecting community members.
There's no denying the artwork is striking. Here's a great read from the Red Bean DAO on what has made the project a sensation.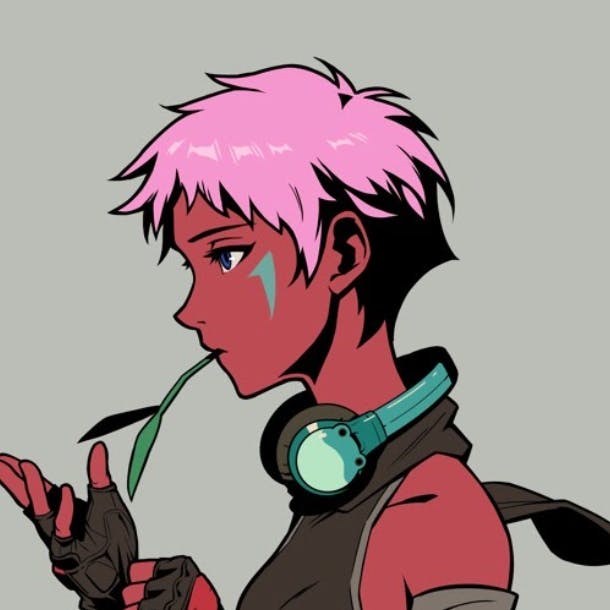 In other news, HAPE Prime had a successful debut, with the three-dimensional Apes dripping with potential as a fashion-driven NFT. The floor price and volume of HAPE reflect the potential for this to become another blue-chip project on par with the Clone X franchise that is still going strong.
NFTs This Week
Fractional Marketplaces
Rally gave Early Access to "Trippy Fur" Ape #8827 on Monday and will open up access to all investors today (Friday, Jan 28th). It is currently about 70% funded.
There have been five "Trippy Fur" Apes sold in the past three months, including the purchase made by Rally. The comps are below:
$910k – Jan. 9
$770k – Dec. 29
$475k – Nov. 26
$726k – Nov. 12
$632k – Oct. 25
To reach our inferred value, we needed to exclude the sale on Nov 26th which was a low outlier. The January 9th sale is a favorable comp, but that "Trippy Fur" Ape also had a rare 'Bored Pipe' found in only 1% of all Apes.
With the $475k sale in Nov excluded, the average price of the other four sales in the past three months is $760k. Rally paid market price for the Ape, but with a sourcing fee and other fees involved in the listing, it is offering the IPO at a 6.5% markup.
Market Cap: $820k ($10/share with 1,000 share max)
Inferred Value: $760k – $770k
Retained Equity: 33%
Platform: Rally
Date: January 28, 2022 @ 12 PM ET
Recommendation: [INSIDERS ONLY]
Interesting projects elsewhere
We're highlighting video games as they're getting ready to be the next big player in the NFT scene
Revomon is currently a Virtual Reality, Play to Earn game in the Pokemon genre-blending VR, NFTs, and Crypto space
Developers are working on an Android game version
Co-founder Maxime Reynders has extensive experience as a mobile game developer
A new "burn to earn" feature will allow users to burn some of their creatures for $REVO tokens, Revomon's native currency
Revomon released a new roadmap for 2022 including integration with OpenSea
Industry News
Did you ever want to start an investment club?
Thanks to Syndicate, now you can.
We've covered Syndicate in several issues, but their platform moved from private beta to the public-at-large this past week. Here's the lowdown on it
From the beginning, Syndicate's mission has been to make a network-centric, community-driven, decentralized investment platform. The decentralized nature of the platform is meant to make investing open to a larger audience. Right now, you can start your own investment club for just 0.2 ETH in gas fees.
Why is this important?
Usually, starting your own investment club is cost-prohibitive and time-consuming. Legal fees alone can cost thousands of dollars. Syndicate has made it so that it becomes a one-stop shop for investment clubs with only gas to pay.
Some of the neat features are:
DAO legal documents and web3 signatures are automatically generated and distributed
Tax filings and legal entities can be created and recorded
On-chain and off-chain investments are recorded on a dashboard built with the user experience in mind
Has Syndicate solved the DAO riddle?
By their own admission, no. There are still a lot of regulatory issues that need to be addressed.
Some of this work involves Syndicate adapting to the ways it can fit into the existing regulatory framework, and then there's the arduous process of working with industry leaders to lobby politicians and federal regulators.
What's undeniable is investing has transformed in the past two years, and the blockchain is just getting started…