Hi everyone,
Today, we're looking at Vyzer — the portfolio manager perfect for alternative investors.
Vyzer is like a one-stop shop for alternative investors. Detailed cash flow reports, personalized insights, and performance monitoring, all without needing to open Excel.
But how does Vyzer work, and is it worth the entry fee?
Let's go
Quick Summary
Who's it for: Investors with diverse portfolios full of alternatives
What it costs: Starting at $79/month
Site: https://vyzer.co/
The problem
We know diversification is key to a healthy portfolio.
But creative investments across platforms and regions can quickly get messy. It's hard to keep up-to-date on how your Tequila is aging, while exploring new real estate and private equity opportunities.
Alternative investing can involve an annoying amount of physical mail sent to your address. It can mean hundreds of quarterly reports buried in a computer folder. It's spreadsheets galore!
But Vyzer has a solution for this.
What is Vyzer?
Vyzer is the money manager for complex portfolios (and especially for alts).
They operate through an online platform (web app) dedicated to simplifying wealth management for investors. You can use it to generate performance reports, seamlessly analyze any financial document, and know exactly where your money is.
Last week, Horacio sat down with the Vyzer CEO to discuss all things investing and money management:
Vyzer can be synced up with banks and brokers to ensure all financial data is up-to-date. It can also be used as a planning tool. By analyzing previous distributions, Vyzer can project cash flow.
Who is behind Vyzer?
Like so many great startups, Vyzer was born out of the COVID-19 lockdowns. The business was brought to life in 2020 by Litan Yahav (CEO) and Tomer Salvi (COO).
The history of this business partnership dates back nearly two decades, when the duo first met after serving in the Israel Defense Force. The team went on to create and sell their startup Segoma, a 3D diamond imaging platform, in 2015.
The Vyzer workforce is now sixteen-strong, with experienced members in marketing, customer success, engineering, and design. Their website is currently being updated to reflect the latest team updates.
What's it like to use Vyzer?
Getting started on Vyzer is easy. You just have to fill in some basic details to register.
It's clean and easy to navigate, and key features can all be found via their respective tabs.
Vyzer's best features
Cash flow tracking
It can be hard to track distributions, especially when investing in a bunch of alts with different payout dates, amounts, and other variable metrics.
So, one of Vyzer's priorities is providing clear data on investors' cash flows.
You can select one of the 16,000 financial institutions that Vyzer syncs with via Plaid or Salt Edge.
By syncing up your Vyzer account with brokers and financial platforms, you can:
Track distributions, even when they're part of a reinvestment plan.
Receive notifications for upcoming capital calls.
Use AI tech to predict cash flow based on potential distributions, investments, and expenditures.
Portfolio automation
Vyzer removes all the manual, time-consuming tasks from managing your portfolio. The platform's tech is super interoperable, so you can sync up your account with major brokers, investor portals, and banks.
And there are over 16,000 financial institutions and platforms that Vyzer is partnered with that you can choose from. The best part — even if they are missing something, you can add it manually.
Some of the core automation features allow you to:
Compare target/expected performance with your portfolio's actual performance. This makes it easy to cut loose the underperformers.
Use The Magic Box. You can feed any sort of financial document you'd like into the Box – think reports, statements, or spreadsheets. It then automatically updates your Vyzer portfolio based on your submitted document.
Here's The Magic Box, explained:
Collaborative wealth management
Trusted Community Connections is an upcoming feature that we think is pretty cool.
It'll almost turn Vyzer into a social trading platform – where you can see what other like-minded investors are snapping up.
Vyzer also supports managing co-investments in collaboration with other investors. You can easily key in your ownership percentage to ensure your portfolio is 100% accurate.
What sets Vyzer apart?
Vyzer wants to provide "white-glove treatment" to your investment portfolio. The platform's attention to detail is one of its key USPs – it manages all aspects of your investing journey.
What we think really separates Vyzer from your "stock"-standard portfolio manager is its tech.
The AI predictions provide heaps of unique insights that can make it easier to plan out your investments. The Magic Box is another great piece of tech which simplifies adding/updating your portfolio's data.
Another thing that's easy to overlook but is as important as anything is security. Vyzer implements bank-grade security measures to ensure all your financial data is safe.
Vyzer uses Plaid and Saltedge to store your credentials – they have no access.
The platform's access level to your financial accounts is "read-only".
All data, whether at rest or in transit, is encrypted.
The Vyzer platform undergoes regular audits for potential security flaws.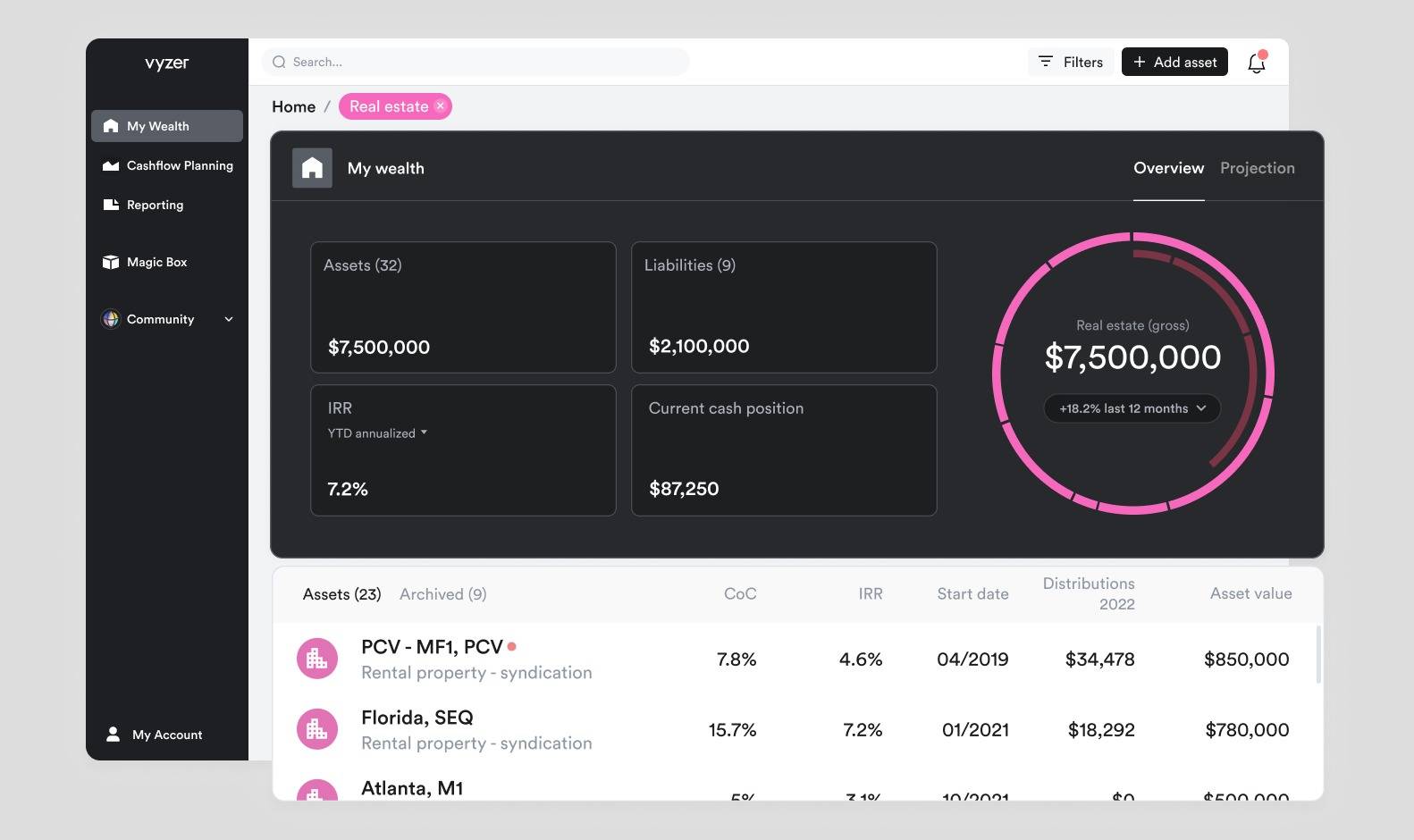 Costs
Vyzer has two basic payment plans.
Each comes with the same services and benefits – the only difference is a twenty percent discount to customers who pay yearly.
Yearly billing is $79 per/month and comes with a 90-day money-back guarantee.
Monthly billing comes in at $99 per/month.
What we like
Strong management team. The Israel-based founders have a long business history together. They successfully built and sold their diamond imaging company, Segoma, in 2014.
Excellent user interface. Vyzer makes investment managing simple – but what good is this, if they have a messy user design? Luckily, the platform's UX is clean, modern, and easy to use.
Powerful tech. Vyzer's Magic Box and AI scenario technology add new layers of functionality to the portfolio management platform. The Magic Box feature can be a huge time saver and allow different sources of information to be easily integrated.
Powerful insights. The cash flow modeling and performance return features in Vyzer can help an investor unlock additional insights about their investments that can be hard to glean when analyzing individual statements.
Designed for diverse portfolios. The world of alternative assets is exciting, but it can also be pretty muddy. Keeping everything together can sometimes be a struggle. Vyzer has recognized this and has implemented great compatibility for private investments (especially equity, real estate, and hedge funds).
Integration. Vyzer can sync with 16,000 financial institutions via Plaid or Salt Edge.
Potential downsides
Third-party data ownership. To make the most of any portfolio manager, you need to provide banking credentials. This isn't exclusive to Vyzer and is just the reality of such platforms – but it may be a turn-off for the privacy-sensitive.
"Read-only" platform. Vyzer can't make trades, move money or capitalize on investment deals within the site. You will need to do all of this yourself for the portfolio to update automatically (assuming it is synced).
Do your investment research. Vyzer is a streamlined reporting dashboard, but it doesn't offer investment advice or propose new investment ideas (though the upcoming social features will allow a user to see other users' investments). Even with Vyzer, users still need to understand the returns and risks of their investment portfolio.
Costs. As a pseudo-wealth manager, Vyzer is reasonably priced. Many higher net-worth individuals with complex portfolios will find the monthly costs to be well worth it. But for more casual investors, there may be better-value portfolio administrators out there. Make sure that you have a large enough portfolio to justify the cost – a good rule of thumb is to keep investment costs to no more than 2% of your portfolio.
Closing thoughts
The world of alternative assets has opened up incredible new investment opportunities that would've sounded like gibberish only a decade ago.
We can now own 10% of a Pokemon card, or put together collections of mint-condition Star Wars Lego. But once you get into these off-kilter asset classes, keeping track of them can become quite hard.
This is the solution Vyzer is providing – simplifying and organizing complex portfolios by automating, monitoring, tracking, and offering projections & insights to show net worth and cash flow in the future. The strong team and great tech make for an excellent user experience, and top-tier customer support.
If you want to change how you manage your investments, you can try Vyzer out for free for a month.
And don't forget to listen to our podcast with them.
Disclosures
None of the authors of this issue currently own any shares or assets of Vyzer.
We have no Vyzer shares or assets in the ALTS 1 Fund.​
This issue is a sponsored deep-dive, meaning Alts has been paid to write an independent analysis of Vyzer. Vyzer has agreed to offer an unconstrained look at their business & operations. Vyzer is a sponsor of Alts, but our research is neutral and unbiased. This should not be considered financial, legal, tax, or investment advice, but rather an independent analysis to help readers make their own investment decisions. All opinions expressed here are ours, and ours alone. We hope you find it informative and fair.