Welcome to Comics Insider – FREE version. We use Moneyball tactics to discover undervalued, mispriced, and hidden gems in Fractional Investing.
Today is a deep dive into an X-Men #1 CGC graded 9.4. It IPOs on Rally Road Friday 19th March.
---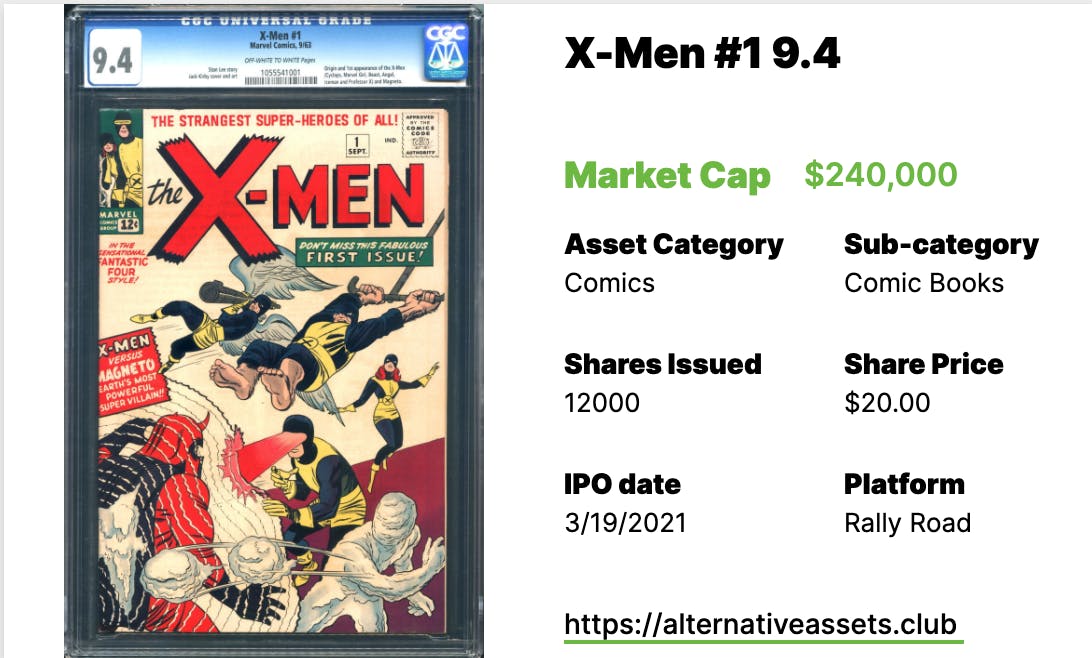 What is X-Men #1 CGC 9.4?
This is the first ever issue of the X-Men comic book series. Grade 9.4 is the highest to ever be sold; there are four 9.6 and two 9.8 copies, but they've never been available on the open market.
It IPOs on Rally 19th March
Cultural Relevance
The first issue of X-Men includes the first appearance of many well-known heroes:
Cyclops
Beast
Angel
Marvel Girl
Iceman
Magneto
Professor X
It was written and edited by the legendary Stan Lee, and Jack Kirby penciled it.
Watch a car get cut in half:
The X-Men franchise is one of the most successful of all time having grossed more than $6B worldwide from the films alone. They've featured comics, cartoons, video games, films, and on and on.
They've been busy.
Up until the forgettable Dark Phoenix and The New Mutants films, each of the five prior films grossed over a half billion dollars worldwide with Deadpool pulling in the 46th most money domestically of any film ever.
There are no further X-Men films planned.
Inferred Value – $200k+
[Detailed Analysis for Insiders Only]
Category Strength
The comics category has returned 10% ROI so far across the entire portfolio.
Subcategory Strength
Risk Profile
Recent Growth Trend
Growth Outlook and Future Catalysts
With no further films planned, it's difficult to see any catalysts. Surely someone will reboot the franchise at some point, though.
Asset Liquidity
This will have a roughly 90 day lockup period then will trade quarterly.
Platform Risk
Intangibles
The bit after the credits where there's one final scene…that originated with X-Men: The Last Stand.
---
Due Diligence Service
If you're looking to make a big asset investment, we can help you perform due diligence. Stefan created and run Flippa's Due Diligence program, and can offer the same service to you.
---
Subscription Options​
Start your free trial of Insider

Deep research and investment insights, now on thirteen alternative asset classes.
---