New here?
The WC is a selection of five useful, interesting & notable insights handpicked by CIO Wyatt Cavalier and dropped into your inbox every Wednesday.
And I have a treat for you today – most, if not all, of my points will make you feel much, much, better about yourself this week. You deserve it; it's been a tough ride lately.
Heavy metal scandal part 1
There's been a lot of focus the last few weeks on dodgy/idiotic stuff at banks from Silicon Valley to Switzerland, but something wild is going on with metals trading, and it's gone under the radar.
Russia's invasion of Ukraine last year sent the price of nickel through the roof, which triggered a lot of crime.
Here's what's gone on (part 1). It's a slightly long-winded story, but it's worth it. I'll break it down as simply as I understand it.
Last year, Trafigura, the world's third-largest physical commodities trading company, bought over $500m worth of bogus nickel from metals tycoon (and alleged fraudster) Prateek Gupta.
They did this via something called a buyback scheme, which goes like this:
Trafigura buys containers full of nickel at the point of origin.
It ships them somewhere else.
The metals are then repurchased by either the original seller (Gupta) or a predetermined buyer.
It's a way for the original owner to free up cash for operations while goods are in transit.
Except Trafigura didn't inspect the $500m+ worth of nickel shipments at the point of origin, which turned out to be a problem, because Gupta — the original seller — filled the containers full of carbon steel instead of nickel. Carbon steel is worth, uh, considerably less than nickel.
Now for the best bit.
When the fraud was uncovered, Gupta did his best to delay the inevitable. He:
Had a heart attack (maybe)
Implied he'd buy back the materials as soon as he had the money. He did pay back $5m in January.
Proposed assets as collateral, including a wind farm and a steel mill in India, a Singaporean energy company called Ultravolt, and an engineering group, Hangji Global.
Offered up letters of credit from Silver Bank, a small lender in Mauritius that has recently come under scrutiny for its ties to the metals trader.
Claimed to have one Swiss family office prepared to invest €100mn and another sovereign wealth fund from "a very respectable country" ready to invest $100mn.
Presented Trafigura with a handwritten note outlining a repayment plan. He proposed paying $200mn by the end of March, with the remainder to come over the following two years.
In the end, Trafigura wrote down $577m and still has no idea what's in the vast majority of the 1,100 shipping containers it bought, because many of them are still in transit. LOL.
Dig deeper into how you, too, can lose $577m worth of metal:
Heavy metal scandal part 2
The hits keep coming.
Last week, the London Metals Exchange (LME) "found bags full of stones at one of its warehouses instead of the nickel they were supposed to contain."
The exchange admitted they didn't catch the "irregularities" when in-processing the bags of rocks, even though the sacks didn't weigh anywhere close to what you'd expect them to (if they were full of nickel and not rocks).
When the LME discovered the fake nickel, it ordered an inspection of the entire warehouse. This uncovered 54 tonnes of missing nickel.
A bit belatedly, the LME has ordered inspections at the other 500 warehouses it looks after. Results aren't yet in, but they've just postponed a flagship initiative to reopen nickel trade during Asian hours.
Because, you know, the London Metals Exchange isn't sure it has any actual nickel. ROFL.
Dig deeper into the very bad year the LME has had:
LIVing the dream? Erm, maybe not.
If you're not a golf fan, you might not know that lots of pro golfers split off from the professional golf association (PGA) last year and joined a new league called LIV Golf.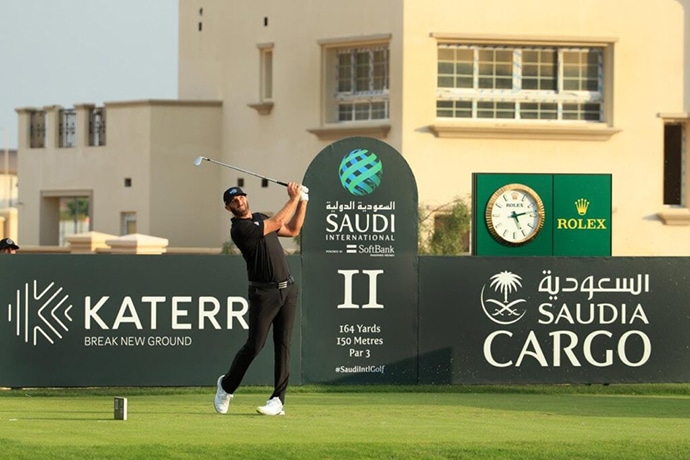 The list of defectors is impressive. It includes several major champions and former world number ones: Dustin Johnson, Sergio García, Martin Kaymer, Graeme McDowell, Louis Oosthuizen, Charl Schwartzel and Lee Westwood.
LIV, which is owned by Saudi Arabia, was ostensibly created to break up the monopoly the PGA holds on golfers and their careers. It's meant to give pro golfers more options and freedom, or so the league says.
It's also paying the high-profile golfers a shitload of money, which is perhaps why the players' contracts aren't the panacea of professional freedom many were hoping for.
A few contractual highlights:
Players must play in every LIV event, and LIV retains "sole discretion" in the number, location, or dates of events. The golfers must go wherever they're told, whenever they're told, without exception.
Players must agree they will not enter into any "conflicting contract." Sort of debunks the utopian antitrust ideal.
Players must not make statements or commit acts in public forums that are: false, defamatory, slanderous, or that may adversely affect the reputation or public image of any "relevant person." Don't say mean things about Saudi Arabia.
This honestly doesn't sound like a great deal to me, and I wonder how the league will look a few years from now when it comes time to renew contracts.
Dig deeper into LIV Golf:
The darker side of sports
I've been toying with whether or not to do a piece on sportswashing since before the 2022 World Cup in Qatar and have thus far resisted. It gets a bit closer to politics than I'd like.
But the upcoming sale of Manchester United, possibly to Qatari Sheikh Jassim Bin Hamad Al Thani, makes the topic relevant again. In fact, the topic just won't go away.
What is sportswashing? Here's a handy definition:
Sportswashing is a term used to describe the practice of individuals, groups, corporations, or governments using sports to improve reputations tarnished by wrongdoing. A form of propaganda, sportswashing can be accomplished through hosting sporting events, purchasing or sponsoring sporting teams, or participating in a sport.
It's the dark side of sports sponsorships, and it's got a long and bloody history.
The most famous example is Nazi Germany's hosting of the 1936 Olympics.
It was Hitler's chance to showcase the power of the Aryan race, put a shine on the Nazi turd, and laid the groundwork for human-rights-abusing regimes for decades to come. Some notable highlights:
The 1978 World Cup legitimized Argentina's military dictatorship
The 1974 Rumble in the Jungle, hosted by Zaire, and the Thrilla in Manilla in the Philippines allowed kleptocrats and dictators to show off their wealth
Dozens of rugby tournaments were held in apartheid South Africa
Some current examples include:
2022 Qatar World Cup
Paris St Germain Football Club, which is owned by Qatar
Newcastle United Football Club, which is owned by Saudi Arabia
Manchester City Football Club, New York City FC, and others which are owned by Abu Dhabi
LIV Golf, owned by Saudi Arabia
Most sports teams are owned by people or organizations who aren't exactly first in the queue at the pearly gates, but there's a difference between a rich hedge fund guy buying his favorite NFL team and a country with a known record of abuse using the team to burnish a pretty awful reputation.
Plus, there are many competitive reasons to be against nation-state ownership of teams. Sovereign budgets are pretty much unlimited, and other teams in the league won't be able to compete.
Dig deeper into Sportswashing:
Somehow the shadiest thing I'll talk about this week
And now for something completely different.
You may have heard of Pornhub. Ok, I've seen your browser history. You've definitely heard of Pornhub.
Their parent company, MindGeek, was recently acquired by a PE firm called Ethical Capital Partners.
There's a slight possibility everything's not on the up and up.
i'm like 99% sure pornhub's acquisition is a scam:

— Evan Armstrong 📧 (@itsurboyevan) March 20, 2023
I'll let you DYOR here, but it's super possible the entire transaction, such as it was, was a Pornhub selling itself to itself to avoid lots of pretty nasty legal trouble.
I mean, seriously, the entire thing is (probably) bogus.
That's all for this week.
Cheers,
Wyatt
Disclosures
Our friends at Realbid and Mortar Group sponsored this issue.
I don't personally hold any stock or vested interest in any products or companies covered in this email. Especially not nickel.