Welcome to Comics Insider for February 8th, 2021 – FREE edition.
Each week we give you the scoop on undervalued, mispriced and hidden gems in alternative and fractional investing.
Comic Books performance in 2022
Comics on fractional marketplaces have had a great start in 2022, going nowhere but up. This has been bolstered by strong auction results and a buyout offer on Rally.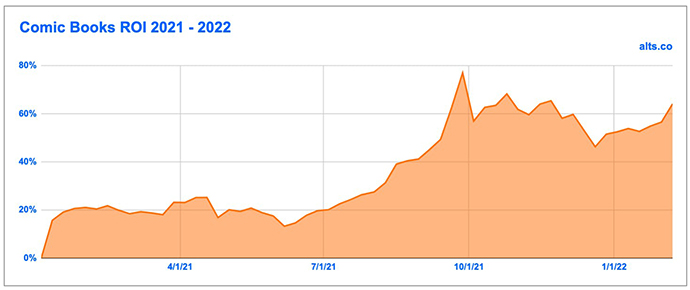 Comic Books performance last week
Fractional secondary markets
Most comics were up last week, led by Spiderman #129 and Hulk #181 on Otis, up 39% and 35% respectively. Six of the seven decliners were on Rally, which has led to some excellent buying opportunities there – Captain America #3 and Batman #1 look good to us.
Auctions
Heritage wrapped up a weekly auction with some fantastic results for the high-end stuff.
The most notable and encouraging result was X-Men #1, which hammered at $75k, $9k above the most recent sale of an identical copy just a fortnight ago.
A CGC 4.5 graded copy of Amazing Fantasy #15 (first Spider-Man) sold for $69k, which was in line with a few recent sales but up over 100% from a year ago. A copy graded 1.8 sold for $28,800, which was up 10% from a month ago and 50% year on year. Another good example of higher-tier blue chips (the 4.5 graded Amazing Fantasy #15) outpacing lesser versions (the 1.8), matching the same trend we've been observing over the last twelve months.
A copy of Fantastic Four #1 graded CGC 4.5 leaped over 50% from a couple of months ago to hammer at $36k, though it's worth noting the page color was slightly superior.
Lower-quality comics were mostly flat to down.
Comic Books dropping this week
New IPOs
This week marks a new entrant to the fractional comics space as Dibbs drops a CGS 9.0 copy of Hulk #181.
With Dibbs, unlike Rally and Otis, you can choose exactly how much of the asset you want to buy (see graphic above).
We wrote about Incredible Hulk #181 when Rally IPO'ed a superior CGC 9.8 copy around a year ago. That copy was bought out, but Otis has another CGC 9.8 copy available at a market cap of $70k.
Hulk #181 is special not because of the green guy but because it features Wolverine's first full appearance (he had a cameo in Hulk #180). Dibbs did a write-up of its significance that goes into a bit more detail than ours did.
Here are the drop details:
Market Cap: $11k
Inferred Value: $12k
Dropping: Dibbs 8th February 2022
Our view: [INSIDERS ONLY]
Secondary markets
A CGC 9.8 copy of Ghost Rider #1 trades for the first time this week on Rally. The current market cap (as of morning 8th Feb) is at $20k, but the inferred value was only $10k. That said, I'm grateful for any excuse to post a clip from the awful film!
Auctions
Pretty quiet this week, though ComicConnect is hosting a pulp comics auction if that's your thing.
Next week in comics
At Auction
ComicConnect has a pretty decent auction coming up in a couple of weeks including a CGC 9.8 copy of Spiderman #129 (first Punisher) among others. To be honest it's hard to get a feel for the whole auction, because the sorting and filtering options are… uh, limited.
Heritage is running another mid-tier auction next week with a Daredevil #1 and Avengers #1 leading the way.
Likewise, ComicLink has lots of mid-tier stuff this week and next.