Welcome to Video Game Insider.
This is a new feature where we analyze a current buyout offer.
Mike Tyson's Punch-Out – NES – 9.4 A+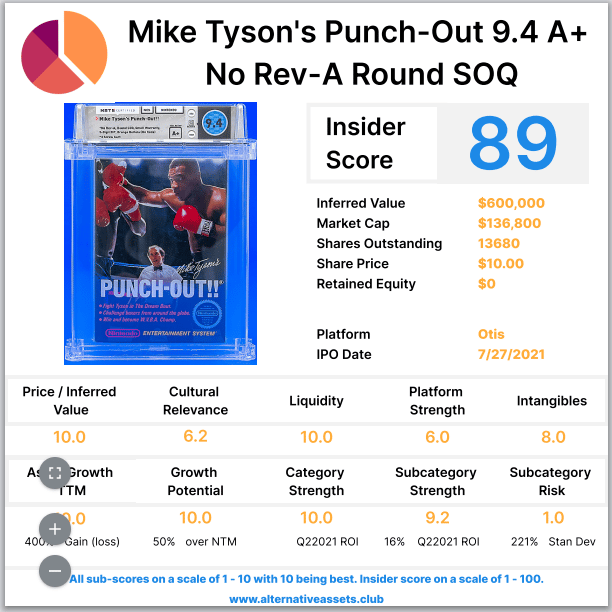 About the Asset
I wrote all about this copy and the similar copy that has been trading at Rally Road when it IPO'd last month. In short:
The Otis copy is also graded 9.4 A+ with No Rev-A, Round SOQ and Orange Bullets – it's the 2nd earliest version.
It IPO'd just a few weeks ago for $136,800 and sold out within minutes.
About the Offer
Otis has received a net offer of $350,000, which is a 155.8% premium to the IPO. Otis has gone back and forth with their tax treatment so I don't have an educated guess on what the gross offer was if it wasn't $350K.
Recent Sales History and Valuation
When I wrote up the IPO, I conservatively placed a $212,000 value on it while acknowledging it was probably worth more (because the IPO was way less, I encouraged people to invest in it and invested in it myself). I also talked about the July auction, saying that a result of $40K or so for each of the two variations hammering at Heritage would be in line with that valuation. Well, one went for $84,000 and the other went for $78,000, indicating a 2x jump in value.
The 8.0 A+ mid-production that sold for $84,000 implies around a $400K valuation for a 9.4 A+ and the 9.2 A++ late-production that went for $78,000 implies a $120K value for a 9.4 A+ late production. Mid productions have generally goen for 4x the late productions so that would put the value at around $480K.
Now, keep in mind this $400,000-$480,000 valuation is for the Rev-A version (the same as Rally's copy) — Otis' copy is the No Rev-A version, an earlier variant that is probably worth 50-100% more — that puts this copy (with a wide error bar) at anywhere between $600,000-$960,000. There just haven't been any sales of a No Rev-A version so I don't want to put an exact figure on it, because in any case, its value is way higher than the buyout offer.
Inferred value – $600,000-$960,000
Verdict
I own shares in this asset and I voted NO – the offer is way too low. Beyond the valuation discrepancy, I personally dislike when an asset gets bought out before it has a chance to trade. As Wyatt has helpfully pointed out, "The only reason to submit a buyout offer before an asset hits the secondary market is because you think it will trade higher in the secondary market."
Also remember, Otis shareholders smartly turned down a $200,000 buyout offer of their Super Mario Bros asset that is now trading at a $465,000 valuation. VOTE NO!