More and more companies are booking offsites—but not all company retreats have the same impact. From planning and goals to budgets and agendas, here's a look at how organizations craft effective events that drive results.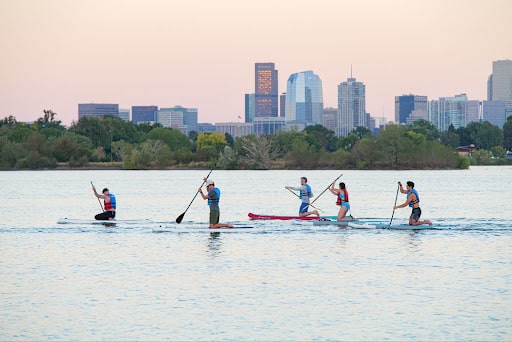 In a workforce transformed by the COVID-19 pandemic, creating strong connections with your team is more important than ever. Company retreats were once a welcome, albeit optional, addition to work culture. Now, with more people working remotely, they are a necessity.
Consider new hires entering a fully remote environment—networking and creating meaningful connections can be complex without face-to-face interaction. Forbes has found that 81% of corporate millennials consider in-person communication vital to their success.
Company offsites succeed in creating new relationships (and strengthening current ones) and inspire new ideas that will help you succeed. About 34% of workers have claimed to get their most creative ideas while on a company retreat. Company retreats have been so successful in forming bonds and promoting innovation that some companies are considering purchasing destinations to provide offsites throughout the year. That's because offsites can be a beneficial time to collaborate, meet key business objectives, and strengthen relationships with colleagues and clients.
In today's competitive job market, ADP uncovered that employees who feel strongly connected to their employers are 75 times more likely to be engaged at work. And let's be honest, a virtual meeting simply can't make the same impact as an in-person company retreat when it comes to creating connections. With the lowest employee engagement rates in over a decade, hosting a team offsite is more critical than ever.
Why companies are investing in offsites and retreats
Leaders need to pin down why they're hosting a team offsite. More companies are beginning to see team building as an investment, and there are certainly plenty of great reasons to host an offsite—but is the ideal outcome of your event to provide space for innovation and decision-making, an opportunity to have fun, or some combination of the two?
To help answer those questions, let's look at some data from a survey of BoomPop customers on the role of offsites and retreats in their organization, plus insights we've gained planning events for companies like Netflix, True Platform, ACME Capital, Insitro, and many more.
What is the goal of your next in-person offsite or retreat?
58% – Balance of work and fun
30.5% – Mostly to relax and have fun
9.8% – Mostly focused on work
Takeaway: The majority of organizations see offsites and retreats as a dual-purpose event. They want to discuss and strategize around key business topics, but they also want to give people the opportunity to simply have fun and build better relationships.
That's because the era of only measuring business value in terms of "productivity" is long gone. 67% of teams believe that burnout is on the rise post-pandemic. Whether conducted remotely or in the office, hard work can take a toll on even the most productive team members. And for those who fall into the remote work category, loneliness is on the rise. Company retreats bring teams together, and when teams are happier, businesses flourish.
Planning the best possible offsite means considering what would truly excite, inspire, and connect teammates—not just what will increase productivity or boost retention, though those are benefits you're likely to see as well.
How organizations are planning offsites and retreats
Simply planning an event can be difficult. But creating an entire strategy around events to ensure they make an impact can be a full-time job. What is the cadence of these events? How do they align with other engagement strategies and goals? How can they reflect the unique identity and vision of your organization?
In today's landscape, we're seeing many people tasked with planning offsites and retreats who've never had to do so before—and whose jobs are sometimes largely unrelated to events. This means that how organizations are planning today isn't always the best or most thorough. In many cases, organizers are learning on the fly and often becoming overwhelmed by the amount of time, thought, and communication event planning can require.
This sense of overwhelm is generally at its worst when planning has to be rushed within a tight timeline, when budgets are highly restrictive, or when event experience and support within an organization are minimal. On that note, let's look at some responses on how offsites are planned within organizations.
How far out from the scheduled in-person offsite or retreat date do you typically begin booking venues?
0-1 month – 4.2%
1-2 months – 30.8%
2-4 months – 37.5%
4+ months – 24.2%
Takeaway: These responses reflect a somewhat even spread between organizers booking events between 1 and 4+ months in advance, with a small majority at 2-4 months. While venues can likely be found and booked successfully in this amount of time, beginning earlier will allow for more access to ideal (and affordable) options.
How many company-wide in-person offsites or retreats does your organization plan to do each year?
0 – 8.3%
1 – 27.5%
2 – 29.2%
3 – 8.3%
4 – 7.5%
5 – 3.3%
6+ – 15.8%
Takeaway: The frequency of offsites and retreats depends greatly on the size of a company. While a small startup may only host 1-2 company-wide retreats per year, other organizations may be hosting 1-2 for every team—meaning potentially dozens of events per year. As this data reflects, we find 2 or more events per year for small companies to be a common and often successful strategy. At larger companies, that translates to 2 or more events per year, per team.
What is the typical length for an in-person offsite or retreat?
45% – 3 Days
60% – 3+ Days
Takeaway: If attendees are going to travel from all over the country and the world, it's only logical to make the most of your time together. Although single-day and overnight trips can be popular for local teams, an offsite or retreat usually requires—and benefits from—a bit more time.
How do you know if an offsite or retreat was successful?
78% – Attendee Surveys
Takeaway: The gold standard of offsite and retreat feedback is the attendee survey, but these events can also have a long-term impact that might not be apparent immediately. Seeing how eager participants are for the next event can be telling—especially determining what they want more or less of on the agenda.
What companies are spending on offsites and retreats
Offsites and retreats can come with a significant price tag, but are an investment in connection that always pays off. Deciding just how big that investment should be is a complex question—and how budgets are set varies widely across different organizations.
In many cases, organizers are given a per-person or total budget and left to allocate it themselves. When making allocation decisions, four core areas need to be considered: accommodations, dining, activities, and travel. Travel tends to be the most inflexible of these four, so it's best to quickly create an estimate based on where your attendees are traveling from, then set that money aside.
With the rest of your budget, you'll have to strike a balance between the remaining three areas of accommodation, dining, and activities. In some cases, coworking space will be another added consideration.
For further insight, here are the responses from our survey of offsite organizers on the budget size of their most recent event.
What was the total budget of the most recent in-person offsite or retreat you planned or helped plan?
$10,000 – 44.2%
$10,000-$30,000 – 24.2%
$30,000-$50,000 – 12.5%
$50,000-$100,000 – 7.5%
$100,000-$200,000 – 5%
$200,000 or more – 6.7%
Takeaway: These numbers don't include related data on how many attendees were at the event in question, meaning we can't nail down an average per person estimate. However, the high distribution of events at or below $10,000 is most likely a result of many companies opting for small, single day events far more often, and saving large, high attendee count events for 1-2 times per year. In our planning for clients, we find that somewhere in the $30,000 to $50,000 range is quite common for a team or small company offsite.
How do you make your offsites better?
When it comes to improving your events strategy, you must follow what matters most: attendees' opinions. After a company offsite, it's beneficial to look back at the experience and evaluate what was successful and what may have missed the mark. Measuring the effectiveness of an event can be difficult for organizers, especially if they aren't on-site for the event. This is why companies use post-retreat feedback surveys to gather insight into the successes and misfires of a team offsite.
It's a general best practice to begin your feedback survey with a goal in mind. If you're looking for ideas on how to boost attendance, shape your questions around the highlights of the retreat and what your team connected with. If the goal of your offsite was to provide more opportunities for networking, clarify whether or not the activities and team building experiences provided were effective at creating new relationships. These factors will be your most effective tool to understand whether you achieved your goals.
Your team is taking the time to provide feedback, so it's important to take it seriously. Both positive and negative feedback are essential in gathering ideas on how to improve attendee experiences in the future.
The key to successful offsites is focusing on people
Offsites are about people. Making them as successful as possible, and using them as a competitive advantage for your business, requires keeping that fact in mind every step of the way. One survey showed the top 2 struggles with remote work are not being able to disconnect from work and loneliness.
For distributed teams, coming together is an important part of creating separation from day-to-day responsibilities and combating isolation. Retreats can accomplish both of these—as long as you put the needs, goals, and perspectives of your team first when planning.
Offsites are dynamic and ever-changing, just like our teams. Being a leader in today's remote-first world means creating a positive company culture at every touchpoint, especially when gathered together in person.