Today we're introducing a new asset class: Startups.
While we currently analyze micro-saas and other website opportunities, until now venture & crowdfunded startups have not been part of our mix.
Between AngelList, Republic, WeFunder, StartEngine, SeedInvest, and probably a dozen other platforms, there is certainly no shortage of deals out there.
The fact is, for all of the junk on these platforms (and there is certainly lots of junk), there are also some potential gems hidden in the mix. As always, our goal is to find these gems, bring them to you, and give you our unbiased analysis & recommendation.
And to kick things off, today we're analyzing a startup called Swapstack — a platform that connects newsletter creators with brands & advertisers.
Swapstack is raising a $750k seed round through an AngelList RUV, and we think it's worth exploring.
Normally this level of analysis would be for Insiders only. But since it's our first time doing this, we're making it available for everyone.
Let's go
(Disclaimer: I am a Swapstack user and customer on both sides of their marketplace. I am not an investor in Swapstack, although I am considering becoming one. This is an unsolicited, unbiased look at Swapstack's company, business model, and competitive landscape. Swapstack did not pay for this review, and this analysis should not be considered investment advice.)
The rise of Substack and newsletter creators
Newsletters are in the middle of a renaissance.
As the pandemic forced people indoors and millions began working from home, platforms for enabling and restoring lost social connection bloomed.
Employees no longer had commutes or direct oversight, and could spend huge swaths of their workdays online without anyone looking over their shoulder.
At the same time, millions of people found themselves out of work or with reduced hours. While their job may have disappeared, their creativity did not. YouTube, TikTok, Clubhouse, Substack, and other creator-driven communities kicked into overdrive.
Now that the pandemic's dust has settled, it's clear Substack was one of the big winners. Substack makes it super easy for writers to send both free and paid newsletters, taking a 10% cut from the latter. (Roughly ~15,000 newsletters were started on Substack in 2020, including this one here! Our very first issue was in July 2020.)
Substack, which had raised their Series A before the pandemic, was suddenly in a prime position to capitalize on a changing world, and respond to the concurrent trend of journalists leaving large media companies to brand themselves.
Substack wasn't the only company to hop on the creator wagon. Ghost, Revue, and a handful of others have muscled in, all seeking a piece of the rapidly growing creator pie.
The creator class has risen. But creators face many problems. And the biggest one is arguably monetization.
Monetizing newsletters is hard work
The problem with paid newsletters is that if no one knows who a writer is, getting subscribers to pay is a challenge. Conversion rates are under 4%, and readers can only subscribe to so many paid newsletters. So power-law dynamics apply.
Sure, running a free newsletter with ads is another option. As I've written about recently, newsletter sponsorships are a fantastic way for writers to get paid for their work. They're easy to sell, less invasive, more conducive to generating clicks, and are immune to ad blocking. What's not to love?
But selling ads introduces a big new challenge; finding sponsors. Finding, selling, and managing sponsors takes a lot of work, and is often a distraction for writers who would rather be spending their time, well, writing!
So how do writers find companies to sponsor their newsletter? And for that matter, how do companies find newsletters to advertise in?
Enter Swapstack.
What is Swapstack?
Swapstack is an ad marketplace connecting newsletter creators with advertisers.
Founded in January of 2021, Swapstack helps writers find brands to sponsor them, and helps brands find newsletters to advertise in.
For brands, finding newsletters with niche, engaged, loyal audiences involves a lot of cold emailing. But there are problems on both sides of the aisle.
Problems for writers
How do you get the attention of brands?
How should your newsletter ads be priced?
What should your pitch look like?
How do you ensure you get paid?
How do you convert a single ad into a long-term relationship?
Problems for brands
How do you find the right creators to advertise with?
How do you manage all of the individual creator relationships?
How do you close a deal with creators quickly?
How do you make sure the creator won't screw you over?
Who is the team behind Swapstack?
Swapstack was co-founded by Jake Schonberger and Jake Singer. Yes, they're both named Jake, yes, even their last names sound similar, and yes, this confuses the heck out of me every time I email them.
Jake Singer holds an MBA from NYU Stern, and was a product manager at Amazon on the Alexa team. He also writes a newsletter called The Flywheel.
Jake Schonberger holds a Master's from Harvard and worked in Facebook's ads department. He also writes the Premoney newsletter.
Both Jakes are fellows from the On Deck program, and On Deck's founders have invested in Swapstack as part of this fundraising round.
Fundraising details
Swapstack is raising $750k on a SAFE with a $10m cap via AngelList. For those who have never used AngelList's RUV, we recently used it for our own fundraising, and had a good experience.
Round: Pre-Seed
Type: SAFE through AngelList RUV
Raise amount: $750k
Market valuation: $10m post-money
Min investment: $1,000
Max investment: $50,000
Total committed: Approximately 40%
Restrictions: Must be an accredited investor within the United States
How does Swapstack work?
Swapstack offers a double-sided marketplace with a double opt-in intro for brands and writers.
One thing I like about Swapstack is that either party can make the intro. Browsing through brands and writers is a colorful breeze (though it can be a bit buggy at times — one of the drawbacks of being built on a no-code platform).
Whichever party reaches out must "pitch" themselves to the other, and Swapstack handles the actual introduction. If the parties agree, they use Swapstack's built-in invoicing tool to transfer the payment. Pretty neat.
How does Swapstack make money?
Swapstack is free to sign up, and there is no limit to the number of brands/creators you can reach out to, or the number of introductions that can be made.
When an invoice is sent through the system, Swapstack adds a 10% fee to each invoice. The advertiser pays this fee in addition to the cost of running the ad itself.
A challenge with the business model
Marketplaces infamously have a "chicken & egg" problem: You need supply to attract the demand, but you need demand to attract the supply. Features that benefit one side of the marketplace often negatively affect the other side, etc.
What is especially tricky is deciding which side of the marketplace should pay the fee. We see this dynamic play out differently even amongst competitors in the same market. For example, while traditional business brokers and Flippa (where I used to work) take a fee from sellers, buzzy startup MicroAcquire takes a fee from buyers. And so on.
Swapstack has chosen to take their fee from brands (the buyers). They do this because they are fundamentally creator-focused. Swapstack knows how tough it is for creators to monetize, and they think it's better to let creators keep the full amount of each sponsorship sale.
However, I think this is a flawed strategy. And for one simple reason: The brands are already paying for the ad!
Paying a 10% fee on top of paying for an ad feels like double-taxation. It makes understanding the true effectiveness of ad campaigns more difficult, and for large ad buys this fee can be exceedingly expensive. At a minimum, it encourages circumvention, and at worst I fear it's enough to turn brands away completely.
For example, let's say you are a rapidly growing brand (ahem) who wants to advertise in a big newsletter, such as Inside.com. You reach out to them on Swapstack, and get an introduction. Now, a typical ad with them costs $30,000. Are you really expected to pay Swapstack a $3,000 fee?
Surely, this intro is worth something. But three thousand dollars?. And Inside is hardly a "starving artist" creator. Do they really need to keep every dollar?
This model is great for large, established brands, who don't mind paying an extra 10% but not growing brands.
You don't want to upset growing brands. Why? Because growing brands get bigger! They become established over time. If you upset them early, you've lost them forever.
Furthermore, this entire model relies on honesty. What's to stop brands from circumventing the marketplace? Remember, Swapstack is free to browse. Creators don't particularly care how someone finds them. Brands could easily find a newsletter they want to advertise in and just reach out directly.
However, it should be noted that Swapstack is still very much experimenting with this business model. Having spoken with the Jakes (or Jake² as I like to call them) I know they are thinking deeply about this dynamic.
They decided to be very open when they started to enable quick and efficient growth. They are aware of the disintermediation risk, and I'm confident they'll find ways to close off those risk avenues, including:
Bringing reporting onto the platform
Bringing communication & copy/creative reviews onto the platform
These will align incentives and reduce off-platform transactions.
The most important thing for any marketplace is to drive both supply and demand. And Swapstack has done that.
Speaking of which, let's talk traction.
Traction
Swapstack has some encouraging KPIs:
GMV is the key metric for any marketplace. Swapstack has $400k in GMV since Feb, and is on pace to hit a $1m GMV run rate. (The screenshot below is outdated a bit)
Creators: There are 500+ newsletters on the platform
Brands: 180 brands have signed up since creation. Sponsorships are very much an on/off type activity, with long pauses in between engagement. We estimate that ~50+ brands use the platform each month, spending an average of about $1,600 each.
Brand engagement: ~95% of brands who onboard and actively look for newsletters to sponsor end up connecting with a creator. ~60% of those have bought a placement (about 120 brands)
Competition
What Swapstack does is valuable, but that doesn't make it unique. There are several growing ad marketplaces for newsletters. Competition includes Letterwell, Sponsorgap, Sponsy, Paved, Hecto, Upstart, and Admailr.
Letterwell has a solid amount of inventory, and the outward-facing design is nice. I have found some killer deals here — especially with international newsletters that are often overlooked.
Paved has been around the longest (since 2017) and has some high-profile clients, including Nextdoor, Square, Warby Parker and many others as clients. Paved seems to be more focused on larger newsletters and less so on independents, niche ones, or even medium-sized ones. (We are becoming quite a large newsletter, and yet for some reason we have never successfully found a connection through Paved.)
Paved also has a solid SEO game. They rank highly for related phrases, and their traffic is significantly higher than Swapstack's (and everyone else's for that matter).
The other competitors are smaller and, in my opinion, don't have the inventory or feature set required to compete with Swapstack and Paved.
Differentiation
I think differentiation will be fairly tough in this new industry. I also think customer exclusivity/loyalty will be pretty hard to come by.
That said, if Swapstack can form a moat, it will be around its creator focus. As stated above, they are 100% free for all creators. Other players in this space don't gear their business model towards creators like Swapstack has done, and this could produce some positive network effects.
For marketplaces, supply is critical. Swapstack's supply of newsletters is impressive, and as a user, the marketplace feels well-balanced.
Market opportunity
While the newsletter sponsorship market is nice, it's only the tip of the iceberg for something much larger.
The biggest opportunity for Swapstack lies beyond newsletters. Creator & influencer marketing spend is currently $10 billion per year, and is expected to reach $84 billion by 2028.
We estimate that one of every three newsletter creators that joins Swapstack has audiences across multiple networks: Newsletter, blog, Twitter, LinkedIn, community, Podcast, Insta, etc.
Swapstack's biggest opportunity is to tweak the product to support all types of creators. This may require a dozen+ integrations. But if they can successfully expand past newsletters, they can insert themselves into a fragmented and astonishingly wide-open field here.
There are influencer agents and platforms galore. But as it stands today, there is no single large ad tech/management company enabling creators to sell & manage sponsorships, across multiple social platforms, under a single umbrella.
Now that's a mighty vision
Use of funds
Immediate growth plans
Key hires: No code developer, ad tech developer, UX contractor, account manager.
Creator expansion: Expand the product to support existing creators who have other mediums that are easily transferrable. (i.e.: Create flexibility in "Ad Units" to support other platforms, and enable creators to sell "packages" instead of just a newsletter).
Expand creator types: Communities, bloggers, websites, social media, podcasts, etc
Bulk-creator booking: 1-stop buying of multiple creator placements.
Enterprise SaaS: More features for large brands and agencies.
It should be noted that Swapstack very much plans to take an iterative design approach. Test, build a little, test again, etc. They plan on pushing no-code to the limit and only starting to build in "real-code" when they absolutely have to — i.e. when the platform is impacting growth. (As a product guy, that is music to my ears.)
Swapstack's Future plans
I'm especially excited about Swapstack's new "Plug 'n Play" feature — a way for newsletters to offer a flat-rate bounty for bringing in new subscribers. Anyone with an audience can promote a newsletter, and get a payout for each conversion. (Our bounty is currently $3 per subscriber, and Swapstack gets a 25% cut.)
It's kind of like an experimental newsletter affiliate program. It's still a bit rough around the edges, but very forward-thinking, and will help Swapstack get beyond newsletters completely. (I can see website owners getting behind this immediately.)
Further down the line, building integrations to other creator platforms will be critical.
Exit opportunities
If Swapstack does plan to get acquired, I could see Twitter or perhaps Facebook having some interest here. Twitter has already acquired Revue. They're ramping up their newsletter integration, and despite a decent 2020, their ad network monetization problems have not gone away.
I could also see Swapstack surviving on its own and becoming one of the larger ad players in Web3 — the creator and community economy web.
Recommendation
Swapstack is solving a real problem for brands and especially creators. They aren't the first or only creator ad tech platform out there, but they have already earned a top spot within this budding ecosystem.
Their growth, traction, and execution are impressive given their age, and I've been impressed with how much value they've packed into a no-code product. Swapstack clearly has product-market fit, and they've added big new features like the Plug 'n Play affiliate program without over-building on the product side. Very lean, very smart.
They have a solid founding team, and On Deck's stake in Swapstack is something significant to consider here. On Deck has seen tremendous growth as it positions itself as a competitor to Y Combinator. Whereas YC has a large focus on companies, OD focuses on individuals. Newsletters play a large role in this, and Swapstack's close relation with OD could translate to lucrative enterprise deals later on.
I do have some concerns over the current business model. Optimizing for creators and established brands comes at the expense of growing brands, and as with many marketplaces, circumvention is always a concern. But I am confident these guys will figure it out.
Swapstack's real opportunity is to expand into a monetization platform for all types of creators. If Swapstack was just going after the newsletter market, I wouldn't be as interested in investing. But they see where the puck is going, have a plan to get there, and are shooting for a $10M GMV run rate in 2022.
I think the $10m valuation is rather high, and ideally would like to see this a bit lower. But the TAM is large, competition isn't especially strong, and Swapstack is shooing for the moon here. Hey, someone has to!
As far as angel investments go, I recommend taking a serious look at Swapstack. At a minimum, check out the pitch deck and book a meeting to learn more.
I have not made an investment in Swapstack, but probably will.
How to invest
Swapstack's RUV is currently open & accepting investments. The button below also gives you access to their pitch deck.
You can also book a meeting with the Jakes.
Finally, feel free to email Jake Schonberger directly with any questions: [email protected]
We hope you enjoyed this issue! A big thanks to our new analyst Ben Greeley for helping with this one.
Cheers & happy investing.
— Stefan & Wyatt
Community Spotlight
Each week we shout out to a community member and give them a chance to answer a few questions.
This week it's Tom Ellsworth.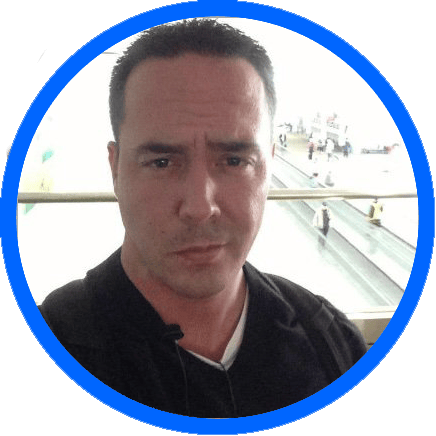 Tom is a technology professional, aging wage slave, hopeful entrepreneur, and co-founder of a 5-year-old daughter named Charlotte. He lives in the part of Northern California that is always on fire.
What are you currently investing in?
I'm fairly new to serious investing and I missed the last market drop. When the Coronavirus hit I jumped into the plummeting stock market and managed to get some really great returns. As that grew, I focused on about 10 decent OTC stocks. Most failed. But one of them is taking off, Darkpulse (DPLS) and I'm awaiting some big announcements from them.

I've been in and out of crypto a few times. For the last few years I've been doing auctions and flipping anything from LEGOs to backhoes, so I'm digging my way out of that still and selling all this junk. My wife and I also collect a silly amount of Funko Pops — which will still be fun even if they're worthless in 10 years.

I'm looking to step up my investing into buying my next job, owning my own business and focusing on investing in long-term passive income so I can stop working. I love the challenge of figuring out financial strategies and think I'm pretty good at it so far.
What's your biggest investing win?
Okay, so when Bitcoin was still very new and mining was still something you could do on a normal computer, I had this absurdly overpowered workstation which I'd just upgraded. I figured I'd make some of these "useless coins."

So I let it run and at some point I had a good number of bitcoins. They were worth essentially nothing, but I found the concept really interesting. Months later, the price jumped and I had a good chunk of change. By the time I had remembered how to get into the accounts, the price had fallen slightly, but I managed to sell all my bitcoin.

…Oh, the financial genius I thought I was. I managed to clear enough profit to pay for the upgrades to great system! Nearly $700 out of thin air! And I had gotten a free computer upgrade. All it took was (gulp) a few hundred BTC!

So yes, one of my first and greatest investing wins is also, my biggest loss or regret. But I'll dine out on that story for the rest of my life.
What about your biggest recent investing loss or regret?
I should have started seriously investing a decade ago. But like they say: The best time to plant a tree is 10 years ago. The second best time is today.
What's a fun fact about you?
Up until a few months ago, I was officially a high school dropout. The pandemic finally made it easy to get my GED remotely. I've had a 25-year career in IT working in some of the most secure and "background-checked" environments in the country and I can only think of two times that it was even a minor issue.

For me at least, dropping out was actually a great decision that worked out well and saved me a few years of nonsense, but I don't recommend it.
Want to be featured in our community spotlight?
Refer two friends to be eligible
Your unique referral link: {{subscriber.rh_reflink}}