Today, we're looking at luxury handbags — an under-explored asset class and fashion investment — at least among men.
I'll be honest: going into this issue, I knew next to nothing about handbags. But our editor Ivana Slavcheva knows a ton, so she authored this timely issue.
Many people's knowledge of this asset class is basically a black hole. So Ivana's here to fill in the gaps, and perhaps even get some designer bags onto your diversification list.
And just a few weeks ago, Horacio sat down with Diane D'Amato from Heritage Auctions, where the two discussed investing in luxury handbags and the Hermes brand
This is a luxurious issue.
Let's go 👇
What makes handbags a good investment?
First, a few handbag stats:
The global luxury handbag market was valued at $66b in 2021 and is projected to reach $97b by 2030.
Over the past decade, luxury handbag valuations have increased 83%. This is higher than most artwork, whiskey, and the closest male equivalent, luxury watches.
3,500 designer handbags were sold at auction in 2019. These were collectively valued at $33 million, or $9,400 per bag.
You're probably asking yourself, "Hang on, aren't handbags just something you gift your wife when you can't think of anything better?"
Well, yeah, but they're also works of art.
"From the Dior Saddle…to the Hermès classic Birkin, the designer handbag is more than just a fashion statement, it's become an investment. Much like art, watches, and antiques, the designer handbag has become what feels like an exclusive collectible asset… — The Break
A few key factors have conspired to turn luxury handbags into the surprisingly-high return on investment they are today:
Long history of luxury
It may surprise you to learn how old some of today's luxury handbag designers are.
Chanel, the staple $15b luxury brand, has been in the game since 1910. But the history of handbags starts a whole century earlier, with the French fashion house Hermès — the oldest handbag maker in the world still in operation today.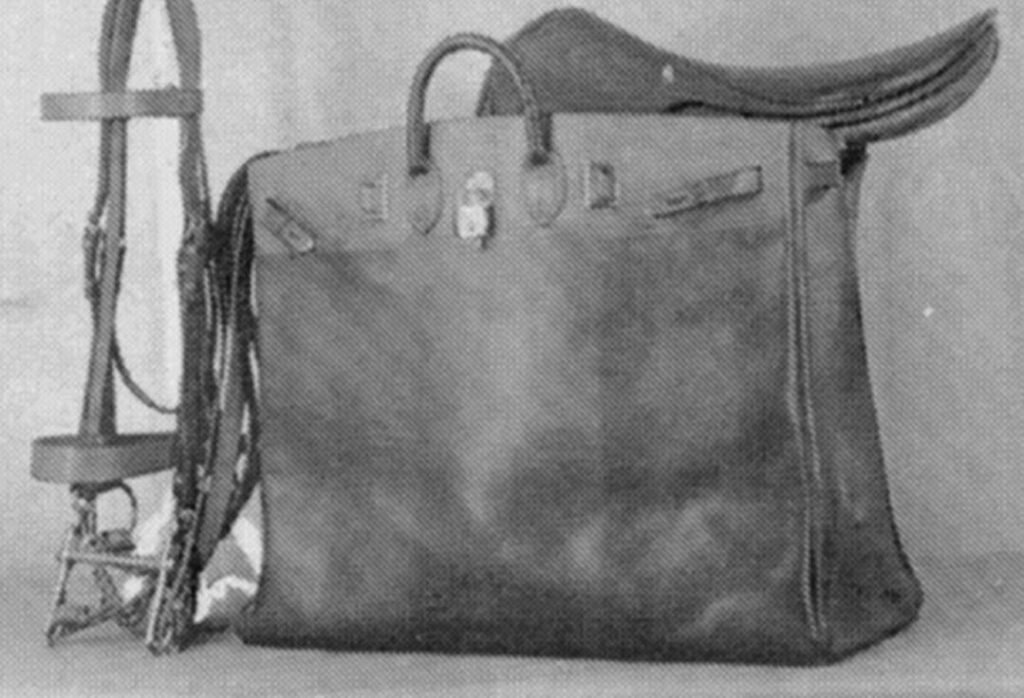 People loved Thierry's designs. More high-quality leather bags followed, and the exclusive Kelly and Birkin ranges became their most successful and iconic products.
The Kelly range was formerly known as Sac à dépêches, but was renamed after the American actress and Monégasque princess Grace Kelly, while Birkins were named after the English actress and singer Jane Birkin.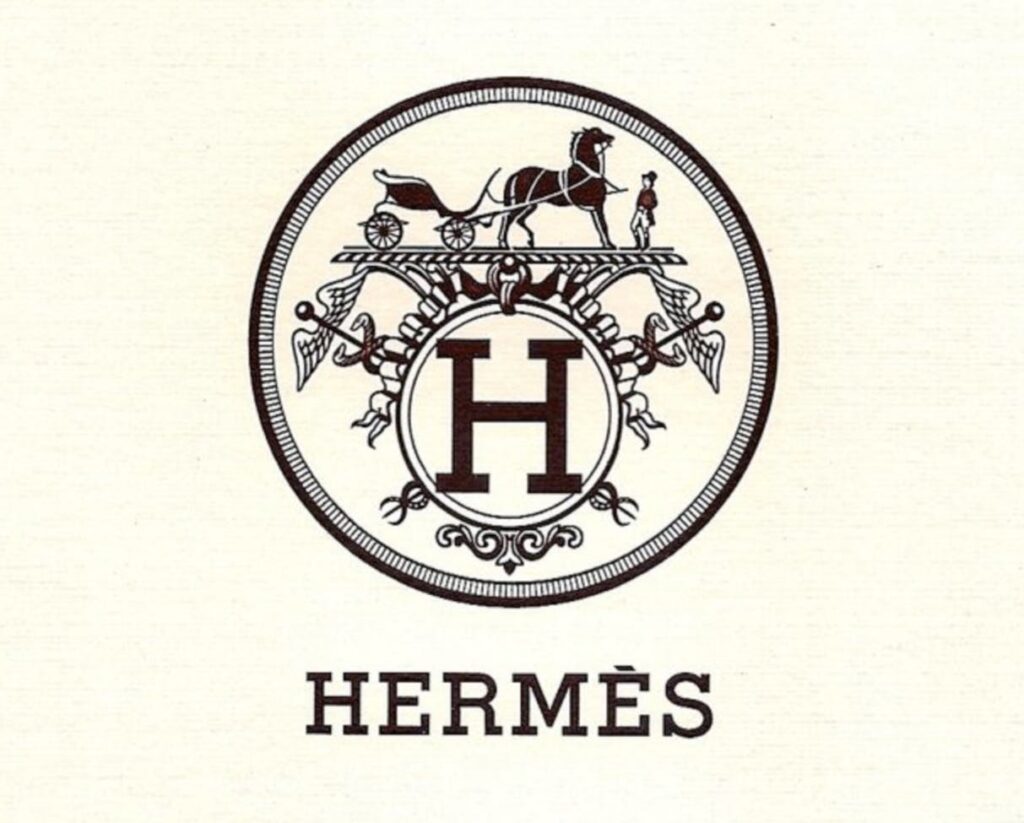 In 1854, the Louis Vuitton label was founded. The Parisian luxury company started making luggage, but they soon branched out to handbags and other accessories.
Designer handbags have been a status symbol for a century and a half. However, it was in 1987 that the concept of designer handbags as investments truly started to form.
French investor Bernard Arnault is a name everyone should know. Together with Alain Chevalier (CEO of Moët Hennessy) and Henry Racamier (president of Louis Vuitton), Bernard established the luxury giant LVMH.
Today he goes back and forth with Jeff Bezos for the title of the single richest person in the world.
This successful luxury brand merger inspired many other businesses to follow suit. Ultimately, this move solidified the concept of a modern designer handbag and introduced it to the global market.
Consistent demand
Handbags aren't volatile like NFTs, crypto, sports cards, or other asset classes. They've been a hot commodity for decades, driven by consistent demand.
Kinda makes you wonder if the rise of handbags is related to fashion designers deliberately not putting pockets on women's clothing… 🤔
Luxury handbag sales were actually on the decline in the early 2000s, due in part to the huge amount of fakes circulating at the time. The big companies cracked down, but the trend seems to be on the rise once again.
But one thing you'll find with this asset class is that demand is resilient. Companies attribute this trend to a variety of factors, including an increase in women's earning power, social media, and renewed focus on personal style.
Exclusivity of variants
The demand only increases further when brands produce special variants of their products (i.e., bags released as "limited," "rare," and "exclusive")
You can't just buy a limited Birkin from the shop; it's the same dynamics as with luxury watches. You've got to be a trusted customer first, and go on a years-long waiting list. Then if you're lucky, it gets offered to you.
High scarcity has turned luxury handbags into the crème de la crème of fashion collectibles, especially for female collectors and investors.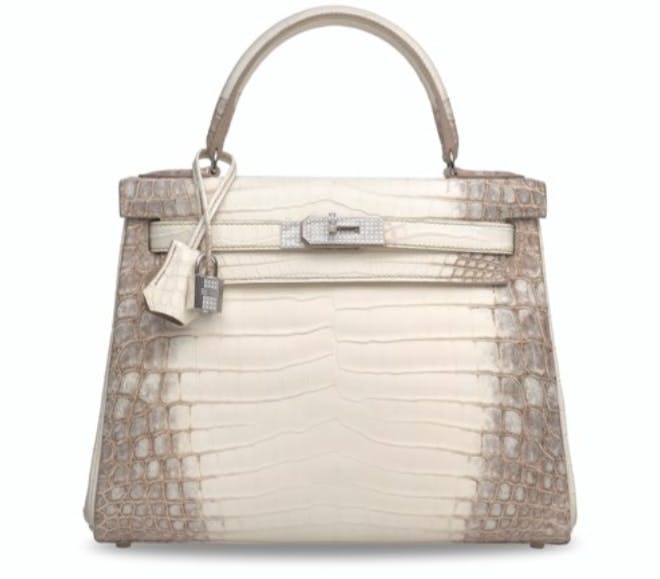 There are just 28 Hermès Himalaya Kelly bags in existence. They're only offered to top clients, and routinely fetch six figures at auction and on secondary marketplaces.
Stiff competition
Today's luxury handbag designer industry is highly competitive, and only a few companies can truly call themselves "luxury" designers.
Brands like Hermès, Chanel, and Louis Vuitton are undoubtedly the brightest examples of true luxury designers (as you'll see below, the prices of their handbags reflect that title).
However, more luxury companies are entering the chase for the top seats.
The most expensive handbags in 2022
Debbie Wingham's Egg Purse ($6.7 million)
Debbie Wingham is famous for creating a few different "world's most expensive" goods.
In 2019, Debbie unveiled this upcycled designer bag made from a real emu egg, is covered in 24k gold, and features 8,000 diamonds, a Hermès scarf (worth $40,000), and Cartier jewelry.
The Mouawad 1001 Nights ($3.8 million)
This diamond purse is the second most valuable handbag in the world. Christie´s starting price is $3.8 million.
Designed by renowned jeweler Robert Mouawad, it weighs 381.92 carats (yes, carats, not kilos or pounds). It took a team of 10 artisans over 8,800 hours of work to hand-craft the handbag. This is the equivalent of a full year of 24-hour, round-the-clock, nonstop work.
The Sac Bijou Birkin ($2 million)
Hermès collaborated with jeweler and shoe designer Pierre Hardy to create this Birkin variant out of solid rose gold, dotted with 1,160 diamonds, priced at $2m.
There are just twelve of these things. Even though they are super small, crafting them took two years.
In 2019, the Sac Bijou Birkin was re-released with black garnets and spinels for an edgier take.
The Ginza Tanaka Birkin ($1.4 million)
Ginza Tanaka, a designer of Japanese descent, is the mastermind behind this Hermès Ginza Tanaka Birkin bag containing 2,000 white diamonds.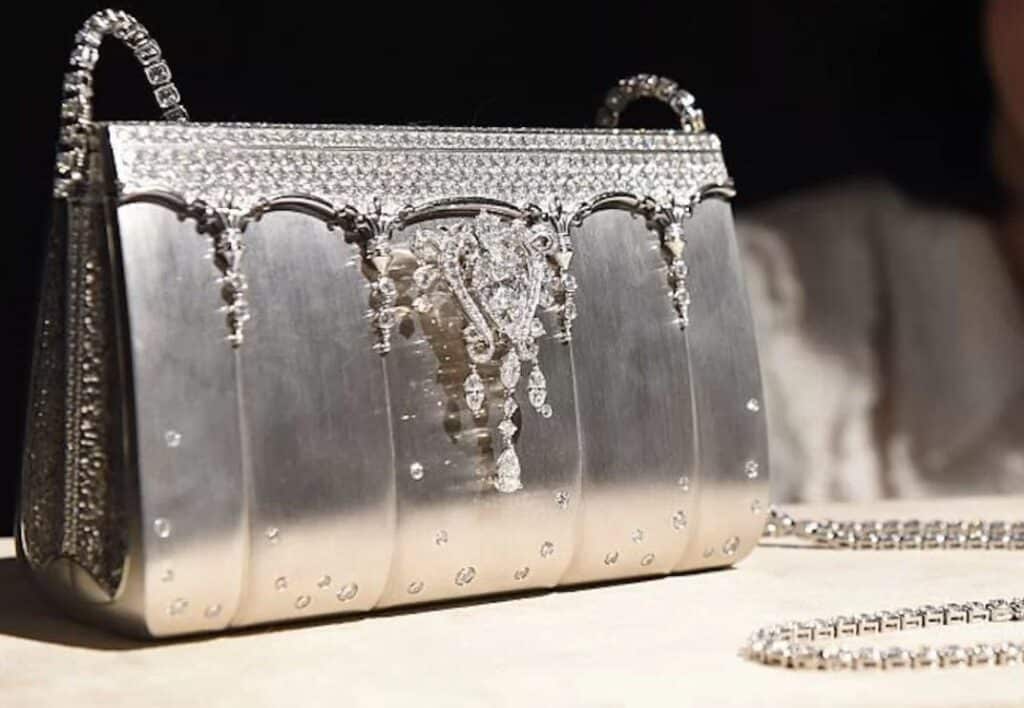 Cool bonus: The diamond-encrusted strap can be detached and worn as a necklace.
The Hermès Chaine'd Ancre ($1.4m)
Another collab between Pierre Hardy and Hermès, this bag features anchor-shaped chain links encrusted with 1,160 diamonds.
Just three of these crazy things were created.
The Lana Marks Cleopatra clutch ($500k)
First made for A-list celebrities attending the Academy Awards, this clutch was crafted in Italy, usingrare jewels like natural pink diamonds and blue diamonds.
Every year, a single limited edition version of the Cleopatra Clutch is sold by the brand, for between $100,000 and $400,000.
Chanel "Diamond Forever" ($300k)
In 2008, Karl Lagerfeld designed a black version of the "Diamond Forever" bag with a white gold double "C" clasp, covered in 334 diamonds (3.56 carats), all held up by a white gold chain, lined with alligator skin.
Madonna presented it during the AMFAR dinner auction, which takes place yearly at the Moulin de Mougins.
She added her own lipstick and a handkerchief with a kiss as a personal touch. It sold for 300 000 euros.
The Himalaya Birkin ($400k)
The Himalaya Birkins may not sell for millions, but it's considered a holy grail for luxury accessories collectors for a reason.
Only one or two of those mysterious Birkins are made per year, and Kelly bags only recently became available in the rare material (recall the Kelly we mentioned in the beginning).
"Mysterious" because no one actually knows how Hermes achieves their crocodile leather ombre look.
The patterns and colors resemble the Himalayan mountain range, hence the name. After the secret treatment, each bag comes out completely unique and easily sells for over $300k.
It's extremely rare for a bag to be made with Niloticus crocodile skin, which is very expensive. In fact, the ten most expensive Hermès handbags ever auctioned have all been crocodile-skin Birkins.
Anecdotally, the bag's creation sometimes costs more than the bag sells for due to the incredibly expensive materials and complicated processes involved.
How to invest in luxury handbags
Buy a bag, hold it for a while, then resell it for a higher price. Simple, right?
Nope. It's actually a pretty slow and hands-on process:
Do your research
Where you buy from matters. Many sites sell pre-owned luxury bags, and you can always buy directly from the brand itself. But if you're buying ultra-high-end, you should stick with the most popular option: auctions.
Brand & trend studies, search volume checks, and historical performance reviews are essential.
Bags that are rare, or can be considered a "piece of history" (with special cultural and/or social significance) are generally good candidates. Think of the ultra-rare Himalaya Kelly discussed above, or the Chanel "Diamond Forever" handbag that Madonna auctioned off.
A great eye for detail is also necessary. Any damage on a preowned bag can bring prices down significantly, and if you get a ripoff, you've wasted a lot of money. Remember that "too good to be true" deals are usually exactly that.
Stuffing & storing
Once you buy your bag, you have to store and maintain it. No matter how sturdy, leather can still get damaged with time, and poor lighting or airflow will make this process quicker.
Moreover, the bag can lose its shape and become floppy if it's not stuffed and positioned correctly.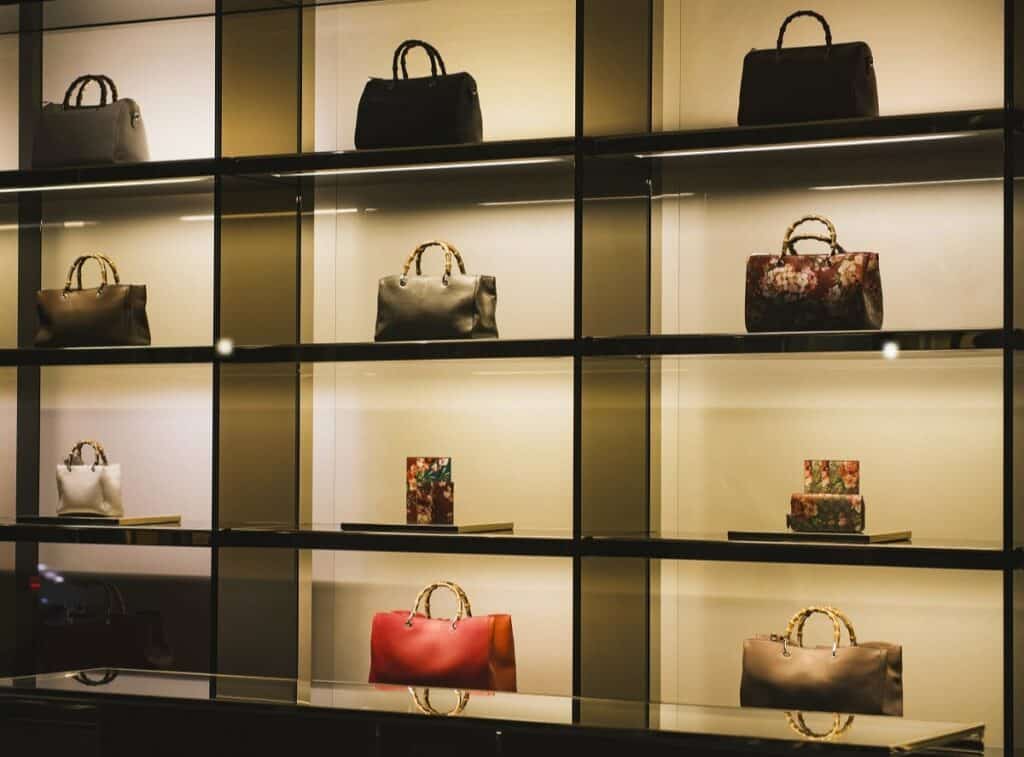 When and where to sell
Handbag collectors play the long game. A good time may be when the brand is gaining traction, or when a related celebrity/trend is resurfacing, as well as before/during/after big releases or other relevant events.
Handbags are pretty niche, and only some people care for them. It's important to put it up on the right marketplace or platform to reach the right audience.
Stick to time-tested brands
Bet on safety. The crème de la crème of luxury brands has kept their spot at the top for a reason: They've withstood the test of time.
Iconic shapes, high-quality leather, stylish and expensive look, and an unbeatable reputation — you can't beat it.
Hermès has been around for 180 years. They should remain relevant and continue making history for a long time.
Current and upcoming opportunities
Here are a few auctions you may want to check out. Even if you're not planning on buying anything just yet, it's good to know what's out there.
The future of luxury handbags
Speculating about the future of fashion can be tough even for the most fashion-savvy investors. Trends are fleeting, and pop culture, influencers, the economy, and even the environment all affect our fashion movements.
Laver's Law claims that fashion repeats itself every 50 years or so. Others have argued that it's every 15 years. But neither of these is always true. Fashion cannot be timed with precision, and it rarely repeats itself word for word.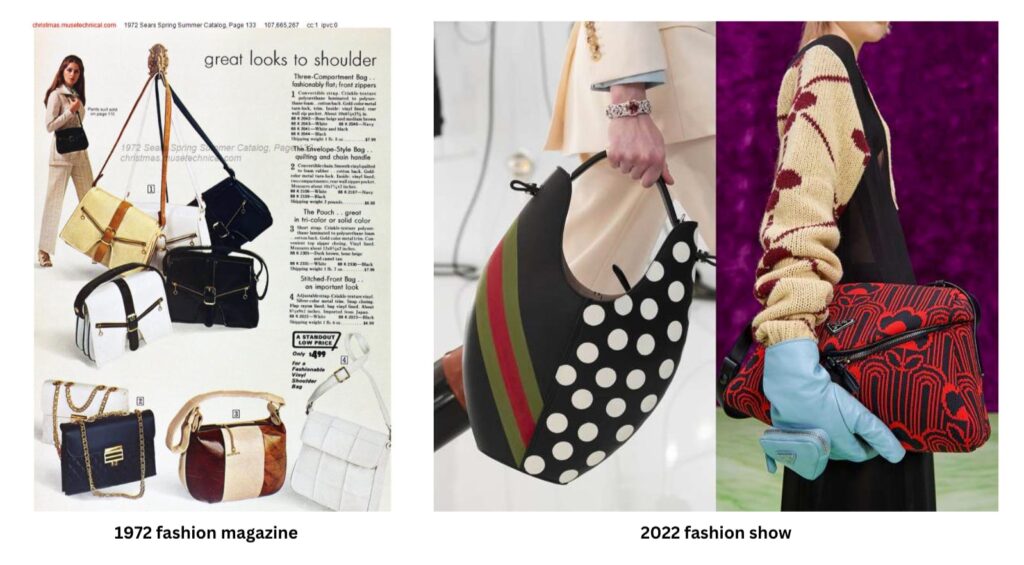 That being said, it's safe to assume we can expect more of the following:
Since the beginning, handbags have become synonymous with style and status, and are now one of the most coveted accessories among fashion-savvy consumers, collectors, and investors.
Yes, the market for luxury handbags has grown significantly in recent years. But there will always be plenty of opportunities for growth.
Remember that styles come and go, but fashion is evergreen. 👜
---
Disclosures
We have no luxury handbags in our ALTS 1 Fund , but we are interested. If you have one in stellar condition, let's chat.
None of the authors have any direct financial interests in any companies mentioned in this issue.
This issue contains affiliate links. If you purchase something through these links we may collect a share of sales or other compensation.