Welcome to the Sports Memorabilia Insider – FREE VERSION. Today we have a deep dive into a 1965 Joe Namath Rookie Photograph that is IPOing on Collectable Thursday, June 17th at 8 PM EST.
Follow me on Twitter for my latest insights and analysis.
Joe Namath Photo Type 1
About the Asset
This is a copy of the 1965 Joe Namath Photograph that was used as the basis for his Topps Rookie Card in the same year. It is the only known Type 1 copy of this photo, and as a refresher, a Type 1 photograph is defined by PSA as: "A 1st generation photograph, developed from the original negative, during the period (within approximately two years of when the picture was taken)". Type I photographs are the originals and the most valuable. The photo was taken by sports photographer Bob Olen, and not for nothing, is the featured photo on Namath's Wikipedia page.
If you were signed up to Insider (start a free trial), you'd also learn:
Projected future growth
Asset class ROI, volatility and risk statistics
Detailed valuation with recent sales
Our verdict
About the Drop
This asset will drop on Collectable at 8 PM EST on June 17th for $295,000, but it is currently available as an "Exclusive" for certain members. There is $116,000 in retained equity, leaving $179,000 in shares. Collectable have been scheduling their assets for trading around 60 days after the IPO funds and from that point it trades every weekday.
Add IPO to calendar
About Joe Namath and Bob Olen
We've mentioned before that the subject and photographer are both important to understand the value of a given photograph, so let's start with the subject. Namath is a Hall of Fame quarterback who played most of his career with the New York Jets, leading them to an AFL championship, and then post-merger, to the Jets' only Super Bowl appearance. He is most famous for guaranteeing victory over the heavily favored Baltimore Colts (and their QB Johnny Unitas) and following through, winning MVP after a 16-7 win.
He was given the nickname "Broadway" Joe and achieved a level of mainstream fame that included a number of national endorsements (he is still seen today in ads for Medicare Coverage Helpline) and a short-lived talk show and acting career. Though statistically not one of the greatest quarterbacks to play, he is certainly one of the most notable and was an icon to a generation of sports fans and still remains relevant today.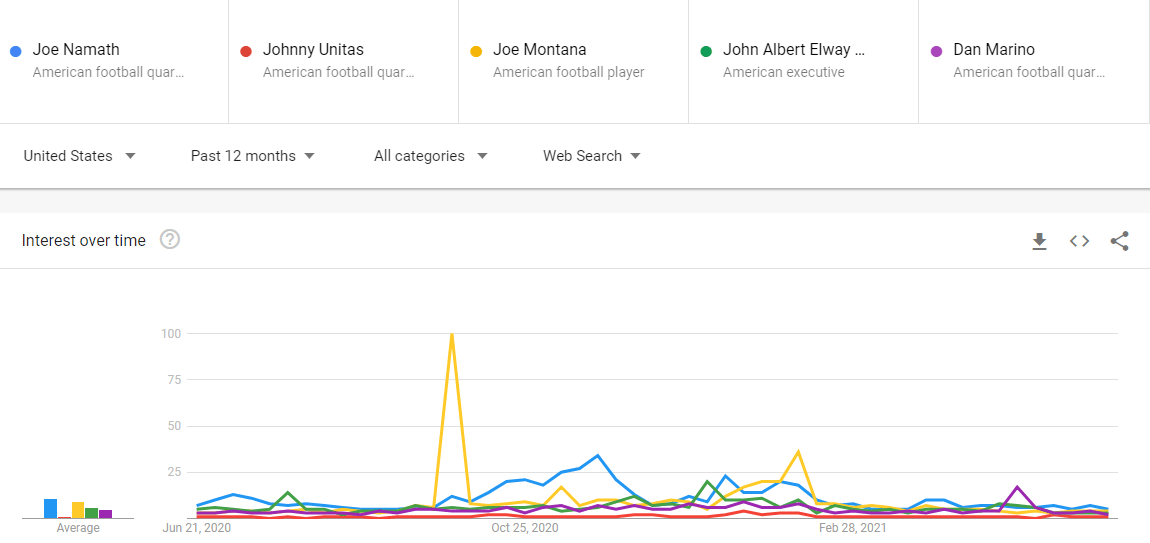 He actually outstrips Joe Montana, John Elway (listed, hilariously, as an executive) and Dan Marino in Google search volume.
Bob Olen, the photographer, was a prominent New York sports photographer for over fifty years — you can read his obituary here. While prominent in the New York sports subculture, I don't believe his attachment does anything either way to the value of the asset.
Recent Sales and Current Valuation
This exact photograph was sold for $66,000 in 2017, and is now being offered at nearly five times that amount.
[Detailed Valuation for Insiders Only]
Category Strength
The sports memorabilia category had a -8% ROI in Q1 2021.
Subcategory Strength
Growth Potential and Future Catalysts
There is a PSA 8 currently at auction at Memory Lane and one at Heritage that will open for bidding next month. That will be a good marker of how his specific market is doing. While still somewhat in the public eye, there's not a lot that will boost his market outside of a Jets deep run in the playoffs (ha!) or, not to be morbid, but Namath is 78 years old and at some point, well, you know. Not that anyone should ever be rooting for or counting on that when investing in an asset.
Keep in mind, of course, that this is the photo and not the card. If there is increased demand for the actual photographs behind prominent cards, a 1/1 Type 1 photo would be a beneficiary.
Verdict
[Full Evaluation for Insiders Only]
Be advised that most recent Collectable IPOs, especially the sports memorabilia ones, are falling (some around 25-30%) immediately upon entering the secondary market. Overall, 14 of 16 sports memorabilia IPOs have declined since opening.